by Texas Homesteader

We raised chickens for the very first time last year and they were an absolute blast to raise. But we sold them all in late fall. I was afraid that free ranging hens in the winter months would just make them easy prey for predators since food gets more scarce in the wintertime. But the entire time we had them it was so much fun to watch their antics.
And of course we enjoyed those fresh free-range eggs. There's absolutely nothing like the taste of a free-range egg, you chicken raisers know what I mean!
So we were pretty excited to raise chickens again this year. We contacted a local breeder and purchased 4 hens from her and BOOM! We were back in the chicken business.
But one of the hens quit laying eggs & became broody several weeks after we purchased her – we'd never dealt with broody hens before. And with no rooster in our flock it wasn't helping anyone, her nor us.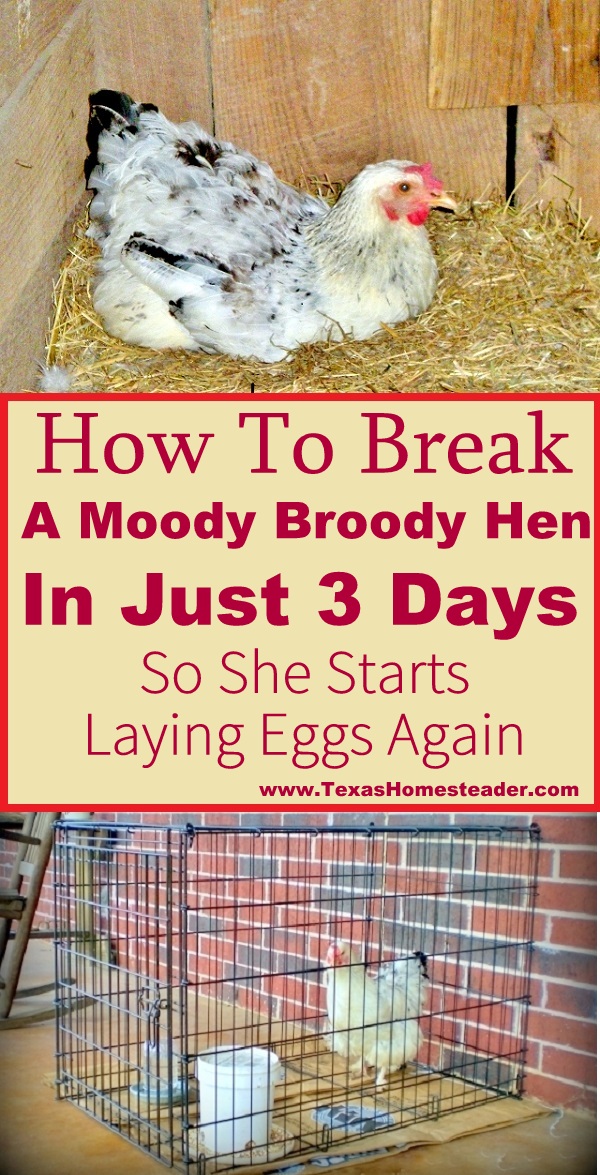 Since I'd never experienced broodiness in hens I allowed her to sit for a few days thinking it would soon pass. She quit laying eggs but was always sitting on the nest each time I went to check on her – even though there were no eggs for her to sit on.
Keep Her Away From Nesting Boxes?
I put out a plea on our Facebook page for advice and there were many great ideas. One person said they move their broody hen further away from the nest and she usually gets distracted enough not to go back to lay. But our girl always went back.
So I started closing the chicken coop door when I let them out each morning so she couldn't get back to the nest. But it also kept the others away from the nesting boxes.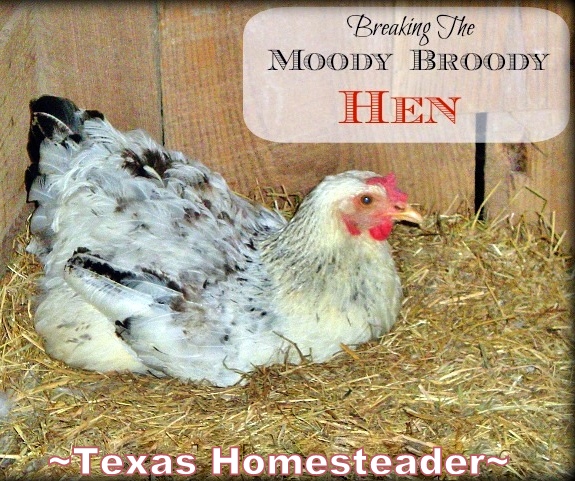 I didn't like that solution. Hummm… What else can I try? By now she's been broody almost three weeks!
Separating A Broody Hen
Another Facebook follower recommended a page with great information on breaking broody hens from a person whom I consider to be the authority of raising chickens, Kathy over at The Chicken Chick. (slaps forehead) Why didn't I think of her in the first place???
Her article had great advice and I learned a lot. First of all broody hens like it dark & quiet with a soft feathered nest. Our task is to give her the opposite circumstances so she'll find being broody uncomfortable. It will help break her broodiness faster.
I had heard that advice before from a veteran chicken raiser. (thanks dad!) But Kathy laid it all out with pictures and examples.
So RancherMan & I followed her advice to the best of our circumstances. We didn't want to buy any special equipment so we just used what we had – a large dog crate. Now I'd have preferred our broody-buster to be a little smaller but hey, use whatcha got is what I say!
Finding A Brood Buster Cage
We decided to set it up on our back porch for many reasons:
It's a good location to keep an eye on her and keep her safe from predators.
I know her Broody-Buster pen needed to be kept somewhere bright as those conditions are less conducive to her being broody. The porch gets shade during the hot part of the day, but it's plenty bright.
She will be staying on our hard cement patio (with paper laid down first of course) which will make it slightly more uncomfortable for her. I would have loved to follow Kathy's advice and elevate the cage so air could circulate to keep her belly & chest cool. But the grid on the bottom of this dog crate was very open and we didn't have any extra chicken wire to reinforce it. This setup will just have to do.
Our Mini Schnauzer Bailey can see the hen from the living room windows and also walk past the hen when we take her outside. We're hoping that desensitizes her to chickens and makes them more safe around her in the future. Bailey was only adopted a couple of months ago & she's always been way too energized around the chickens when we take her to the coop on a leash. So this continues her training.
Our Brood Buster Setup
Here's how it worked for us: We put a couple of feed sacks beneath the crate to catch droppings. We still had a small chick waterer from when we raised day-old chicks last year.
So we brought it out and filled it with fresh water. We added a Homemade Chicken Feeder that we had thrown together last year out of parts we had laying around the house.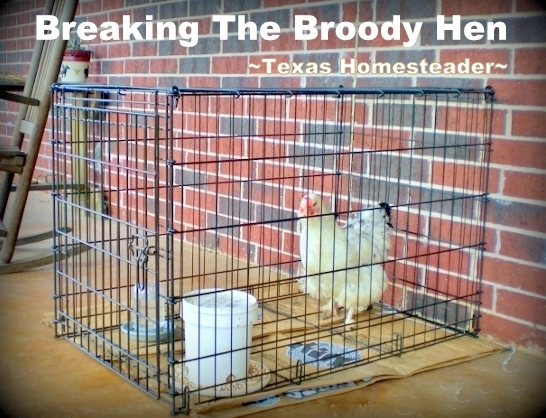 When her new diggs were ready I went to the barn's coop (where I KNEW she'd still be) I scooped her up gently and carried her to the house. I'm fortunate that she doesn't get aggressive even though she's broody. From what I understand aggression is pretty standard for broody hens. That would have made this part more uncomfortable for both of us.
How Did Our Broody Hen React?
Once she was in the Broody-Buster she was pretty irritated, clucking away and pacing the cage. She became more & more uncomfortable the longer she stayed locked in that cage, looking around for a way to get out and pacing away.
Sorry girl, this is going to be your new home for a few days. But it's for your own good.
What about Bailey's interactions? She was keenly interested in the hen at first. The interest had her going around the cage with some excitement and sniffing at the crate, even yipping at the hen from time to time.
But just as we had hoped, as time went by she didn't show the hen more than a casual glance. And we purposely brought Bailey close to the crate on several occasions. We wanted her to learn that this critter was allowed here and was not to be harassed.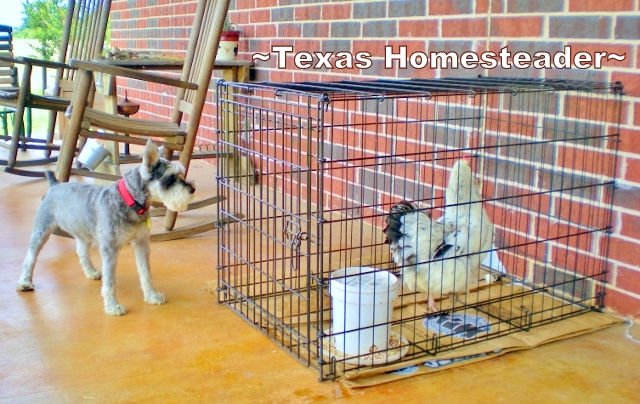 The hen stayed in the Broody Buster for 3 days before we carried her back to the barn to see how she reacted. Nervously we set her down next to the other hens as they scratched around in the dirt at the barn.
Success!
HOORAY! She was back to her old self hanging out with the other hens, chasing bugs and taking dust baths. We'll be sure to keep this broody buster in mind when one of them starts to go broody again. Next time we'll nip that habit in the bud more quickly!
What are your favorite ways of dealing with a broody hen?
Chicken-Care Posts


C'mon by & sit a spell! Come hang out at our Facebook Page. It's like sitting in a front porch rocker with a glass of cold iced tea – lots of good folks sharing! You can also follow along on Pinterest, Twitter or Instagram.
If you'd like to receive an email each time a new blog post goes live it's EASY to
Subscribe to our blog!
Save
Save
Save