by Texas Homesteader ~
Y'all already know we split the garden area this year. About 40% of that area became the chicken ranging area and the other 60% remained my veggie garden, but more efficiently arranged. I love the symbiotic relationship of chickens/garden. I'm hoping the chickens will keep grass scratched away from the adjoining garden area to help me win the fight against Bermuda grass. And I know they will also eat all the bugs & grasshoppers coming toward my garden from their area. I can toss over grubs or produce that didn't make it, and the hens provide me with fresh eggs. Win/Win!
I recently shared with you a low-waste chicken feeder RancherMan whipped up for me. While I love how much it reduces the chicken's slinging it to the ground and wasting it, the wild birds were also loving the free open buffet. We're feeding organic laying pellets, I certainly didn't want to be feeding that to the birds! But oh we've discovered a secret – check out today's Homestead Hack.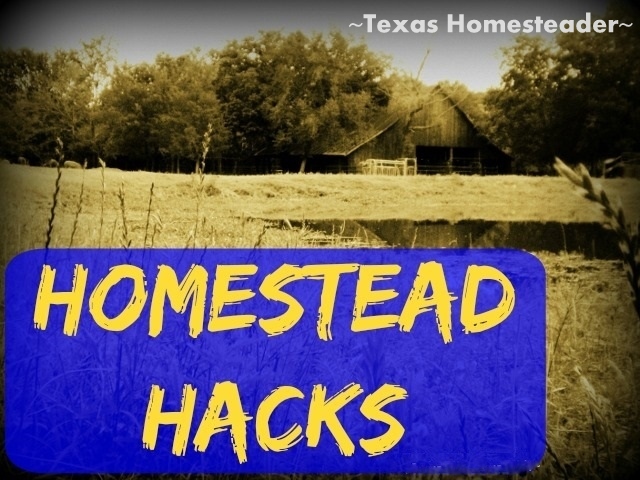 I've heard for years that you can scare away certain critters by placing a moving shiny object around the area. But it wasn't until I saw this piece by the Prairie Homestead that the light switch clicked on. Maybe there was something I could do to keep the birds from eating us out of house & home. Hummmm…
You know by now my battle cry: "Use Whatcha Got!" I remembered that the string that's used on our cattle feed bags does not deteriorate very quickly. So I figured that would be the perfect thing to use here.
I took a spare step-in electric fence post and angled it so it was tilted toward the chicken feeder. Then I folded a long feedbag string until it was in a thickness of four strings and looped it through the hole in this old CD I found in our office. I tied a loop on the opposite end of the string & slipped it over the end of my post. The angle of the post and the length of the string causes the shiny cd to move even with a gentle breeze.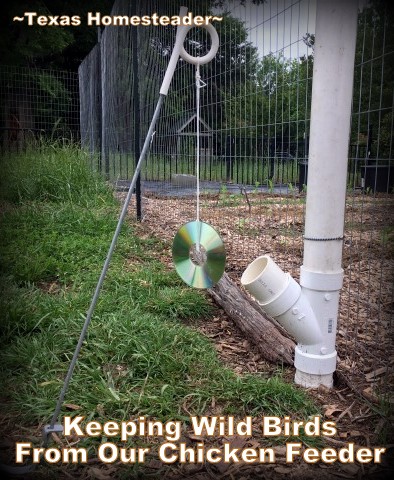 Then I stepped back to see how well it worked. BOOM! Wild birds gone! I wondered if the moving disk would also make the chickens apprehensive. But they didn't seem to be affected by it at all and happily bellied up to the feeder when they got hungry.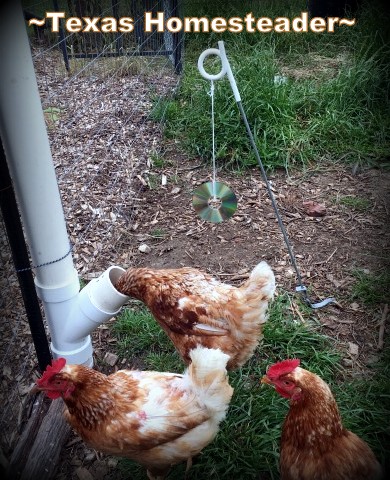 Success! Sometimes it's true you can use low-tech methods to successfully address a problem. And I've used items I already had around the ranch so there was nothing to buy. Love it!
~TxH~
Chicken-Care Posts
~ ~ ~ ~ ~ ~
Other 'Use Whatcha Got' Ideas


C'mon by & sit a spell! Come hang out at our Facebook Page. It's like sitting in a front porch rocker with a glass of cold iced tea – lots of good folks sharing! You can also follow along on Pinterest, Twitter or Instagram.
If you'd like to receive an email each time a new blog post goes live it's EASY to Subscribe to our blog!
Save