by Texas Homesteader ~
*contains affiliate link
Several years ago RancherMan bought a martin house as a gift for me, knowing how much I loved birds. He also knew what a challenge it was for me to get any trees to grow in our backyard.
We put that martin house on a heavy reinforced triangular telescoping pole. Then we attached it securely to a line post on the fence to our yard.
For years I've enjoyed watching nests being built and young being raised. And I love the robotic R2-D2 sounds the martins make as they swoop around the yard.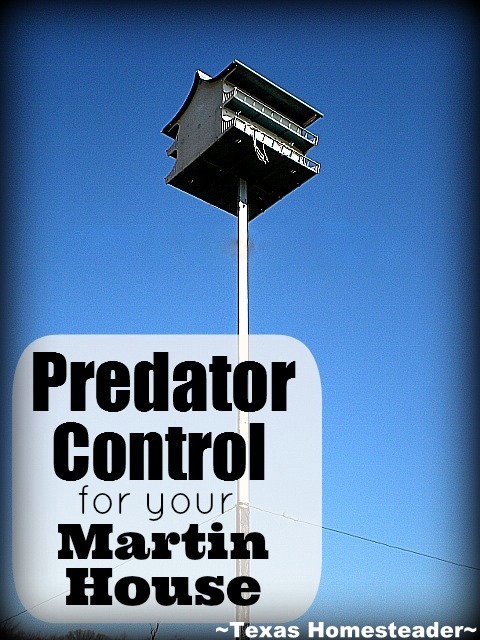 (Note: Some links in this post are for further information from earlier posts I've written. But links preceded with * are affiliate links. If you click them and buy something (almost anything, not just the item noted) I could receive a tiny commission. But the price you pay will NOT change. It's an easy way to support this blog without anything coming out of your pocket. So click often! Thank you!)
But the martin house has certainly had its challenges too. Even though we have that heavy-duty pole, a strong storm laid it over one year.
Thankfully only the last foot of the pole was damaged & RancherMan was able to cut that section off. After he righted the martin house again he attached a piece of heavy-gauge wire from the fence to the pole on each side to stabilize it.
I was happy that I was once again able to enjoy the purple martins.
Snake Predators Crawling Up The Pole
Then we noticed one evening as we sat on the back porch chatting that a snake was working its way up the pole.
Now I don't begrudge a snake his meal. He deserves to eat just like any of the more beautiful creatures.
And most snakes are very beneficial in keeping down the population of rats & mice.
But I really didn't want to lose my martins since there are other places for those snakes to get their meal. I'd love to steer him away from our martin house if possible.
Typically if a snake shows up in an undesirable location or too close to the house, we simply relocate him with our extra long *Snake Grabber.
It's easy to safely catch a snake using that extra-long grabber with the firm-gripping end.
But on this night we noticed as the snake worked his way up the pole that he lost grip and fell to the ground. (First straddling the barbed wire fence – ouch!)
So I assumed my martins were safe from sneaky-snakey predators.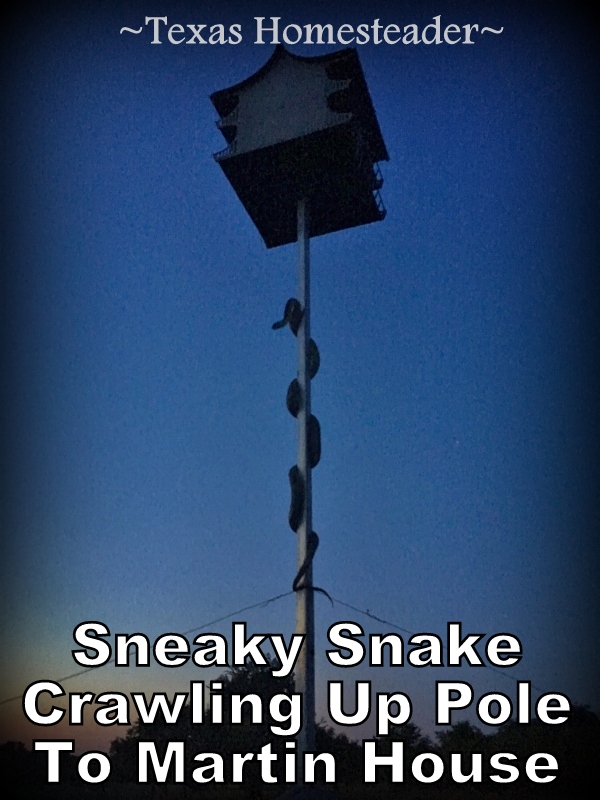 But although we were confident that the pole was just too long for a snake to crawl aaaaaall the way up, apparently not!
Several months later a snake made its way up the pole during the night and completely wiped out the inhabitants of our martin house! I was not a happy girl…
It took several weeks before any birds were brave enough to begin building nests in the martin house again. But little by little the house was repopulated.
I couldn't stand the thought of a snake working back up the pole. So I asked RancherMan what he thought would be a good predator solution.
Trying A Shmear Of Tractor Grease
He took tractor grease & greased about 5 feet of the pole. His thinking was that the snake would be covered in grease and not able to grip the pole. Great idea!
But one day I noticed there was no activity from the martin house. Upon closer inspection I could see where the snake did indeed slink right through that grease.
His path was pretty evident. The grease tracks went up the pole to his meal. Once again I was so sad to have lost my Martins. We've got to find a better deterrent.
Physical Barrier – #UseWhatchaGot!
Once again begging RancherMan for a solution to save my martins he came up with this.
He took an old chimney cap & cut off the domed top. #UseWhatchaGot!
He used tin snips to cut a circle out of the center to give the martin house pole a space to go through.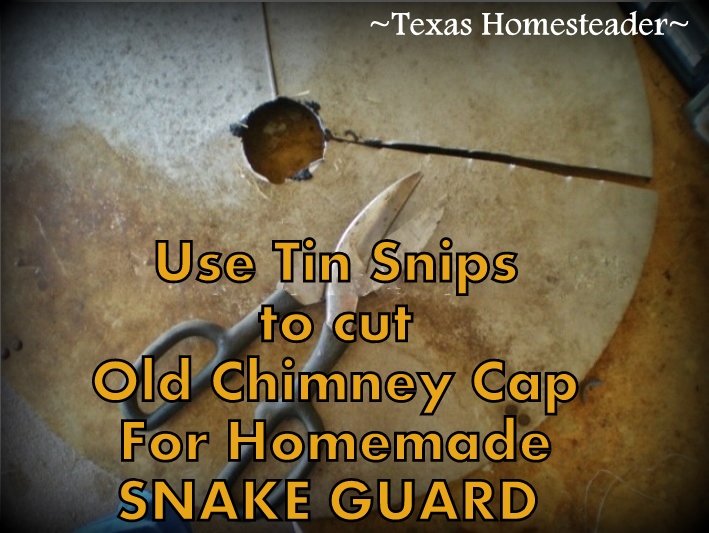 He took the piece of prepared metal & wrapped it around the pole about 6 feet off the ground. This basically made an upside down bowl on the pole.
Then he attached it to the poles with a couple of screws to hold it all in place.
If it works the way he intended, the snake should hit up against this 'inverted bowl' as he crawls up the pole. And hopefully he'll have no way to get around it.
We're betting he won't be able to get around this upside-down bowl without losing his grip.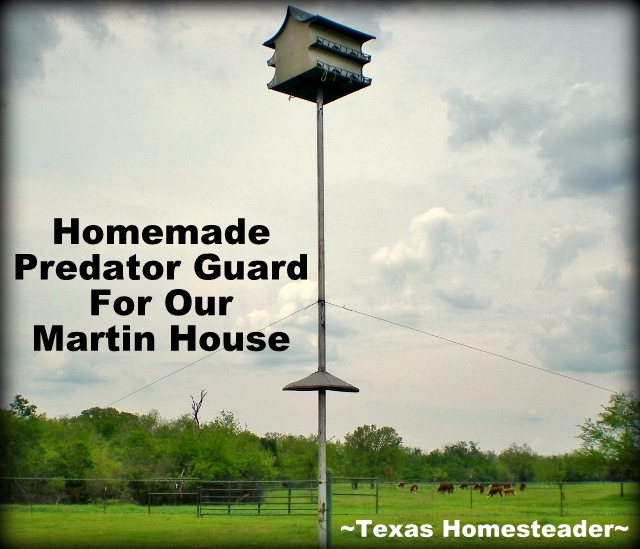 So far I've seen no further evidence of a snake going up the pole. And the martins are once again filling the house's rooms to capacity.
This solution has been up for several years so far so I'm hopeful that this fixes the problem for good! If you don't have a chimney cap sitting around to make your own snake predator guard you can *Buy A Predator Guard Here.
I love that we were able to use items we had around the ranch to solve a problem.
How about you – how do you keep snake predators from your martin house?
~TxH~
Other 'Use Whatcha Got' Ideas


C'mon by & sit a spell! Come hang out at our Facebook Page . It's like sitting in a front porch rocker with a glass of cold iced tea. There are lots of good folks sharing! And you can also follow along on Pinterest, Twitter or Instagram
If you'd like to receive an email when a new blog post goes live,
subscribe to our Blog!