~ by Texas Homesteader ~
I've found many sources for repurposing lids to replace 2-part canning jar lids for storing food. Storage lids on the cheap, y'all.
Well, for FREE actually. Come see what purchased products I've found have lids that fit a standard regular-mouth canning jar.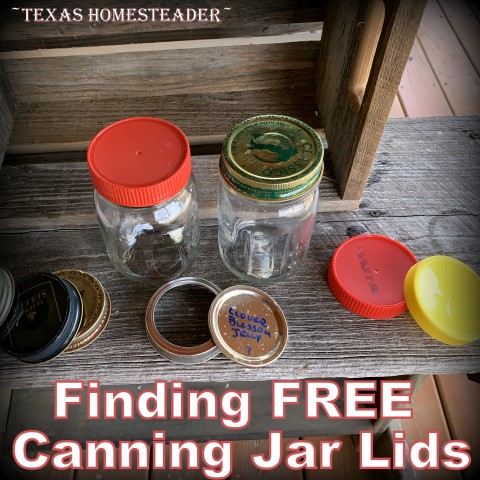 (Note: Some links in this post will take you to other related articles for further information. But links preceded with * are affiliate links. If you click and buy something I could receive a tiny commission.)
Household Uses For Empty Canning Jars
I use canning jars for many things here on the Homestead. Everything from actual food canning to storing leftovers in the refrigerator to storing dehydrated food in the pantry.
Although I shy away from using glass in my freezer, many people repurpose canning jars to freeze foods as well. (using proper jar-style selection & headspace recommendations of course)
Since you can only use traditional 2 piece canning flats & rings once when canning food, I'll often utilize previously-used canning flats & rings to top canning jars I'm using for other food storage such as refrigerator leftovers or panty storage.
But sometimes doinking around with a 2-part lid is inconvenient. Thankfully there are lots of easy options that fit those canning jars and they're usually free!
Finding Free Shaker-Top Lids
Y'all probably already know I'm a big fan of repurposing various lids for convenience purposes. Remember my search for those valuable (yet FREE) parmesan cheese lids??
I have several Parmesan Cheese Lids that I've repurposed onto canning jars for various purposes.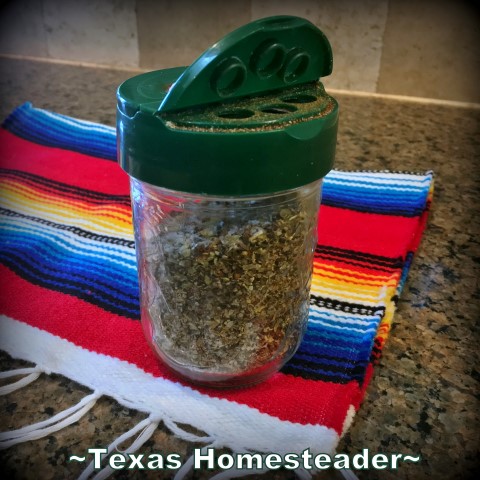 I've got one of those handy repurposed shaker lids on a small half-pint canning jar that holds RancherMan's favorite BBQ Spice Rub.
The large holes make it very easy for him to apply to the meat to be grilled. And the flip side has an area large enough for a measuring spoon if he wants measure out some of the rub for his beer-based mop sauce recipe.
I also have one of those handy repurposed parmesan cheese shaker lids on another half-pint canning jar that I use to hold baking soda.
This one is kept in my baking supplies since one of the sides flips up for easy measuring with my measuring spoon.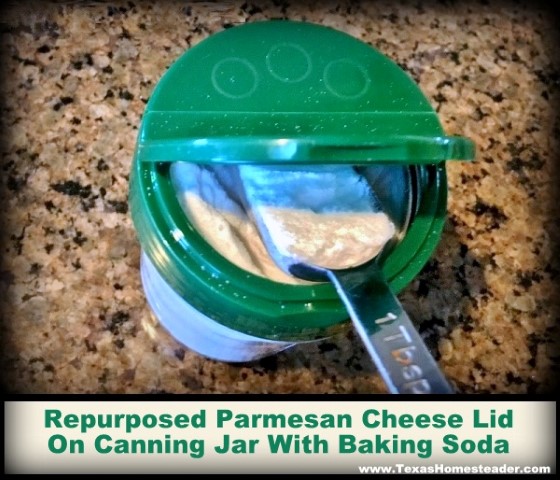 Since the other side's a sprinkle shaker-type lid I use that side for sprinkling baking powder on my pots & pans when I'm washing them and need a little extra Baking-Soda Scrubbing Power
Heck I've even gathered and used those repurposed parmesan cheese lids to make homemade spice mixes to give as Homemade Christmas Gifts.
My friends & family know I collect those lids and are happy to save them for me.
Using Canning Jars For Food Storage
But for regular canning jar storage of dry food in my pantry or leftovers in my refrigerator, I'd always just try to repurpose used canning flats & rings. But is there a better way?
I was thrilled when I found that you could buy one-piece plastic *Canning Jar Storage Lids. And I bought a box of them to use in my kitchen.
And use them I do! Especially for jars holding leftovers going into the refrigerator. They're so convenient.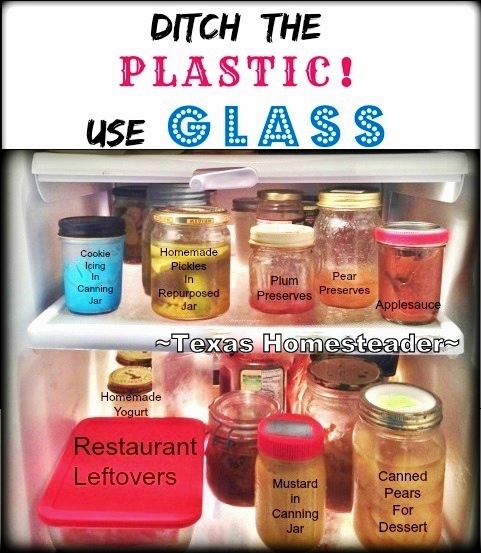 No more rummaging around for first the flat and then the ring. That lid is all one piece.
Grab one, slap it on the jar & GO!
Where To Find Free Canning Jar Storage Lids
I began to stumble across food items that were sold with lids that fit my canning jars perfectly. It was like getting FREE canning jar storage lids from various purchased products.
I mean, instead of recycling or just throwing it away, I might as well put those handy lids to use, right??!
It's true that many brands of peanut butter are sold with lids that fit a standard-mouth size canning jar.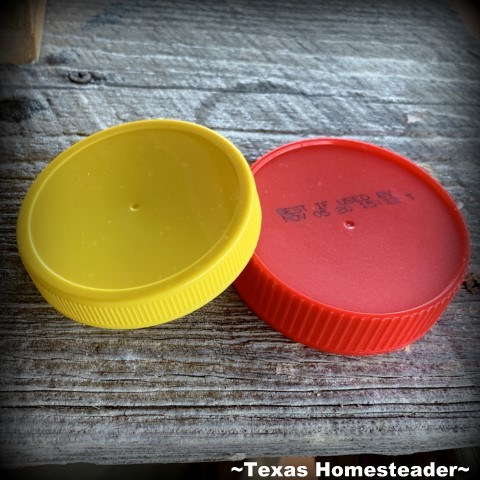 And although I've made my own Homemade Mayonnaise for years, I understand many mayo brands are sold in jars that have plastic lids that fit standard-size canning jars as well.
Using Mason Jars With Plastic Lids
There are several places where a one-piece plastic lid and a mason jar are handy for your food storage:
Storing Leftovers – I'm a big proponent of Using Glass In The Refrigerator. So I'm often using these one-piece lids when I'm using my canning jars for storing leftovers in the fridge.
Vinegar-Based Foods – When I make Refrigerator Sweet Pickles, or pickling okra from the garden or pickled jalapenos for RancherMan's liking, the vinegar can react with some metal lids. So I'm happy to have these free plastic lids to top those jars.
Rust-Proof Jar Lids – For those who store food in glass canning jars in their freezer, these lids might provide a free resource for a rust-free lid.
Free Metal Lid Options
I've also found that jars of Classico pasta sauce and another product labeled 'Safeway Select' often have metal lids that fit standard-mouth canning jars too.
Although I don't typically purchase those food products I have family members who do. They're happy to save those handy lids for me instead of chunking them in the trash or recycling bin.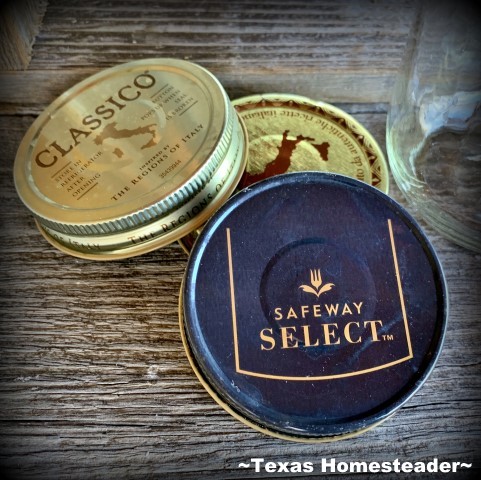 These metal lids are great for times when I'm making Homemade Yogurt In The Oven.
Although the incubation temperature I use when making yogurt isn't really high, I'm more comfortable with a heat-proof metal lid than a plastic one for that purpose.
Wide-Mouth Canning Jar Lids
I've not yet found a readily-available free source for wide-mouth-sized canning jar lids. So I'll still buy *Wide-Mouth Jar Storage Lids for those times when I need a lid for food storage in those handy wide-mouth canning jars.
But I'll be watching for resources for free replacement lids for those wide-mouth jars.
In the meantime at least for regular-mouth jars I have all the lids I need for FREE!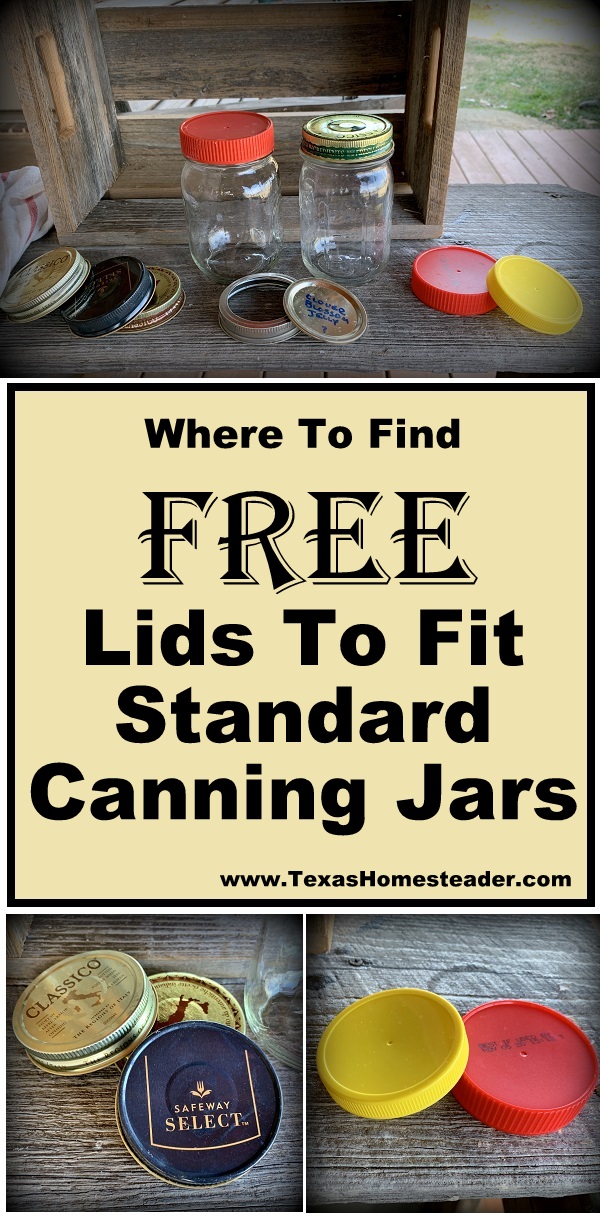 Can You Reuse Mason Jar Lids For Home Canning?
Can you use these repurposed lids to actually home-can your food? This question goes around the internet a lot.
There are some who re-use those repurposed lids from purchased food products to home-can their food. They remark that they've done it for years with no ill effects.
But canning lids are designed to be used only once. It's not safe to reuse a canning lid for home canning. The lid may appear to seal but not seal appropriately. Or it may not seal at all.
The results of eating home-canned food that has not been processed with all safety measures in place can be devastating and result in severe illness or even death.
So no, don't try to save a few bucks by reusing repurposed lids or used canning lids for food canning.
Use those repurposed lids to store shelf-stable foods in your pantry or leftovers in your refrigerator.
Or use those repurposed lids on canning jars for storing grandma's button collection or any other small collection you may need to corral.
But never reuse any type of canning lid twice when canning your food.
Watch For Lids To Repurpose
So before you toss that empty jar in your recycling bin, eyeball that handy lid. Could it be a free resource for you to use on your canning jars to store food or other items?
Be sure to check it out!
~TxH~
This post categorized in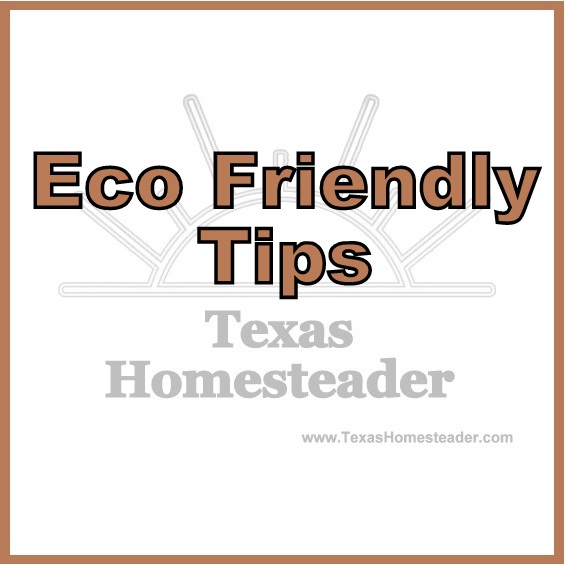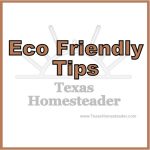 Links In This Post:
Other Kitchen Hacks


C'mon by & sit a spell! Come hang out at our Facebook Page. It's like sitting in a front porch rocker with a glass of cold iced tea. There are lots of good folks sharing!
And you can also follow along on Pinterest, Twitter, Instagram
If you'd like to receive an email when a new blog post goes live,
subscribe to our Blog!