by Texas Homesteader ~
*contains affiliate link
There are many simple, frugal (or FREE) ways to reduce waste in your kitchen. These simple steps can make a huge impact in reducing the amount of landfill trash spilling from your home. It's EASY, come see this handy list!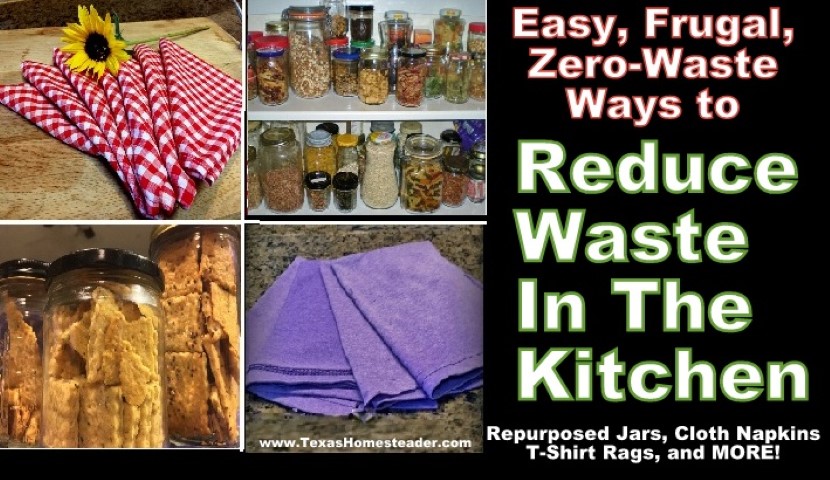 (Note: Some links in this post are for further information from earlier posts I've written. But links preceded with * are affiliate links. If you click them and buy something (almost anything, not just the item noted) I could receive a tiny commission. But the price you pay will NOT change. It's an easy way to support this blog without anything coming out of your pocket. So click often! Thank you!)
Reducing Kitchen Trash
Y'all know I've been on a quest to reduce our outgoing household trash for years now. We've been pretty successful.
As a matter of fact we've eliminated the need for a weekly trash pickup to haul our household trash to the dump.
There are so many steps we took to reduce our trash output so drastically including the (now 5) R's:
Refuse,
Reduce,
Reuse,
Repurpose,
Recycle.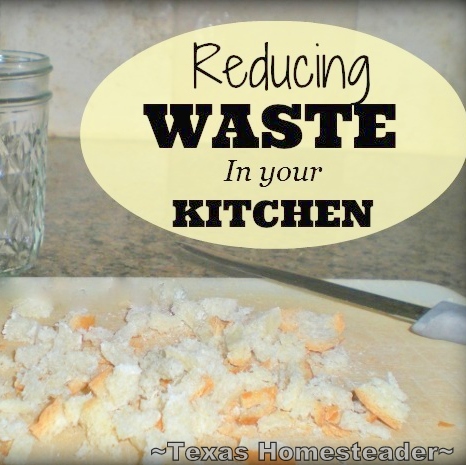 Today I'll talk about a few ways we've been able to very easily yet substantially reduce our trash output from our home's kitchen.
~ ~ ~ ~ ~ ~ ~ ~ ~ ~ ~ ~ ~ ~ ~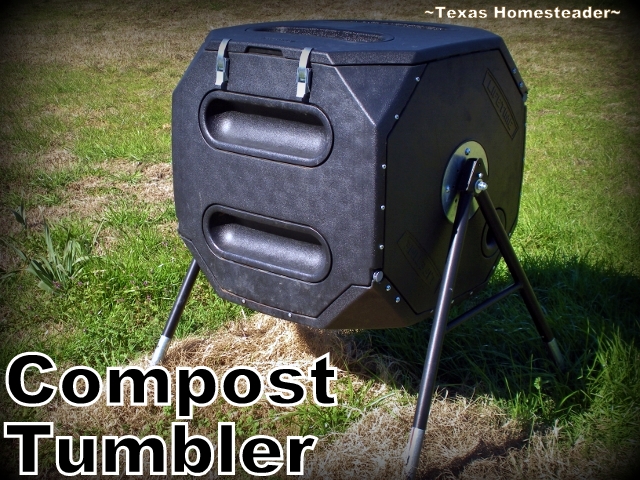 I think first & foremost one of the largest ways we were successful in reducing trash in the kitchen is to turn some of that food waste into something very useful in the garden.
I absolutely love my * compost tumbler – I've written about it lots. And yes, I love it that much.
We don't waste much food at all at our household but there are always going to be small amounts of food byproduct that will need to be disposed of – banana peels, potato peels, orange peels, egg shells and the like.
Some of these items go to our goats or chickens but what to do with the rest?
I like to keep my garden as organic as possible so I make my own compost.
This kitchen waste coupled with waste paper such as envelopes from the mail, black & white newspaper, paper documents, ripped Cardboard, etc.
And living on the Homestead, I have ample supply of cow manure to add as well!
A quick turn of my tumbler and I'm well on my way to that rich compost that boosts my garden production for free.
~ ~ ~ ~ ~ ~ ~ ~ ~ ~ ~ ~ ~ ~ ~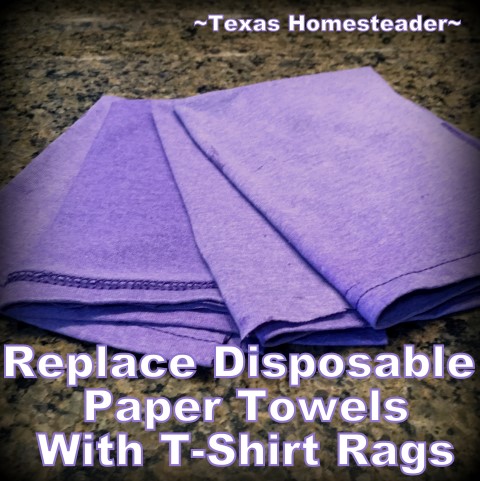 I eliminated paper towels & went to 100% cloth in my kitchen several years ago. But I used to buy those special cloths labeled especially for kitchen cleaning.
Of course that was a step in the right direction since those cloths could be washed & reused for quite some time.
But I wondered why I would need a special kind of cloth for kitchen use. So I started buying bundles of inexpensive washcloths instead. That was an even better step financially.
But I wondered… could I do even more?
As it turns out, yes – I started cleaning like grandma always did. I started using cleaning rags instead of purchased cleaning cloths of any kind.
I like to use cotton cloth when I clean. So I'm often cutting an old cotton sock or t-shirt into squares to turn it into an absorbent scrubbable 100% cotton cleaning rag for FREE.
I've found there are actually Many Uses For An Old Sock. So using it for kitchen cleaning was a natural next step for me.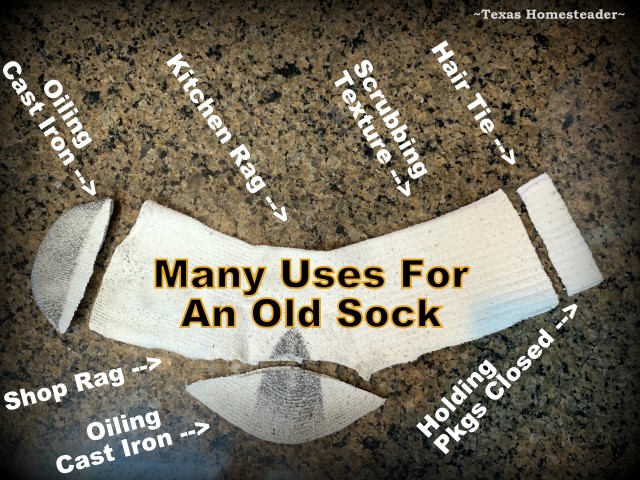 These cleaning rags have also taken the place of paper towels. Although this was a hard one initially for RancherMan, gradually he got used to grabbing the cloth rags instead of paper towels in the kitchen.
And once they have completed their next life as kitchen cleaning rags RancherMan gets them to use in his workshop. So that's helped his paper towel withdrawal symptoms a lot.
Those workshop rags can be used to wipe down something greasy & then just be thrown away. I don't have a problem with this disposal since these rags have migrated down the line in their duty responsibilities: sock – cleaning cloth – shop rag – before finally being thrown away.
~ ~ ~ ~ ~ ~ ~ ~ ~ ~ ~ ~ ~ ~ ~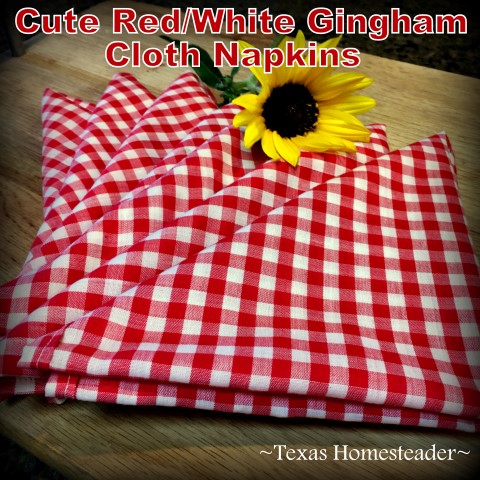 Speaking of paper, since we went paperless in our kitchen several years ago you'd be hard pressed to find a paper napkin in my kitchen.
Our napkins are cloth and some our current cloth napkins have done their job for several years now. And they're not even close to being through with their tour of duty.
Cloth napkins are very inexpensive to buy. And since they take up very little space in the washer I just toss 'em in with our regular laundry. No extra cleaning cycles needed!
So once they're purchased they are ready to serve for many years.
I even made some adorable red/white gingham napkins from a thrifted tablecloth. I absolutely love them, and all 9 of my new napkins were made with only the cost of that tablecloth. Yep, one buck!
Occasionally I'll have a guest ask in wonderment "You mean, you don't have ANY paper napkins??!!" LOL.
So I do save that one wayward extra unused paper napkin that would have been thrown away when we occasionally stop for a quick burger.
Then I bring it home & tuck it neatly into a container in my kitchen so that when a visitor needs a napkin I can pull one out! LOL
~ ~ ~ ~ ~ ~ ~ ~ ~ ~ ~ ~ ~ ~ ~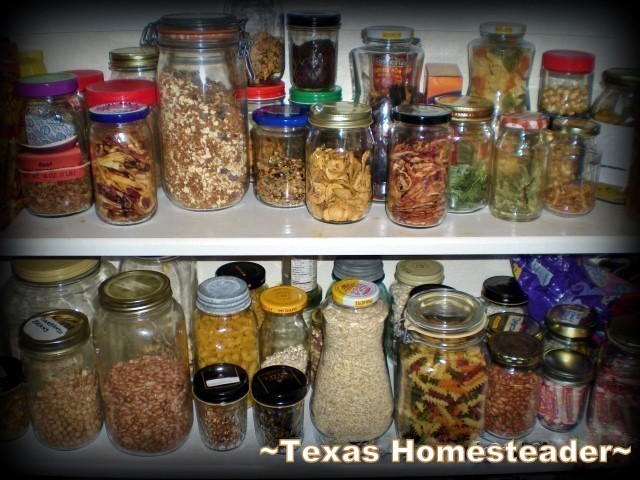 I've dehydrated garden excess as well as great deals I've found at the grocery store. You can read all my dehydrating posts here.
Dehydrated produce takes up very little space in my kitchen and it takes no additional energy to store. I use clean glass jars to hold my dehydrated veggies.
Not only do they look beautiful on my pantry shelves, but their glass-jar containers have been repurposed from other food products. No need to buy specialty storage jars!
I also reuse wide-mouth jars for leftovers in my refrigerator. Since it's easy to see through the glass to see the food inside, much less leftover food gets wasted.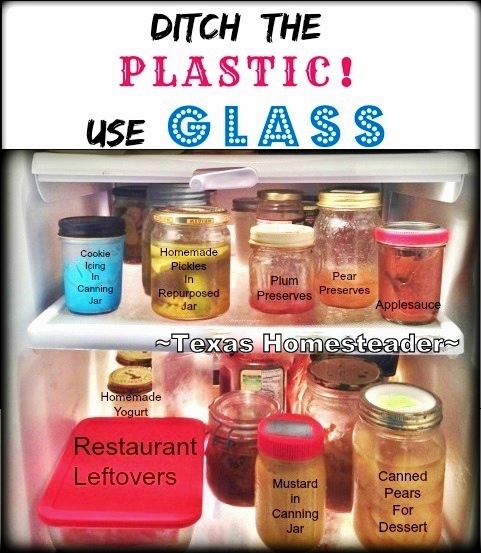 I pop the last of that chopped onion or the leftover serving of meatloaf into a wide-mouth glass jar. It's right there in front of me when I open the fridge to see what's for lunch.
And lastly I use the clean empty plastic peanut butter jars for freezing homemade broth & Ranch-Style Beans.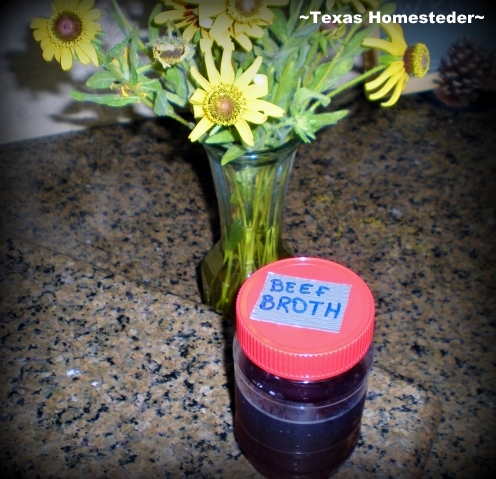 We always have a supply of plastic peanut butter jars and this gives them one more use before being recycled.
~ ~ ~ ~ ~ ~ ~ ~ ~ ~ ~ ~ ~ ~ ~
Y'all know how much I hate plastic! But it seems it's almost impossible to get away from it these days. So if I'm going to have to bring plastic into my kitchen I'm going to make sure it's used to it's fullest.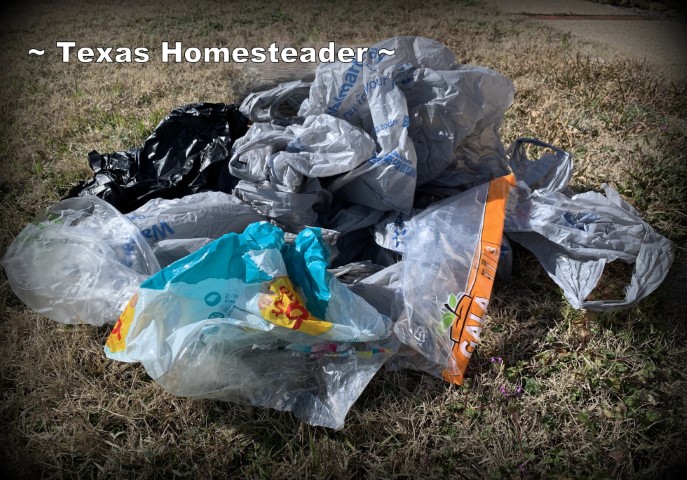 I reuse the plastic bag that some of my other food comes in. Anything from popcorn bags, heavy zippered cheese bags, tortilla bags and the like. A quick rinse and dry, then they're folded to await their next usable life.
The larger ones I use to hold homemade bread to keep it nice & fresh. And the smaller ones are used to hold various things. Especially servings of entrees going to the freezer.
Y'all know I use the 'cook once eat twice' method of cooking? That's where I'll cook a whole oven full of a main dish, then section it out and freeze it in meal-sized servings. Well these smaller plastic bags do that separating for me.
I'll tuck a serving of meatloaf into each of several small bags, place them all in one large freezer bag, pop in a label (because you know all frozen chunks of food look alike) and into the freezer it goes!
Now it's easy to pull out a meal-sized serving of homemade meatloaf & place it in the fridge the night before. And a homemade supper the next night is quick & easy.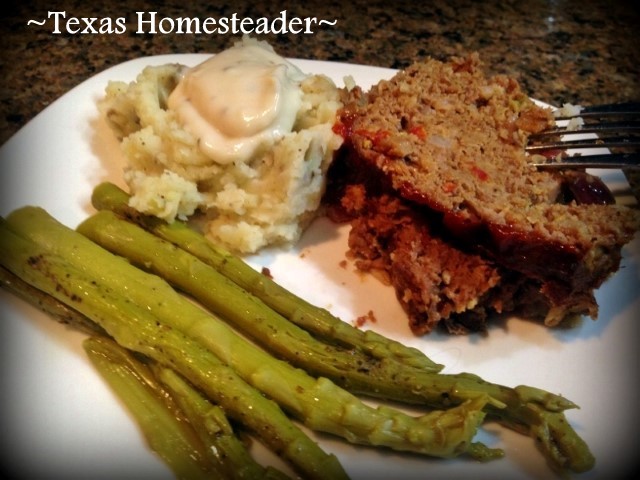 Plus those blasted plastic bags I've been forced to accept with my food items have received another use before finally being thrown away.
Even MORE Ways To Reduce Kitchen Waste
WHEW! This is turning into a super-long post. I told you there were lots of ways to reduce trash in the kitchen!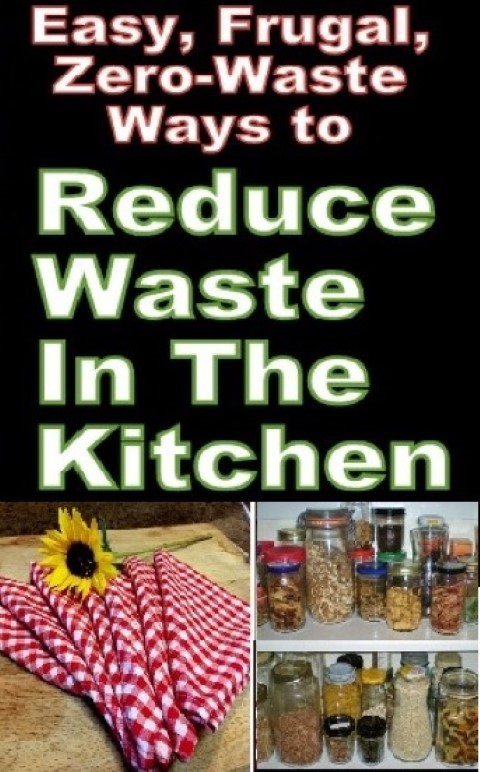 Stay tuned next week for Reducing Waste In The Kitchen, Part II for five MORE ways to reduce trash in the kitchen.
And please weigh in – what are YOUR secrets for reducing waste? C'mon don't be shy, we can all learn from each other.
~TxH~
This post categorized in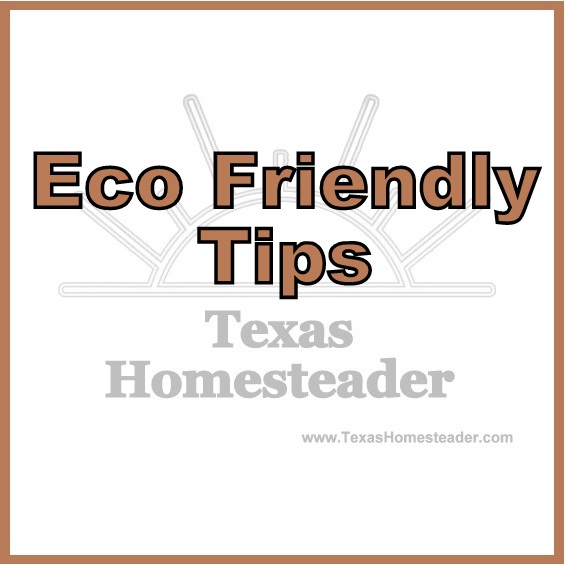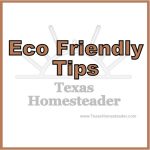 Other Low-Waste Stories
C'mon by & sit a spell! Come hang out at our Facebook Page. It's like sitting in a front porch rocker with a glass of cold iced tea – lots of good folks sharing! You can also follow along on Pinterest, Twitter or Instagram.
If you'd like to receive an email each time a new blog post goes live it's EASY to
Subscribe to our blog!
* A word about our Affiliate Link – We are currently enrolled as an Amazon Affiliate. Occasionally I will insert an affiliate link into one of my posts if I think it may be of interest to you, in this case a compost tumbler. I purchased the tumbler myself and receive nothing from the manufacturer, but I love it & thought you might too. If you click on any of my affiliate links and buy something (almost anything, not just what was linked) I get a small referral percentage from Amazon. But here's the really important part – the price you pay for your items is UNCHANGED.
When you buy something through the affiliate link it's a great way to support this blog without anything coming out of your pocket so please click often!
Save
Save