by Texas Homesteader ~
OK, I may be cheating somewhat with this post of 5 frugal things we did to save money this week. Most money-saving steps were more necessity than anything!
You see, not only here in Texas but even most of the United States was slammed with a historic arctic blast this past week. It was bad y'all.
Thankfully we were blessed with a little time to prepare beforehand. Still there were things we did to save some money during the icy-cold hardship.
Come see this week's winter storm version of 5 Frugal Things!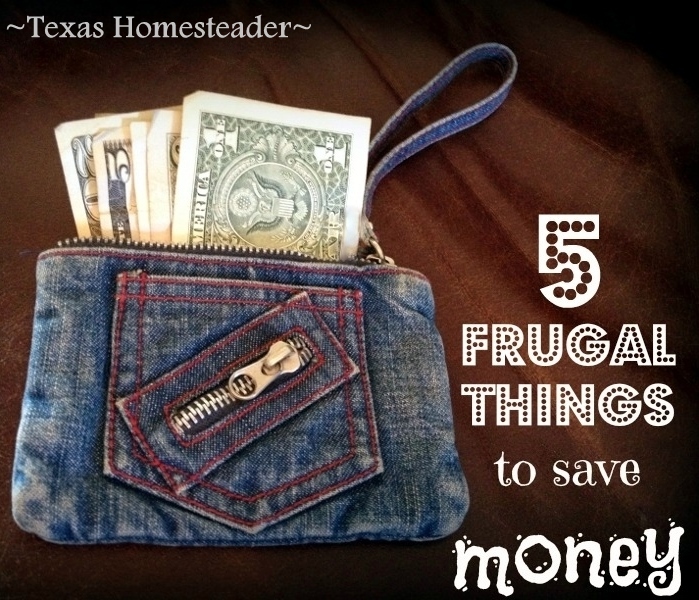 (Note: Some links in this post are for further information from earlier posts I've written. But links preceded with * are affiliate links. If you click them and buy something (almost anything, not just the item noted) I could receive a tiny commission. But the price you pay will NOT change. It's an easy way to support this blog without anything coming out of your pocket. So click often! Thank you!)
Preparations Beforehand
As I mentioned we had advance warning of this impending storm. RancherMan & I were concerned about how strong or prolonged the storm would actually turn out to be. So we prepared as best we could in the days before the storm hit.
Much firewood was cut, split and stacked on our front porch. We'd never had that much stored on our front porch before!
The wood rack was filled, then wood was stacked high on either side of the wood rack. Then on the other side of our porch. We even left the wheelbarrow filled to the brim with firewood on the porch for easy access.
Then anticipating power outage RancherMan went to our Storm Shelter and brought out the large cooler that we keep stored down there.
In the event of a power outage we'll store our refrigerated food in this cooler and place it where the temps will keep it safely chilled. The cooler will protect the food it contains from any passing hungry critters.
We also pulled a few things from our freezer so they'd be thawed and we could cook them to keep us fed through the winter storm. I pulled out a large pork roast and some ground meat.
Offering Refuge To My Parents
The power went completely out at my parent's house for over 24 hours with no indication it would be restored any time soon. We begged them to come stay with us.
Although rolling power outages were happening here as well, at least we had the fireplace to keep us warm while the power was out.
They agreed to come stay with us and we're so thankful that they did!
But now there were twice as many people that I needed to keep fed. So the first frugal thing (although it was from necessity) is that we concentrated on eating food that we already had to feed all four of us.
1. Eat Food From Freezer/Pantry
I knew that in a prolonged power outage the refrigerated foods would spoil first. So I focused first on using up refrigerated foods. I used up the eggs in our refrigerator for breakfasts to serve scrambled eggs topped with salsa verde & wrapped in tortillas that were warmed in a cloth *tortilla warmer sat atop the fireplace.
We also had Homemade Yogurt in the refrigerator too. Both plain as well as yogurt I'd flavored with sugar-free strawberry jello. Something for everyone!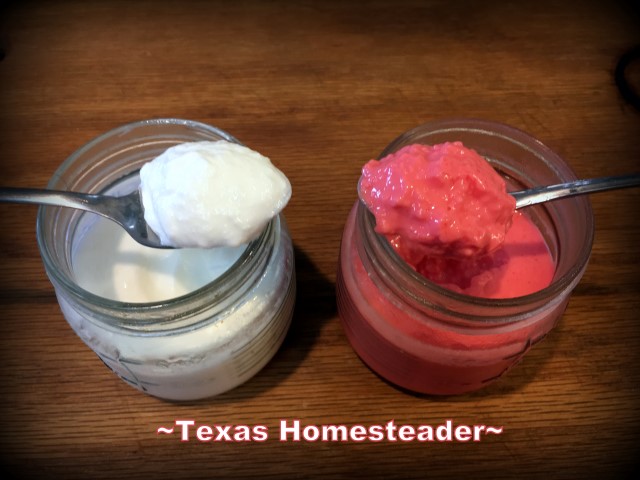 For other meals I pulled cooked chicken from the freezer & we enjoyed homemade Chicken & Dumplings,
And during a short stint when the power was actually on I whipped up a Pepperoncini Roast since there are only 3 ingredients & I can get it fully cooked in only 35 minutes.
Then I pulled bones from the freezer and made plenty of Homemade Broth since you can use either an Instant Pot or stockpot on the stove to make it.
In my case I was able to use the Instant Pot for long enough before the power went out again to get this broth made.
I'll be able to use this healthy broth to make hot and comforting soups with the ground meat I'd thawed, the few fresh veggies that remained along with a handful of rice to stretch the soup farther.
And to use up the milk in the refrigerator we even enjoyed rich decadent homemade Chocolate Pudding. Hey, just because you're hunkered down doesn't mean you can't have a little sumpin' sweet!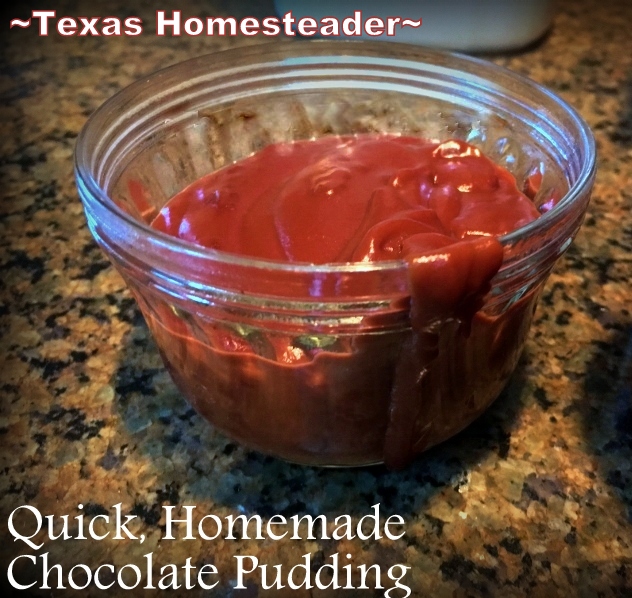 I'm thankful that the electricity stayed on during those short bursts of time it was needed to cook food.
And when the electricity was off I was still able to use our gas-powered stove to keep us all fed.
By having our gas-powered cooktop, the electricity on for short stints, and the fireplace we were all able to stay warm, fed and comforted. This was a huge benefit during the bleak, cold winter blast!
2. Water From Dripping Faucets
As you know it's recommended to drip water for any faucet which has pipes in an exterior wall to help keep your pipes from freezing. But we also knew that it was entirely possible that our county water pumps could go completely down (and they did).
So Instead of just dripping the water into the sink and down the drain, I captured it in large stock pots or pitchers.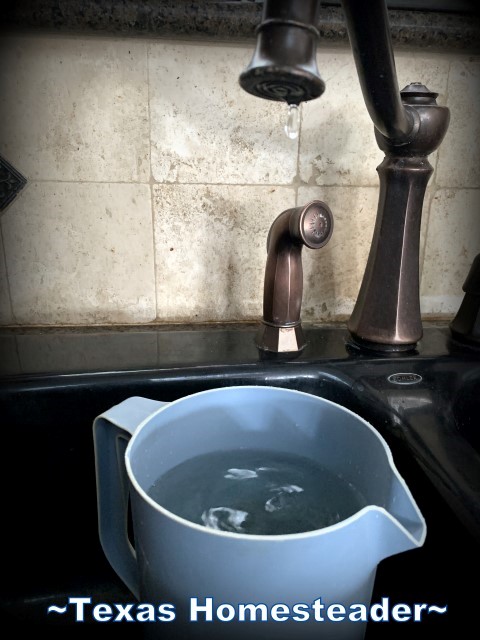 It kept excess water from flowing into our septic system. We didn't want those sprinklers in the leach line going into overtime and potentially freezing.
But it also preserved some water for either drinking or flushing toilets. Since I didn't need to buy bottled water beforehand for these purposes I'm counting this as a money saver this week.
I simply put the big stock pots of water on to boil to make sure they were suitable for consumption. Then I cooled the water for drinking or cooking.
Heck we even used our stovetop coffee pot with some of that potable water and had hot steaming coffee available!
The non-boiled water I'd captured was poured into repurposed milk jugs and kept in the bathrooms for flushing toilets.
3. 100-Acre Freezer
As I mentioned we were prepared to use our well-insulated workshop for refrigerated food and our north-facing back porch for a temporary freezer if the power went out long term. And right now I needed a freezer.
You see I typically store my flour, rice, beans, etc. in the freezer. As anyone who has experienced pantry moths in the past can tell you – by golly you only get pantry moths once in your lifetime before you know you NEVER want that to happen again!
So my grains always spend at least the first day or so in the freezer to make sure I don't get those invasive critters again. And I often go ahead & store those bags of rice, beans or flour in the freezer just to be on the safe side.
But RancherMan's hunting prowess means there's too much wild-hog and venison in the freezer right now to have any room for those bags of grains.
So I figured I'd take advantage of the 100-acre freezer I found myself with! I bundled the rice, beans and flour that wouldn't fit in our freezer into a cooler (again to protect from being messed with by hungry critters.) I placed the cooler on our back porch.
It's said that 24 hours or so in the freezer is all that's really needed. So I took advantage of my new 100-acre freezer and froze all the grains that wouldn't fit in my freezer right there on my back porch. LOL
4. Electric-Free Warmth
I wrote recently about Ways To Keep Warm When The Power Goes Out. Thank goodness we have a vintage Franklin free-standing cast-iron fireplace in our home.
Originally we bought it because we loved the way it looked. You've got to agree, it *is* beautiful, huh?
And who doesn't love a crackling fire on a cold night?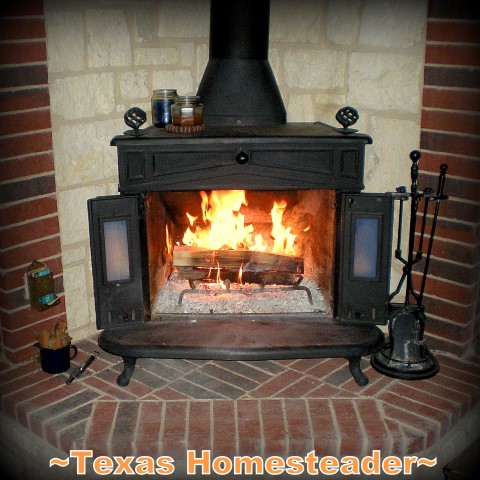 But living out here we discovered the power can go out at any time and for varying durations. So we also love it for being able to actually keep us warm too.
This fireplace certainly did double duty for us this week in being able to get through the prolonged deep freeze without electricity.
5. Heating Single Rooms
Years ago we bought a beautifully decorative propane heater at an antique shop. We just loved the way it looked. And that bad boy surely got a workout during the cold snap when the electricity was off that's for sure.
But RancherMan & I have decided to keep using it for the long term too. So now that the winter storm has passed we're still planning on using it nightly.
At night he's been turning the thermostat way down and lighting that little stove. Between that little stove and my grandmother's handmade quilt on the bed, we're kept unbelievably comfy warm!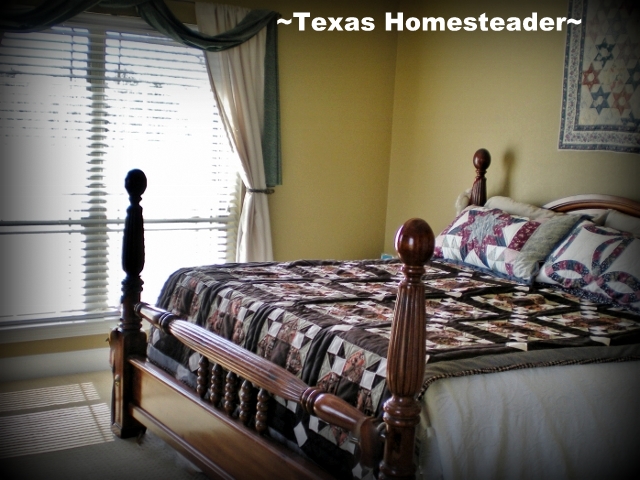 We figured there's no need to pay to heat the whole house when it's just the sleeping quarters we want to keep that warm.
Witnessing The Power Of #TexasStrong!
So there ya go. Although this Five Frugal Things post is almost tongue in cheek since many money-saving steps were actually necessity, I though it might still be helpful to share how we got through it all.
My heart goes out to all who have suffered in this terrible cold. Yet at the same time my heart is lightened by the many stories of community strength that I've seen.
Family helping family, neighbors helping neighbors of course. But in my tiny community there were so many stories complete strangers stepping out in big ways to help others.
Oftentimes it's the hard times that bring out the worst in people. But I saw something beautiful.
I saw a community coming together, giving of themselves & helping each other however they could and getting through it together.
I'm beyond blessed to be living here in our tiny community.
Small, yes. But certainly #TexasStrong!
Here's hoping each of you and your families are doing well and staying warm. XOX
~TxH~
~ ~ ~ ~ ~ ~ ~ ~ ~ ~ ~ ~ ~
Other Budget-Stretching Articles
Other Low-Waste Stories


C'mon by & sit a spell! Come hang out at our Facebook Page. It's like sitting in a front porch rocker with a glass of cold iced tea. Lots of good folks sharing! You can also follow along on Pinterest, Twitter or Instagram.
If you'd like to receive an email each time a new blog post goes live it's EASY to
subscribe to our blog