by Texas Homesteader
*includes affiliate link
Last week I wrote about how important it was for me to have an underground storm shelter installed. It's close to our home at the ranch to be able to stay safe when tornado season hits.
There were many considerations for us to make for the actual installation. If you're considering an underground storm shelter I urge you to read Safety From The Storm – Part I: Seeking Shelter.
But now that our shelter has been installed, what do we stock it with? I polled our wonderful Facebook followers and they were so helpful (as they always are). Using their suggestions as a guide, here's what we decided would be stocked into our shelter.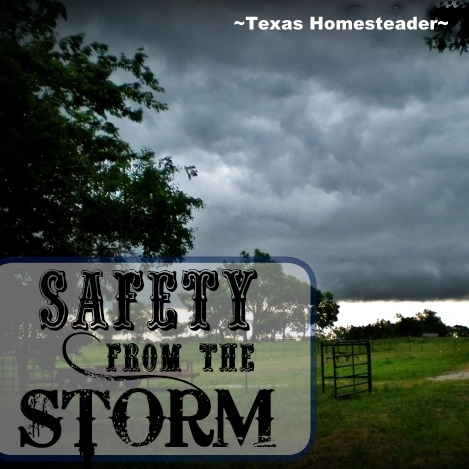 (Note: Some links in this post are for further information from earlier posts I've written. But links preceded with * are affiliate links. If you click them and buy something (almost anything, not just the item noted) I could receive a small purchase. But the price you pay will NOT change. It's an easy way to support this blog without anything coming out of your pocket. So click often! Thank you!)
Stocking Only For Short Stays
Many around here love to use their storm shelter to store canned goods & such. I don't plan on using the shelter for any other storage because I want to make sure the floor area is kept clear. It's easier to clean and easier to see there's no creepy-crawlers down there to worry about. #CreepyChildhoodMemory
Now of course you can go as far as you want with stocking your shelter. I'm assuming that 99% of our trips down into the shelter will be about a 20-30 minute duration.
I'm only stocking our shelter for a slightly extended stay of maybe 2 hours.
So I won't be stocking food, cases of water, etc.
Of course you'll want to decide the length of stay you're stocking for. With those decisions come other maintenance tasks – how often you rotate the items you store down there for freshness, etc. For my purposes, we're only stocking for a short stay during a severe storm.
Bathroom Needs
One suggestion I heard most frequently is that we should have a covered container in case someone needs to use the bathroom.
(can you still use the terminology 'bathroom' if there's no bathroom to use?? LOL)
This is a very good idea. Especially since in all probability our sweet neighbors with their two children could be joining us in this shelter.
Little ones can't necessarily 'hold it' like adults can. So I got a clean Folgers can and placed a roll of bathroom tissue inside. If needed this lidded container stands ready to be used.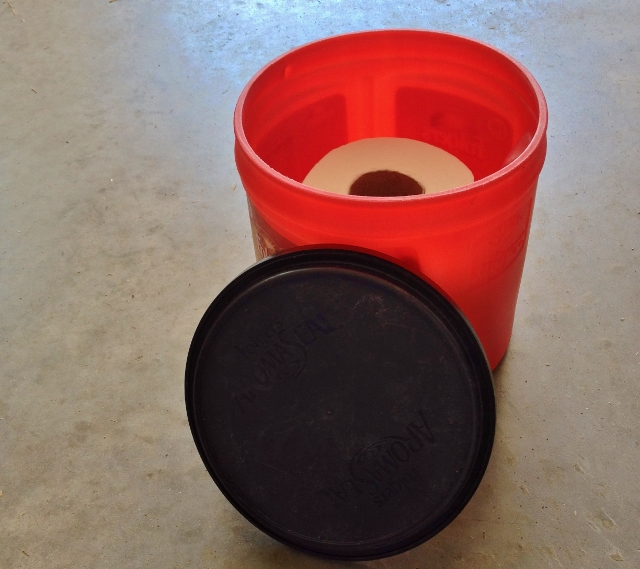 Compact Storage Doubles As Seating
All of our supplies will be stored in a very large nearly airtight * Igloo 100-Qt cooler
that can also double as seating if needed. Having our supplies stored in this large cooler assures there will be no bugs to contend with.
Not worrying about critters makes me feel better about rushing down there and sitting on a chair, for instance.
In this storage cooler we've included a couple of folding chairs to sit on while in the shelter. We also have a couple of 5-gallon lidded buckets in this large cooler.
These buckets are inexpensive & can be used for additional seating if our neighbors show up. If needed they can also be used for lidded storage in the shelter.
My intent is to keep the floor of the shelter as clear as possible so that periodic 'critter' inspection can be done quickly & easily. Everything fits neatly inside the cooler.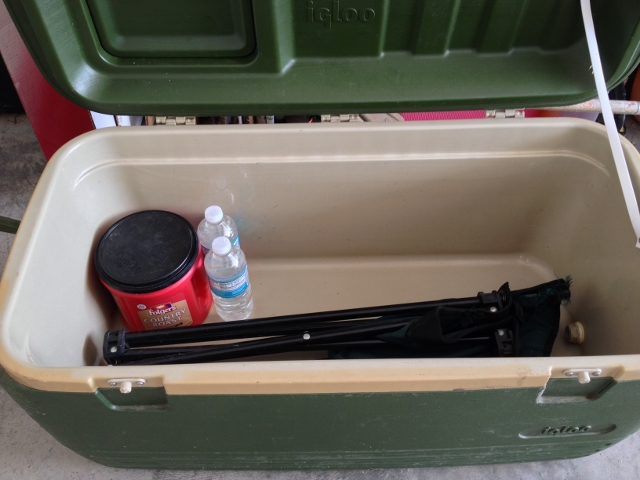 Hydration Needs
I also have a couple of bottles of water to use down there if needed. I'm not a big fan of consumables stored for the long term in plastic though.
So even though I know I could store more bottles & just rotate the stock each year, I know myself well enough that it just wouldn't happen. These two bottles of water should be fine for short stints inside the shelter.
Lighting Needs
We also have this *Battery-Powered LED light kit for light that we'll install in the storm shelter. It has with a remote control light switch that reaches 50 feet.
I think we'll probably simply mount them on the ceiling of the shelter. We can turn the lights on manually when we get down there. It just seems simpler to me, and simpler is better in an emergency!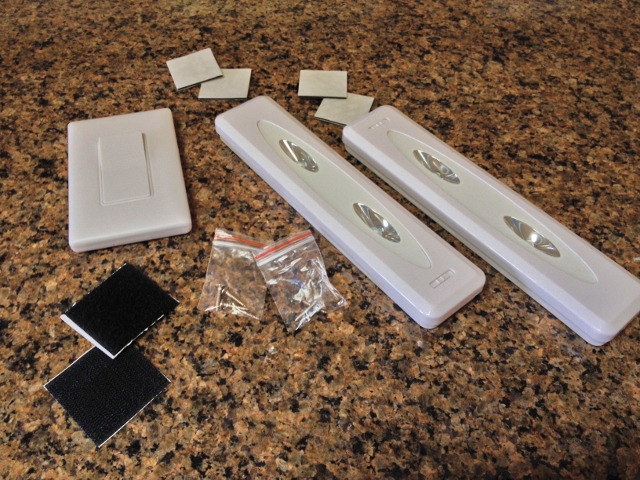 Weather Radar
I tested for wifi cell signal with the shelter door closed and signal doesn't quite reach down there. But our usual data cell service is almost full strength down inside the shelter. Of course if a tornado disabled the nearby cell tower it may not be available.
Otherwise it's possible for us to use our smart phones to track radar, etc. as long as there is signal available. RancherMan is considering the purchase of a * wifi repeater/extender to extend the range of our wifi service. That might give us a little stronger signal, but we'll see if that's even needed.
Grab-N-Go Emergency Kit
I'll also take a cue from my dad who has an emergency bag loaded and by the door. It's ready to grab on his way out to the storm shelter. (again, he's in Tornado Alley so he goes out there a lot!)
In my emergency kit I'll place a little LED flashlight & a small fleece lap blanket. I figure although we'll already have light down there from the kit above, it might comfort the kids to have a small LED flashlight in their hands.
I've also purchased a small *Battery-Operated Fan. Since there will potentially be six of us in there, it might make it more comfortable to have the air circulating. I'm figuring each spring I'll load up my emergency kit with these few items.
For those stocking for a longer stay in the shelter you can add a small supply of your prescription medications, although you'll want to make sure to rotate to fresh meds often.
Below-Ground Moisture
And another very helpful Facebook follower suggested that we put some sort of moisture remover down there to eliminate musty odors inside our shelter. Now there's something I never would have thought of.
MAN I love our helpful Facebook followers!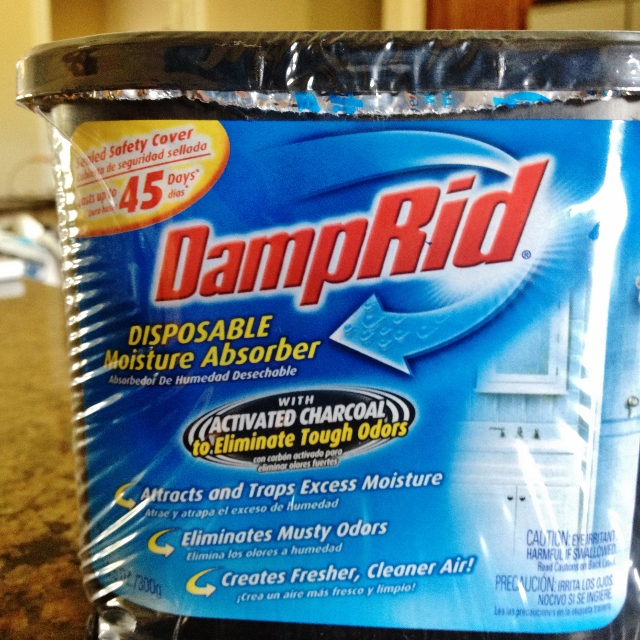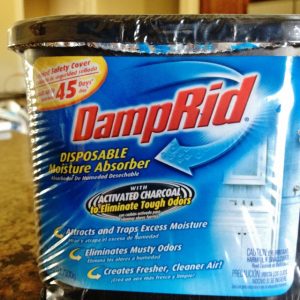 This container of *Damp Rid was only a couple of bucks. I'll open it up in the spring when I go down there to tidy up & check our shelter supplies to make sure we have everything we need in our storm shelter.
Misc
I also have a piddle pad stored in the storage cooler since we'll scoop Bailey up and take her to the shelter with us for safety. You know how pups can get when they're nervous.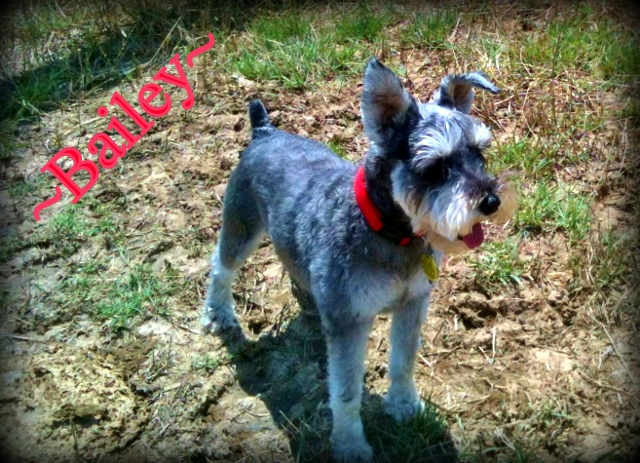 I also keep a large absorbent beach towel inside the sealed storage cooler. In all probability we'll be making our dash to the storm shelter in heavy rain. We'll be able to dry off with this towel to keep from getting chilled.
So there ya go! There's all the shelter supplies we could think of that we'd need for a short-term in our storm shelter. I like that everything we'll be using is tightly stored in a closed container.
Also be sure to check out my post about annual maintenance to make sure there are no unpleasant surprises when I run down there to escape a storm in the middle of the night!
What about you? What's your most important must-have shelter supplies in your underground storm shelter?
~TxH~
Links In This Post:
Storm-Related Posts:


C'mon by & sit a spell! Come hang out at our Facebook Page. It's like sitting in a front porch rocker with a glass of cold iced tea – lots of good folks sharing! You can also follow along on

Pinterest

, Twitter or

Instagram

.
If you'd like to receive an email each time a new blog post goes live it's EASY to


Subscribe to our blog

!
* A word about our Affiliate Link – We are currently enrolled as an Amazon Affiliate. Occasionally I will insert an affiliate link into one of my posts if I think it may be of interest to you. I receive nothing from the manufacturer and I only link to products that I have used & love and feel you might love too. If you click on any of my affiliate links and buy something (almost anything, not just what was linked) I get a small referral percentage from Amazon. But the price you pay for your items is UNCHANGED.
When you buy something through the affiliate link you support this blog without anything coming out of your pocket. So please click often!
Save
Save
Save