by Texas Homesteader ~
*contains affiliate link
TORNADO SEASON is right around the corner so I'm preparing our storm shelter for those late-night runs to safety. See my preparations.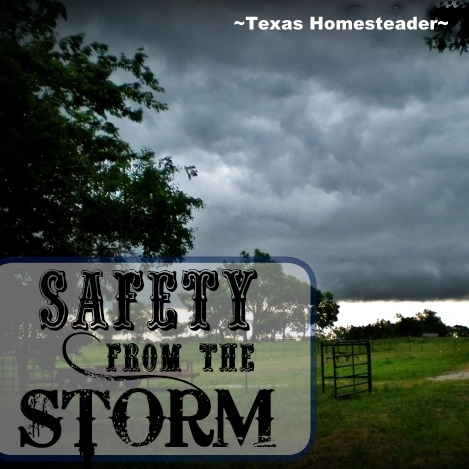 (Note: Some links in this post will take you to other related articles for further information. But links preceded with * are affiliate links. If you click and buy something I could receive a tiny commission.)
I have a healthy respect/fear for tornadic storms! RancherMan arranged to have an underground storm shelter installed for me so I can feel safe when those winds start blowing. How much do I love him for that!!?
I've written about the installation of our Storm Shelter. So if you're thinking of having an underground shelter installed be sure to check that post out to see some of the considerations we made.
I also published another post about what we decided to Stock In Our Storm Shelter. If you already have a storm shelter this post shares what we decided to store down there. (and things we decided NOT to store).
But now that the shelter's been installed & stocked, what kind of upkeep does it need?
C'mon & I'll show you what I'm doing now to prepare for those spring storms!
Scary Childhood Memories Of Storm Shelters
I have vivid childhood memories of rushing down into a storm shelter in the middle of the night. The shelter was dark and the musty smell & presence of all those spider webs really gave me the heebie-jeebies!
When RancherMan had our storm shelter installed I decided that perhaps it would bring me comfort when rushing underground during those storms to be assured that there were no critters in the corners waiting to pounce me.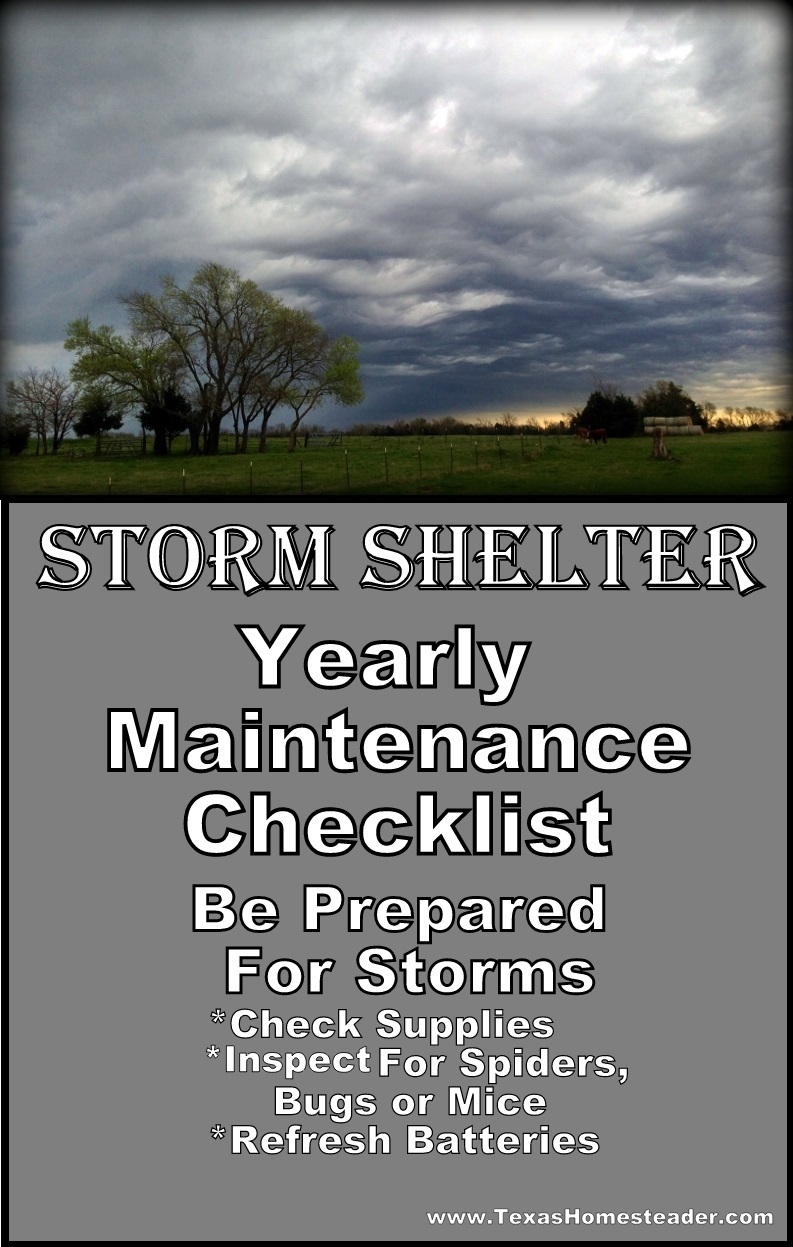 So I took advantage of some unseasonably warm late-winter weather and headed to the shelter. I was armed with a broom, dustpan and a damp soapy rag
One hugely important maintenance task for my underground storm shelter is making sure there are no spiders and such down there.
Sweeping Out The Underground Storm Shelter
The leaves that blow through the door each time it's opened have accumulated beneath the stairs. So I started there.
I swept the steps and also underneath the stairs to remove the leaves and dirt.
And although our vents are covered with screen I was dismayed to see spider webs. There were even a couple of dead spiders.
They have to go!
Although it probably wasn't necessary, I swept the walls, the ceiling & inside of those air vents too.
It didn't initially look like there was too much grime down there. But I was surprised to see a healthy little stack of crap when I was through sweeping!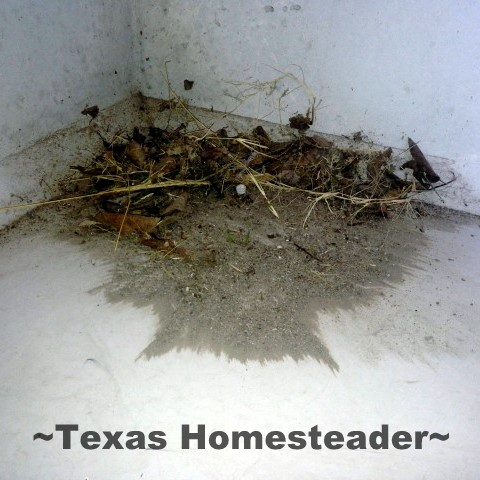 Once everything was swept I took my soapy rag and wiped down the container that holds our supplies.
Storm Shelter Not Used For Storage!
It's said the moderated temperatures below inside a storm shelter make it an ideal place to store home-canned goods and such. This is a common practice around our area.
But I don't plan to store pantry items like home-canned goods and such in our shelter. I want the floor of our shelter to be as wide open and non-cluttered as possible so it can be used comfortably for its intended purpose.
Nor do I plan to store large amounts of supplies for what I anticipate to be a very short stint at any given time in our storm shelter below.
I figure in all probability we'll seek shelter for about 30-45 minutes at a time before the storm passes and then emerge from it. So I don't see the need to store cases of bottled water or snacks for such short stints. So I don't.
I mean, it's not like we're gonna run for our lives to the safety of the storm shelter, get below and hunkered down and think to ourselves: "Boy, am I hungry!". LOL.
So only the bare necessities will stored in our storm shelter. And even those few necessities need to be neatly tucked away. I want mainly wide open floor space when we go down there.
I decided that all of our supplies should be stored inside this huge * Igloo 100-Qt cooler
. That way I could rest assured that no creepy crawlers might be hiding in any of our supplies.
Plus I want the floor of the shelter to remain as open & clear as possible! And of course the cooler itself serves a double purpose since it can serve as additional seating if needed.
Freshen Supplies In Below-Ground Storm Shelter
Finally it's time to check our supplies. I replaced the bottled water with fresh water.
RancherMan & I figure if it gets stuffy down in the shelter a little air circulating would add comfort. So we bought a *Battery-Powered Fan.
So now's a good time to replace the batteries so we can make sure it's ready for action when needed.
I also have a container of *Damp-Rid stored in this cooler in case it starts to smell musty in the shelter. But so far the shelter is new enough the damp-rid hasn't been needed so it's still factory sealed until such time as it's needed.
And our experiences last year made me realize that by the time we arrive at the shelter we'll in all probability be soaking wet and cold. So I decided to store a large beach towel down there too.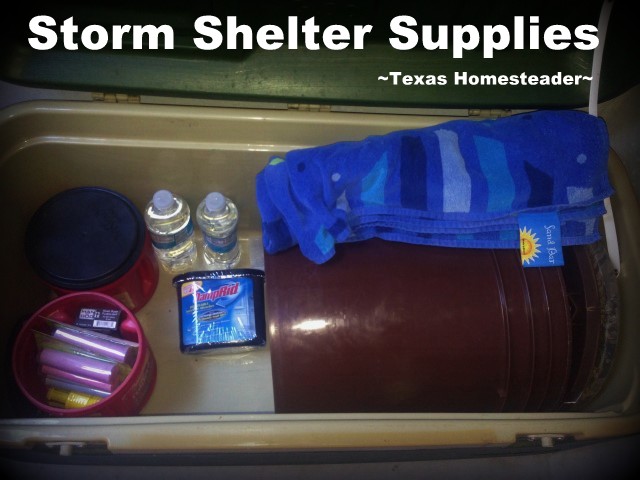 I also decided to add chalk in case our closest neighbors come into the shelter with us.
They have two young children in their family. If the kids start feeling anxious I could let them draw on the floor with chalk to divert their attention to less scary things such as drawing with chalk.
We also decided we needed a *hand-crank flashlight (no batteries needed) to leave in the cooler. That way we won't have to worry about batteries to run the flashlight if it's needed.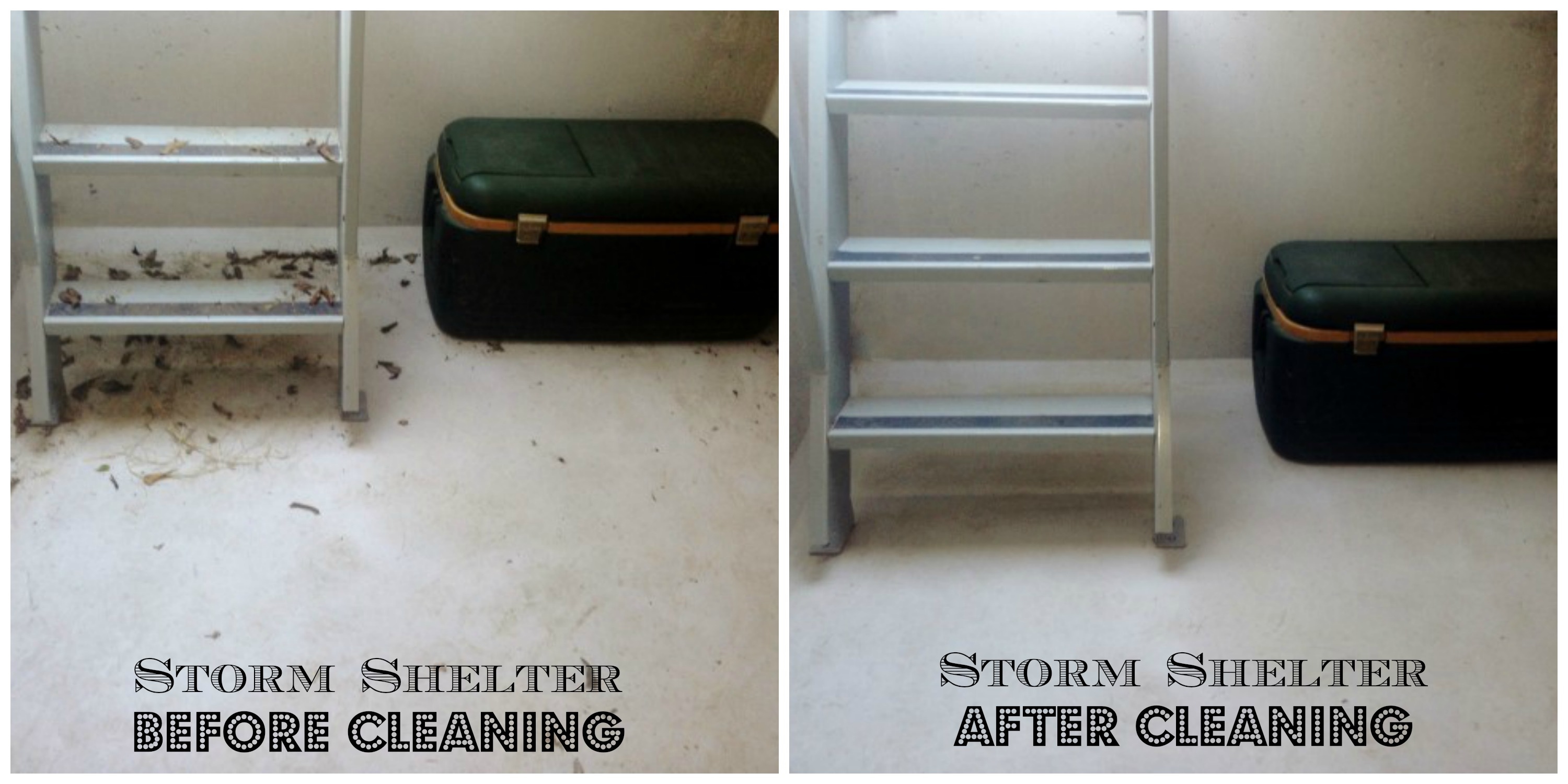 So there ya go – the shelter has been swept and tidied and supplies have been refreshed.
If we do need to rush down there to safely escape a storm in the middle of the night I'll feel comfortable knowing there are no unexpected surprises.
And most importantly – no creepy-crawlies!
~TxH~
Other Preparedness Posts


C'mon by & sit a spell! Come hang out at our Facebook Page. It's like sitting in a front porch rocker with a glass of cold iced tea. Lots of good folks sharing! You can also follow along on Pinterest, Twitter or Instagram.
If you'd like to receive an email each time a new blog post goes live it's EASY to
subscribe to our blog
Save
Save