by Texas Homesteader
When RancherMan & I built our home here on the homestead, I was pretty adamant that I wanted an underground storm shelter. I mean, I was born in & spent much of my childhood in Central Oklahoma.
Although I loved it there I considered it tornado ally. I remember many stormy tornado-warning nights that my parents would awake me and my siblings and place us in the hallway for safety from the potential hazards should a tornado come too close.
And it's funny how those emotions carry with you into adulthood. Even today although I absolutely love the rolling thunder and am awestruck by thick dark clouds. But when the wind kicks up I nervously pace. And if it kicks up a lot I'm almost inconsolable.
Thankfully RancherMan can soothe me most times. But when you hear your tiny city mentioned on that radio followed by the words "Take Cover IMMEDIATELY"… Well, I needed more than soothing – I needed SAFETY from the storm!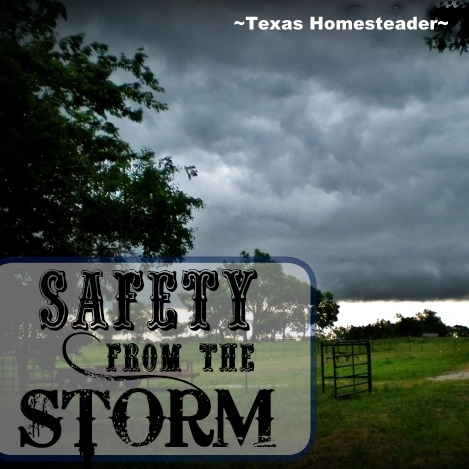 Searching For A Storm Shelter
The recent horrendous tragedies in Oklahoma from powerful tornadoes really lit a fire under us. We had to get that shelter installed NOW.
Although we love our home's open floor plan, finding a safe place in a non-exterior room to ride out potential high winds of a bad storm was a challenge. I figured that even if a tornado never hit our home in my lifetime, the comfort of knowing we'd have somewhere safe to go during those storms would still certainly be worth the cost of installation.
So we began to search for underground storm shelter companies that would come to our part of NE Texas. We also asked a few friends that had their own storm shelters if we could step inside them for a test drive of sorts. (yeah, ok I'm a little claustrophobic. Poor RancherMan… his woman did come with some baggage, huh??)
We tried out some pour-on-site domed models as well as 2-part precast concrete flat-topped ones. All of the storm shelters we looked at were fine for me, but my handsome cowboy is a long, tall drink-o-water. So we needed to make sure to get one that was tall enough for his comfort as well. Only the larger ones had enough height for him.
There was quite a cost difference in the two different styles. So we decided on a two-part precast concrete model since it was about $2,000 cheaper than the comparable sized on-site poured domed models. The shelter we chose was 6'10×10 – 6'3 height and we bought it from a company located about 60 miles away from us.
We liked that it was an ATSA-certified unit with a 10-year warranty against leaks. We eagerly put our name on the list for installation, although it would be several weeks down the road before we'd actually see the install.
Location Decisions For Underground Storm Shelter
During that waiting time there were some considerations we needed to make such as where are we going to place our new shelter? We really didn't have much to go on with regard to placing the shelter in one place or another. It seems there's really not much information out there to help in making that decision. So we just started picking places in the yard to consider.
One place we considered was a perfect spot in the yard, off the side of our porch where we wouldn't even see it from the house. But it was just a little too close to our septic system for me.
Although we're told it's safe to install within 5-10 feet of the septic tank, the installers of course would rather stay as far away from it as possible for septic-unit damage reasons. Plus it just felt wrong to me to have the two so close together. Moving on….
Other places we considered were still close enough to the house but right smack-dab in our line of view from our back windows as we gaze across the beauty of our land. We really I didn't want that either.
We finally decided on a location just outside our garage and across our driveway. Our thought was that it was close enough for us to get to in a hurry. And it didn't affect our view of the land in any way since it was tucked among our crepe myrtle trees that are planted along our driveway.
Plus it was pretty close to our front gate so that our sweet neighbors can come with their two small children and reach safety quickly in the event of an emergency.
Underground Storm Shelter Installation
At last the big day arrived – I'm finally going to get my shelter! The crew unloaded the backhoe and explained that they would attempt to dig the hole as close to exact size as they could so there wouldn't be excessive settling of the dirt afterward.
They assured me that as long as we stayed out from under the canopy of the surrounding trees we shouldn't run into any root issues and my trees shouldn't be damaged in any way.
They dug that hole about 4-feet deep and then made sure the bottom was level. Now a large truck with a boom came and unloaded the bottom half of our shelter into the hole that was prepared for it.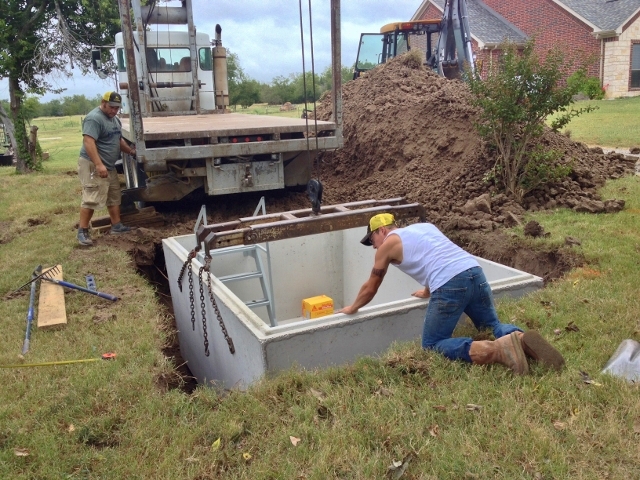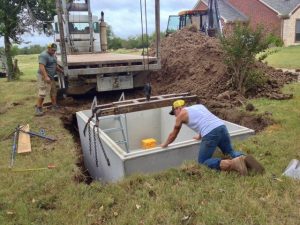 While they were readying the top of the shelter to be unloaded, one of the men jumped into the shell and began applying some really serious sealant all around the lip of the bottom section.
Then when they unloaded the top section the men helped guide it into place. It fit perfectly upon the lip of the bottom unit, sealing itself tightly.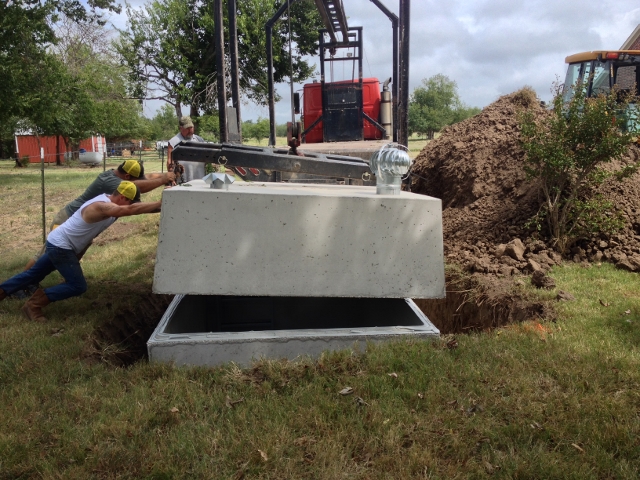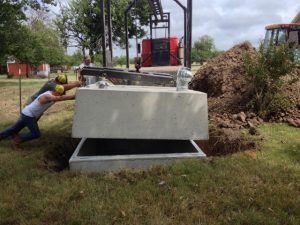 Another crew member went around smoothing the sealant much the same as you'd smooth caulk around a bathtub. Then he went inside the shelter and smoothed the oozed-out sealant there as well. Yet another crew member bolted heavy metal straps to attach the top & bottom sections.
Replacing The Soil: To Mound Or NOT To Mound?
Now all that was left was to replace the dirt around our new storm shelter. The backhoe operator moved that dirt with expert precision. But there was another decision to be made: Mound the dirt against the shelter or not?
It was recommended that the dirt be mounded all the way to the top of the unit for several reasons. First in a tornado situation the mounded dirt gives less resistance to tornadic winds and debris.
And secondly, mounded dirt will keep the interior of the shelter cooler so if you DO have to spend some time down there it won't be as stiflingly hot. However some people opt not to mound the dirt to make it easier to maintain & mow the area around it.
I have to admit, mowing this hill will not be possible and weed-eating any tall growth will be a maintenance task I'd just as soon avoid if at all possible. But one of the crew members said many of their customers plant ground-cover plants at the base of the hill and allow them to grow up the mounded-dirt section. If the ground cover is thick enough no grass will be able to grow there. Now THAT'S an idea I can get on board with – safer as well as low maintenance! Mound, please!
Has anyone grown ground cover over the hill of their storm shelter? If so, what plants worked best for you?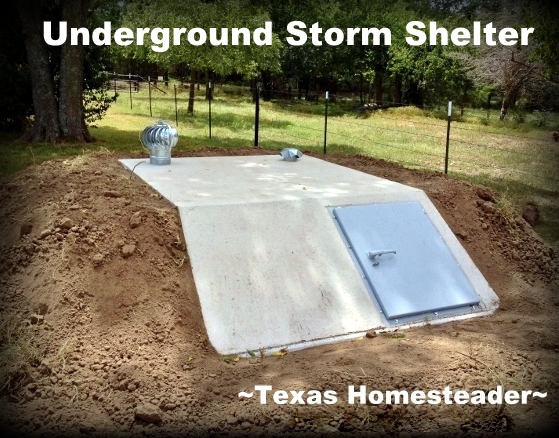 Using Excess Dirt
After the unit was installed and the dirt mounded around it, the crew asked if we'd like them to place the remaining dirt in any low areas for us. Um, YES PLEASE!
They took a load to a place in our yard that had settled after our septic tank was installed. They were careful NOT to drive over the septic tank, only dropping the dirt into that lower settled area.
Then we had them dump partial buckets at our back porch where we were wanting to build up the ground level a bit to create a better slope.
They also took several loads to the gate that RancherMan uses to haul hay to our different pastures. Over the years that passageway had sunk and it's a messy mud hole for days each time it rains.
After they dumped each load they smoothed it all out for us. BEAUTIFUL! Thanks guys, you're the best!
Finishing Tasks
The entire installation only took about four hours. These guys really worked quick! There are still a couple of finishing tasks we need to do such as place screening in both of the vents to keep wasps and spiders and all manner of creepy-crawlers out of the shelter. And it was recommended that we get a strip of weatherproofing for the door. Even though water can't get in, it'll help seal out any little buggy critters that try to get in. I'm willing to do what it takes to keep the bugs out of there! I figure that each year just as the temps start warming a bit we'll go down there and sweep it out & do a check to make sure it's ready for us when it's needed.
Now I'm finally comforted that I have a safe place to go when those bad storms come-a-callin'. But what to put inside our new storm shelter? Now that's a good question. I polled my wonderful Facebook followers for their advice and they came through with some great ideas on important things to consider. But this post is already long, so stay tuned for part 2 – Outfitting Your Storm Shelter! Also be sure to check out my post about annual maintenance to make sure there are no unpleasant surprises when I run down there to escape a storm in the middle of the night!
~TxH~
Other Storm-Related Posts:


C'mon by & sit a spell! Come hang out at our Facebook Page. It's like sitting in a front porch rocker with a glass of cold iced tea – lots of good folks sharing! You can also follow along on Pinterest, Twitter or Instagram.
If you'd like to receive an email each time a new blog post goes live it's EASY to
Subscribe to our blog!
Save
Save