by Texas Homesteader ~
My baby sis knows that I reuse various containers. So she's always checking with me before she sends something to the recycling bin.
The other day she held up an empty container of Reggano Parmesan cheese (like you sprinkle on pizza) that she'd bought from Aldi. She asked if I'd like to have the empty container.
RancherMan HATES that stuff so I'm never able to buy it. So I enthusiastically accepted her offer. She was a bit surprised at my excitement. But when I told her what I was gonna do with it…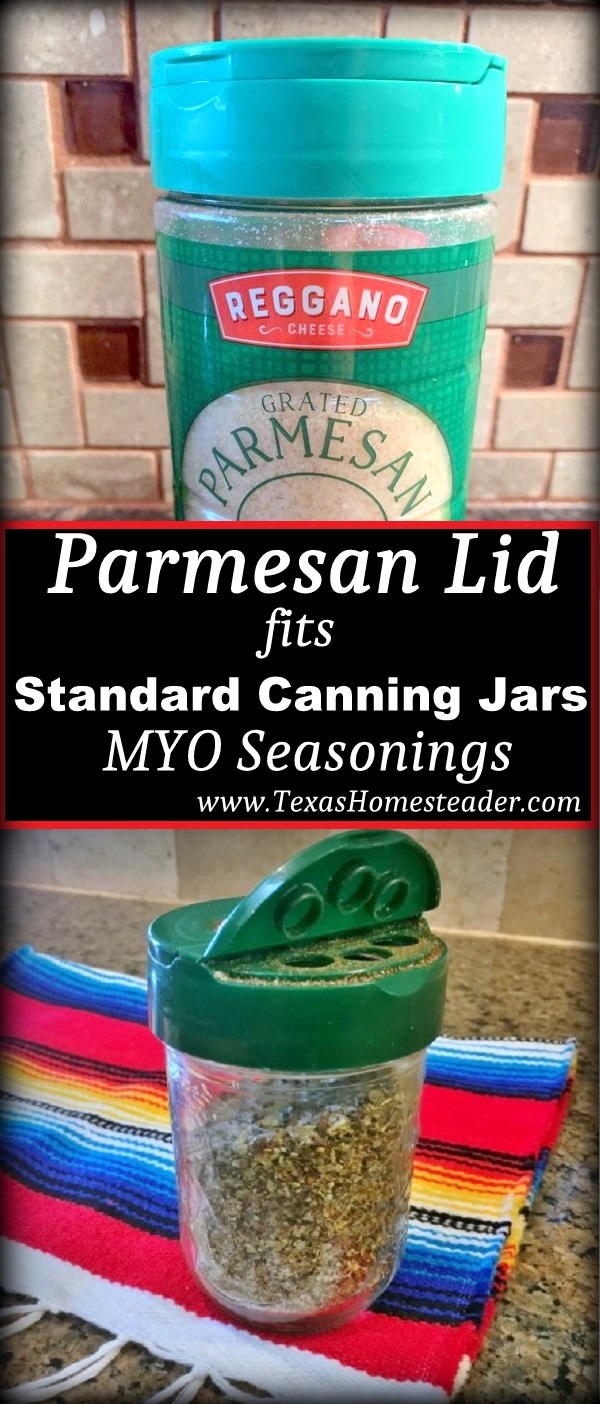 Remember my battle cry:

Use WhatCha Got!
You see, the Parmesan lid she had perfectly fits a standard canning jar opening, whether 1/2 pint, pint or even quart. Several brands of Parmesan cheese have the same sized lid but not all do. Be sure to check.
I've wanted to get my hands on one of those lids for awhile. But again, RancherMan hates dried Parmesan cheese so I've never bought any.
Now that I've gotten this empty jar from my sis I'll get started repurposing it.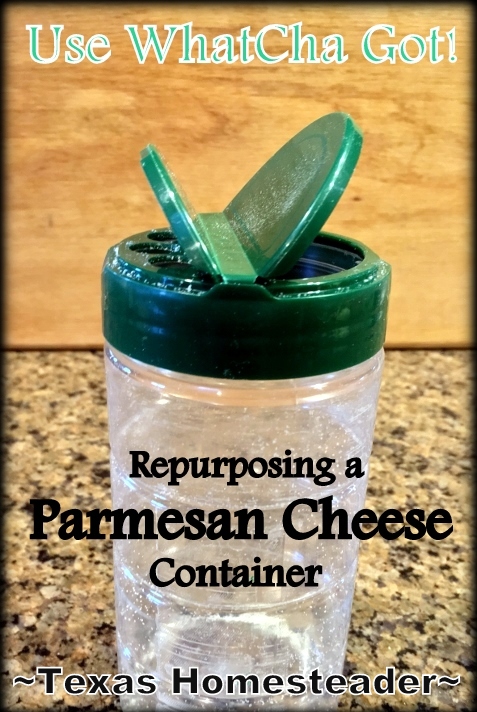 First I filled a small 1/2-pint jelly jar with baking soda. Then I took that lid off the flimsy plastic container the Parmesan lid came on. Instead I screwed that super-functional lid onto my glass canning jar of baking soda.
But why? Well I'm so glad you asked…
Ease When Baking
This is perfect to use when I'm baking! The small jar takes up very little space in my spice cabinet. And one side of the lid opens wide, making for easy measurement when I'm cooking.
Plus the top of the lid levels off the contents in my tablespoon. The excess simply falls back into the jar. No mess!

Y'all know I'm a big fan of 'No Mess'. LOL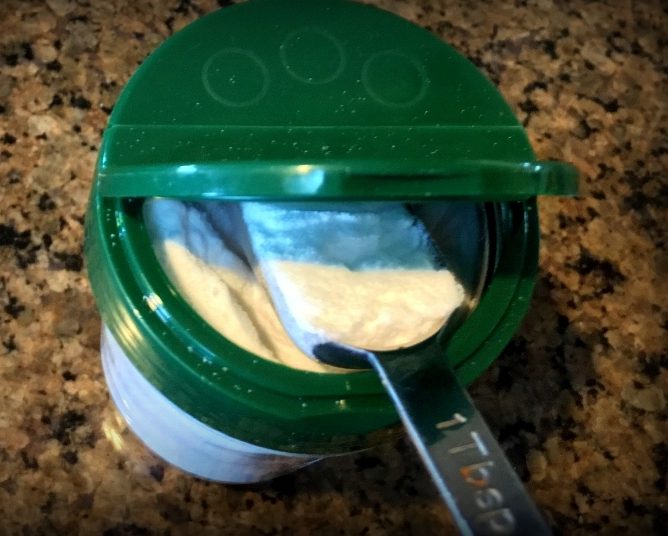 Non-Toxic Dish Powder
The other side of the flip-top lid has sprinkle holes. I'll use this side when I'm scrubbing my pots & pans.
I typically use baking soda for an environmentally-friendly option when a little extra scrub power is needed. It's cheap, it's effective and it's non toxic. And now with this handy lid it's also super easy to use.
Simple, Natural Cleaning
As a matter of fact, I use baking soda for all manner of cleaning. To be honest I've really never understood why the marketing gurus have convinced us that each individual surface needs a different cleaner.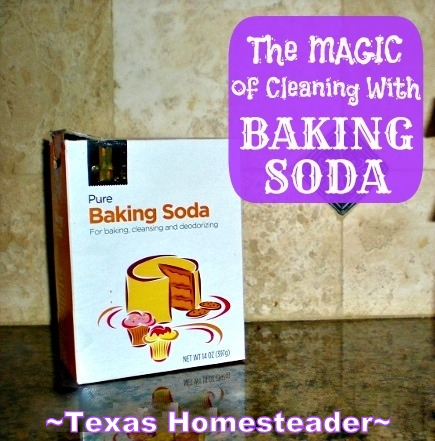 I always prefer to use simple non-toxic cleaners in our home. And heck if you can EAT your cleaner (ie: baking soda) I figure that's as non-toxic as it gets!
Plus, you know, baking soda is cheap, y'all.
So I have a jar of baking soda in my cleaning supplies too. The shaker top makes it easy to shake this extra scrubbing powder onto surfaces. And quicker & easier chores is my wheelhouse.
Toilets? Yea. bathtubs? You bet. Just about anywhere a little extra ooomph is needed I'm using this shaker jar of baking soda.
Nice, Heavy Sprinkling For BBQ Rub Seasoning
I've since been gifted 2 or 3 of these handy lids and use them around the house. For instance – RancherMan has a favored recipe for BBQ rub.
At first we mixed it up in a repurposed seasoning shaker. But those holes just weren't large enough to sprinkle the seasoning as liberally as he liked.
But his face lit up when I suggested he mix it up in a small 1/2 pint canning jar because this Parmesan lid would fit it.
And the size of the shaker holes is perfect for his seasoning mix! Oh how he loves this repurpose.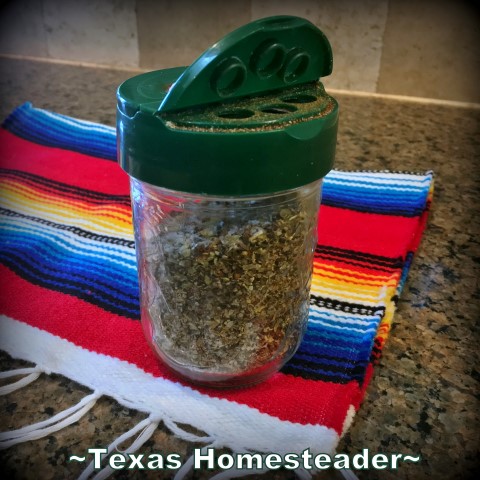 The holes are large enough for him to sprinkle his seasoning liberally on the meat being grilled. And if he wants to make a batch of his favorite Beer Mop Sauce, the other side of the lid opens for measuring-spoon access. Yep, this is perfect alright.
And the cost was free, free, FREE!
Check The Lid
Most of the parmesan cheese containers I've seen have this same sized lid. But not all do.
I asked my sister what brand she used and she said she buys her parmesan cheese at Aldi's. The brand name she buys is Reggano.
So if you find yourself with an empty jar of Parmesan cheese, don't toss that handy lid. It can simplify lots of things in your kitchen.

~TxH~
Other Kitchen Hacks
Other Great Posts About Reducing Plastic
Reducing Household Waste
…and Many More


C'mon by & sit a spell! Come hang out at our Facebook Page. It's like sitting in a front porch rocker with a glass of cold iced tea. There are lots of good folks sharing!
And you can also follow along on Pinterest, Twitter, Instagram
If you'd like to receive an email when a new blog post goes live,
subscribe to our Blog!
Save
Save
Save
Save
Save