by Texas Homesteader ~
* contains affiliate link
Due to travel and illness we are way behind in on household chores. In trying to get caught up and get all the laundry done we ran out of laundry detergent about halfway through.
But did we stop our work and drive to the store to purchase more? HECK NO!
I make our laundry detergent with just three simple ingredients.
Now remember we live and work on a ranch so we need something that will get out some pretty tough grime on very heavy fabric – denim! This formula works great for us.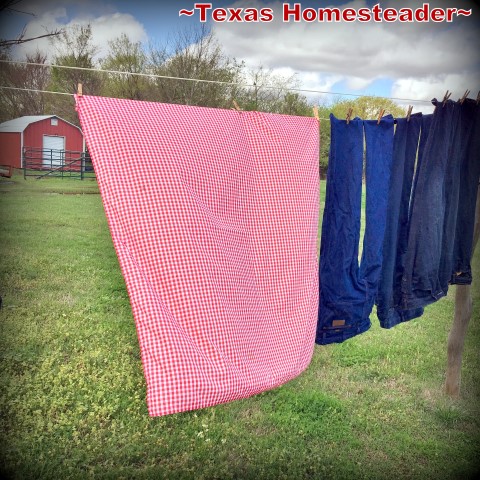 (Note: Some links in this post are for further information from earlier posts I've written. But links preceded with * are affiliate links. If you click them and buy something (almost anything, not just the item noted) I could receive a tiny commission. But the price you pay will NOT change. It's an easy way to support this blog without anything coming out of your pocket. So click often! Thank you!)
Now before I get started I must remind you that I'm just sharing what we do here. I'm a Homesteader. I live in the country. I'm very interested in being gentle on the environment.
I always love to save money. I'm just sharing what works for us. OK good – let's get to it!
UPDATE: For those times when I want a little more scent (like cloth napkins & such) I've even whipped up an easy Laundry-Scent Booster. Only 2 Ingredients? Yes please!
But to make my laundry detergent, first I pulled out my ingredients: Borax, Washing Soda, a Fels Naptha laundry soap bar and my trusty food processor.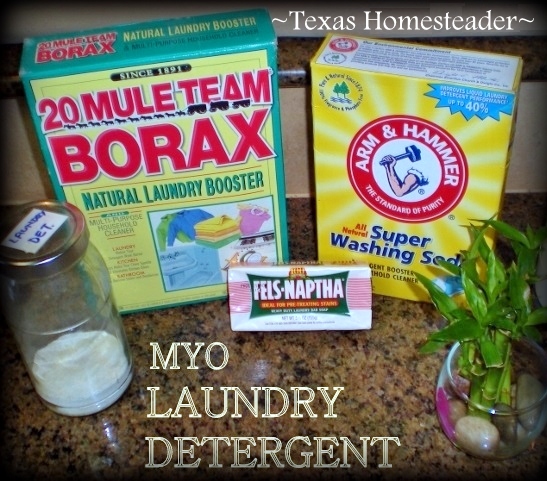 NOTE: Many people have problems finding Fels-Naptha in their local stores. When I have it available I offer it for sale in my Online Store.


If I'm out, I've also found it on *Amazon here
.
Fels Naptha very inexpensive and I think it's an important ingredient that helps with our tough laundry needs.
There are other brands of laundry bars such as Zote and others. But I've found they just don't have the same strength to clean heavily soiled fabrics that my beloved Fel-Naptha does.
Ok, on to the easy-peasy laundry soap-making procedure.
Preparing The Detergent
First I unwrap the Fels-Naptha bar and chop it up a bit. Although feels like a typical soap consistency it chops very easily.
My sister still has children at home and she saves these large ice cream tub lids for me to use as an improvised cutting board. The raised edge keeps everything close so it's much less messy than a typical cutting board, and it's a great way to recycle.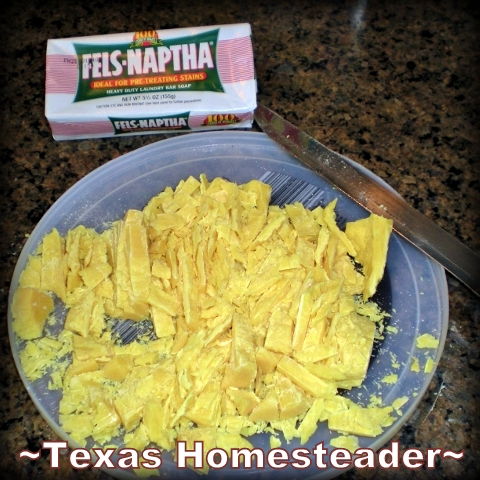 Then I toss the soap chips into my food processor and give it all a whir until it's powdery.
This fine powder can escape the lid of my food processor while it's doing its thing and make a wispy airborne cloud. But I don't like to breathe it. So to keep it better contained I place a small towel on top of the food processor during this step to help keep the soap dust down.
I also like to let the dust settle a bit before opening up the bowl.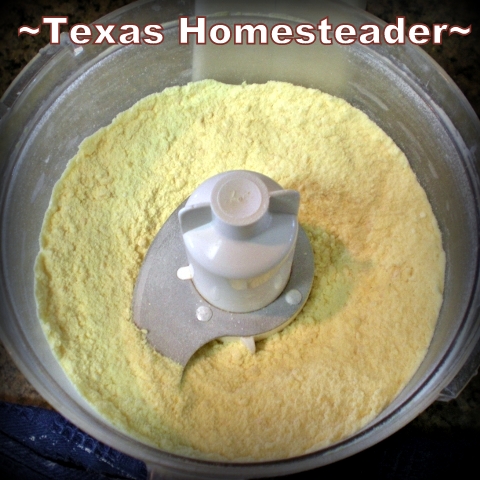 Then I simply measure out two cups of Borax and two cups of Washing Soda and mix them in a larger container with the now-powdered soap. Now you really don't get much easier than that!
I like to use a large rectangular-shaped container for this blending as the corners make pouring easier when I'm trying to transfer my homemade laundry powder into my smaller containers. (I've tried to transfer after mixing in a round container and what a mess it made!)
So I simply pour the mixture into the containers that I keep in my laundry room. A repurposed glass jar holds the bulk of it, and a small rectangular plastic dish holds a smaller amount for easy scooping and lightweight handling.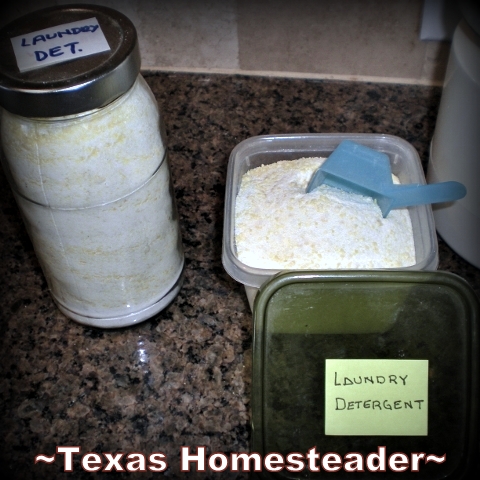 The tiny scoop is a repurposed one from a container of OxyClean, which I add from time to time to my load of whites.
There's a lot of repurposiong & recycling in this method and not lots of packaging waste. Gotta love it.


NOTE: Please make sure you label these containers. There's no need in someone picking up an unlabeled container and wondering what's in it. Or worse, guessing what's in it and guessing wrong. A label is a quick and easy way to make sure no one mistakes this mixture for something else.
Use Much Less Than The Commercial Stuff!
This recipe only uses 1-2 tablespoons for each load, but I use about 3 tablespoons for heavily soiled items like manure-covered jeans.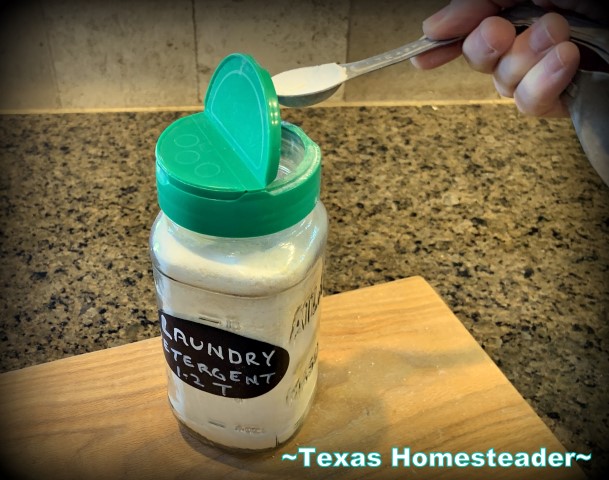 But don't be tempted to use more than that thinking it needs more. Not only does it not add even more cleaning power, but that's when soap build-up problems can happen.
What I've Heard Others Say
Now this homemade laundry detergent recipe isn't new. It's been around for a long time. I mean, I've been using it myself here on the Homestead for over 10 years!
But when I run across various stories of others sharing that they use this recipe too, some commenters mention that this homemade version doesn't work. Some say it's because there's a chemical difference between soap & actual detergent for cleaning clothes, or warn that it could ruin your washing machine if you use this homemade version of laundry powder.
I'm puzzled when I read these comments. I'm assuming those people are not sticking to the 1-2 tablespoon measurement for their clothes? I can't imagine why their experience wouldn't be the same as ours.
Although we've used this laundry powder for years, RancherMan & I have never experienced any issues with our clothes not coming out clean, nor any damage to our washing machine.
But since I have no idea why their experience would be different than ours you'll need to exercise caution I suppose. Use your own judgement as to whether homemade laundry detergent makes sense in your own home.
And for goodness sake don't be tempted to use too much of this homemade version, assuming such a small amount of soap couldn't possibly clean your clothes. Using too much of any soap will make it difficult to completely rinse the soap away, causing soap buildup both in your clothes as well as your machine. This is where I suspect people are going awry when using this laundry powder.
As for us – it's worked perfectly for over 10 years. (and counting…) I don't plan to change a thing. Here's the recipe I use, feel free to try it yourself:
~TxH~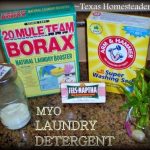 Homemade Laundry Detergent
It's easy (and inexpensive) to make your own laundry detergent in minutes. And you only use a tablespoon or so with each load. So it lasts a long time.

Ingredients
1

5.5-Ounce

Bar Fels Naptha Laundry Soap

2

Cups

Washing Soda

2

Cups

Borax
Instructions
Grate the entire 5.5-ounce bar of Fels Naptha finely using a food processor or cheese grater

In a container that has a tight-fitting lid, combine the grated Fels Naptha, washing soda and borax.

Shake to mix well.


Store in a sealed container that is properly labeled. Use 1 to 2 tablespoons per load.
Recipe Notes
NOTE: Since the effectiveness of any detergent depends greatly on the hardness of your water, experiment by using the lesser amount, and then increase as necessary.
~TxH~
Want To See Our Natural Cleaning Posts?
C'mon by & sit a spell! Come hang out at our Facebook Page. It's like sitting in a front porch rocker with a glass of cold iced tea – lots of good folks sharing! You can also follow along on Pinterest, Twitter or Instagram.
If you'd like to receive an email each time a new blog post goes live it's EASY to
Subscribe to our blog!
* Affiliate Links – We are currently enrolled as an Amazon Affiliate (others could be added in the future) Occasionally I will insert an affiliate link into one of my posts if I think it may be of interest to you. If you click on one of those links and buy something (almost anything, not just what was linked) I get a small referral percentage from them – the price you pay for those items is UNCHANGED.
When you buy something through the affiliate link it's a great way to support this blog without anything coming out of your pocket so click often!
Save
Save