By Texas Homesteader ~

I make my own all-natural wood cutting board conditioner using only pure beeswax and organic coconut oil. All-natural ingredients make me feel good about how I protect my wooden utensils and cutting boards.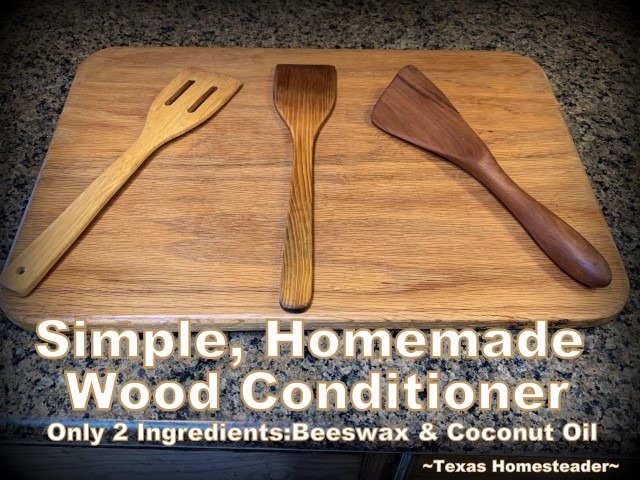 (Note: Some links in this post will take you to other related articles for further information. But links preceded with * are affiliate links. If you click and buy something I could receive a tiny commission.)
Proper Care For Wood Utensils & Cutting Boards
I have a couple of large wooden cutting boards. And many wood utensils too. I've used them all heavily for years.
But I'm mindful in taking care of them. They're always hand-washed and dried before putting them away.
I don't put anything made of wood in my dishwasher. Doing that could ruin your wooden items. Even utensils that are steel but have wooden handles are hand-washed.
But even with proper care, over the years your wooden items might start drying out. Maybe they need some TLC. They'll benefit from a little wood conditioner.
What Ingredients Are Used In Wood Conditioner?
There are all manner of wood-conditioning products you can buy of course. But I'm always looking to make things myself instead of buying them. Plus, who knows what chemicals may be in those types of products??
So to keep my wood cutting boards and wooden utensils properly conditioned I use a very simple, very gentle and all-natural mixture.
And my homemade wood conditioner includes only TWO ingredients:
You don't get any simpler than that! Making my wood cutting board conditioner mixture is super simple too.
NOTE: I often sell pure beeswax from our apiary. Be sure to check our online store.

Making Homemade Wood Conditioner Paste
During those hot summer months my coconut oil is liquid here in our area of NE Texas. But in the cooler months it's often solid. No worries – liquid or solid, here's what I do.
How much wood conditioner you decide to make is up to you. Today I only want enough to treat my two large wooden cutting boards and all my wooden utensils.
So this time I'm making just under an ounce. But you can adjust the measurements below based on how much wood conditioner you'll need.
I pull out my *Digital Scale that I use for so many things in my kitchen.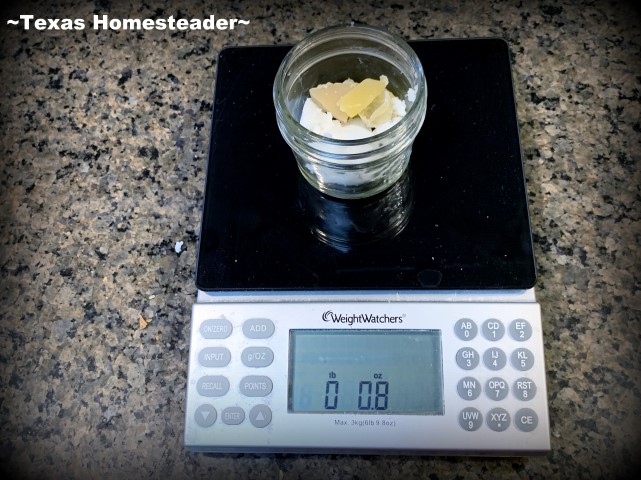 Then I bring out a small ¼ pint canning jar, put it on the scale and tare the weight to zero to remove the weight of the jar itself.
I add .2 oz of beeswax and .6 oz of coconut oil for a total of .8 oz.
How To Melt Beeswax For Wood Conditioner
Now I set the canning jar with my beeswax & coconut oil on a trivet in a pan of water (make sure not to submerge the jar and get water in your mixture) and turn on the heat to simmer the water.
The water heats the jar, the jar heats the oil and beeswax. In no time both coconut oil and beeswax are melted.
I give it a quick stir to blend everything together and now I'm ready to go.
Applying Homemade Wood Conditioner To Cutting Board
As the mixture cools it will thicken. So it's easiest for me to dip a clean cotton cloth into the mixture while it's still warm but not hot.
That way it's soft enough to scoop up what I need and slather it on my wooden items without being hot enough to burn me.
But if the mixture has cooled and solidified too much for my liking I just firmly press my thumbs into the hardened mixture to break it up. It breaks up easily.
After breaking it up then my wood conditioner is much easier to dip out a small amount of my homemade paste with a Repurposed Cotton Cloth.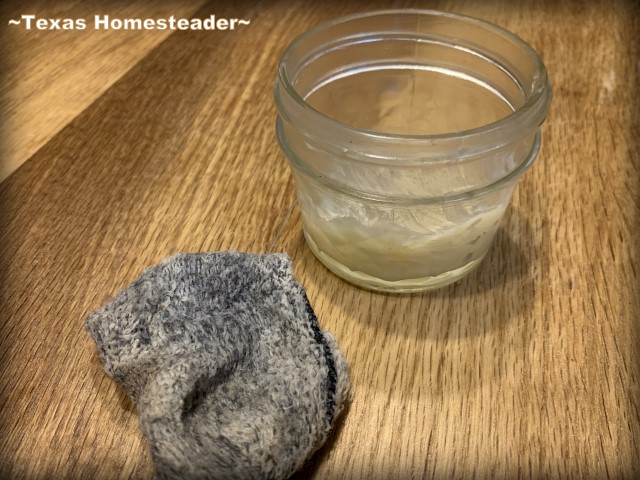 I'll rub my wood conditioner mixture along the entire surface of my cutting board and wood utensils until they are fully coated.
Then I just allow it to stay on the wood surfaces overnight.
In the morning I take another clean cotton cloth and polish everything up. That removes any extra conditioner that might make the surface feel somewhat sticky.
Simple Homemade Wood Cutting Board Conditioner
Everything is now nicely coated and protected. Plus, the addition of beeswax helps make the wood a little more waterproof too.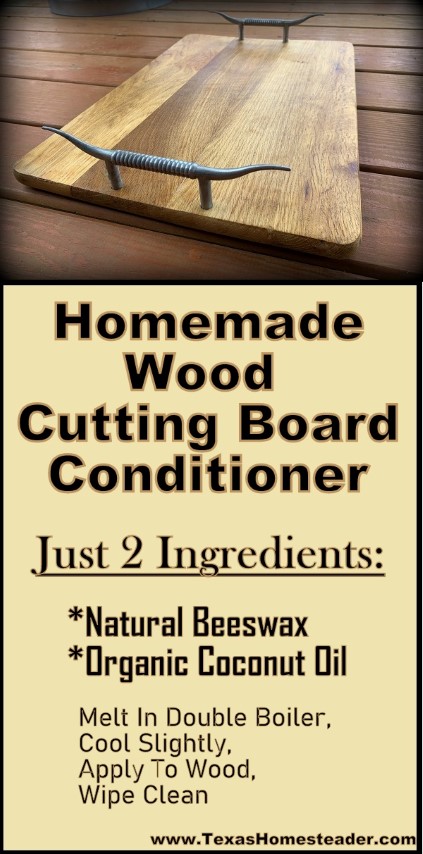 And with such natural ingredients I don't worry about what chemicals may be making their way into our food through this cutting board wood conditioner.
It's made with only two edible ingredients – beeswax and coconut oil!
Did you make this Homemade Wood Conditioner? Please rate the recipe in your comment below!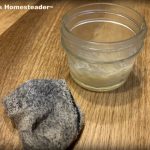 Wood Cutting Board Conditioner
I have a couple of large wood cutting boards and also several wooden utensils I use almost daily. Here's a simple recipe for a conditioning balm to keep them protected. #TexasHomesteader
Ingredients
Ingredients:
1

part

Beeswax

3

parts

Coconut oil
Instructions
Instructions
Measure out 1 part beeswax to 3 parts coconut oil into heat-safe container, such as a canning jar.

Using a pan with a trivet, lower heat-safe jar into water, being careful not to allow water into your jar. Then on medium heat, allow water to simmer and heat jar with coconut oil and beeswax until melted.

Carefully remove jar from hot water and stir to fully incorporate ingredients.

When slightly cooled, lightly coat wooden cutting board or utensil surface with wood conditioner and leave overnight.

Buff with cloth the next day to remove any extra conditioner.
~TxH~
Want To See Our Natural Cleaning Posts?
Laundry
Kitchen Cleaning
General Cleaning
Health & Beauty
Pets
Cleaning Tips
C'mon by & sit a spell! Come hang out at our Facebook Page. It's like sitting in a front porch rocker with a glass of cold iced tea – lots of good folks sharing! You can also follow along on Pinterest, Twitter or Instagram.
If you'd like to receive an email each time a new blog post goes live it's EASY to
Subscribe to our blog!
* Affiliate Links – We are currently enrolled as an Amazon Affiliate (others could be added in the future) Occasionally I will insert an affiliate link into one of my posts if I think it may be of interest to you. If you click on one of those links and buy something (almost anything, not just what was linked) I get a small referral percentage from them – the price you pay for those items is UNCHANGED.
When you buy something through the affiliate link it's a great way to support this blog without anything coming out of your pocket so click often!