by Texas Homesteader ~
The skillets in my kitchen are comprised of a single stainless steel skillet for making my Homemade Chocolate Pudding and such, & several sizes of cast-iron skillets for cooking virtually everything else. Now I love my stainless skillet but let's be honest, I love cast iron the best.
I make spicy Cornbread and Bake Bread in cast iron. And I use those skillets on the stove top too for cooking Potato Cakes or frying potatoes. (or anything savory!) It rocks my world whether I'm using it stove top or oven. It does it all.
But it's true that Caring For Cast Iron is a little different than typical cookware. And although mine's virtually non-stick after decades of use, there still comes the time when frying potatoes or cooking scrambled eggs causes a layer of cooked-on food to remain on the bottom of the skillet. Now back in 'the day' I'd scrub-scrub-scrub to get it clean again.
That was then, this is now…
I've discovered an oh-so-easy way to clean on stuck-on food such as scrambled eggs or fried potatoes from my cast-iron skillets. Of course I'd think this would work with any skillet, not just cast iron. But oh man, you're not gonna believe how easy this is…
Some people scrub using elbow grease using coarse salt or a metal cast-iron cleaning pad. I don't even have to go that far, my way is easiest in my opinion.
Easy Cleaning For Cooked-On Food
First I place just enough water to cover the surface of the skillet. I don't need much, just barely enough to cover the bottom surface of the skillet. Then I place it on the burner and turn on the heat. Since there's so little water in the skillet it takes less than a minute to get things simmering.
Then I simply place a lid on the skillet, turn off the heat and let it all cool down on it's own as I go about my other kitchen-cleaning tasks. This basically steams loose the stuck-on food. By the time I finish cleaning the kitchen, the water in the skillet has cooled.
So I remove the lid and use my spatula to effortlessly scrape away the previously stuck-on food.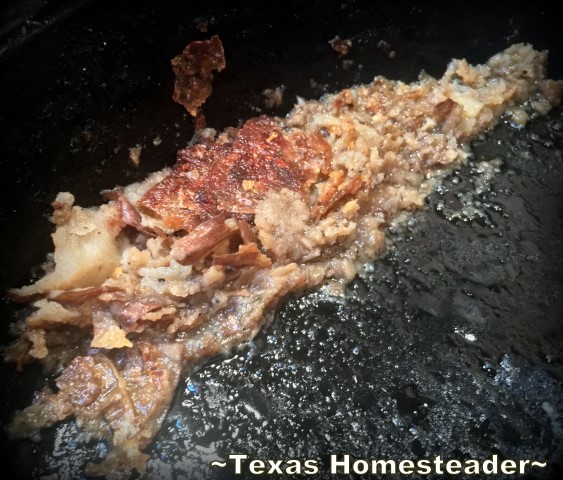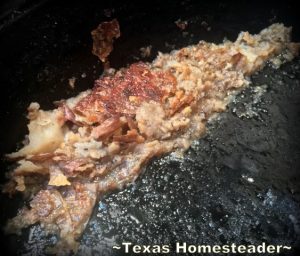 I'm not kidding – it's THAT easy!  It all scrapes away easily without sticking to the bottom or sides of the skillet. So I scoop out the food I've scraped away & throw it in the trash. Then I take my cast-iron skillet to my sink where I use my dish scrubber and hot water to finish cleaning it and BOOM! Cast-Iron Perfection.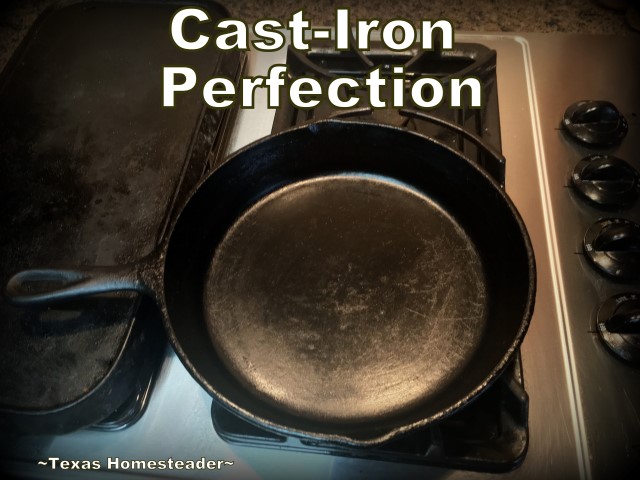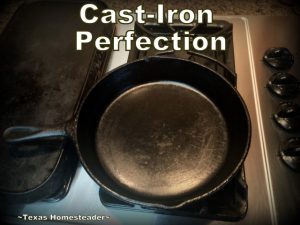 If needed I'll run a thin layer of grease along the inside surface to keep it seasoned beautifully. Then back into the storage drawer where it's ready and waiting for next time.
Cast Iron Cookware Lasts Decades
Cast iron is my favored cooking material. It's easy to maintain and it lasts for decades.  I have several cast-iron skillets of various sizes, but my favorite is my grandmother's skillet.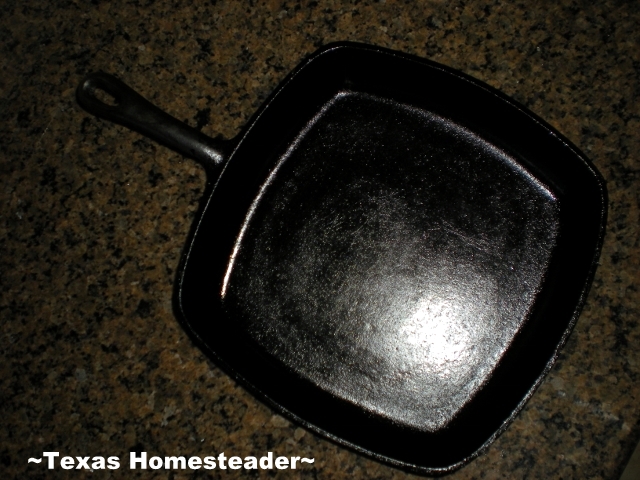 Isn't she a beauty? This square cast-iron skillet was presented as a wedding gift to my grandmother back in 1934 when she and my grandfather were married. Then she gifted it to me back in the 1990's and I've been using it ever since. Of course I'll be passing it on to my children as well. It's hard to say whether any modern cookware has THAT kind of longevity!
Other Cast-Iron Articles
Want To See Our Natural Cleaning Posts?
C'mon by & sit a spell!  Come hang out at our Facebook Page. It's like sitting in a front porch rocker with a glass of cold iced tea – lots of good folks sharing!  You can also follow along on Pinterest, Twitter or Instagram.
If you'd like to receive an email each time a new blog post goes live it's EASY to
Subscribe to our blog!