by Texas Homesteader ~
*contains affiliate link
Recently I was in the kitchen with our daughter whipping up a brand new concoction that we'd never heard of before. We were just making up the recipe on the fly, but our dish needed breadcrumbs. Thankfully they're super easy to make and today I already had a jump start on them.
You see I often use a shortcut when making pizza and slice up thick rounds from bread to use as our pizza crust. As luck would have it I had a round loaf of bread that I had sliced up into thick pizza crusts for our homemade pizza the night before, but the rounded top didn't make the cut (LOL – see what I did there??)
So I had chopped it up & sat it aside to begin drying. But now I'll use that bread to whip up some homemade breadcrumbs in a flash.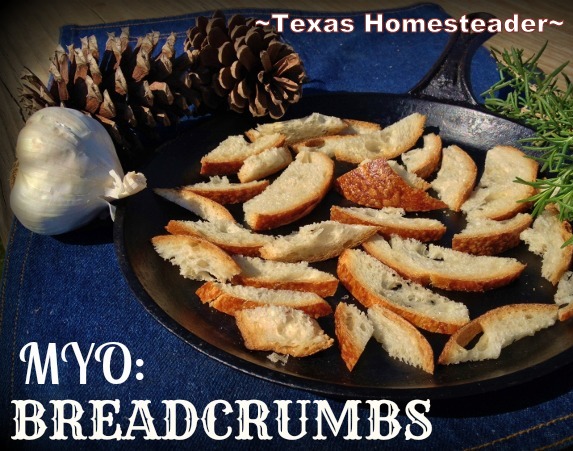 Photo Credit: Ashley
Making your own breadcrumbs is not only an inexpensive alternative to store bought, but super quick & easy too. Now you don't need the top of a round loaf of bread – you can use any extra or stale bread to make breadcrumbs.
For instance although the 'heel' of a loaf of bread is my favorite piece, many people don't like that slice and it ends up being wasted. Don't waste it – that previously wasted piece of bread makes great breadcrumbs! Here's how…
Leftover Bread To The Rescue
I pulled out the extra bread leftover from the night before. It was already sliced thinly and partially dry.
Truth be known, I most often air dry the bread scraps I'll be making breadcrumbs from. But since they were not completely air dried for our dish today, here's how I sped the process a bit:
Since it wasn't a large quantity I just placed the pieces on my cast iron comal and placed it in the oven. You can use a cookie sheet or even a casserole dish – anything that will allow you to spread your pieces of bread out on the surface without touching each other.
I turned the oven on for about 1 minute to allow it heat up and then I turned it off again. That would be enough heat to thoroughly dry these pieces of bread. Making sure your bread is completely dry not only helps assure a nice crusty breadcrumb texture, but it also helps keep them from molding in storage.
(Note: Some links in this post are for further information from earlier posts I've written. But links preceded with * are affiliate links. If you click them and buy something (almost anything, not just the item noted) I could receive a tiny commission. But the price you pay will NOT change. It's an easy way to support this blog without anything coming out of your pocket. So click often! Thank you!)
Grinding Dried Bread To Breadrumbs
When the oven cooled I pulled the dried bread out and placed it in a *coffee grinder that I keep for just this purpose.
(Wanna know a secret? I actually have three coffee grinders. One strictly for coffee beans, one for dry herbs and this one for breadcrumbs. I think these grinders are so versatile! Shhhh, don't tell anyone my secret…)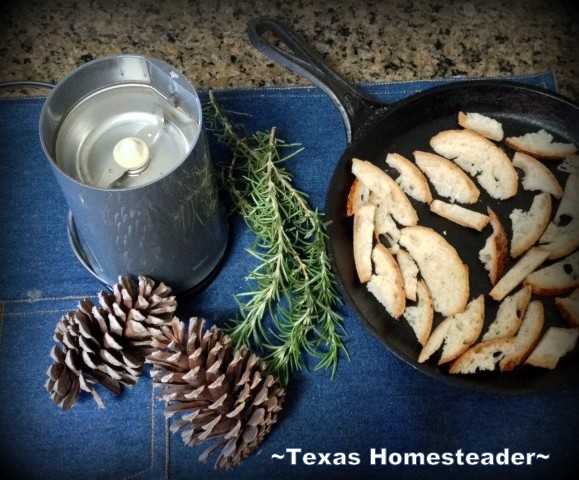 With a few quick pulses – bibbidy bobbidy boo! The dried bread was magically transformed to my very own homemade bread crumbs for just the cost of a little unused bread!
I especially love that I've once again easily reduced food waste in my kitchen – simply by turning food that wasn't used into a food item that is often typically purchased.
Score one for the grocery budget and also one for being environmentally friendly. BOOYAH!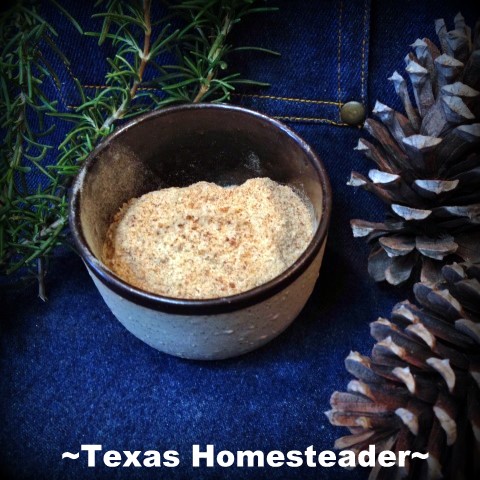 To Flavor, Or Not To Flavor…
Now if you like, you can flavor your breadcrumbs by tossing in dried herbs along with your dried bread cubes. Maybe some rosemary or thyme, whatever flavor you like!
I typically leave my breadcrumbs unflavored so I can use them in a wide variety of dishes. It's a required ingredient in RancherMan's favorite Potato Cakes or fish croquettes. And these homemade breadcrumbs are also often sprinkled on the top of various casseroles.
So I typically have unflavored breadcrumbs stored in a glass canning jar in the pantry just waiting to be used.
Give it a try!
~TxH~
Other Kitchen Homestead Hacks


C'mon by & sit a spell! Come hang out at our Facebook Page. It's like sitting in a front porch rocker with a glass of cold iced tea. There are lots of good folks sharing!
And you can also follow along on Pinterest, Twitter, Instagram
If you'd like to receive an email when a new blog post goes live,
subscribe to our Blog!