by Texas Homesteader ~
I've got lots of gray hair coming in, and I think that's ok. Read what my newly-emerging 'Platinum Blonde' streaks say about my life. Why would I want to change it? I've found happiness in life.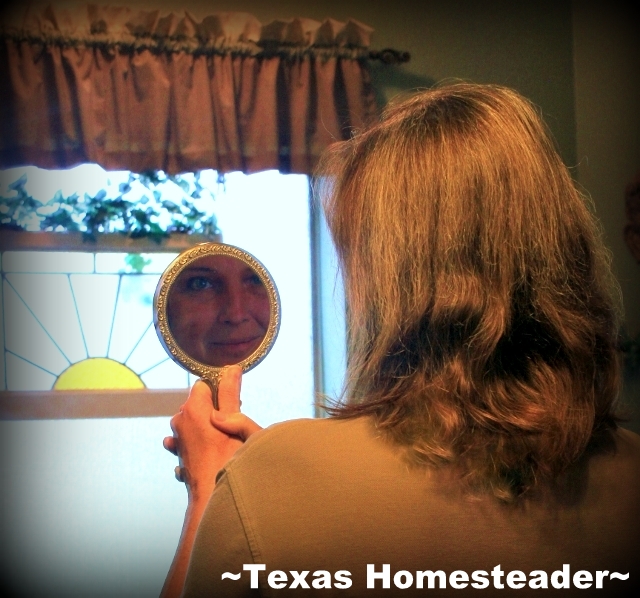 Friends Pointing Out My Gray Hair
Several years ago I was attending my mother's birthday celebration – a gathering of family & friends. We all met at a local bistro and many tables were pushed together to make room for all the guests in attendance.
Of course there were family members there, but helping to celebrate were many super-fun friends as well. Most older than me but beloved like family.
As RancherMan & I arrived we greeted these wonderful people, sharing hugs all the way around the table. As we all settled into in our seats talking, sharing and laughter were the sounds that filled the cool spring air.
Just then one of the older ladies who uses a walker was passing slowly & gingerly behind me when she stroked the back of my hair and said "Dahlin', I do believe you're getting a little whiter back here…"
To which I replied without skipping a beat "Hey, I'm PROUD of those new platinum-blonde streaks – I earned EVERY ONE of them!"
Genetics Play A Part In Going Gray Early
My genetics say that I get that stray bright silvery strand of hair early, I found my first one when I was only 16. But they typically come in very slowly and I gray probably slower than most women.
But as I approached my 50's I found there were a few more strands evident in my hair. As I studied them in the mirror I wondered what my reaction should be.
How Do I Treat My Gray Hair Now?
Should I follow along with social convention and eliminate the evidence of the number of years I've enjoyed?
As a woman, shouldn't I be repulsed by the very sight of them and run to the drug store right then & there to rectify the problem?
Don't I want to look YOUNGER than my years???
What My Gray Hair Means To Me
But I saw something different in those pretty silvery strands. To me they were representative of a life well lived. Of holding babies, raising children and loving grandchildren.
Those silver strands proved that I had done the time and walked the walk to gain the wisdom that often comes only with traveling down the path of life's lessons.
I saw the gentle smile of my wise grandmother, silver very young in years as well. No, those shiny silver strands didn't bother me a bit.
Then a few years ago I endured a very stressful time in my life with a breast cancer diagnosis. Now those pretty silver grays didn't just slowly highlight my auburn hair anymore – they were coming in like gangbusters!
They say stress will turn your hair gray and let me tell you I think there's something to that! Large swaths of grays now covered my natural auburn color in many places.
Seeing Something Different In Silver Hair
Having gone through my diagnosis, procedures and recovery, I now take a glance in the mirror and see maybe a little something more.
Oh I still see those years of life well lived, but now I also see the recent struggle and ultimate victory. I see tears and faith and hope and struggle and love.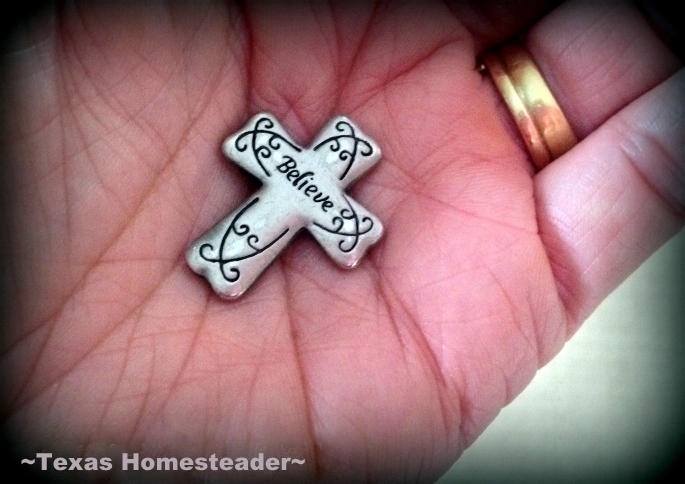 Time will tell if I'll make that run to the drug store to pick up hair color.
Like anyone else, if I get to disliking what I see in the mirror I'll fix it – life's just too short!
But for now, I think I'll keep my shiny 'Platinum Blondes'. I've earned every one & I've come a long way, baby!
~TxH~
Other Inspirational Posts
…and MANY MORE!
More about my healing journey:


C'mon by & sit a spell! Come hang out at our Facebook Page . It's like sitting in a front porch rocker with a glass of cold iced tea. There are lots of good folks sharing! And you can also follow along on Pinterest, Twitter or Instagram
If you'd like to receive an email when a new blog post goes live,
subscribe to our Blog!
Save