by Texas Homesteader ~

The best Honeysuckle Jelly recipe! This jelly made with the blossoms of honeysuckle tastes just like the blossoms I enjoyed as a child. Makes a great gift too.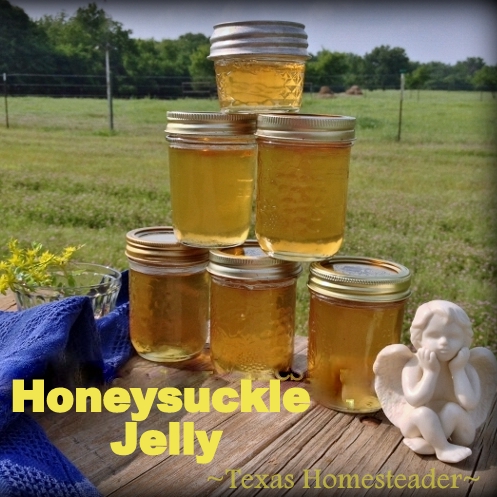 Texas Honeysuckle Blossoms
Here in NE Texas the honeysuckle is blooming. Aaaahhh sweet childhood memories of my siblings and me standing around a honeysuckle vine under that blue sky, pulling the fragrant flowers and sucking the sweet honey from the blooms.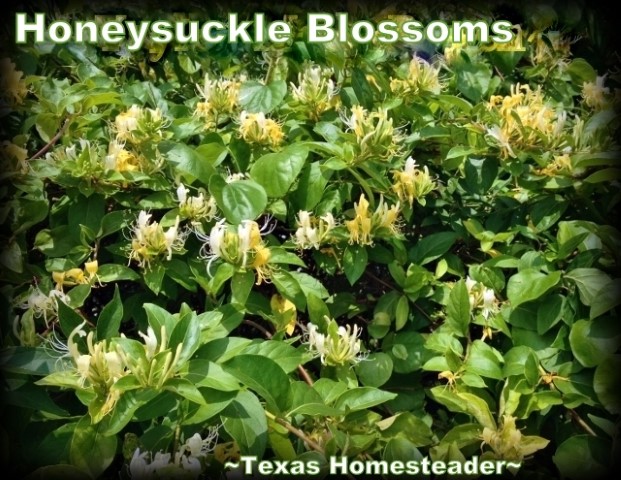 I decided to make honeysuckle jelly so I could taste those wonderful memories.
Harvesting & Preparing Honeysuckle Blossoms
I have very limited honeysuckle vines here on the homestead. But thankfully my mother has a bumper crop.
This jelly is so popular with my family that I wanted to make a double batch. So I harvested about 4 cups of honeysuckle flowers at her house and brought them home.
NOTE: Make sure you're collecting sweet, fragrant, fresh and fully-open blossoms for the best results. Don't opt for blossoms that may not yet be fully mature, nor old, wilted blossoms. You want to gather blossoms at the peak of their bloom, filled with that sweet nectar!
First I took each flower and cut the tiny green bulb from the base of each of the blooms. This leaves only the petals and the nectar.
This step is somewhat tedious, but leaving the green bulb on the blossoms could add a bitterness to my jelly. I certainly don't want that!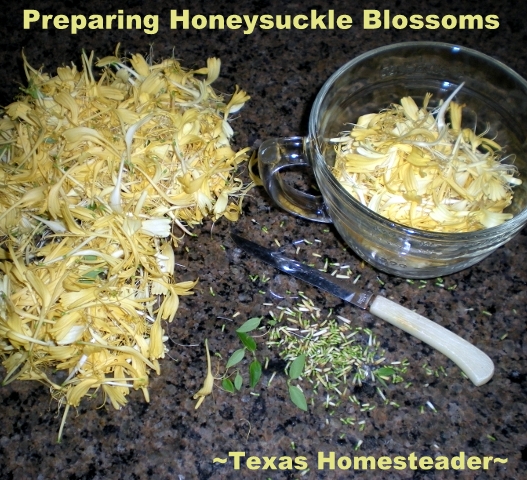 Making A Blossom Infusion
Since I'll eventually make a double batch of this delicious jelly, I go ahead & make double the infusion. After rinsing the blossoms in a colander I boiled 4 cups of water in a large saucepan and removed the pan from the heat. I added the honeysuckle flowers and replaced the cover on the pan.
The blossoms steeped for about 45 minutes, with me stirring every 15 minutes or so. This infusion of honeysuckle blossoms smells delightful.
Breathe deeply and smell that wonderful aroma…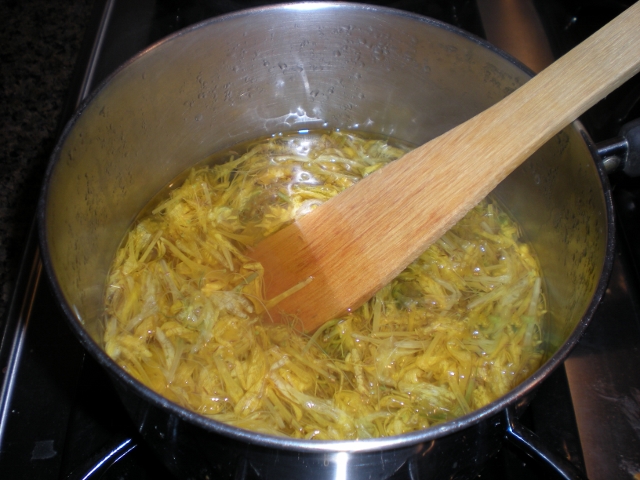 Making The Honeysuckle Jelly
I strained the petals from the water and put the petals in my compost. Then I put 2 cups of infusion in my refrigerator for the future 2nd batch.
I should caution here that trying to make double the recipe at one time can result in failure of the mixture to jell properly. Only make one batch at a time, don't try to cook a double batch at one time.
I don't know why this keeps the jelly from thickening, but in my experience it does. Instead of jelly you will have "Honeysuckle Honey". It's still delicious just not thick.
Ask me how I know… Eh hem!
So in my saucepan I returned the other two cups of blossom infusion & added 1/4 cup lemon juice and 4 cups of sugar. The mixture was stirred until the sugar was completely dissolved.
Then I turned the heat on medium high and brought the infusion to a boil. I brought it to a hard boil that could not be stirred down (220 degrees). Then I added the liquid pectin and set the timer for two minutes.
After the infusion boiled those last two minutes I removed the pan from the heat. The hot jelly was ladled into hot sanitized half-pint canning jars. The rim of each jar was wiped clean of any drips which might keep it from making a proper seal in the canner.
Then I placed a two-part canning lid/ring onto each jar, tightening only until medium snug.
Water-Bath Canning
I placed the jars of hot jelly into the rack of my water-bath canner and lowered them into the boiling water. I want to make sure the jars are completely covered by 1″ of water. Then I placed the lid on the canner.
After the water returned to a rolling boil I set the timer for 5 minutes. When the timer went off I carefully lifted the jars out of the canner and set them onto a tea towel to cool.
Testing The Canning Seal
After 24 hours you can test the seal to make sure it sealed correctly by gently pressing the middle of the flat lid. If it makes a plinky noise when pressed, the jar did not seal. In those cases put that jar in the fridge and consume the contents over the course of the next couple of weeks. All of mine sealed just fine.
The jars from this honeysuckle jelly just look like they contain summer sunshine, do they not?
This honeysuckle jelly tastes just like the blossoms I remember as a child – absolutely delicious. Give it a try! For more updates, follow me on Facebook.
* * * * * * * * * *
NOTE: One of our readers recently suggested that his extension agent told him that some honeysuckle is 'toxic'. Of course I did my own research (only .edu and extension sites, not 'opinion' sites) and then went to my own extension agent with the specific question. The correspondence in part was:
What I've read has said that the nectar from the honeysuckle plant can be ingested without harm (same as you mentioned below) but regarding varieties that can be considered 'toxic' in large quantities, I'm reading that is only stems and berries, NOT the honeysuckle flower or nectar.
EXTENSION AGENT:
I agree. I am only searching .edu and/or Cooperative Extension sites. When there is a suggestion of toxicity, it is in children and is the berries. Here is an example.
http://www.oardc.ohio-state.edu/weedguide/single_weed.php?id=54
So my understanding is that honeysuckle blooms & nectar can be consumed without harm (aside from any allergies or special circumstances) But if you have any question at all, seek the advice of your own extension agent or doctor.
Now, on to the recipe!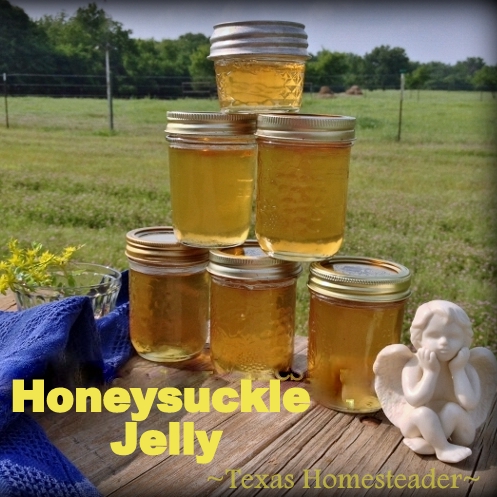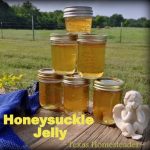 Honeysuckle Blossom Jelly - Yields 6 Half-Pint Jars. 
This smooth jelly tastes just like those sweet blossoms you enjoyed as a kid. It's like childhood memories in a jar! It can be easily water-bath canned for 5 minutes and makes a delightful gift option too. #TexasHomesteader
Steeping Blossom Infusion
45
minutes
Servings
6
Half-Pint Jars
Ingredients
2

Cups

Prepared Honeysuckle Blossoms

2

Cups

Boiling Water

4

Cups

Sugar

1/4

Cup

Lemon Juice

1

3-oz Pkg

Liquid Pectin
Instructions
To make an infusion, first prepare the flowers by removing the tiny green tip at the base of each blossom.

Next, bring 2 cups of water to a boil in a large saucepan, turn the heat off. Add the honeysuckle blossoms & stir, then cover the pan. Allow them to steep for about 45 minutes, stirring occasionally.


(note: I've refrigerated the cooled infusion containing the blossoms overnight, and although the infusion was dark green when I strained it, the jelly ended up golden yellow and even more intensely flavored…)

Strain the flowers from the liquid. Measure two cups of the infusion and return it to the saucepan. (if volume boiled down in making the infusion you can add a little water to make up the 2 cups)


Add lemon juice and sugar and turn heat to medium high, stirring constantly. Bring the infusion to a hard boil that won't stir down. (220 degrees)

Add the pectin and boil for two minutes. Reduce heat if necessary to avoid boiling over – the mixture will rise quite a bit when it's boiling so it's best to use an over-sized pan.
Recipe Notes
To Water-Bath Can:  Ladle jelly into hot, sterilized jars, and screw on canning lids. Place jars in boiling water of a water-bath canner for 5 minutes. Remove jars and place on a towel, out of drafts and allow to cool for 24 hours. After 24 hrs test the lids to make sure the jars are properly sealed.
~TxH~
This post categorized in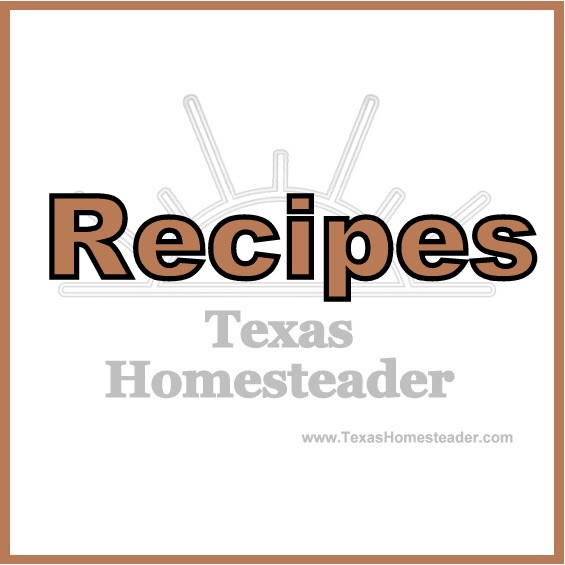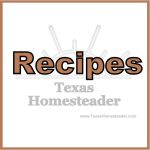 Our Delicious Jelly & Preserves Recipes:

C'mon by & sit a spell! Come hang out at our Facebook Page. It's like sitting in a front porch rocker with a glass of cold iced tea – lots of good folks sharing! You can also follow along on Pinterest, Twitter or Instagram.
If you'd like to receive an email each time a new blog post goes live it's EASY to
Subscribe to our blog!
Save
Save