by Texas Homesteader ~
A while back we changed the name of our little ole blog to 'Texas Homesteader'. There were many reasons for this, but mainly so that when I share a recipe or gardening tip, readers know right away what elevation or planting zone I'm referring to.
But whomever previously had the blog name 'Texas Homesteader' before us apparently had some rockin' jalapeno jelly. I'm constantly getting hits for folks looking for it. But I'm sorry to say it's not here.
Although we love, love, LOVE jalapenos in almost everything we eat, neither RancherMan nor I enjoy sweet/spicy combinations. But I do share some delicious jelly recipes on this blog.
So if you've come looking for Jalapeno jelly recipe – sorry I can't help ya. But I hope you stick around for some of the most delicious jelly (with EASY recipes) you ever hoped to find!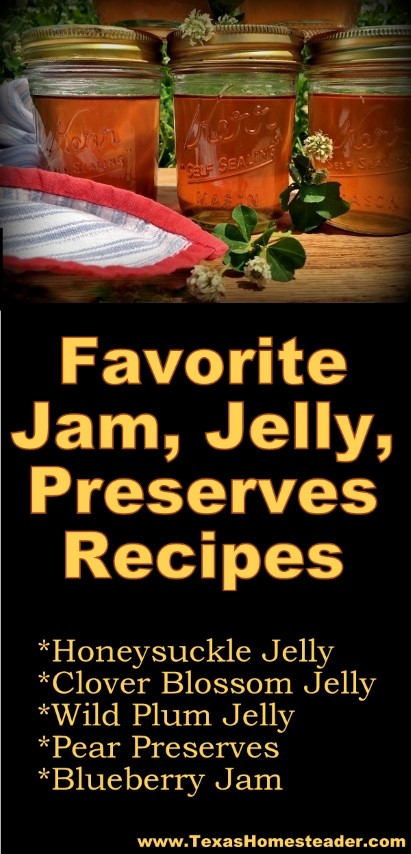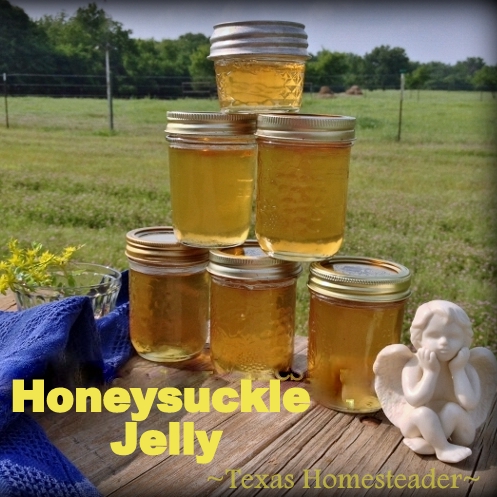 Oh yeah bebe, just like the name Honeysuckle Jelly implies. It's jelly made from the blossoms of a honeysuckle vine! You know that delightful memory of pulling those blossoms off the vine as a kid and sucking the sweet nectar?
Yeah, that.
It's sweet childhood memories in a jar. And it's by far my most popular post on our blog. Everyone who's ever made this jelly has raved. You're NOT gonna want to miss this one.
We plant clover in a small paddock each year that we allow our honeybees from our apiary to harvest from. It helps make the sweetest, mildest honey I've ever tasted!
But there are always just
So. Many. Blossoms!
So I take advantage and harvest a basketful to make into this delicious Clover Blossom Jelly. It's a super easy recipe. Like the Honeysuckle Jelly, it makes a fantastic homemade gift too.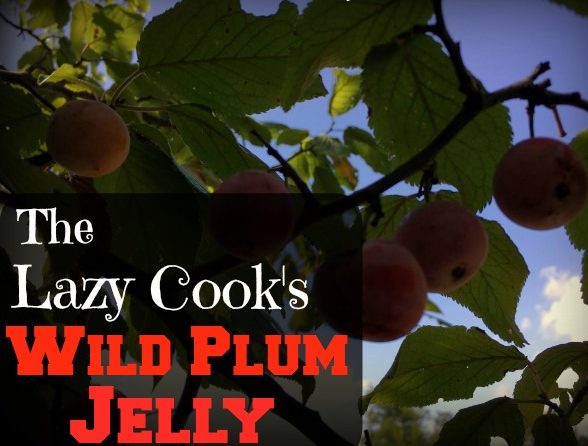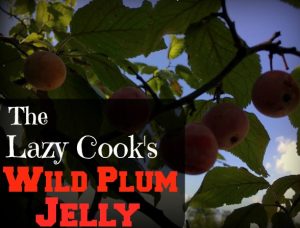 We have several wild plum trees here on the homestead. I like to harvest those tiny plums and make them into Wild Plum jelly. The result is a beautiful ruby-colored jelly with a powerful wild-plum taste.
Oh, and this one doesn't even need any additional pectin. It really doesn't get any easier than this, y'all! It's my lazy-cook's jelly recipe for sure.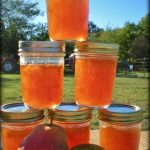 This one is RancherMan's Favorite. Pear preserves. I love when someone allows me to harvest fresh pears from their tree – it means I'll be making several jars of these delicious preserves. The recipe was given to me by a dear friend and I share the easy step-by-step instructions in this post. Check it out!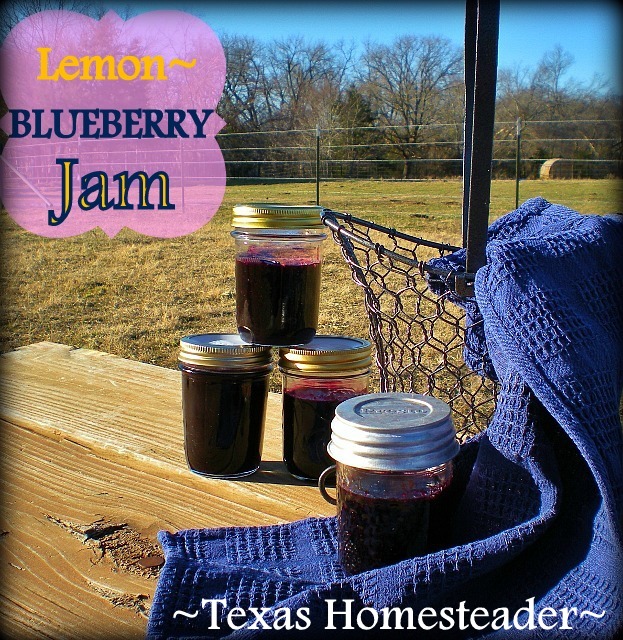 This Blueberry Jam also requires no pectin. I love a recipe where fewer ingredients are required, don't you? Plus it includes a subtle zing of lemon. The thick jam texture is delightful on Homemade Biscuits or stirred into Yogurt. Delish!
I love all things blueberry so this is one of my personal faves. I typically make it with frozen blueberries because that's what I have. But, all the better to whip up a batch with fresh blueberries when they're in season, #amiright??!!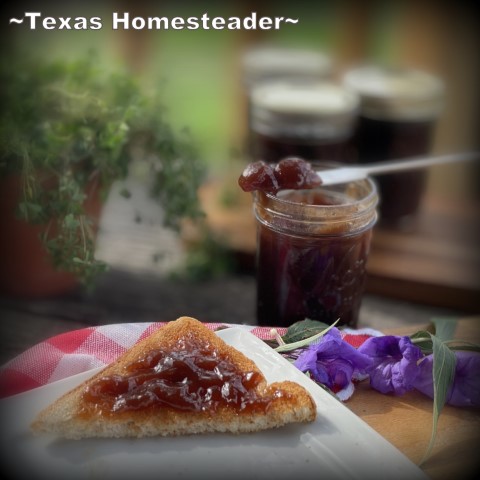 This simple Grape Jelly doesn't even require additional pectin. And I share a secret shortcut for getting the grapes simmered down with the most flavor.
You can buy grapes for this simple Grape Jelly. But I harvest from the Concord grapevine growing in my garden.
~ ~ ~ ~ ~ ~ ~ ~ ~ ~ ~ ~
So there ya go – my favorite jelly recipes found right here on this blog. And if you're here looking for Jalapeno jelly I hope you're not disappointed. But I know you'll enjoy these recipes instead.
While you're here, we'd love for you to stick around a while. We can all inspire each other along this path to a simple life, right?
Won't you sign up now for our free newsletter? Just enter the email address you want to receive the newsletter, respond to the confirmation email and BOOM! Never miss another post! And welcome!
~TxH~


Oh, and if you're looking for recipes with jalapenos:
Snappy Jalapeno-Cheese Biscuits