by Texas Homesteader ~
*affiliate link
There are several wild plum trees in our pasture. The recent years of drought have killed off many of them, but there are still 2 or 3 small ones left. One of the trees produced enough plums this year for me to make this small batch of wild plum jelly. Is there any more beautiful crimson color than what's displayed from a jar of homemade wild plum jelly?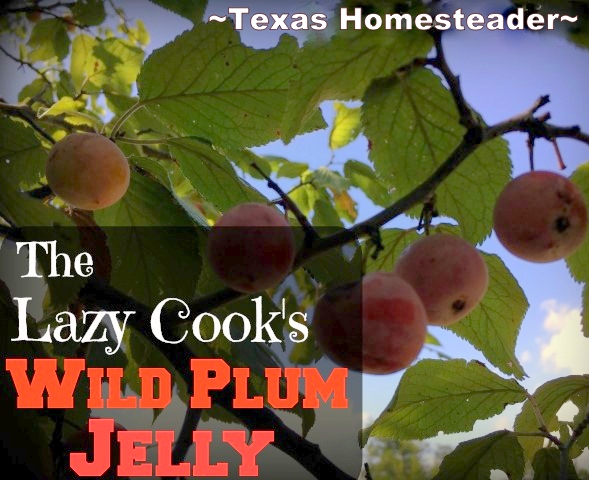 Gathering the Wild Plum Harvest
Our wild plums are usually ripen to perfection in late August. Around the 2nd week of August I begin monitoring the plums so I know when they're ready to harvest. Then I'll go to the trees several times a week and harvest until I get enough to make a batch of jelly.
I like to harvest the very ripe plums as well as a few of the plums that aren't 'quite there'. This mixture not only gives my jelly a delicious flavor, but I've read adding a few less ripe plums offer up a little more natural pectin for a thicker jelly too.
I don't know if it's an old wives tale or not. But I've never had to add commercial pectin to my wild plum jelly.
Lazy-Cook's Method – Love it!
Now let me tell ya this is the lazy girl's efficient time manager's way to make jelly. I initially found this recipe over at GardenGuides and it's a jam I make every year that I possibly can. Since I don't know at any given year how many plums my tree will offer up I can't pre-determine how much juice I'll need for my jelly.
No worries, this recipe is adjustable based on the amount of juice you get. And wild plums are tiny, about the size of a quarter or smaller.
No I don't want to cut & pit all these tiny fruits, that would take forever! I don't have the time nor the patience for that kind of cooking.
When it's time to make the jam I bring out the plums I've harvested and wash them in a colander. Then I put them in a stockpot with just enough water to cover them and bring it to a simmer.
As the plums are simmering I'll take a potato masher and mash the fruit. This separates the pulp from the pits & skins right there in the stock pot. It's ready when the fruit is all soft and I've been able to mash it into a pulp.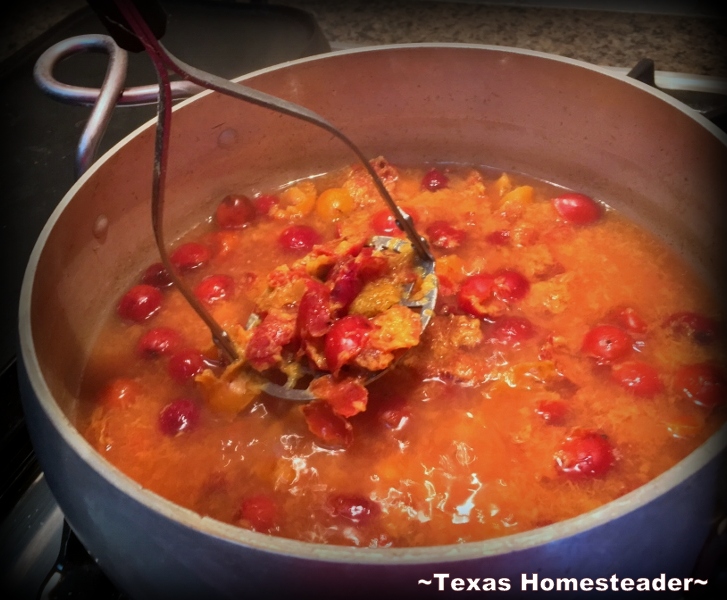 Then I need to strain the pits, skins and pulp from the juice. I'll use cheesecloth-lined colander set on top of a pan. I just plop the whole plum-mash in – leaving it in the fridge overnight. All the juice will drain out during that time.
(Note: Some links in this post are for further information from earlier posts I've written. But links preceded with * are affiliate links. If you click them and buy something (almost anything, not just the item noted) I could receive a small purchase. But the price you pay will NOT change. It's an easy way to support this blog without anything coming out of your pocket. So click often! Thank you!)
Then in the morning I pull the colander from the fridge and toss the drained pulp/pits into my *tumbling composter. I'm left with that lovely juice.
Just for you, I weighed the plums beforehand so you'd have an idea. Yes, I know – thoughful! LOL. After harvesting & cooking down 2 lbs 13 oz of plums I ended up with just under 4 cups of juice .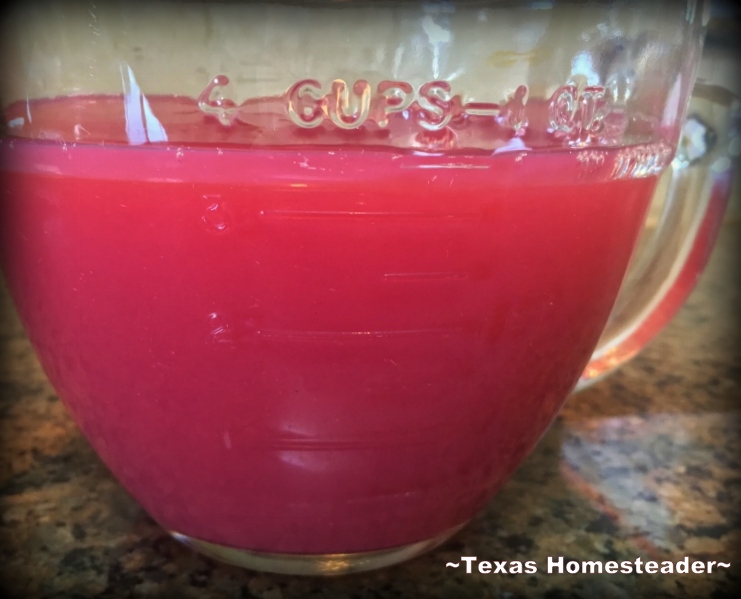 Cooking The Jelly
I add about 3/4 cup granulated sugar for each cup of juice and add it all to a deep pan. On medium-high heat I bring the juice to a simmer, stirring frequently, until the juice reaches 220 degrees. (about 15-20 minutes)
Boom! Now my jelly is ready. That 4 cups of juice made five half-pints of delicious wild plum jelly!
If I decide to can it I'll make sure my jars are sanitized and seal them in a water-bath canner for 10 minutes. Done and DONE!
NOTE: I divided my available jam into jars for canning, leaving quite a large head space. But the Ball Canning Guide recommends leaving only 1/4″ head space. I guess this is a case of do what I say & not what I do?? LOL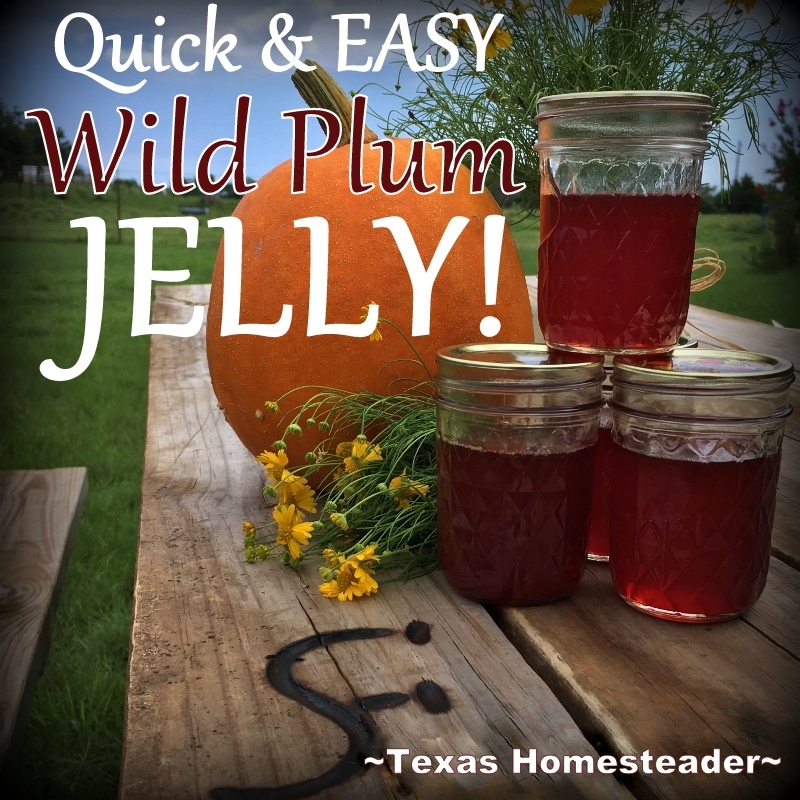 In all seriousness, it's always best for a safer product to follow proper head space requirements. So for this jam, fill jars with 1/4″ head space prior to canning.
THIS is the proper head space in the photo below: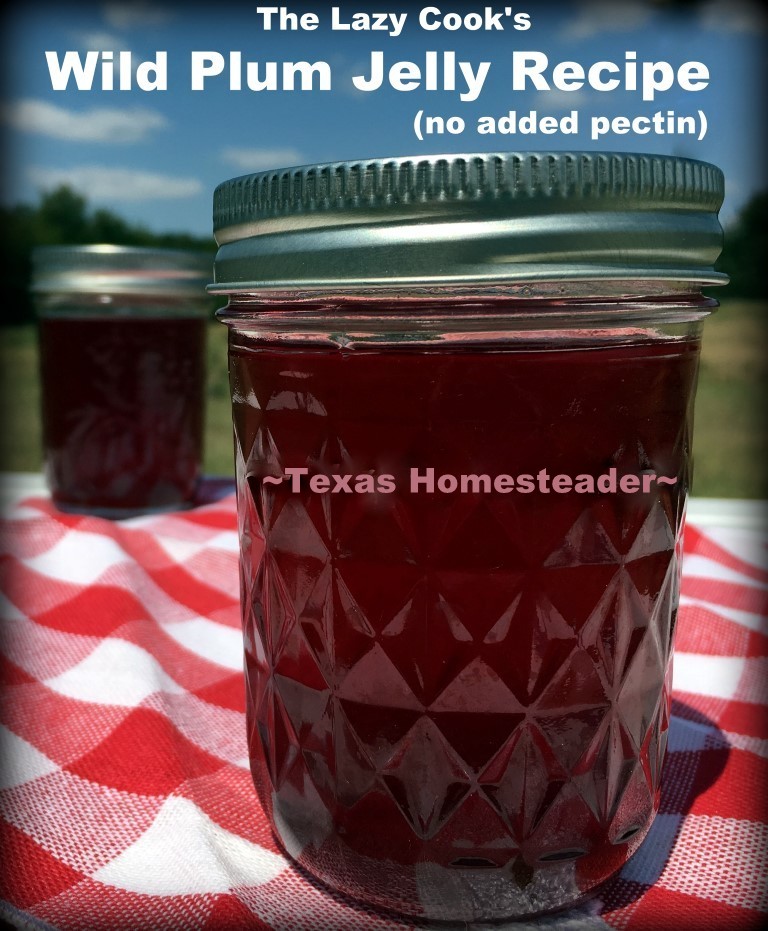 It's always a very strong feeling of satisfaction when this property we love provides me with something this delicious, and these crimson jars of deliciousness make great gifts. Heck EVERYONE loves wild plum jelly!

Why yes, of COURSE I'll share the recipe: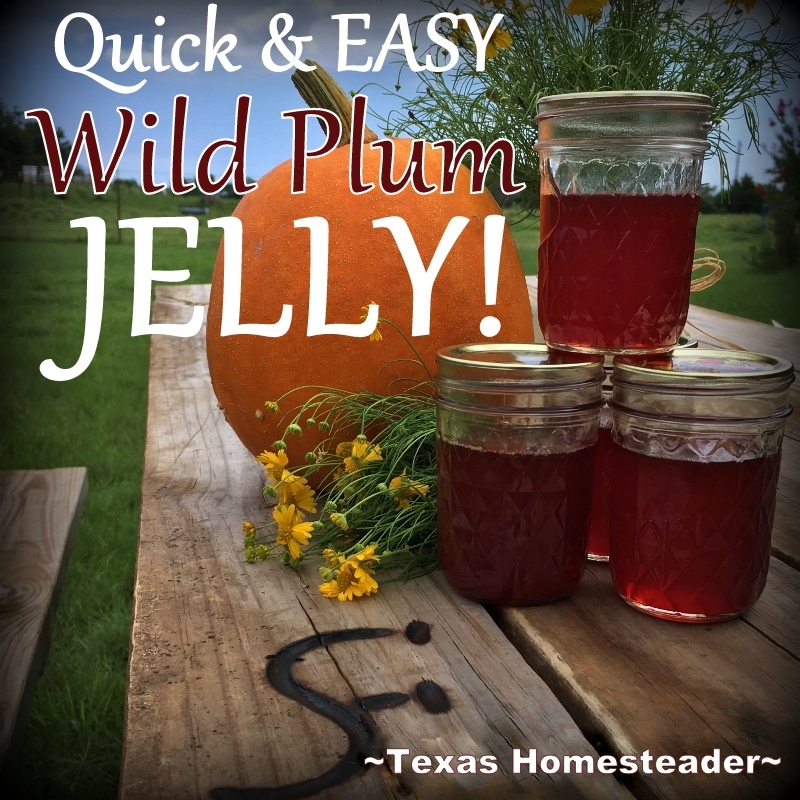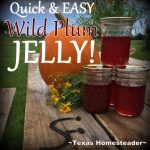 Lazy Cook's Wild Plum Jelly Recipe
No pectin needed for this recipe when you blend ripe plums with just a few less-ripe ones. The Lazy-Cook's Wild Plum Jelly! #TexasHomesteader
Instructions
Easy, Flexible Directions For Wild-Plum Jelly
Harvest & wash wild plums. Place washed plums into a large stockpot and add just enough water to cover. Bring water to a simmer and cook fruit until softened, mashing with a potato masher. (about 10-15 minutes)

Line a colander with a jelly bag or cheesecloth and place atop a deep pan. Dump softened mashed plums into the colander & place in the fridge overnight to fully strain the juice.

The next morning measure strained juice and add 3/4 cup granulated sugar for each cup of juice. Stir together in a large stock pot.

Simmer juice over medium-high heat stirring frequently until juice reaches 220 degrees (about 15-20 minutes)

If desired, ladle into sanitized jars leaving 1/4" head space.  Seal in a water-bath canner for 10 minutes.
Recipe Notes
NOTE: Quantity of jars of Plum Jelly depends upon the amount of plums you harvest. Just add 3/4 cup of sugar for each cup of juice you cook out.
~TxH~
Our Delicious Jelly & Preserves Recipes:
NE Texas Native Trees & Plants

C'mon by & sit a spell! Come hang out at our Facebook Page . It's like sitting in a front porch rocker with a glass of cold iced tea. There are lots of good folks sharing! And you can also follow along on Pinterest, Twitter or Instagram
If you'd like to receive an email when a new blog post goes live,
subscribe to our Blog!
*Amazon affiliate
Save
Save
Save
Save
Save
Save
Save
Save
Save
Save