by Texas Homesteader
When we obtained our remote-pasture property last year I knew there was once an old homestead on the property years ago – the house long gone now.  I love that this property also has an old 1880's barn. That's my favorite barn era and I'm so blessed to have two of these beautiful old barns now!  I'm ready to roll up my sleeves & restore this beautiful structure to its previous glory much like we did years ago with the 1880's barn here on our ranch.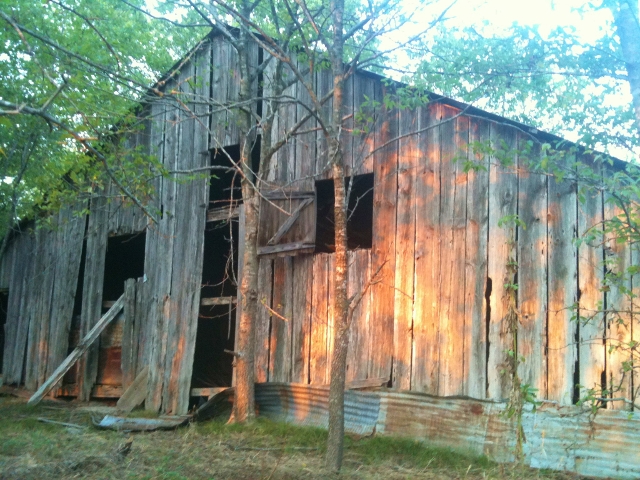 In walking around the property I can see the original animal pens and where old outbuildings were erected – I can dream of the lives once lived on this very land.  I know where the house once stood and I can see the overgrown layout they apparently used for their pens, garden area, and what appeared to be an orchard with some kind of fruit trees – only a tangled thicket now.  An old timer that still lives around the property told me the old homestead used to raise fruit trees in that orchard, although he couldn't remember what kind.  Since I couldn't tell what kind of trees they were I contacted our extension agent and she consulted with master naturalists to try to solve the mystery.
The master naturalists studied pictures I sent them of the limb structure & the leaves. These trees had thick, heavy, glossy-green leaves. I found it interesting that there were three veins running the length of each leaf.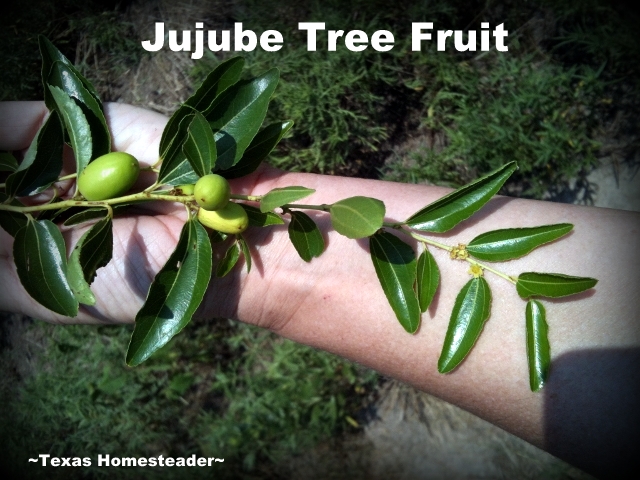 They also studied the photos of the bark looking for clues to the tree's identity.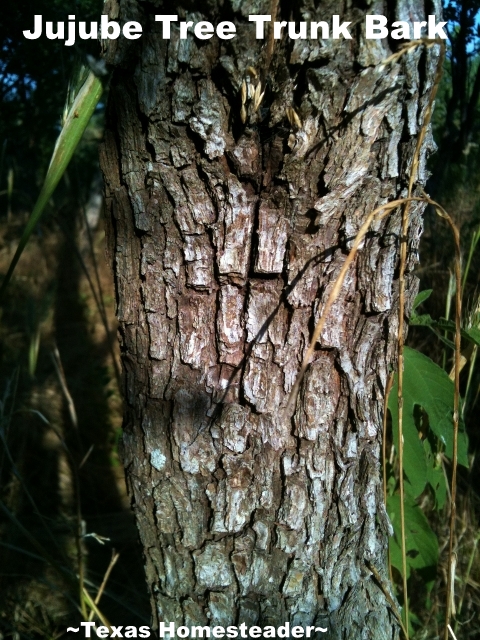 The immature fruit emerged around May/June, looking much like an olive in size, shape and color.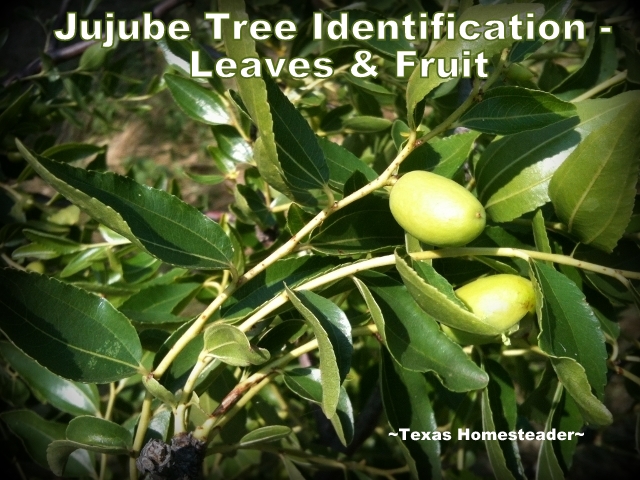 Inside each tiny fruit was a small pit, sharply pointed at both ends.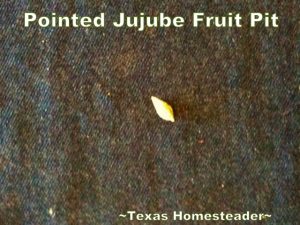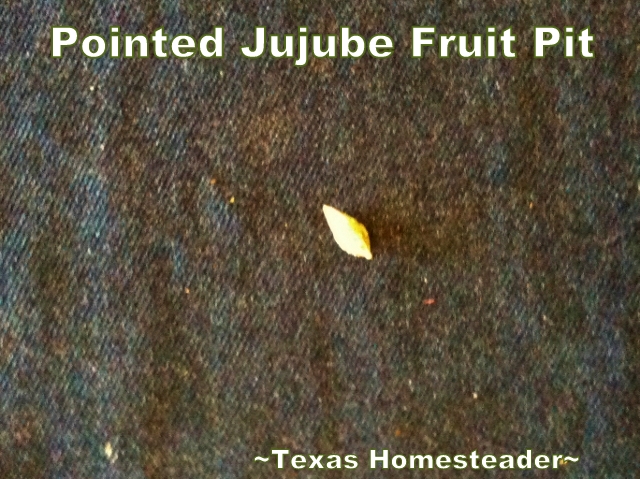 In late August, the fruits began to ripen, turning mottled green/dark red at first, then a deep red/brown color.  They seemed very sweet to the taste, and the texture was similar to a spongy apple.  The taste was also somewhat similar to apple, but much sweeter.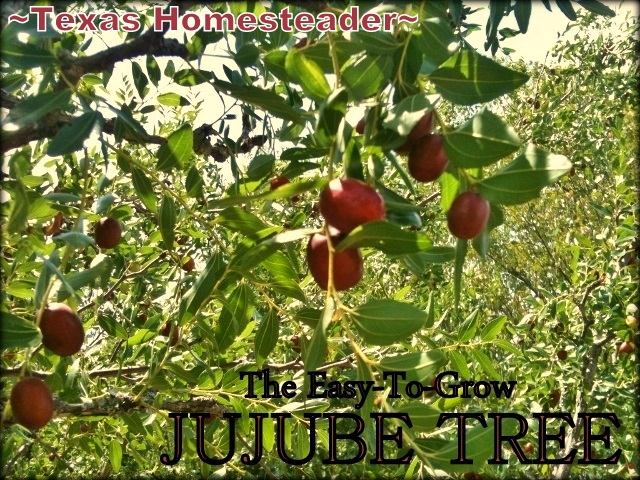 The answer was finally received – a Jujube tree!  I'd never heard of them so I hit the internet to see what I could find out.  I read that they are also referred to as a Japanese Date, introduced to the U.S. back in the 1800's many old homesteads in Texas grew them as they have little to no natural pests and can survive and even produce prolifically with very little water.  I'm enamored with these little fruits and I'm looking for ways to preserve them.  I'm reading they can be dehydrated and used in similar ways as raisins – that appeals to me since raisins are often purchased by me for use in my homemade granola as well as desserts for a natural sweetener.  Here's a way I can provide that sweet flavor on my own.  I'm experimenting with different ways to preserve this fruit – read how I'm preserving the jujubes!
~TxH~
C'mon by & sit a spell!  Come hang out at our Facebook Page – it's like sitting in a front porch rocker with a glass of cold iced tea. Lots of good folks sharing!  You can also follow along on Pinterest, Twitter 
If you'd like to receive an email each time a new blog post goes live it's EASY to Subscribe to our blog!