by Texas Homesteader ~ 
We purchased our piece of NE Texas paradise back in 2000. It was in pretty rough shape but I could see its potential and the property itself really spoke to my heart. Once I learned that the crumbling 1880's barn was part of this property the deal was all but sealed! 
RancherMan & I had the barn's exterior refurbished, leaving the interior intact. We've had ponds, fences & cross fences built, revitalized pastures and spend numerous days clearing these dang Honey Locust trees. (we call them Satan trees, I'm pretty sure that's where they came from!)  It's fun to envision the family that must have lived here, and several months ago I wrote about the Evidence Of A Past Homestead.
But in the fall of 2012 we purchased a remote pasture about 10 minutes away from our own homestead to hold our stocker cows. Again, that property was in somewhat of a shambles. But again it held an 1880's barn, albeit in dire need of repair. RancherMan & I are determined to refurbish this old barn and property the same as we did with our first one. (I'm seeing a pattern here…)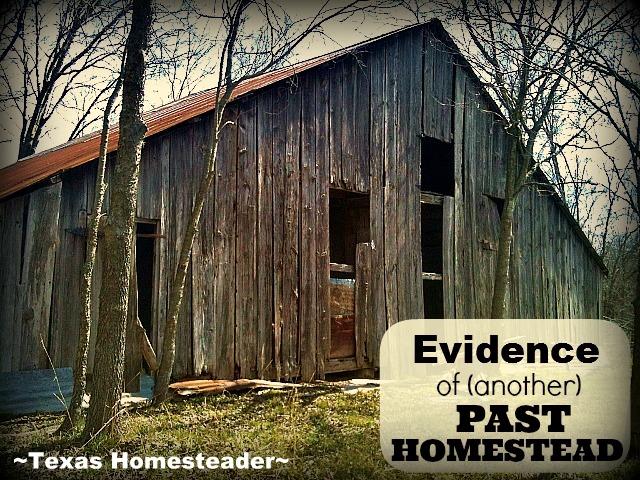 Although we purchased the remote-pasture property in the fall of 2012, I didn't know then the breast-cancer diagnosis I would receive just a few months later. The swirl of diagnostic tests and surgeries put everything on hold for the entire year.
Cleaning Up Abandoned Homestead Property
But now I'm ready to get back on the horse, as it were. This property needed some TLC. The most recent property seller burned & then attempted to bury the falling-down house that was vacant on the property for so many decades. Unfortunately he left quite a mess with partially buried burned housing material & bricks.
Not only is burned housing material scattered around the property but trash of all kinds was strewn about. RancherMan & I have been working hard to get this property cleaned up & brought back to it's previous glory.
But while working you can't help but to wonder about the lives lived here so many decades ago back in it's heyday. We're told the inhabitants earned their living farming cotton for quite some time before the owners died & the property was left vacant for decades. It changed hands several times before we purchased it. But I absolutely love the history I feel here. I can still hear the whispers of the past…
In what used to be the back yard next to an old tree is this concrete marker hand lettered "JESS".  I imagine a beloved pet was laid to rest here.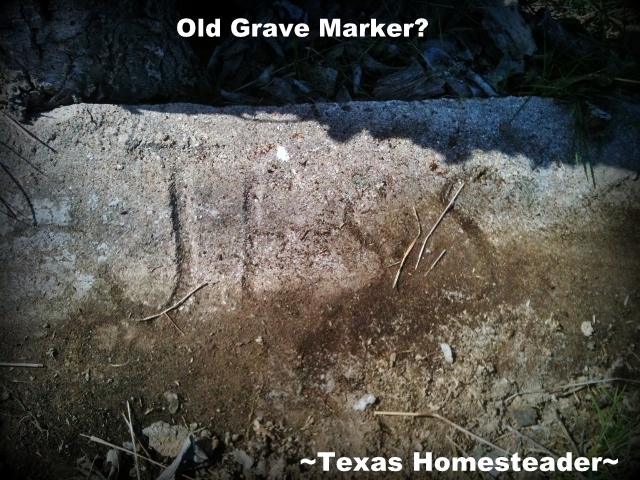 Some Old Structures Remain
Behind the house was an outhouse, still standing today. I love this structure just for the nostalgia of it all. Although I'll admit being a little skiddish of going inside!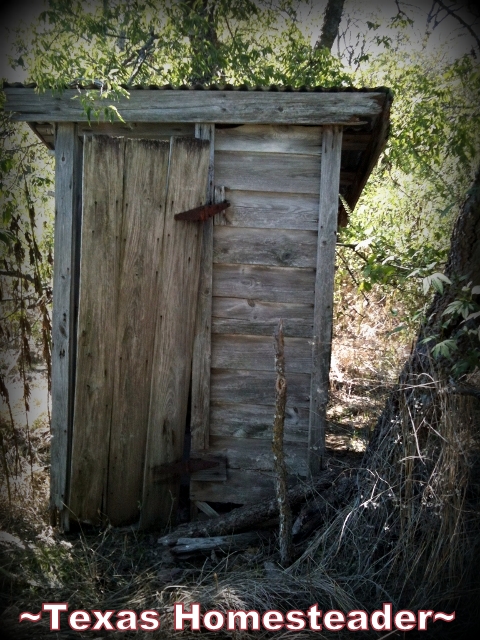 Between the house & the barn is a large-ish cleared out square area. This appears to be where they planted their large vegetable garden. I see heirloom garlic still sprouts along the perimeter. So I dug some up & brought it home to be in my own veggie garden too.
On the north side of the garden was their orchard of jujube trees. The orchard is way overgrown now. But I harvested some of those jujubes last summer and dehydrated them to use in my homemade pumpkin granola. I was pretty excited to get a small taste of the past with this fruit.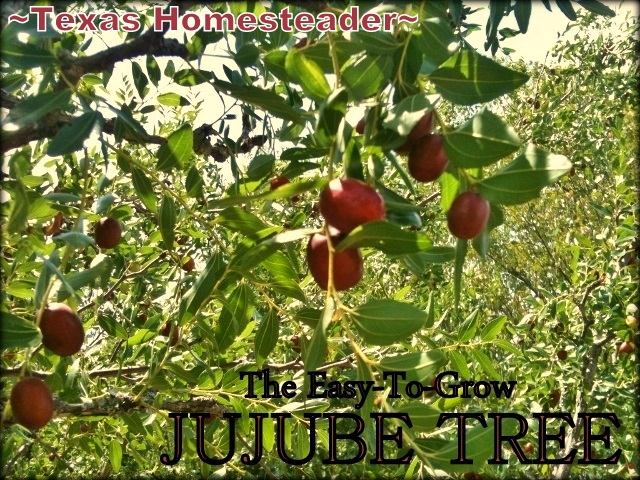 Work Still Needs To Be Done
The shallow pond next to the barn needs to be reworked. But that's in the planning stages now. And behind the pond was another structure (again burned by the most recent seller). It's too small to be a house. Perhaps it was a smokehouse or something.
I enjoy looking at the layout of the pens even though the barbed wire is long gone in most cases. Looking at the tree lines gives hints as to where they once were and their proximity to the barn gives me an idea of the work flow. In observing the layouts I've been able to see a glimpse into the daily rhythm of those lives of the past as they tended to the animals, the orchard & the garden. It's been so much fun to envision the lives of those that came before.
~TxH~
Other Homesteading Posts
Love Our 1880's Barn? See More!


C'mon by & sit a spell!  Come hang out at our Facebook Page. It's like sitting in a front porch rocker with a glass of cold iced tea – lots of good folks sharing!  You can also follow along on

Pinterest

, Twitter or

Instagram

.
If you'd like to receive an email each time a new blog post goes live it's EASY to


Subscribe to our blog

!
Save