by Texas Homesteader
Last week I shared five ways to reduce waste in your kitchen. Today I'll share five MORE things RancherMan & I have done to reduce our kitchen waste enough to help eliminate weekly trash pickup.
Don't worry, they're all easy. Hey, I'm all about making things easy!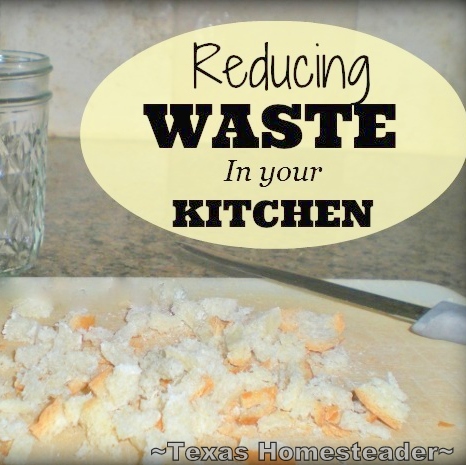 ~ ~ ~ ~ ~ ~ ~ ~ ~ ~ ~ ~ ~ ~ ~ ~
Shopping Bags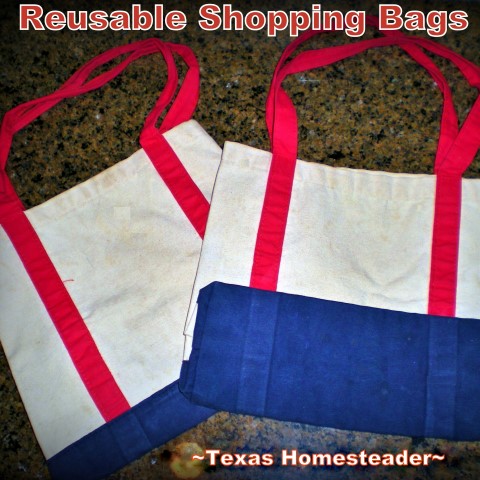 Oh my, I haven't brought a shopping bag home from the store in more years than I can count. Occasionally one will be brought in by a visitor and they're sure to be used quickly as a trash can liner or something. But not bringing in those bags when I shop was one of the very first steps I made back in 'the day' to reduce my kitchen waste.
Of course back then I did the responsible thing and make sure they were recycled, but then I remembered the order of conservation: REFUSE, Reduce, Reuse, Repurpose, and lastly Recycle. So I got a few cloth bags and I never looked back.
In those early days the clerks used to look at me strangely when I told them I wanted to use my own bag for my purchases. Of course that was way before it was a normal request – nowadays they don't even blink.
Remembering Your Reusable Bags
Some people have commented that they can never remember to bring their bags with them when they go shopping. I've found an easy way to make sure I always have my cloth bags.
When going out to do my shopping I have a cloth bag with about 7 neatly-folded cloth bags inside it hanging close to my back door & it's easy to grab it on my way out.
But what about those times you weren't actually planning to stop & shop somewhere? I've got that tackled too! I have a single cloth bag rolled into a heavy plastic sleeve to keep it neatly stored & to help it stay clean. It's tucked right next to my seat in the car so if we make an unscheduled stop to buy something I simply reach down & grab it on my way out of the car. This method has really worked well for me.
Oh, and I always have my favorite Handmade Basket in the car too. I find I use it about 90% of the time for those quicker trips. Love it!
~ ~ ~ ~ ~ ~ ~ ~ ~ ~ ~ ~ ~ ~ ~ ~
Trash Can Liners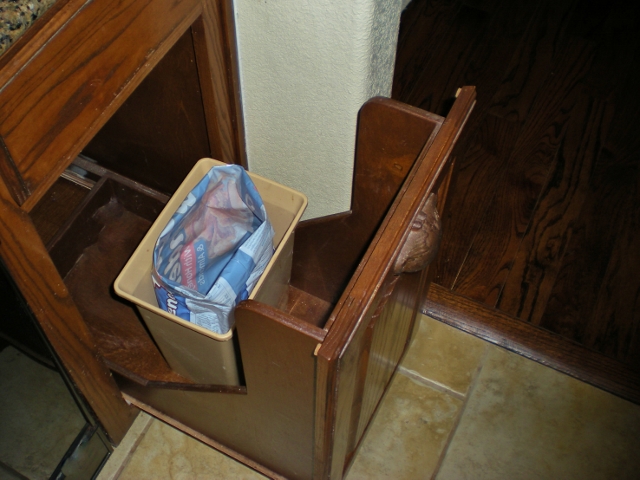 I haven't bought trash bags in probably 10 years or so. Since reducing our trash so drastically I've been able to dramatically downsize the trashcan's size in my kitchen. No big ugly kitchen-sized waste basket for me! This tiny bathroom-sized trash can slides into a cabinet to be hidden from view.
Since it's so small I use various bags to line it – in this case a large bag from a family-sized cereal purchase. And since I compost most food waste there's no stinky items needing to be placed in the trash. By utilizing all our steps to reduce waste in the kitchen this tiny trashcan only needs to be emptied about once every 2 weeks or so.
~ ~ ~ ~ ~ ~ ~ ~ ~ ~ ~ ~ ~ ~ ~ ~
Make Your Own Convenience Items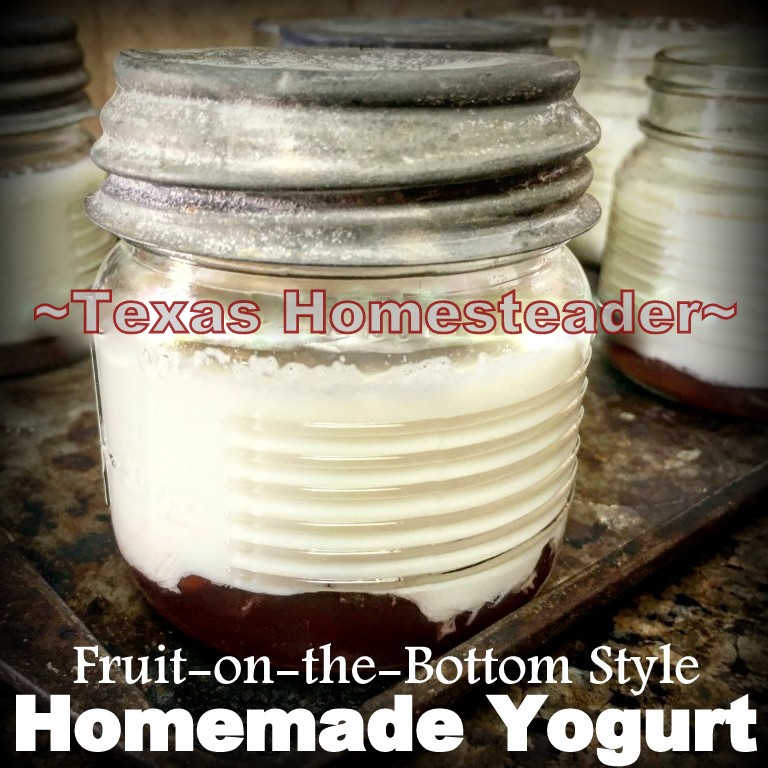 Have you noticed how heavily things seem to be packaged these days? A box of something with containing several individual plastic-coated bags of product and the whole shebangie is wrapped in yet more plastic wrap?? Oh, it kills me! Because of this I've been very mindful of things that I can provide right here at home that don't need to be purchased. (with all that dang packaging!)
There are so many quick & easy ways to reduce food packaging waste in your kitchen by making that item yourself like breadcrumbs or seasonings. For instance I make my own yogurt about once a week. It's EASY! And I make it right into single-serve 1/2-pint canning jars that are used over & over again. I even have a family member save me the lids that fit these jars. So the whole batch can go from oven incubation to fridge to single-serve breakfast. What a great win/win!
~ ~ ~ ~ ~ ~ ~ ~ ~ ~ ~ ~ ~ ~ ~ ~
Easy Homemade Cleaners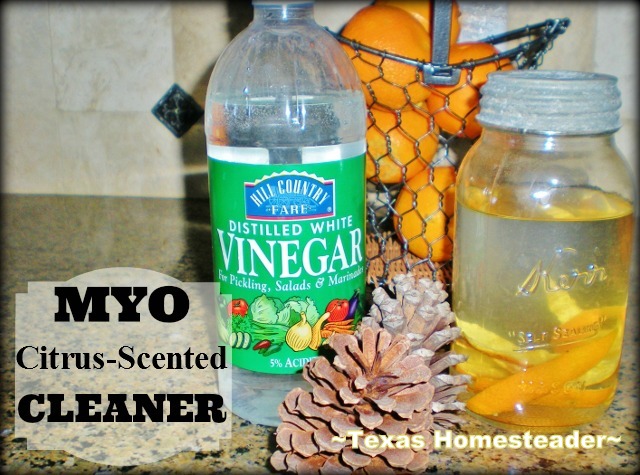 Making your own cleaners doesn't have to be complicated or time consuming. Orange-scented vinegar makes a great cleaner and it's so easy & inexpensive to make. I can either dilute it with water or use it full strength.
This vinegar cleaner has been wonderful in cleaning my stove from drips & dribbles. And it's amazing on our kitchen's tile floors. Vinegar is cheap, effective and natural – quite a winning combination for me.
~ ~ ~ ~ ~ ~ ~ ~ ~ ~ ~ ~ ~ ~ ~ ~
Think Outside The box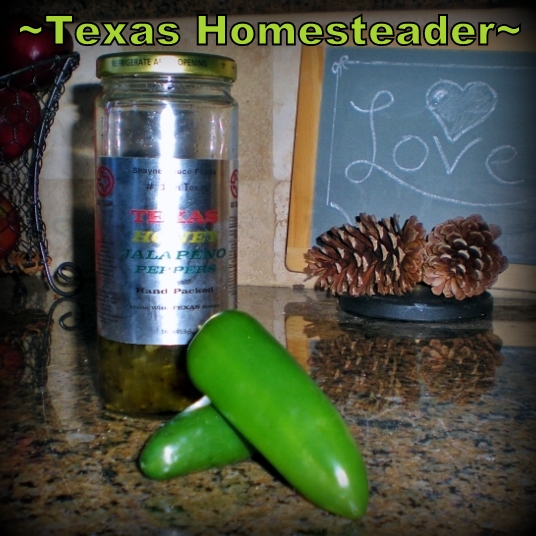 Sometimes it only takes a second to think outside the box when looking for ways to reduce packaging waste. For instance I like my sliced jalapenos raw but RancherMan prefers them pickled. So I have a family member save me the jalapeno juice from their own pickled jalapeno purchase. I slice raw jalapenos from the garden and drop the slices into that juice.
After a week or so they're ready for RancherMan's palate. Instead of a couple of bucks for that jar of pickled jalapenos, it's almost free since I've typically used jalapenos straight from my garden. But even in the off-season when the garden is sleeping I'm able to purchase a couple of fresh jalapenos for pennies. I just slice them into this pickling juice and again – no waste!
So there ya go, a few of the ways we've been able to reduce our waste in the kitchen. If you missed last weeks list be sure to go back & check it out.
What about you? What are some of your favorite ways to reduce waste?
~TxH~
This post categorized in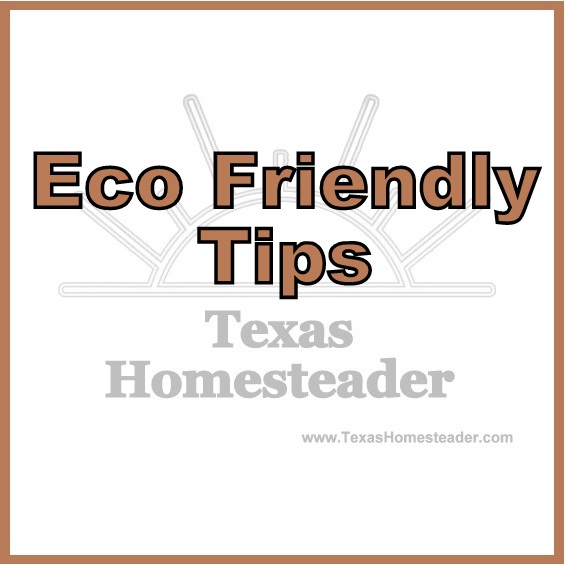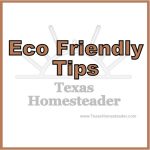 Other Low-Waste Stories
C'mon by & sit a spell! Come hang out at our Facebook Page. It's like sitting in a front porch rocker with a glass of cold iced tea – lots of good folks sharing! You can also follow along on Pinterest, Twitter or Instagram.
If you'd like to receive an email each time a new blog post goes live it's EASY to
Subscribe to our blog!