by Texas Homesteader ~
*affiliate link
Recently RancherMan & I enjoyed a vacation with my siblings in New Braunfuls, Texas. It was a great time filled with family, sight seeing, shopping & some pretty fancy restaurants. We all even got to enjoy a concert at the famous Gruene Hall. And as luck would have it, we were visiting during Market Days weekend too.
Market Days is an outside market filled with vendors of many different kinds. Craftsmen were selling anything from hair clips made from vintage silverware to hand-made leather pistol holsters. Then I spied a vendor who was selling baskets, and I've wanted a basket for years. To me they're beautiful and very functional pieces of art.
On this day I picked out a gorgeous, roomy hand-made basket with leather handles. It even had strips of bright pink woven in. Since becoming a breast cancer survivor I enjoy having splashes of pink around me. This basket is beautiful, I love it!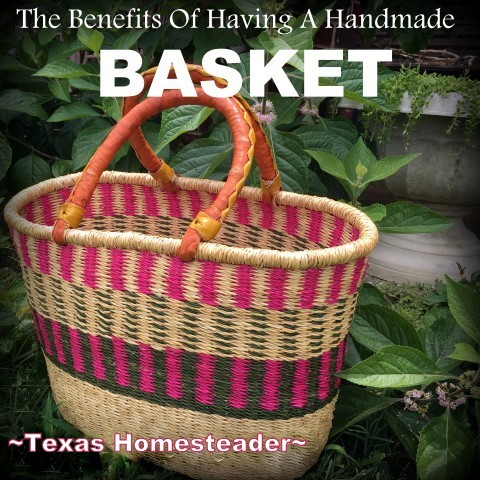 This post may contain affiliate links (marked with *) If you decide to make a purchase through one of the links contained in this post I may receive a commission. But the price you pay will NOT be changed. It's an easy way to support this blog without anything coming out of your pocket. So if you're interested in buying something, don't be shy – click away! You can read my entire affiliate disclosure under the 'Legal' tab above.
Reusable Is A Positive Environmental Impact
There are many ways I'm using this basket. But today I'll focus on how it's had a positive environmental impact. It's another way I've been able to eliminate plastic shopping bags!
Y'all know when I'm shopping I shun plastic bags like the plague. To be able to refuse plastic shopping bags I usually take my reusable cloth bags with me when I'm shopping. Much of our typical shopping is for small quantities, so I was hoping to use this basket now when I'm doing my shopping. As it turns out it works GREAT for that purpose.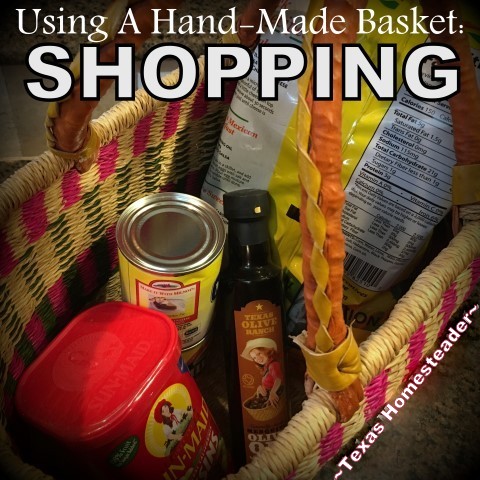 I have no problem dropping my planned purchases into this basket as I stroll down the aisles. It's a large basket with a wide-open top. Nothing's hidden so I don't feel the shop owners are worried that I'm stealing anything. And of course all the local shop owners know RancherMan & me so I certainly don't worry about that when shopping locally, but even when shopping in the 'big city' I feel my shopping is certainly as visible as if I were carrying those items in my arms.
Then when I get ready to pay for my purchases I place my items on the counter. I tell the clerk that I'd like these items placed back into my basket. Since the basket holds itself wide open it's so much easier for them than trying to wrestle my items into a fabric bag.
Shopkeepers Love It
I've lost count of the number of compliments that I've received on this beautiful shopping basket. I'm sure many others are now considering getting a basket of their own. Hey, any way I can help further environmental awareness without being preachy is a good thing for me. Actions certainly speak louder than words!
(If you're looking for baskets too, I found some *Hand-Woven Shopping Baskets on Amazon!)
~TxH~
Other Low-Waste Stories

C'mon by & sit a spell! Come hang out at our Facebook Page. It's like sitting in a front porch rocker with a glass of cold iced tea – lots of good folks sharing! You can also follow along on Pinterest, Twitter or Instagram.
If you'd like to receive an email each time a new blog post goes live it's EASY to
Subscribe to our blog!
*Amazon affiliate
Save
Save
Save
Save
Save
Save