by Texas Homesteader ~
*contains affiliate link
This year I planted the sunflowers along the chicken fence side of the garden. Those huge sunflower plants offer shade during the heat of the day for my chickens. Oh, and our bees love them too.
That's a lot of bang for my package-of-seeds buck! But now it's time to harvest those sunflower seeds. Come see what I did.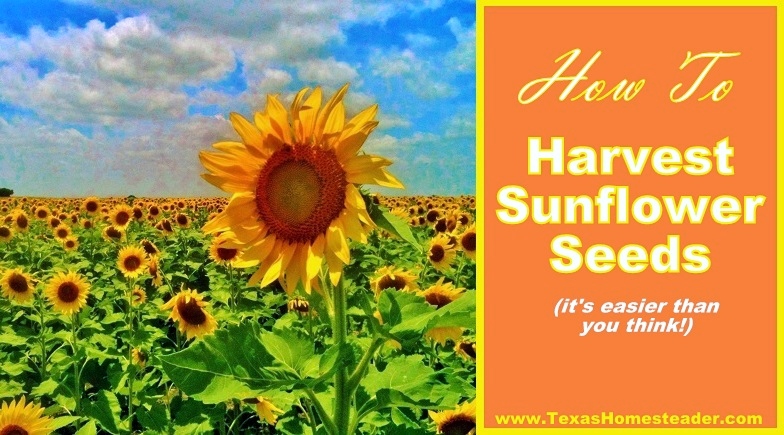 (Note: Some links in this post are for further information from earlier posts I've written. But links preceded with * are affiliate links. If you click them and buy something (almost anything, not just the item noted) I could receive a tiny commission. But the price you pay will NOT change. It's an easy way to support this blog without anything coming out of your pocket. So click often! Thank you!)
Yellow Is A HAPPY Color!
I love sunflowers! As a matter of fact they may be my absolute favorite flower. I mean, what's not to love? They're super easy to grow, they bloom prolifically and I've always said "Yellow is a HAPPY color!"
I plant a row of Mammoth Sunflowers at the edge of my garden every year. Of course I love the look of the cheery yellow blossoms. And my mom always comments about how beautiful they are when she visits.
Planting Sunflowers
This year's sunflower story goes back to last year. Although I typically plant mammoth sunflowers in my garden, this year was a special planting.
A dear friend had passed away. And their family had a Sweet Remembrance For The Memorial Service. They displayed a basket filled with various kinds of seeds – flowers, vegetables and herbs.
They asked that mourners take a packet of seeds and plant them to honor this friend, remembering her fondly each time they saw that beautiful plant.
Of course I chose a packet of sunflower seeds. And I planted a row of them in my garden as I usually do.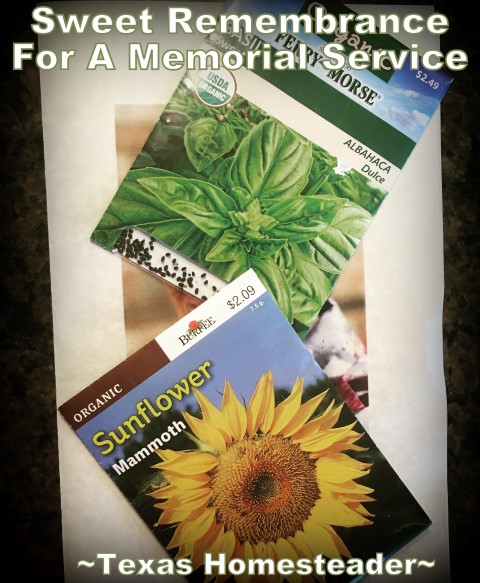 When they had finished blooming I harvested the seeds from one of those huge flower heads to replant.
Since it wasn't a heirloom variety I knew the resulting plants wouldn't come back true to the parent plant. But I was curious to see what I'd get.
When I planted them this spring I got a variety of very tall plants. Some had the single large sunflower head with all the sunflower seeds like the parent plant.
Others were equally tall but had a single oversized but somewhat smaller sunflower bloom. Some had many regular-sized sunflower blossoms such as the native variety has. They were absolutely beautiful!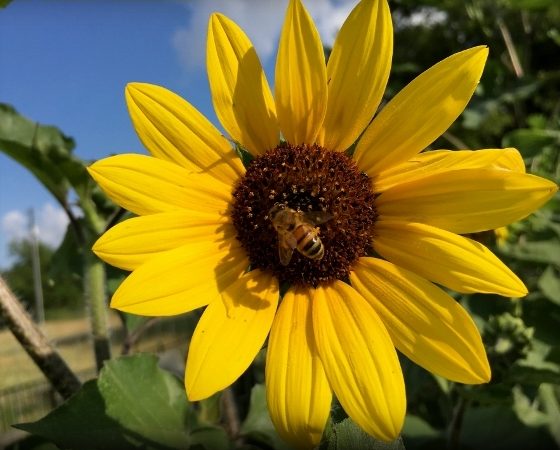 I really love the plants that had many regular-sized blossoms. They make a beautiful fresh-flower bouquet.
So maybe I should try this experiment again. I'll harvest from the large sunflower head this year & plant again next year to see what I get.
The large bloom unfurled its beautiful yellow petals & was absolutely breathtaking. Then as the weight increased it dipped it's heavy head downward as those big blooms always do.
Finally the petals dried and fell off leaving just the head of sunflower seeds. I left the head on the plant for several days to help dry the seeds in this NE Texas heat. But now it's time to harvest those seeds. Thankfully it couldn't be easier!
Harvesting The Seed Head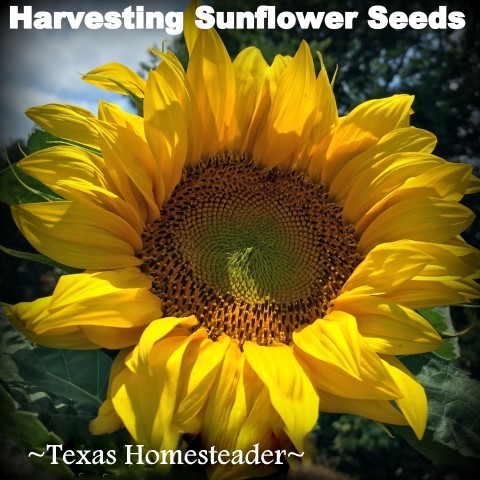 I took my pruners to the garden to fetch that sunflower's head of seeds. And I had to reach waaaaay up to cut that heavy sunflower head from the plant.
Then I brought it to my covered porch and allowed it to dry a little more thoroughly. As long as nothing comes to snack on this sunflower head, I can leave it here for several days.
So I'm harvesting these sunflower seeds now. Get out your sharpened #2 pencils kids, here's the complicated instructions:
I clean off any clinging flower matter remaining on the head. Then I bring the head of sunflower seeds into my kitchen. Holding the huge bloom in my hand, I use my thumbs to dislodge the dried seeds. Yep, that's it!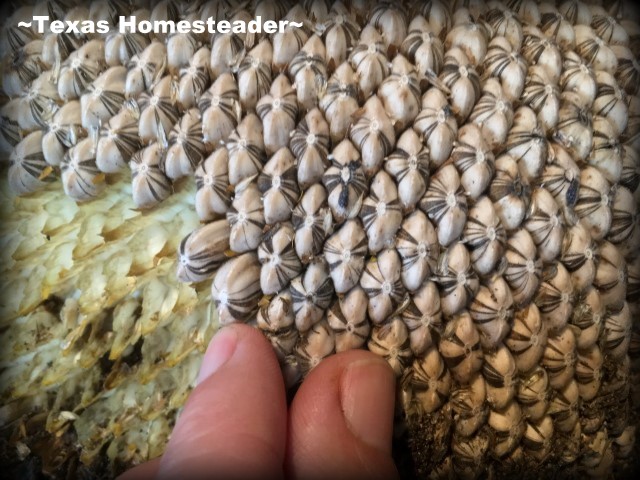 The sunflower seeds often sit spread out on newspaper for several more days just to assure they're completely dry before I gather them up & put them in a paper sack for storage.
Some people enjoy roasting/eating the seeds but RancherMan & I don't. So I typically give them to our chickens or add them to our wild birdseed mix. And of course I'll hold back a few to plant next spring too.
No Waste!
The stripped-clean sunflower head will go into the *Tumbling Composter. Nothing goes to waste around the Homestead, y'all!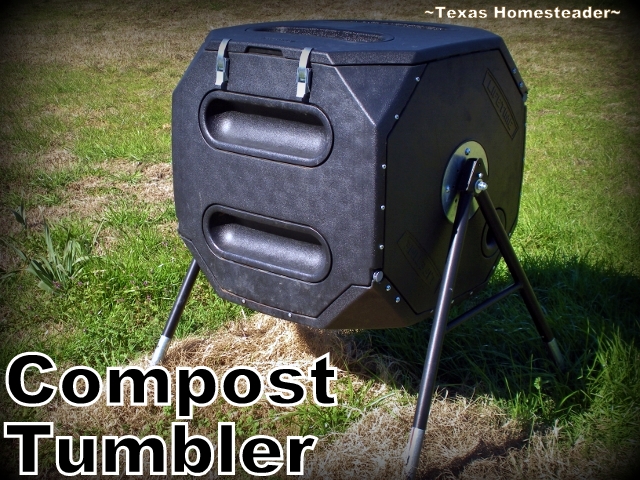 That spent flower head will help make that black gold Healthy Compost for my garden. Even when I've harvested the seeds, that sunflower is still giving back!
Cute Wedding or Baby Shower Favor Idea
But instead of giving these seeds to the chickens, this year is a little different. My little niece is getting married soon. My sis wants to make gift bags that contain sunflower seeds for attendees.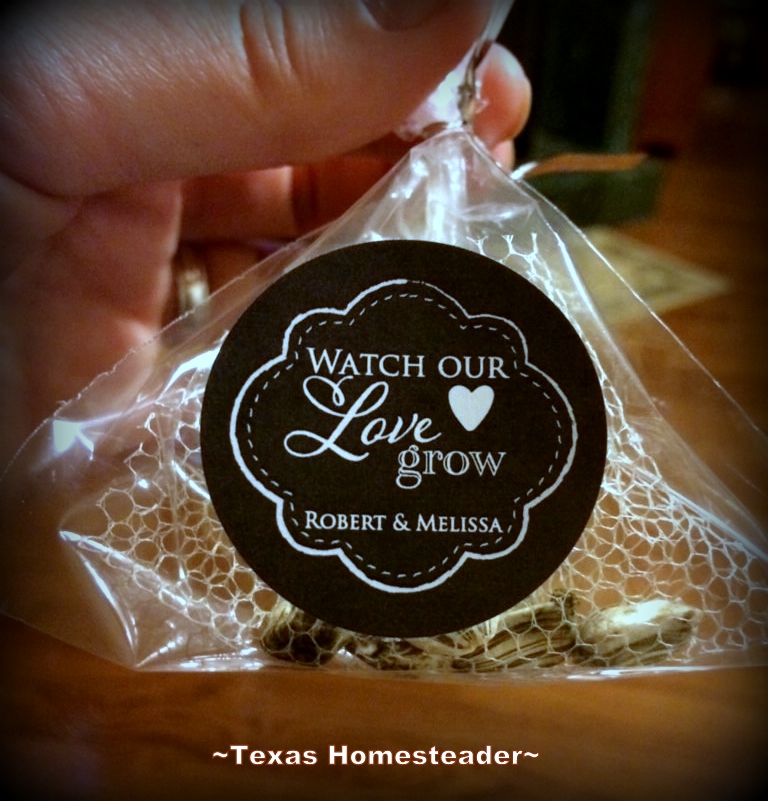 I offered these seeds to my sister for the wedding. She placed them into cute little bags with stickers that say *"Watch Our Love Grow" and offered them to the wedding guests.
Then the wedding guests can then plant them and enjoy the beauty of sunflowers all season long!
The seeds will revert back to the original variety of a very large plant filled with many (albeit smaller) sunflowers.
Just lovely! What a wonderful (and environmentally friendly) gift!
~TxH~
This post categorized in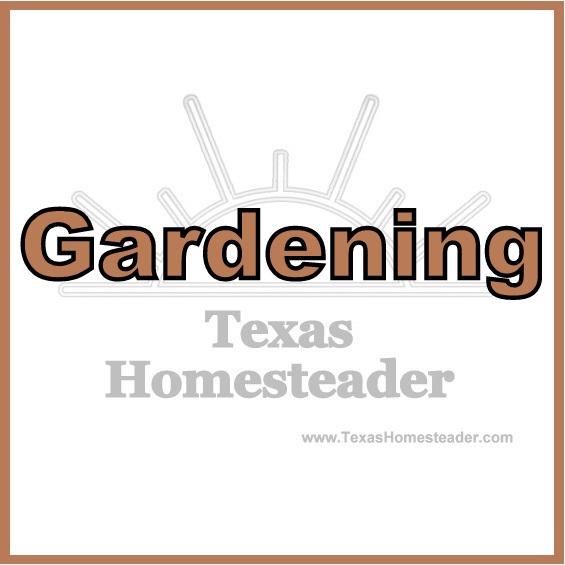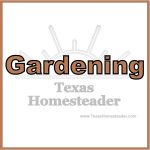 My Favorite Garden Hacks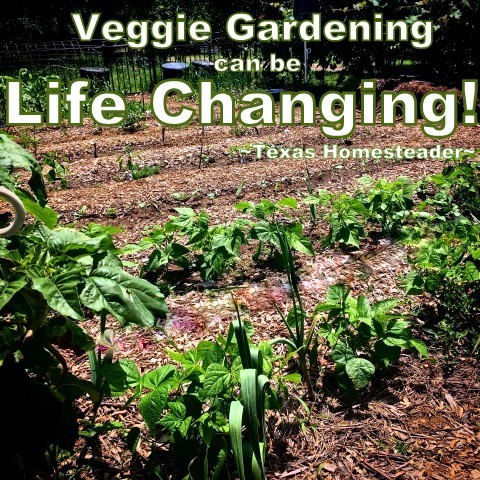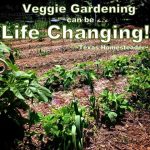 C'mon by & sit a spell! Come hang out at our Facebook Page. It's like sitting in a front porch rocker with a glass of cold iced tea – lots of good folks sharing! You can also follow along on Pinterest, Twitter or Instagram.
If you'd like to receive an email each time a new blog post goes live it's EASY to
Subscribe to our blog!
*Amazon affiliate
Save
Save
Save
Save