by Texas Homesteader ~
The final harvest of all my fresh herbs from the garden happens before the first killing frost of the season. Then preserve them to use all year long.
A Facebook follower asked about my herb-drying setup. Y'all know I'm all about simplicity! So I thought I'd show the simple way I dry my fresh herbs.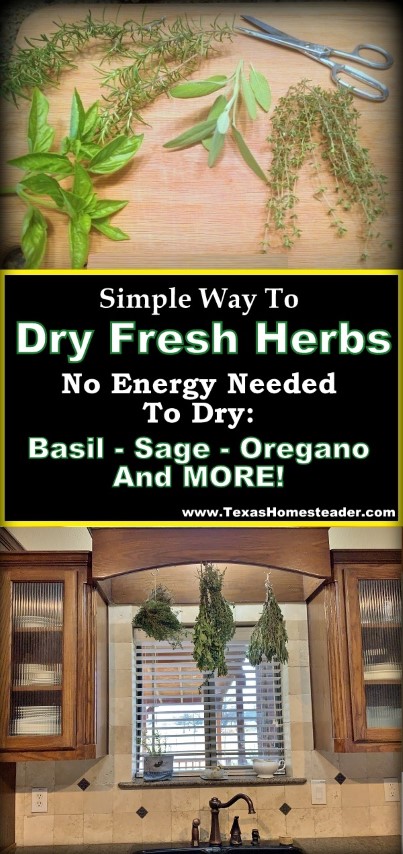 How To Save Money On Herbs
I love herbs & spices, don't you? But several years ago I ran out of thyme. So I went to the store to buy more. WHEW!
You know, there are some herbs and seasonings you can buy pretty cheaply. Sometimes a big jar will cost very little.
But for some reason thyme was pretty pricey (IMO). Heck, for what they were charging for that little jar of thyme, I could buy a whole plant and harvest from it year in, year out!
So I did…
My most-used herbs are thyme, sage, oregano, basil and rosemary. So I grow them every year to make sure I always have them available, whether fresh or dried.
Harvesting Fresh Herbs
Usually throughout the growing season I'll harvest and cook with my herbs fresh from the garden.
What's not to love? You step outside, snip some leaves, wash & dry them quickly, mince & toss them into a recipe.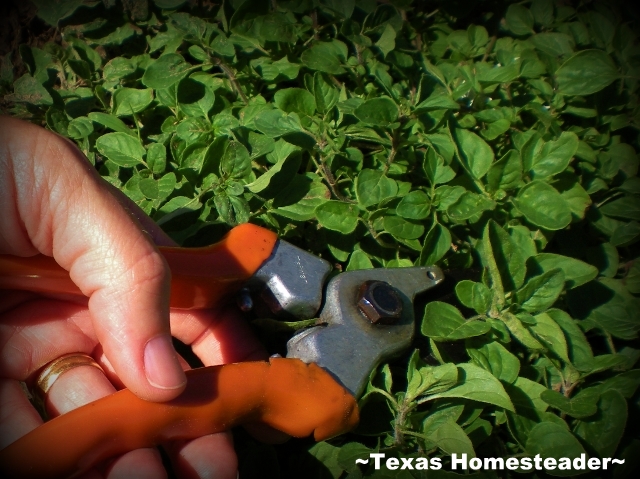 There's nothing like fresh, organically-grown herbs to bump the flavor in any dish. (Although I do have the dried counterparts stored in small jars in my kitchen for use from time to time.)
But when the growing season comes to an end I'll harvest large bundles of my faves right before a killing freeze. I certainly don't want to be forced to resort to buying tiny jars of expensive dried herbs again!
Preparing Fresh Herbs For Drying
After the herbs are harvested I'll bring in the bundles and give them a quick wash. Then I'll give them a shake to dislodge most of the moisture.
Finally I'll lay out kitchen towels and allow the herbs to air dry for just a bit.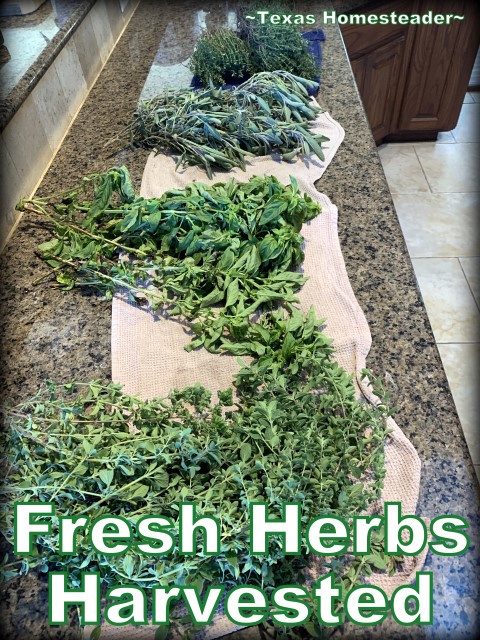 After they've air dried some, it's time to dry them completely for storage.
But I don't have to fire up my dehydrator to dry those herbs. I'm going for an energy-free method that's worked well for me for years.
My Energy-Free Herb-Drying Setup
I like to keep them where it's convenient for me to use them. Right there at my fingertip's reach. Several years ago RancherMan installed s-hooks to the back side of a wooden cabinet trim in my kitchen.
Well, actually they're cute decorative silver-colored shower hooks. I bought several of them at a garage sale years ago.
Even though we don't use shower curtains in our bathrooms I knew I could use those hooks for a more decorative purpose instead of plain ole S-hooks. Now's the time – #UseWhatchaGot!
These hooks hold my fresh herb bundles while they dry.
I'll take the air-dried herbs and bundle & tie them with a cotton string. Then I'll make a loop on one end and hook them over the hooks that RancherMan installed.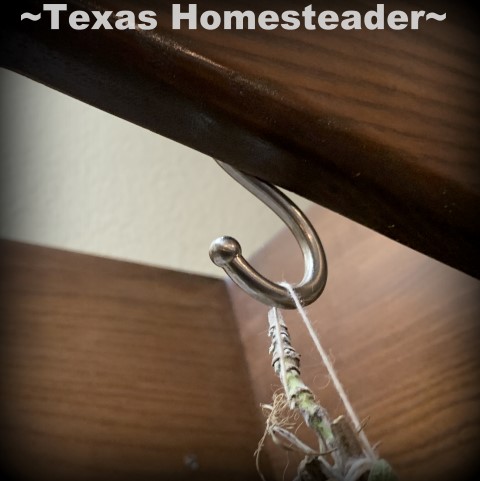 The herbs finish drying right here where they're most convenient for me. I can pull off what I need for a recipe, crush it between my palms and sprinkle it into my cooking right then, right there.
And any additional leaves that might break loose fall into the sink instead of a countertop or the floor. So no extra countertop messes to clean up either.
Lazy in the kitchen? Maybe… But I'm all in for no extra bonus cleaning chores, howzabout you? HA!
And since the S-hooks are affixed to the back side of this wooden trim, when the herbs are not hanging I simply swing the hooks up & out of sight. You'd never even know they were there. I love this setup so much!
But to be honest, more often than not I'll leave them right here even when they're fully dried. I think they look nice hanging above my sink.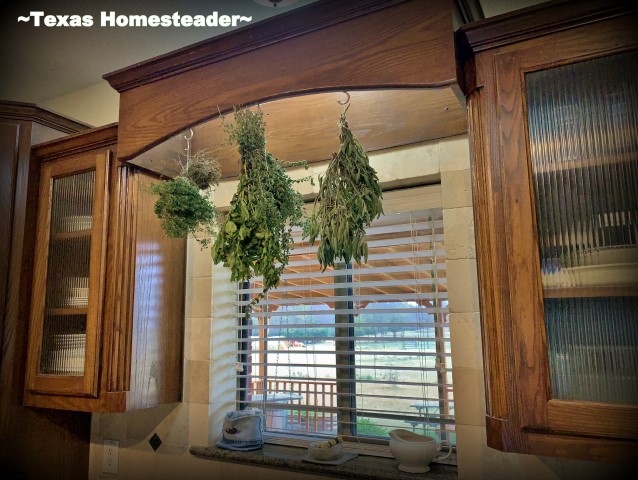 They actually lend a kitcheny décor just by being what they are.
Natural decorating? Yes please!
Are There Moisture Issues When Drying Herbs?
I've been asked by some followers if those herb bundles being tied over a 'steamy sink' causes issues with them properly drying. This is a good question and something I'd never considered could be an issue.
That's because I've never experienced a problem with it. The herbs dry beautifully and I typically use them for several months afterward.
Perhaps it's because there's really not an abundance of steamy moisture coming from my sink. Other than occasional large stockpots & such, I hand-wash very few dishes. Almost all of our dirty dishes are scraped & placed into the dishwasher.
Or maybe it's because of our home's open floorplan. There's lots of airflow in our home's design. Gotta love it!
Or perhaps it's just not an issue anyway unless you have constant steam coming up from beneath where you've hung the herbs.
I suppose it's possible that with just occasional steam, the leaves are thin and dry enough that they air dry again quickly?
I'm just not sure. Can anyone weigh in here?
In any event, I've never had a problem with the herbs hanging over my sink in all the years I've used this handy setup. They always dry beautifully and stay usable until time to harvest fresh herbs to replace them.
Fresher Herbs Are More Flavorful
It's really true that you can tell herbs that are fresher vs the older ones you either buy at the store, or containers that take you more than a year to use!
How do you dry and/or store herbs from your garden?
~TxH~
This post categorized in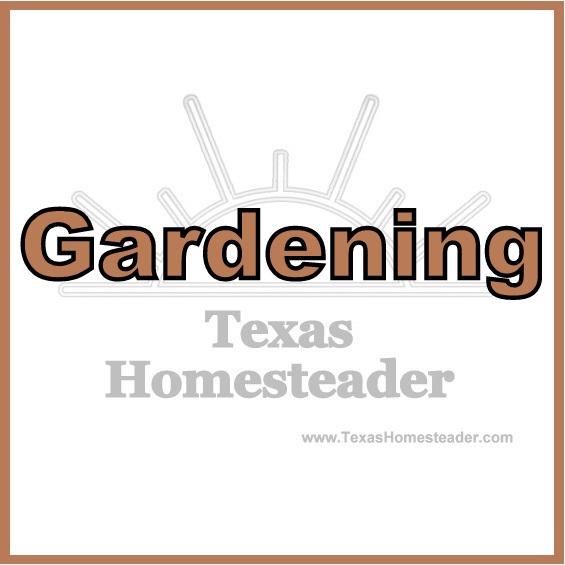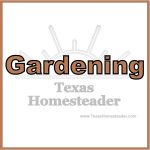 My Favorite Garden Hacks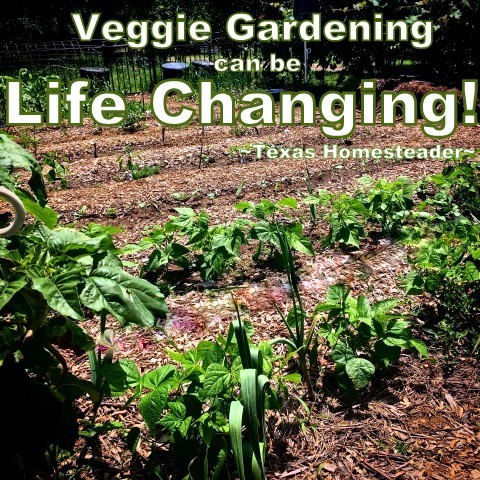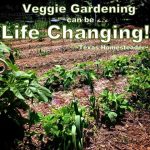 C'mon by & sit a spell! Come hang out at our Facebook Page. It's like sitting in a front porch rocker with a glass of cold iced tea – lots of good folks sharing! You can also follow along on Pinterest, Twitter or Instagram.
If you'd like to receive an email each time a new blog post goes live it's EASY to
Subscribe to our blog!