by Texas Homesteader ~
Summer is hot & humid in our part of NE Texas & I'm doing all I can to keep my plants watered.  A cistern mishap involving a split hose drained all the rainwater from my 18′ deep cistern. WOW! So I'm trying to conserve water as much as possible.
I came across a large-mouth bottle with a built-in grip on the handle and a metal-center lid and the thought occurred to me – maybe I can use this to keep my container garden of spinach watered.  You remember my battle cry, "Use WhatCha Got!".  Check out this homestead hack.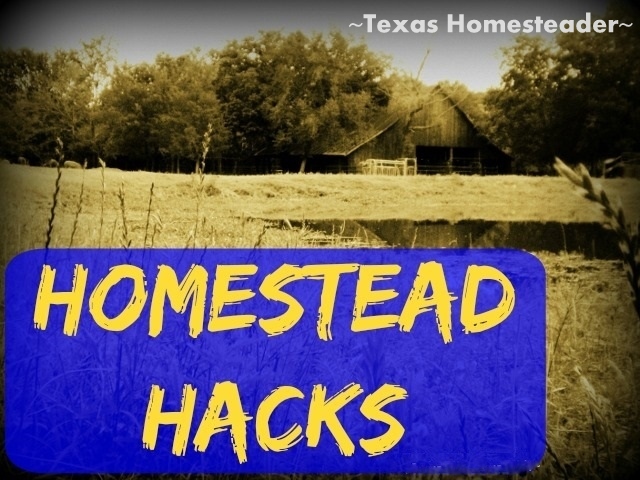 Repurposing A Wide-Mouth Jar
I emptied out a plastic picante jar and washed it well.  Then I took it to RancherMan and asked him to drill tiny holes in a tight triangular pattern.
I figured I could use it to add fertilizer and hand water smaller potted plants, but today I'll use it to slowly soak in my rainwater into my  large container of Malabar Spinach.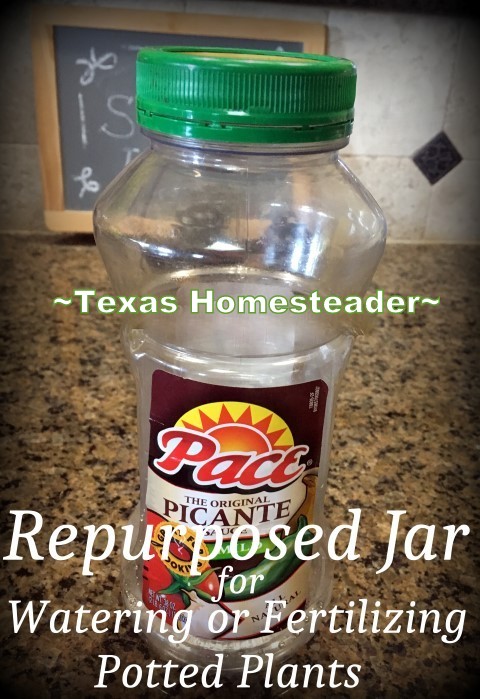 A side note:  a sweet friend shared this Malabar Spinach with me. Unlike traditional spinach that bolts at the first whiff of warmer weather, this spinach grows vigorously in the heat.  And it vines – so pretty!
I've been harvesting leaves, slicing them up & stirring them into my sauteed garden veggies. Delicious!  But still, keeping them going in the Texas summer heat is gonna take some water…
Keeping Potted Plants Watered
Aaaanyhoo – I unscrewed the lid of this repurposed jar and filled it with rainwater from my rain barrel and screwed the lid back on.  And now for the complicated part…  I turned it upside down between the two plants and sat it directly onto the mulched dirt.  It s-l-o-w-l-y drained water from those tiny holes and watered the plants.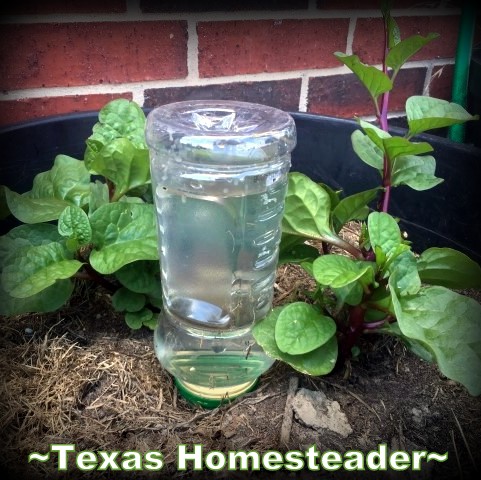 This allowed that precious water to soak in thoroughly and water both plants.
I'd say it was a screaming success in keeping my Malabar spinach growing this summer. I had to rig up a trellis for that vining spinach – it grew vigorously!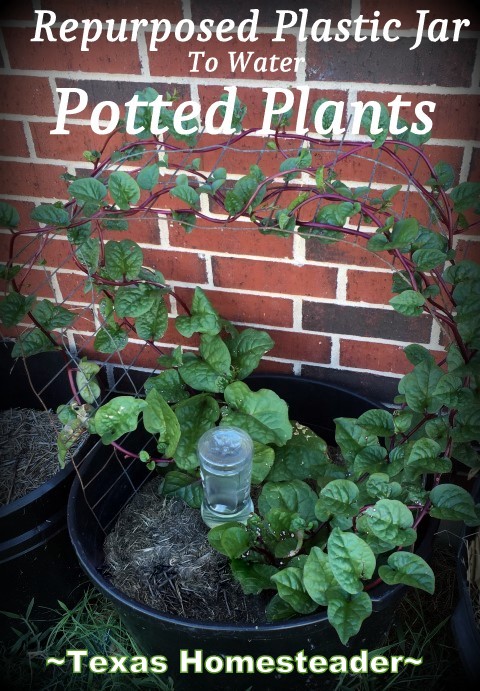 So if you have a wide-mouth jar with a metal lid, give it a try.  it worked well for me.
~TxH~
My Favorite Garden Hacks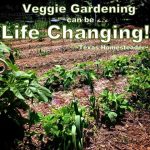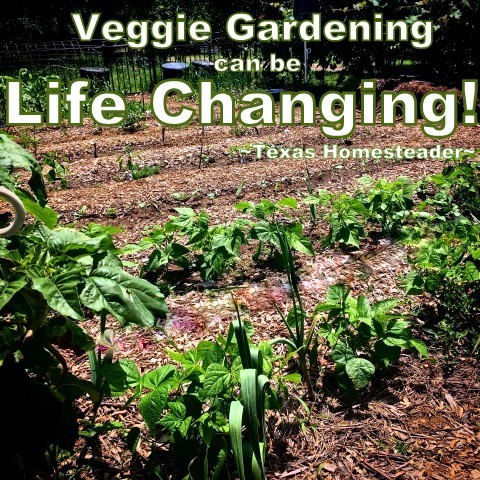 C'mon by & sit a spell!  Come hang out at our Facebook Page. It's like sitting in a front porch rocker with a glass of cold iced tea – lots of good folks sharing!  You can also follow along on Pinterest, Twitter or Instagram.
If you'd like to receive an email each time a new blog post goes live it's EASY to Subscribe to our blog!
Save
Save
Save
Save