by Texas Homesteader ~
Summer is hot & humid in our part of NE Texas & I'm doing all I can to keep my plants watered. A cistern mishap involving a split hose drained all the rainwater from my 18′ deep cistern. WOW! So I'm trying to conserve water as much as possible.
I came across a large-mouth bottle with a built-in grip on the handle and a metal-center lid. Then the thought occurred to me – maybe I can use this to keep my container garden of spinach watered.
You remember my battle cry, "Use WhatCha Got!". Check out this homestead hack.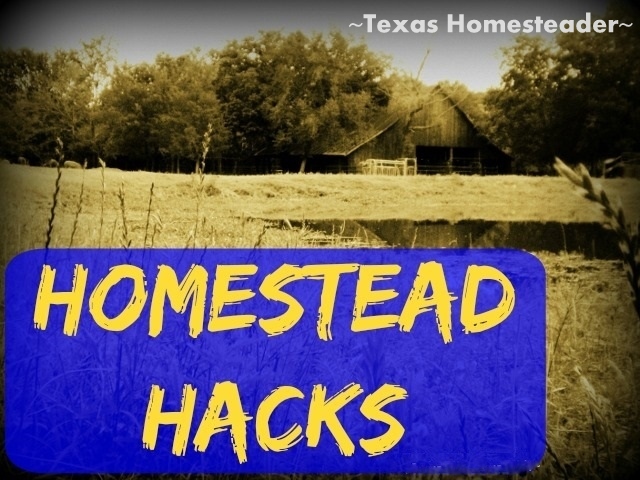 Repurposing A Wide-Mouth Jar
I emptied out a plastic picante jar and washed it well. Then I took it to RancherMan and asked him to drill tiny holes in the lid. Large enough for water to drip out but small enough that it didn't drip out too fast.
I figured I could use it to add fertilizer and hand water smaller potted plants. But today I'll use it to slowly soak in my rainwater into my large container of Malabar Spinach.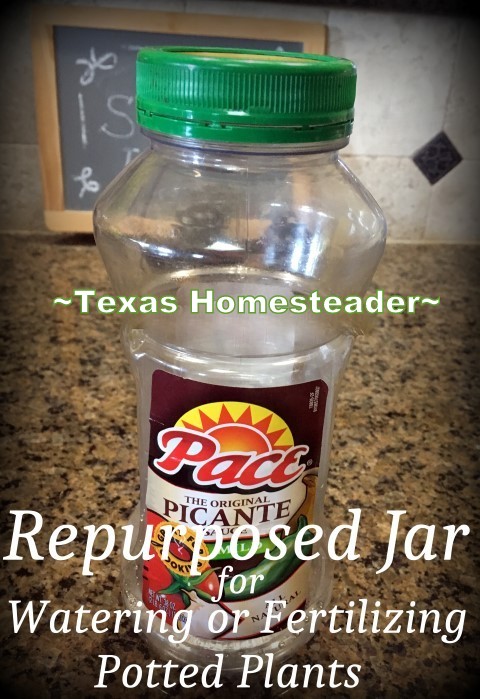 A side note: a sweet friend shared this Malabar Spinach with me. Unlike traditional spinach that bolts at the first whiff of warmer weather, this spinach grows vigorously in the heat. And it vines – so pretty!
I've been harvesting leaves, slicing them up & stirring them into my sauteed garden veggies. Delicious! But still, keeping them going in the Texas summer heat is gonna take some water…
Keeping Potted Plants Watered
Aaaanyhoo – I unscrewed the lid of this repurposed jar and filled it with rainwater from my rain barrel and screwed the lid back on.
And now for the complicated part… I turned it upside down between the two plants and sat it directly onto the mulched dirt. It s-l-o-w-l-y drained water from those small holes in the lid and watered the plants.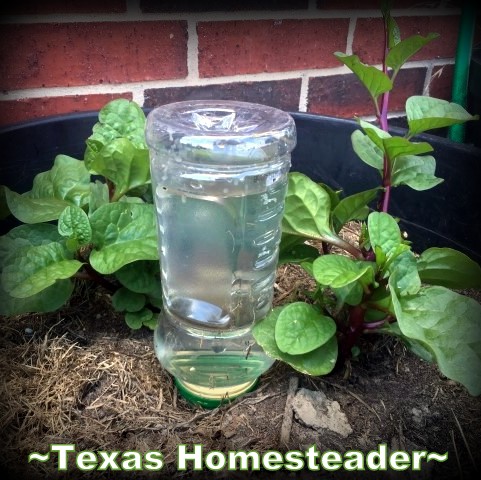 This allowed that precious water to soak in thoroughly and water both plants instead of draining off before the soil absorbed it.
I'd say it was a screaming success in keeping my Malabar spinach growing this summer. I had to rig up a trellis for that vining spinach – it grew vigorously!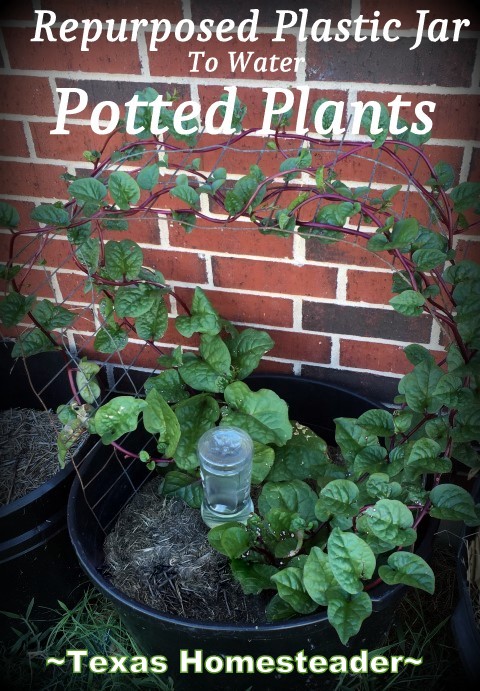 So if you have a wide-mouth jar with a metal or plastic lid, give it a try. It worked well for me.
~TxH~
My Favorite Garden Hacks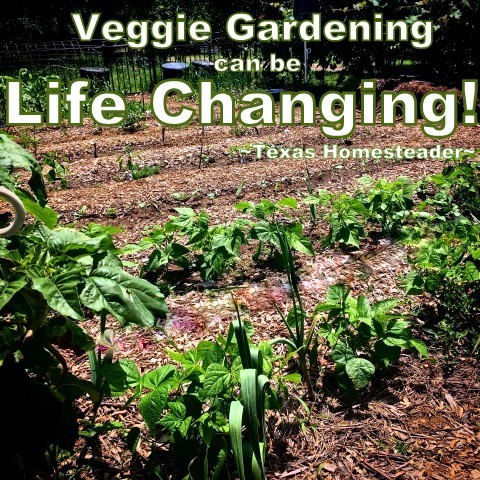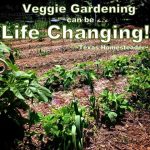 C'mon by & sit a spell! Come hang out at our Facebook Page. It's like sitting in a front porch rocker with a glass of cold iced tea – lots of good folks sharing! You can also follow along on

Pinterest

, Twitter or

Instagram

.
If you'd like to receive an email each time a new blog post goes live it's EASY to
Subscribe to our blog!
Save
Save
Save
Save