by Texas Homesteader ~
There are many reasons to garden, but did you know it could actually be life changing?
I'm sharing 4 important ways vegetable gardening can change your life! I plant a vegetable garden every year. Come see why you should grow a vegetable garden too!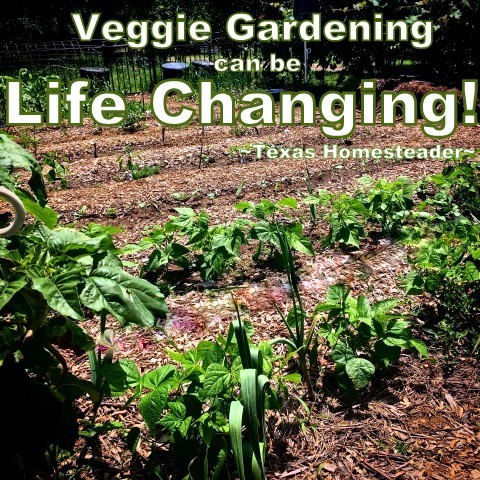 Gardening Is In My Blood
It's true I have to grow a garden every year. I mean *HAVE* to! It's something that's in my blood and not having a veggie garden is just not an option for me.
But recently I got to thinking, there are several reasons I love to garden – it's not just a hobby. It's good for me in so many ways.
I mean, flower gardens are beautiful and manicured lawns are lovely too. But I'd rather put my outdoor effort into something that will benefit me in 4 important life-changing ways. And here's the good news – it can be life-changing for you too. Come see!
---

Fresh Produce Is Healthier
We all know the fresher our food is, the healthier it is for us. And let me tell ya, you don't get any fresher than harvested right before supper!
RancherMan & I decide each year what veggies we'll grow. I make sure to plant things we like to eat!
This year we'll be planting different kinds of tomatoes plus onions, bell peppers, jalapenos, poblano peppers, watermelon, cantaloupe, green beans, corn, pumpkin, zucchini, yellow squash, spaghetti squash, okra, asparagus, spinach & carrots along with various herbs.
What's going into your garden this year?
---

Grow Your Own & Lower Your Food Budget
Money's tight for many folks. So for many families the best money spent is the way that gives you the most bang for your buck.
Just price that fresh produce in the store for one meal of roasted veggies. You'll see that you can buy lots of seeds for that money to give you fresh produce all season long! And you can grow lots of food from that one packet of seeds.
Plus if you're growing heirloom plants, you can save that seed and replant for the same great results every year.
---

Gardening Offers Healthy Exercise
Everyone knows eating right & exercise is important for a healthy body.
But why join a gym? Not only is there the expense of gym fees but also the transportation cost to drive to a gym to exercise. Plus there's all that time spent away from your home!
But your garden can give you the healthy exercise your doctor recommended for free. Tending to your garden by digging, planting and weeding gives your body the workout it needs, and healthy food to boot!
---

Opportunities For Closer Community – Blessing Basket
We've all done it – that zucchini is relished when it first starts producing. But after a while you find yourself growing tired of the excess. Why not share with your community?
A couple of years ago I started gathering something called my 'Blessing Basket'. One day each week I put the day's garden harvest into a basket to take to our church to share. Many people there are older or no longer garden & they love this fresh produce!
A typical Blessing Basket might hold the eggs my hens laid that day, a few yellow summer squash, some cantaloupe, a handful of tomatoes, a couple of cucumbers and some fresh green beans. And I often add fresh herbs such as rosemary, basil and sage. I let my church friends choose whatever they want from the basket. It's always empty when I take it home!
I challenge you gardeners out there to do the same. Share one day's harvest with your book club, garden club or just the neighbor down the street.
Gardening Can Be Life Changing
So it's true, vegetable gardens can change your life! I've given you just 4 very convincing reasons to plant a garden.
Healthy food for you & your family, a break in your food budget, exercise to keep your body healthy & community sharing to strengthen your social life.
If you've been on the fence about starting a garden I hope this encourages you to take the plunge. Get started today!
~TxH~
This post categorized in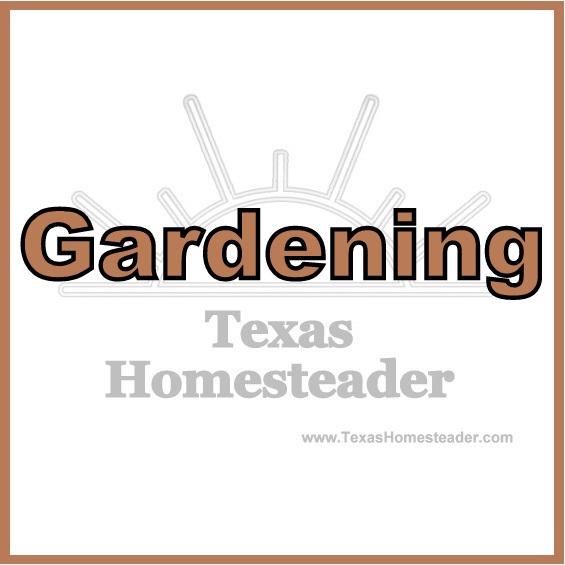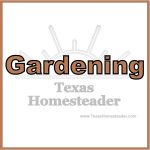 My Favorite Garden Hacks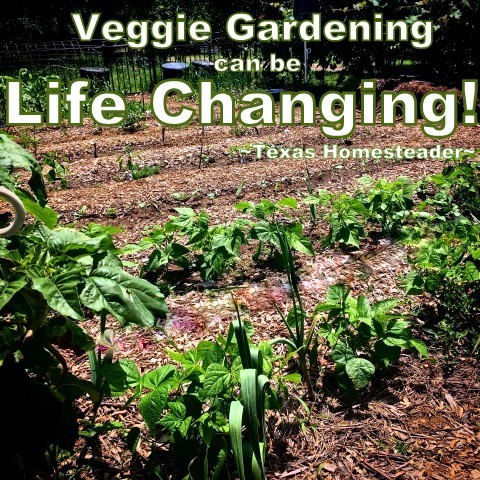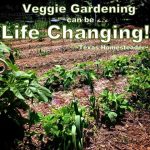 Garden Planning
Seed Planting
Soil Health
Garden Styles
Garden Plants/Harvest
Water/Irrigation/Drought
Weed Control
Garden Tips


C'mon by & sit a spell! Come hang out at our Facebook Page. It's like sitting in a front porch rocker with a glass of cold iced tea – lots of good folks sharing! You can also follow along on Pinterest, Twitter or Instagram.
If you'd like to receive an email each time a new blog post goes live it's EASY to
Subscribe to our blog!