by Texas Homesteader ~
It seems vegetable-gardening planting is finally going on all over the US now.  Aaaaaahhhhh the veggie garden – how I love it.  Here in NE Texas (zone 8) I typically plant heirloom seeds in my 'Indoor Greenhouse' in February and transplant those heirloom seedlings into my garden after the danger of frost is done.
But this year I had a naughty bull jump our garden fence & decimate all of the tender seedlings.  I had to start over.  I did replant many of my heirloom seeds but I ended up buying a jalapeno plant.  It was so small that the winds were pretty rough on it.  So I needed to find a way to protect it from the wind. (and free-range chickens) Use Whatcha Got, y'all!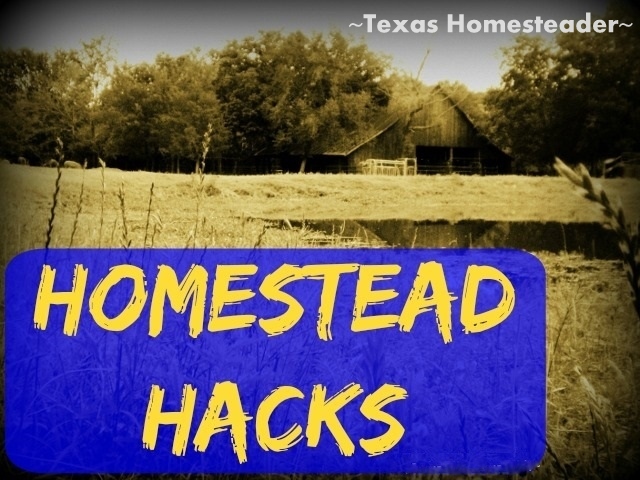 Protecting seedlings is not a new problem for me.  I've had to find ways to protect young plants in my edible landscape beds from the chicken's scratching.  And I've also used available resources to mark where I've planted seeds so I won't mistake a new sprouting seedling for a weed needing to be pulled.  But now I use that same resource to protect this young jalapeno seedling.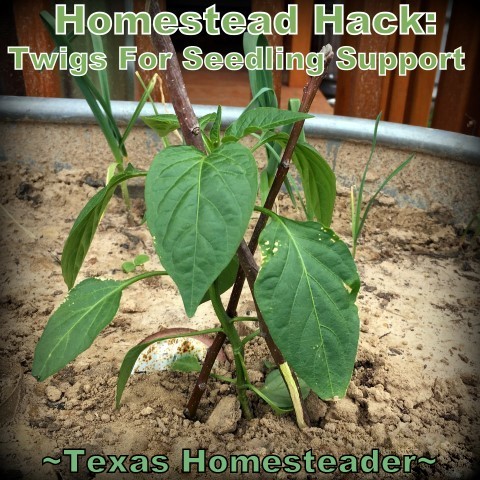 I cut a couple of small stems from a nearby tree.  Then I criss-crossed them on either side of the seedling, wedging the plant between the two.  No matter which way the wind comes through, this seedling is supported.  It worked great, costs nothing and looks very natural as opposed to of using something plastic.
Homestead Hacks are all about using what resources you have.  Use Whatcha Got!
~TxH~
Other 'Use Whatcha Got' Ideas


C'mon by & sit a spell!  Come hang out at our Facebook Page . It's like sitting in a front porch rocker with a glass of cold iced tea.  There are lots of good folks sharing!  And you can also follow along on Pinterest, Twitter or Instagram
If you'd like to receive an email when a new blog post goes live,