by Texas Homesteader ~
I made a beautiful fall tablescape using natural materials typically found on the ground or in trees & bushes this time of year.
The eco-warrior in me loves that this is all natural yet so beautiful. Come see what I did.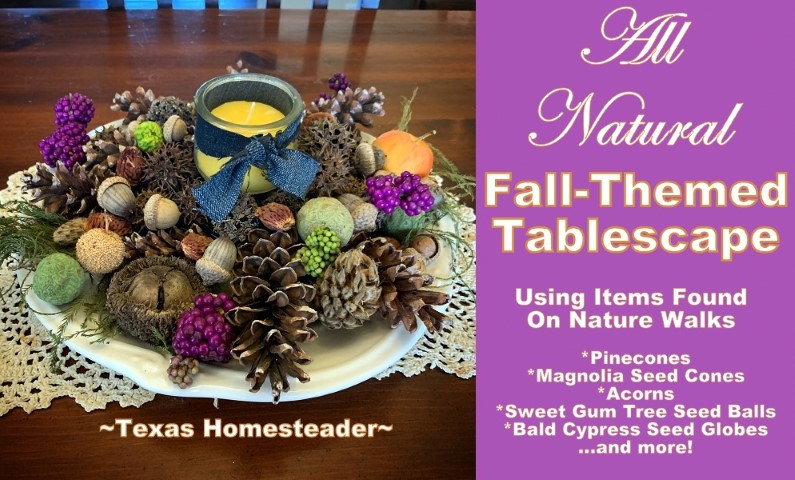 No reason to buy something plastic or disposable to celebrate a beautiful fall season. It was super easy to do, eco friendly, costs nothing and looks great.
Using Nature Beautifully: Inspiration Hits
Now I'm not one of those fancy Pinterest-worthy decorators. I don't decorate for the seasons. Well, except Christmas of course. But even then the decorations are minimal.
At our house there are no cute fall straw bales or pumpkins on my front porch. And no spooky Halloween-themed décor. No cheery spring decorations, seasonal pillows themed dishes or other décor either. It's not something I typically care about. Just not my thing I suppose.
But all of a sudden I was inspired to make something pretty for my dining table. So I began collecting things for a fall tablescape.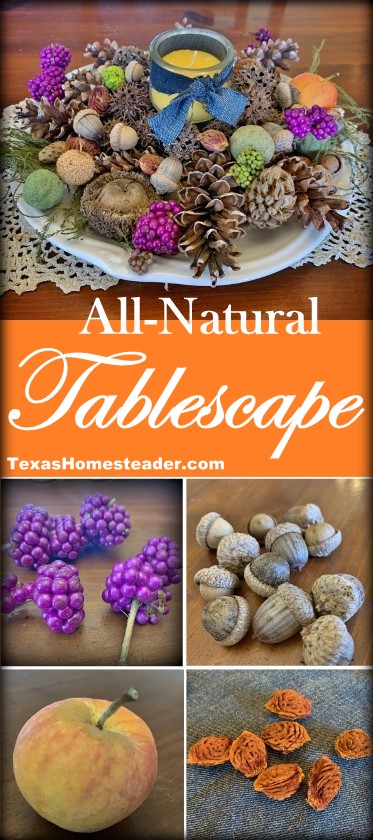 When I had all things gathered I began my project. Here are the things I added to my tablescape:
PINE TREE PINECONES –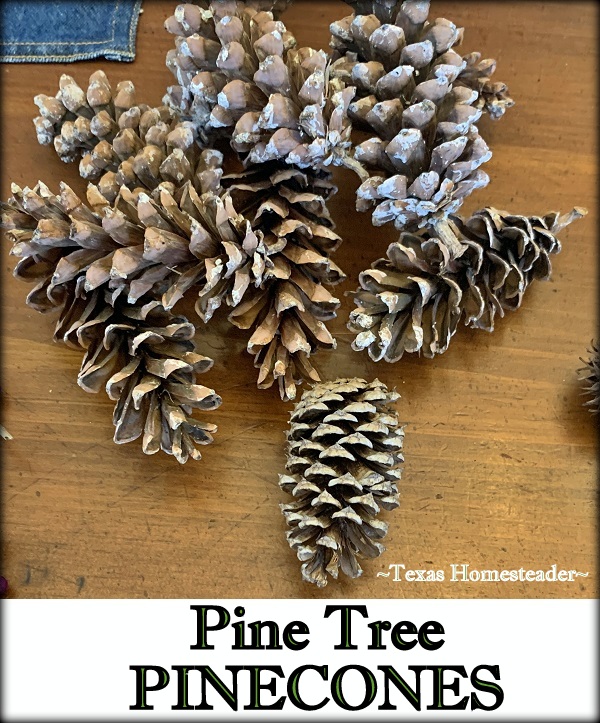 I love Pinecones & I've collected so many over the years. They'll be the perfect foundation for my tablescape.
BALD CYPRESS TREE SEED GLOBES –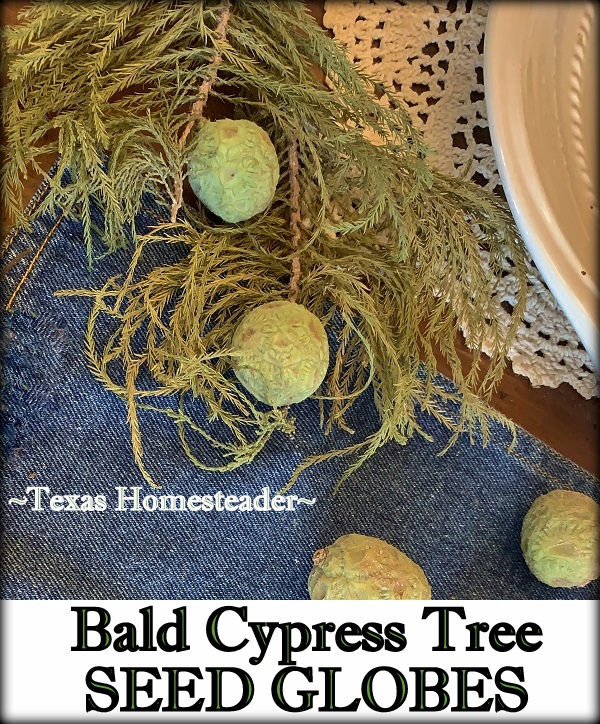 These interesting little green globes from a Bald Cypress tree have an interesting texture. And I was even able to use some of the frilly greenery to add a completely different texture.
Plus I love that both leaves and globes add a little green color to my primarily brown-toned tablescape.
SWEET GUM TREE SPIKED Seed BALL –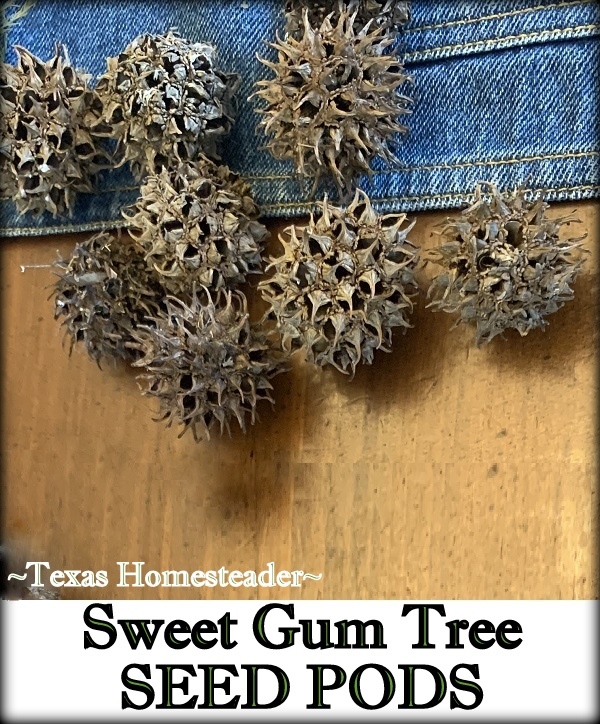 Sweet Gum trees are beautiful. But many find those little spiky seed balls a nuisance. So I had no trouble getting someone to pick up a few for my tablescape.
OAK TREE ACORNS –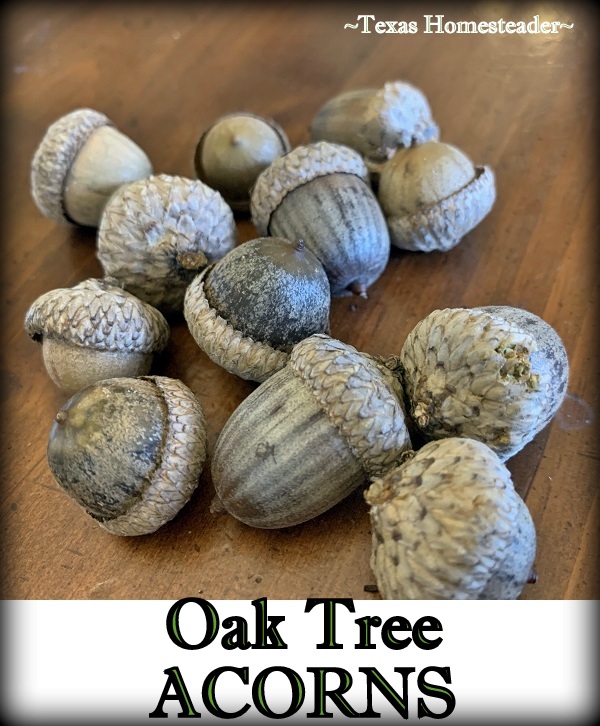 I love the look of acorns. And thankfully in NE Texas, Oak trees abound everywhere.
MAGNOLIA TREE SEED CONES –
I scooped up these Magnolia seed cones knowing they would add interesting shape and texture to my fall-themed project.
MINIATURE APPLE –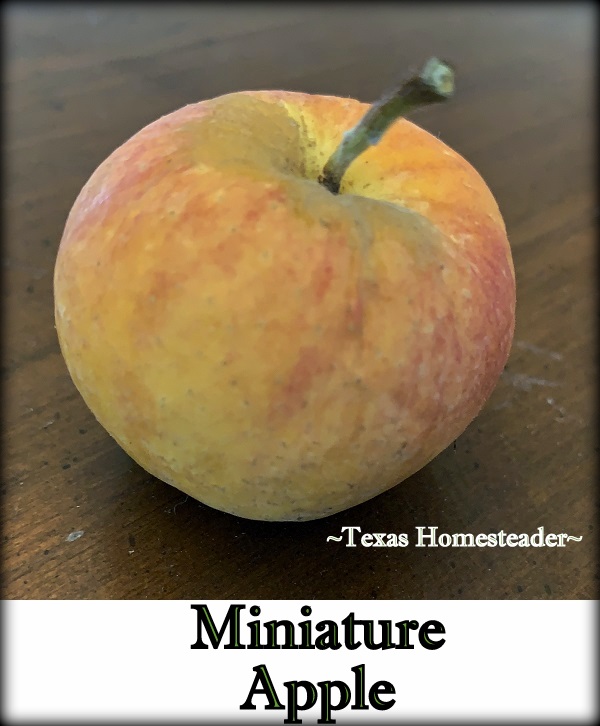 My aunt gifted me several bushels of apples from her oh-so-productive tree. I think almost as a joke she included this tiny perfectly formed ripe apple.
I don't know how long it will last in this fall arrangement, but I love the little sumpin' it adds.
DRIED PEACH PITS –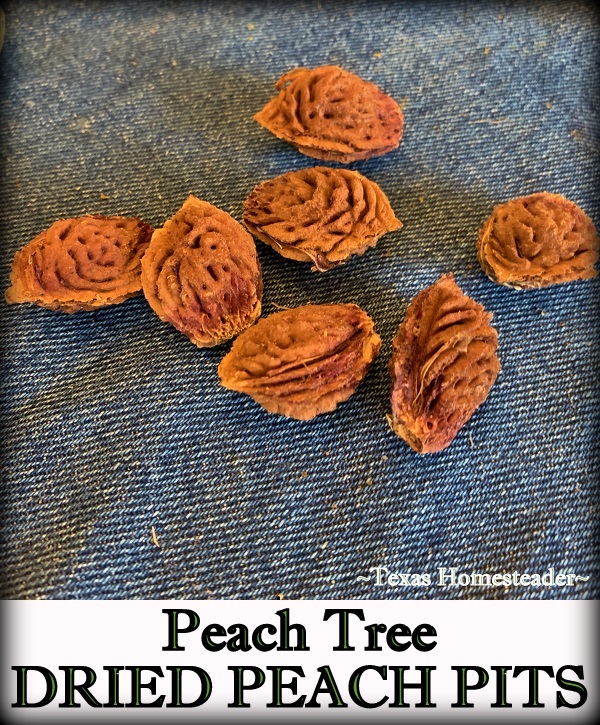 Stone fruits offer interesting texture and color for your fall décor. I cleaned and dried several peach pits and included them in the tablescape.
ODD SEED POD FROM BAG OF LEAVES –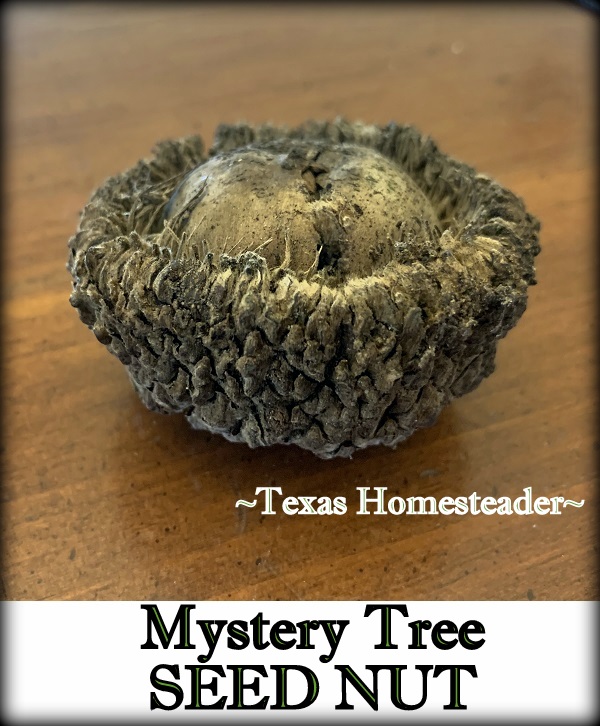 My brother brought me several bags of leaves that a neighbor was bagging up preparing to send to the landfill. When I was spreading them to use as Leaf Mulch In The Garden I found this odd-looking fellow and added it to my dish. A commenter below identified it as an acorn from a Bur Oak tree.
BEAUTYBERRY CLUSTERS –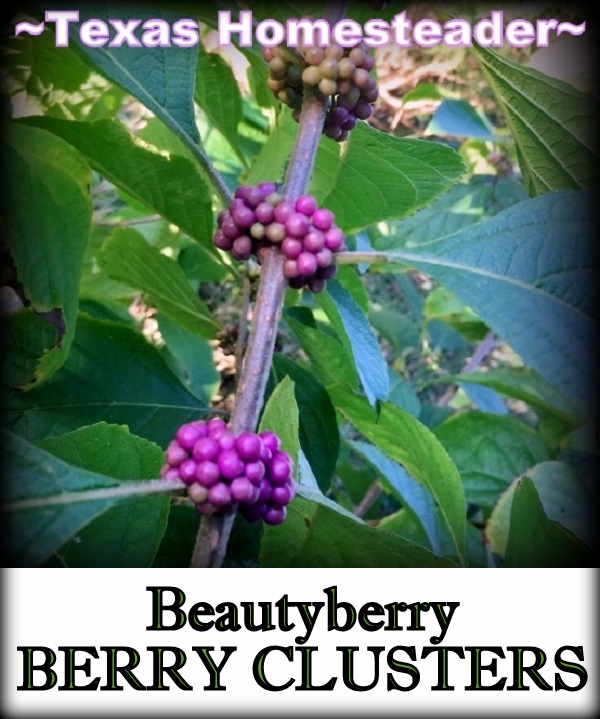 I picked a few bright purple Beautyberry clusters to add a pop of color. The odd purple berry clusters are beautiful in my tablescape project.
Tablescape Center Focal Point
I wanted a homemade Beeswax Candle for the center focal point. To embellish it I wrapped the jar with a strip of denim. Because, you know, I LOVE all things denim!
To lift it up from the surrounding nature items I placed it on a cardboard tube foundation.
FIRE SAFETY NOTE:
I'll be using this candle for decorative purposes only. I'm not sure how I'd feel with a burning candle amongst so many dried flammables. But I love, love, LOVE the way it looks!
Arranging My Tablescape With Nature
I placed the elevated candle in the middle. Then I started adding my found nature items, starting with pinecones around the perimeter.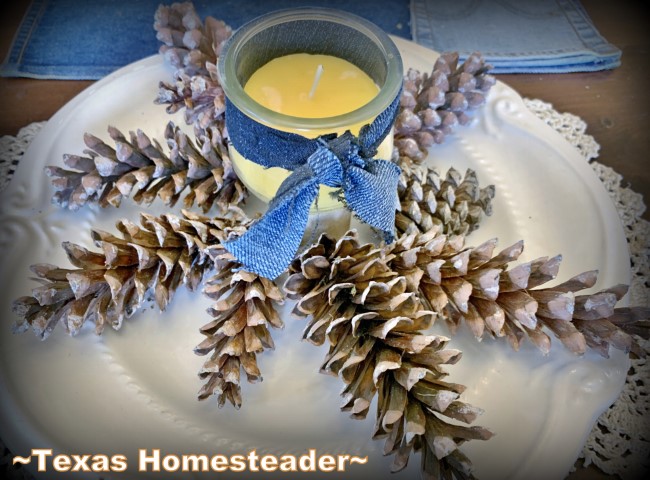 I filled in empty spaces using acorns, dried peach pits, bald cypress rounds, etc. As a final touch I cut a few clusters of beautyberry and placed them decoratively for a little color pop.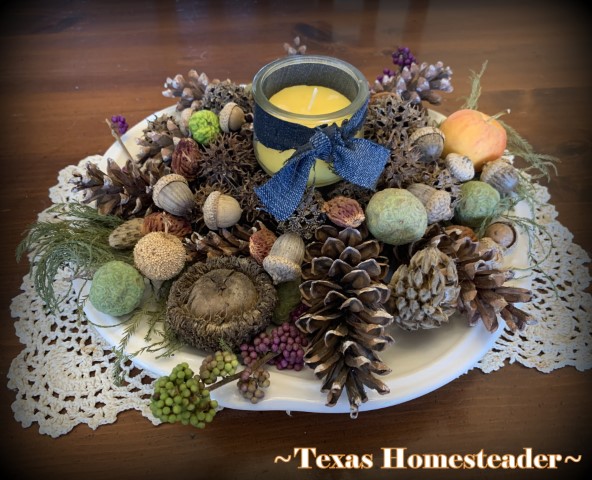 I think it's beautiful! It's all natural and there's nothing to buy. Nothing artificial that's wrapped in plastic & shipped from who-knows where.
Using Fall Miniature Pumpkin For Decoration
I change up my tablescape each year based on what I find or have available.
One year a friend gave me a cute miniature pumpkin from her garden. It lasted all season long and even months afterwards!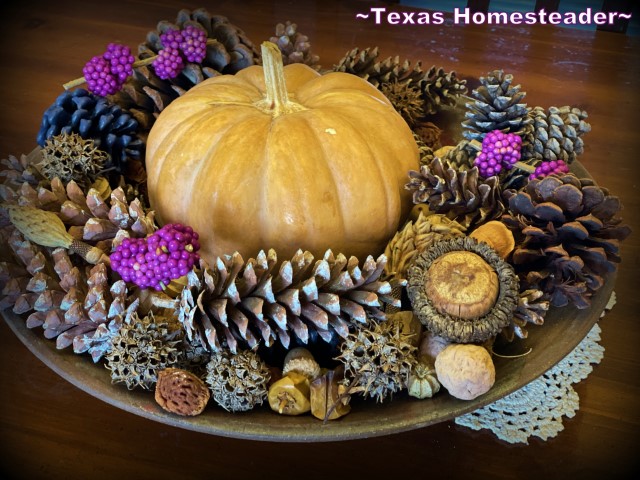 And among my natural pinecones I even added some wax-dipped pinecones that I'll eventually use for Natural Firestarters.
I placed it all on a beautiful stoneware platter I received after my mother passed. It made for a beautiful fall-themed tablescape!
It's true that you can decorate beautifully (and for FREE) using only what you find on your own casual nature walks.
Use Nature To Decorate For The Seasons
This post simply lists the interestingly shaped or colored items I had available in my area. Your area may offer different items.
Find interesting seed pods or even dried pits from fruit. It can all add some interesting depth and color to your tablescape.
Let your imagination be your guide!
~TxH~
Our Favorite Crafts & Projects
Outdoors & Garden
Home Décor
Misc
…and many MORE!


C'mon by & sit a spell! Come hang out at our Facebook Page. It's like sitting in a front porch rocker with a glass of cold iced tea – lots of good folks sharing! You can also follow along on Pinterest, Twitter or Instagram.
If you'd like to receive an email each time a new blog post goes live it's EASY to
Subscribe to our blog!