by Texas Homesteader ~
I made a beautiful fall tablescape using natural materials typically found on the ground or in trees & bushes this time of year. The eco-warrior in me loves that this is all natural yet so beautiful.
No reason to buy something plastic or disposable to celebrate such a beautiful season. It was super easy to do, eco friendly, costs nothing and looks great. Come see what I did.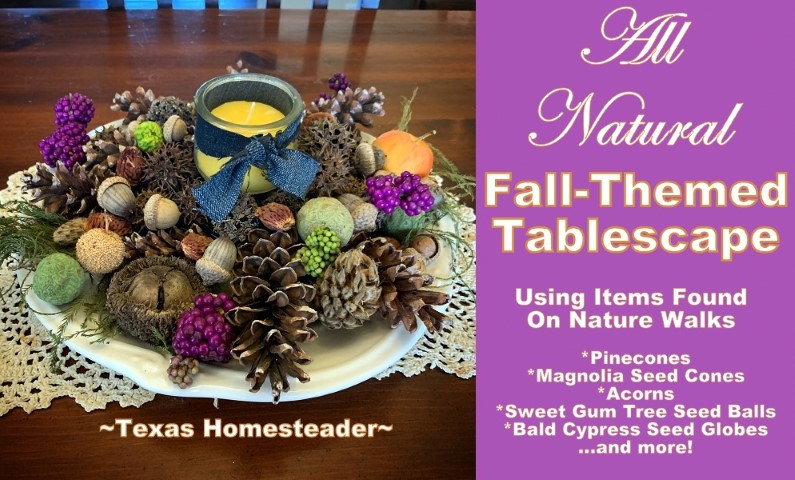 Using Nature Beautifully: Inspiration Hits
One day our daughter and I were walking through her neighborhood chatting and I looked down and saw a small pinecone. Stooping down to pick it up I told her that I was considering making a fall-themed tablescape. A craft idea I'd never even considered before.
Now I'm not one of those fancy Pinterest-worthy decorators. I don't decorate for the seasons. Well, except Christmas of course. But even then the decorations are minimal.
At our house there are no cute fall straw bales or pumpkins on my front porch. And no spooky Halloween-themed décor. No cheery spring decorations, seasonal pillows themed dishes or other décor either. It's not something I typically care about. Just not my thing I suppose.
But all of a sudden I was inspired to make something pretty for my dining table. Maybe because lately we've been entertaining my parents often. So I began collecting things that might look nice in a fall tablescape.
As we walked along I explained my vision of this fall décor to our daughter. I'd like a simple white plate or platter with various fall-themed natural plant-based items arranged decoratively.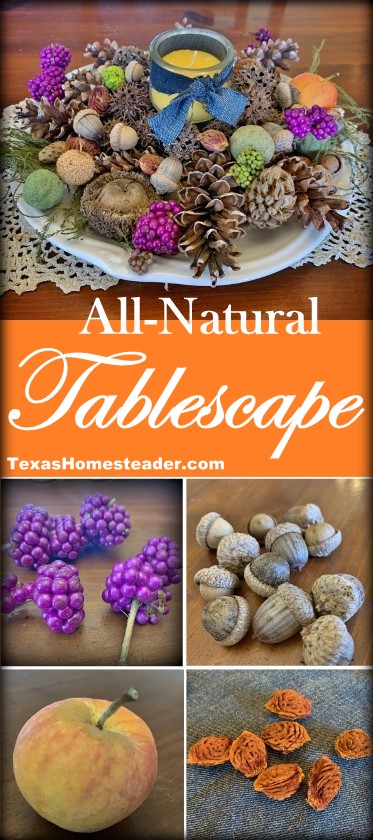 Collecting Nature's Beauty
So as we walked along we picked up several small pinecones, a green ball from a Bald Cypress tree and a handful of pretty acorns. I brought them home placed them in a small white square plate and awaited inspiration. But none came.
Fast forward a couple of weeks and our daughter texted a message to me that included a photo which showed various other nature items. I was pretty excited about these additions.
As I thanked her profusely she responded back with "I'd love to take credit, but this was all Angie (her MIL)"
Let me tell you that sweet woman packed up all the things she had collected from her own yard and mailed them to me.
The items she shared would be the same types I could get here in NE Texas if I had access to them. Such things as more pinecones, Sweet Gum tree drops, Bald Cypress tree globes & greens, etc. I had to get a larger plate to hold this new & improved tablescape project!
When I had all things gathered I began my project. Here are the things I added to my tablescape:
PINE TREE PINECONES –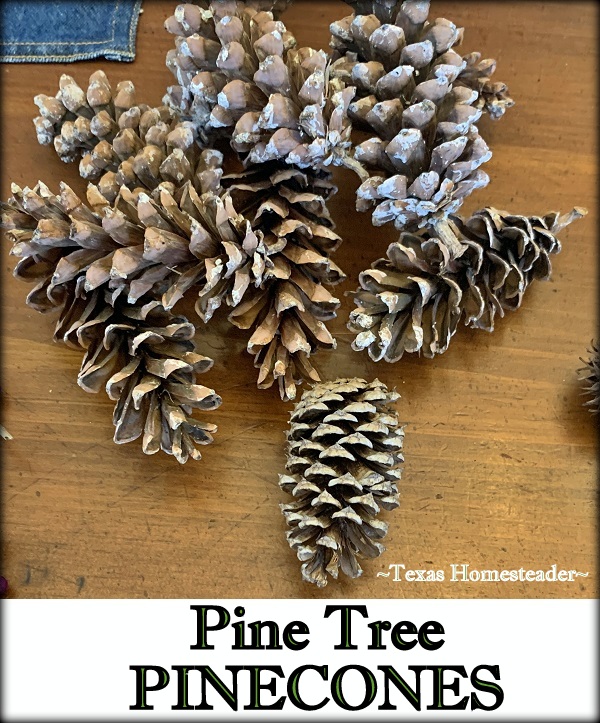 I already knew I wanted pinecones. I swear I don't know what my fascination is with pinecones, but I love them.
I've collected so many over the years, even though RancherMan rolls his eyes he never says anything as I pick up more. Especially now that I dip them in wax and let him use them for firestarters. He LOVES those Wax-Dipped Pinecone Fire Starters because they make starting the wood fire in our antique cast-iron stove a breeze.
BALD CYPRESS TREE SEED GLOBES –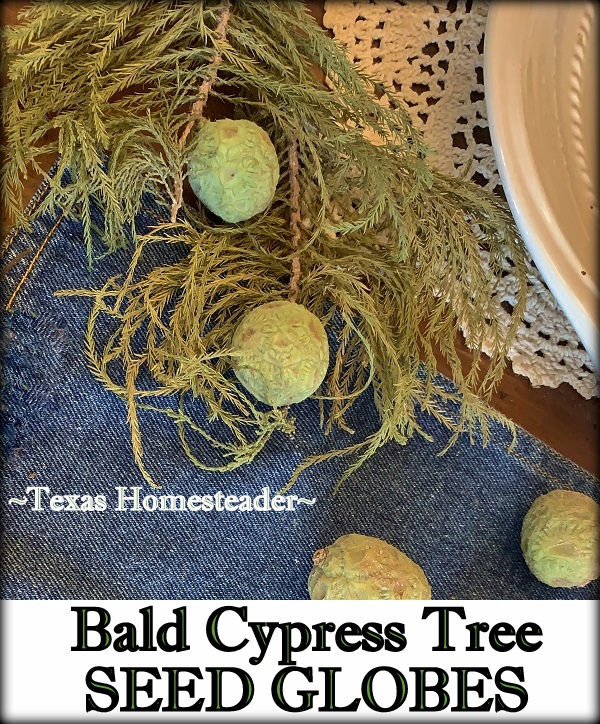 These interesting little green globes from a Bald Cypress tree have an interesting texture. And I was even able to use some of the frilly greenery to add a completely different texture.
Plus I love that both leaves and globes add a little green color to my primarily brown-toned tablescape.
SWEET GUM TREE SPIKED BALL –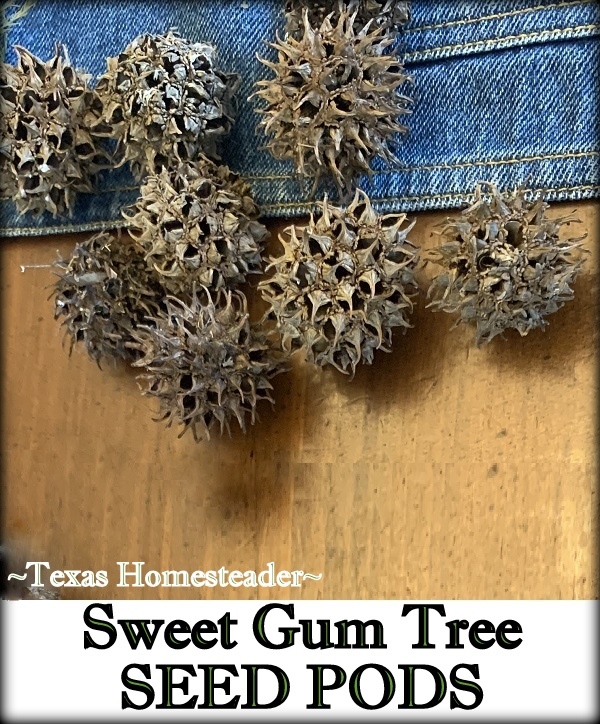 Sweet Gum trees are beautiful. But many homeowners find those little spiky seed balls a nuisance.
I didn't know of anyone around here who had a sweet gum tree. But I sure wanted to include them in my tablescape for their interesting shape.
Thank goodness our daughter's MIL had access to those trees and their interesting spiky seed balls. She sent several for me to use in my project.
OAK TREE ACORNS –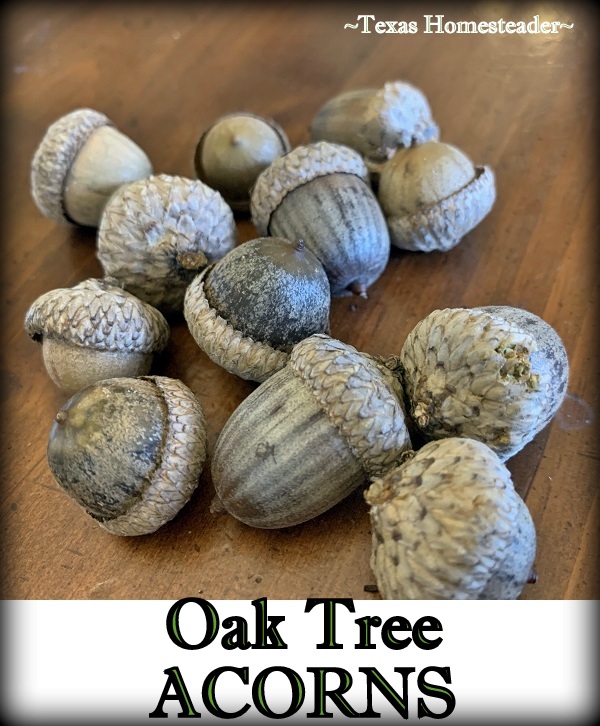 I knew I wanted lots of acorns. And thankfully in NE Texas, Oak trees abound everywhere.
It was easy to collect as many acorns as I wanted and I sprinkled them liberally atop the other items in my tablescape.
MAGNOLIA TREE SEED CONES –
As RancherMan & I were strolling through the downtown square one afternoon I spied these Magnolia seed cones on the ground. I scooped them up knowing they would add interesting shape and texture to my fall-themed project.
MINIATURE APPLE –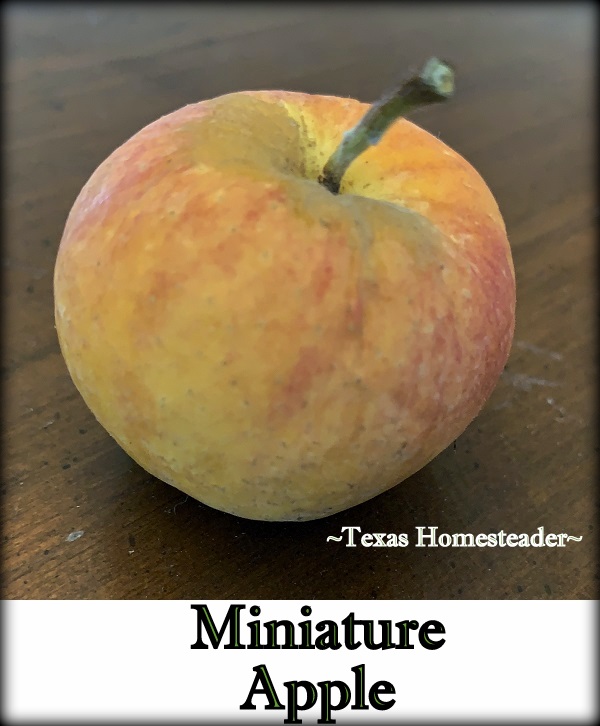 My aunt gifted me several bushels of apples from her oh-so-productive tree. I think almost as a joke she included this tiny perfectly formed ripe apple. I don't know how long it will last in this fall arrangement, but I love the little sumpin' it adds.
DRIED PEACH PITS –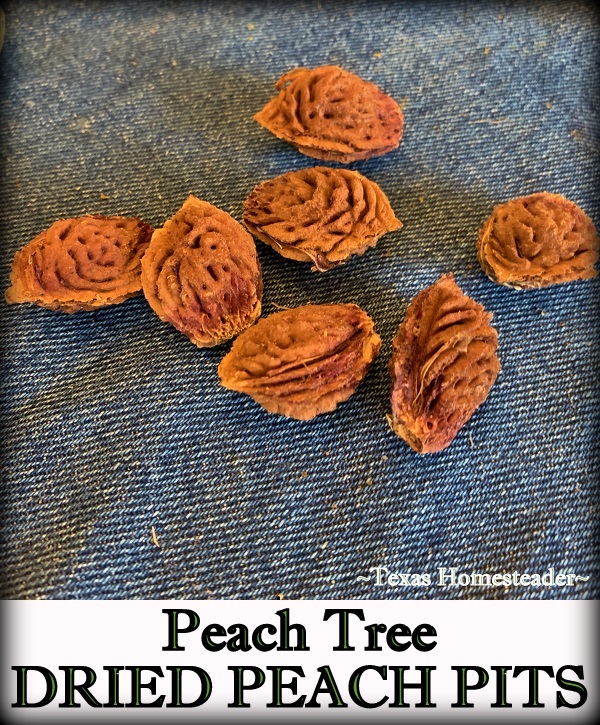 Stone fruits offer lots of interesting textures and colors for your fall décor. I cleaned and dried several peach pits and included them in the tablescape. By using them extra texture and color were added, and even an interesting pointy shape too.
ODD SEED POD FROM BAG OF LEAVES –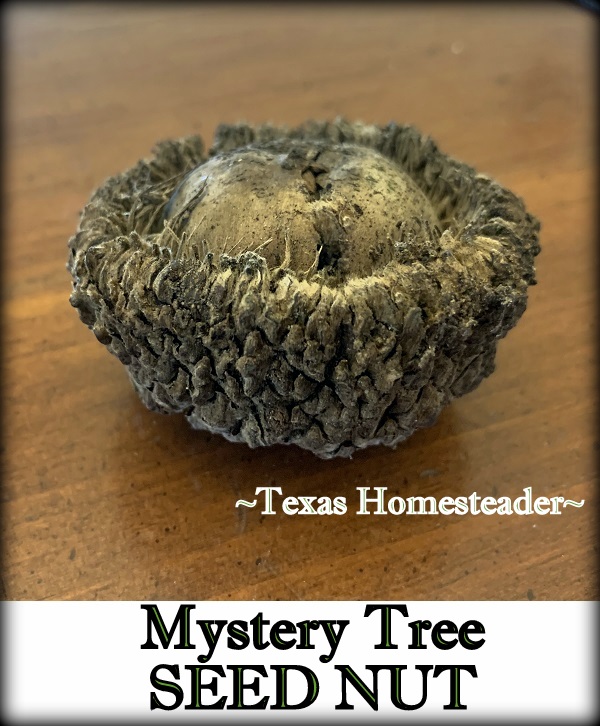 My brother brought me several bags of leaves that a neighbor was bagging up preparing to send to the landfill. I asked him what kind of tree they were from and he said he didn't know but they had huge almost acorn-looking things on them. When I was spreading a bag of leaves to use as Leaf Mulch In The Garden I found this odd-looking fellow and added it to my dish. A commenter below confirmed it was an acorn from a Bur Oak.
BEAUTYBERRY CLUSTERS –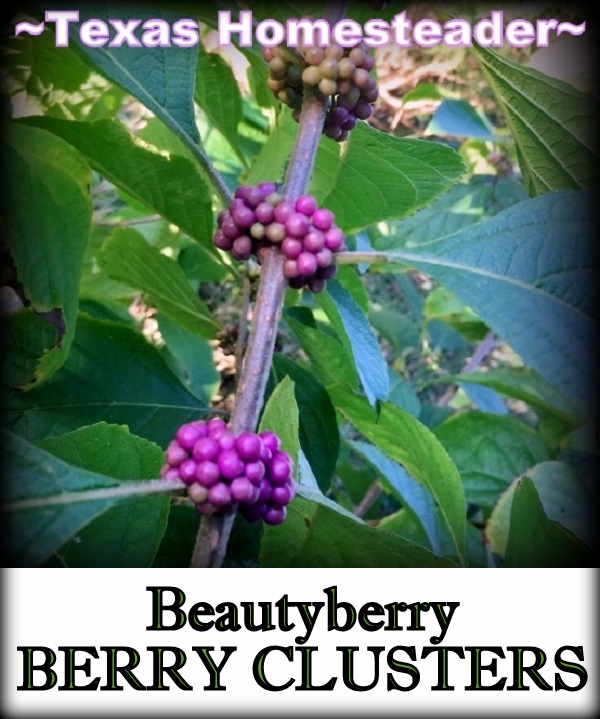 I picked a few bright purple Beautyberry clusters to add a pop of color. Beautyberry bushes are quite amazing. The blooms feed our honeybees in the early spring. The odd purple berry clusters are beautiful to look at in the summer. And in the winter the wild birds rely on those berries for food.
Tablescape Center Focal Point
Some lucky folks are incredibly crafty. But that's sure not my strong suit. I really wanted to fashion this tablescape though, so I brought out my found items and I arranged them over & over again until I found the look I loved.
But something's missing. It needed a focal point of some sort. Something larger in the middle. Hummm….
I decided on a candle, and I had a Beeswax Candle I'd made earlier. I wrapped it with a strip of denim. Because, you know, I LOVE all things denim!
But it was a small candle. I needed a way to lift it up from the surrounding nature items. I wondered if I could repurpose an empty toilet paper roll. Maybe I can cut the cardboard tube in half and set the candle on top.
I typically save toilet paper rolls anyway to use as a Repurposed Cardboard Seed-Starting Pot. So I took one out and cut it in half.
I reinforced it by folding the other half of the roll long ways and sliding it inside the first half to make it stronger. Then I placed the candle jar on top.
FIRE SAFETY NOTE:
I'll be using this candle for decorative purposes only. I'm not sure how I'd feel with a burning candle amongst so many dried flammables. But I love, love, LOVE the way it looks!
Arranging My Tablescape With Nature
So I placed the elevated candle in the middle. Then I started adding my found items, starting with pinecones around the perimeter.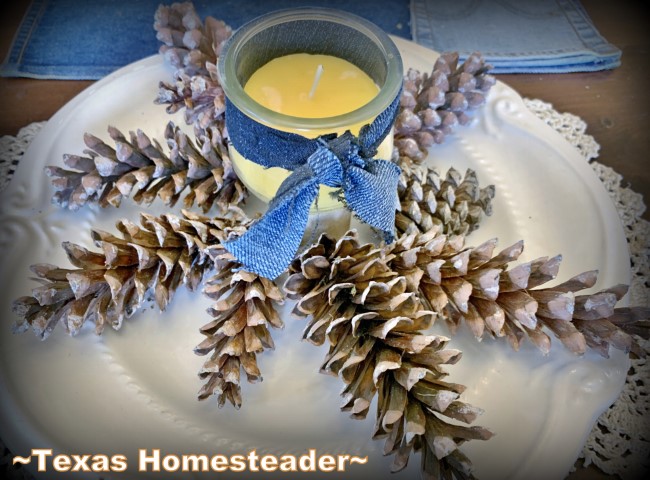 I followed that by placing the Sweet Gum seed balls in a way as to hide the cardboard beneath my jar candle. Then I sprinkled more of them here & there among the pinecones.
I filled in empty spaces using acorns, dried peach pits, bald cypress rounds, etc. As a final touch I cut a few clusters of beautyberry and placed them decoratively for a little color pop.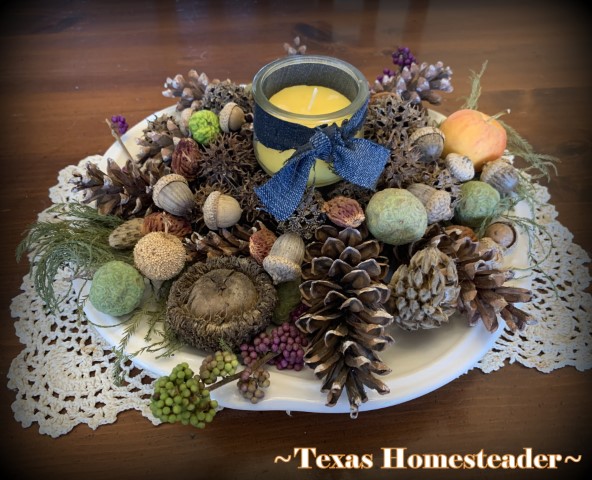 Then I stood back to see how I liked it. OMGosh I think it's beautiful!
It's all natural and there's nothing to buy. Nothing artificial that's wrapped in plastic & shipped from who-knows where.
It's true that you can decorate beautifully (and for FREE) using only what you find on your own casual nature walks.
This post simply lists the interestingly shaped or colored items I had available in my area. Your area may offer different items. But seed pods or even dried pits from fruit can really add some interesting depth and color to your tablescape. Let your imagination be your guide!
~TxH~
Links Included In This Post
Our Favorite Crafts & Projects
…and many MORE!
Other 'Use Whatcha Got' Ideas


C'mon by & sit a spell! Come hang out at our Facebook Page . It's like sitting in a front porch rocker with a glass of cold iced tea. There are lots of good folks sharing! And you can also follow along on Pinterest, Twitter or Instagram
If you'd like to receive an email when a new blog post goes live,
subscribe to our Blog!