by Texas Homesteader ~
I easily make my own natural air freshener using only baking soda, essential oil, a repurposed canning jar & some pretty leftover lace. It's simple to refresh when needed and it's an inexpensive zero-waste answer to a deodorizing problem.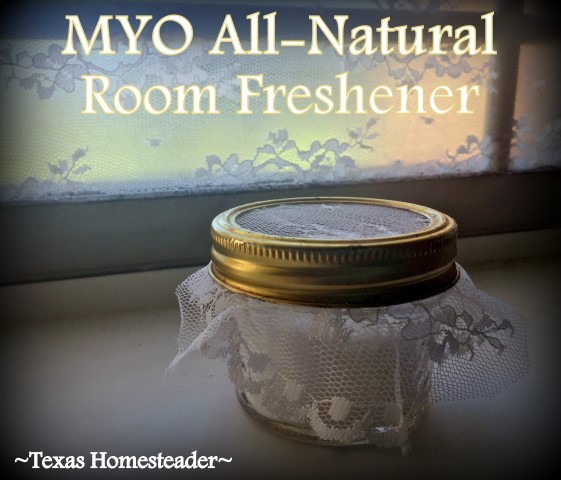 No Artificial Scent In Our Home
Years ago I did away with artificial scents in our home. Oh how I used to love those reed diffusers, plug-in room fresheners and scented candles!
But I decided those artificial scents just weren't right for me or my family. I wanted a more natural and chemical-free home.
So I opted for Homemade Cleaners instead of purchased ones. And I also opted for natural homemade Beeswax Candles instead of their artificially-scented counterparts.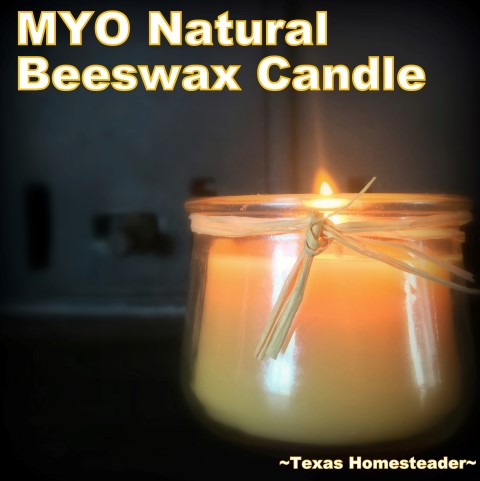 It's all been such a good change for us! But what about a more natural deodorizer?
Recently I made a super-cute room freshener using a repurposed canning jar and leftover lace. So easy, so inexpensive and so pretty!
Natural Deodorizer Solutions
Did you ever notice just how overpowering those artificial room deodorizers can be? I mean, I know they're trying to freshen the air but WHEW!
Sometimes it's enough to take your breath away just walking down the cleaning aisle at the store. I guess the product manufacturers just assume more is better. But I disagree.
These days I'm more apt to use baking soda & essential oils for room fresheners than a plastic-packaged plug-in delivering a sometimes overpowering artificial scent. It appeals to my budget side as well as my eco-warrior side.
Whipping up this cute air freshener really couldn't be easier! Plus I'm using reusable items so there's nothing to go into the trash. Oh how I love it!
I utilized the same leftover lace that I'd used to Frost The Window Glass in my guest bathroom. You can use whatever lace you have handy or leftover from other projects.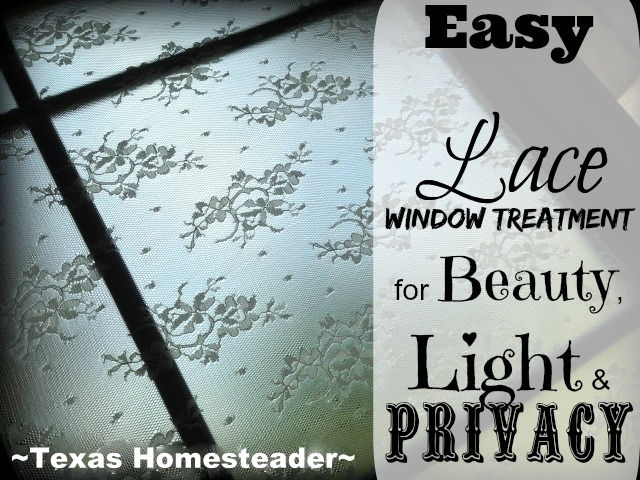 But a wider, more open weave of lace is perfect for this homemade room deodorizer.
I also used a tiny 1/4 pint sized canning jar with its canning ring, some baking soda and some delightful lavender-scented essential oil.
Making My Homemade Air Freshener
Making this homemade room deodorizer was simple.
I filled the empty canning jar about 2/3 full with baking soda and added several drops of essential oil.
The quantity of essential oil needed might vary depending upon the size of your jar, the quantity of your baking soda and how strong you wish the scent to be.
For me, it was about 20-30 drops of essential oil. But feel free to personalize it to your own liking!
When I had the essential oils added, I stirred the baking soda until the essential oil was fully mixed in. I used a chopstick to mix everything together.
Not only did it make it easier to stir but kept everything neat and tidy inside the jar while fully mixing the ingredients.
It only took a minute or so to make my air freshener mixture. How's THAT for fast & simple??!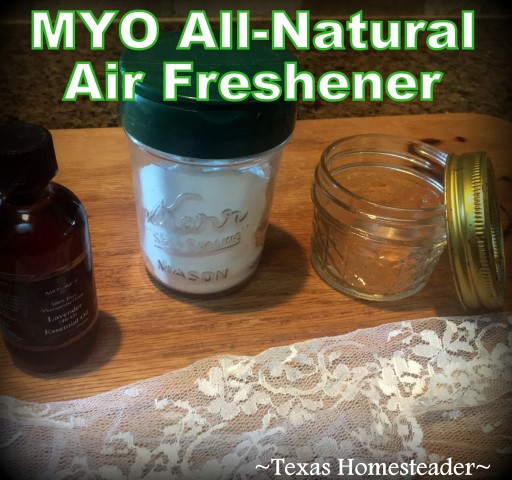 Making A Reusable Air Freshener Jar
Now that my air freshener mixture is ready, I cut the lace remnant in a circle large enough to overlap the mouth of the jar as far as I wanted.
I decided I wanted the lace to drape over about 3/4 of the jar. That way the lace itself could be part of the decorative aspect of my homemade room deodorizer jar.
The circle of lace was then placed on top of the jar. I held it in place as I screwed the metal band on top to hold it all in place. Done & DONE!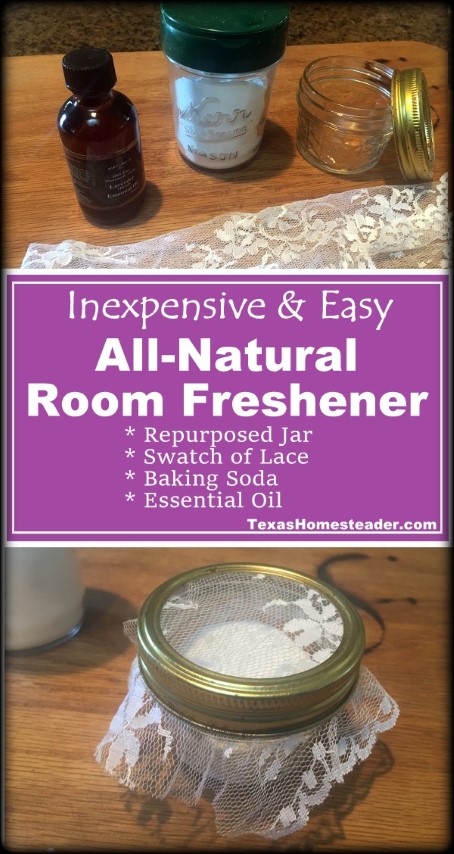 When my room freshener was finished I placed it on the windowsill to lightly scent the room. The warmth of the sun coming through the window & hitting this jar gently intensified the scent – I loved it.
Natural Deodorizer For Your Car Too!
Another great use I discovered quite by accident is that you can use it as a car freshener too.
You see, once when we spilled something in our car it began to smell, uuuhhhh, well, kinda soured.
So after we cleaned the spill thoroughly I placed this air freshener in one of our car's cup holders for a few days.
The warmth inside the car (especially when it was parked in the sun) made the aroma in the car really nice. So I may make another one just for the car.
Why not? The ingredients are so simple and readily available!
Plus it's very easy to refresh this air freshener if the scent begins to fade. Just add a few drops of essential oil and stir it in!
~TxH~
Want To See Our Natural Cleaning Posts?
C'mon by & sit a spell! Come hang out at our Facebook Page. It's like sitting in a front porch rocker with a glass of cold iced tea – lots of good folks sharing! You can also follow along on Pinterest, Twitter or Instagram.
If you'd like to receive an email each time a new blog post goes live it's EASY to
Subscribe to our blog!