by Texas Homesteader ~
Are you looking to easily make your own simple homemade cleaning products from items you already have in your home? Homemade cleaners are typically cheaper, more eco friendly and result in much less chemicals in your home too.
I'm sharing how I make everything from laundry products to body products to a non-toxic scrubbing powder. Check out this long list of homemade cleaning products!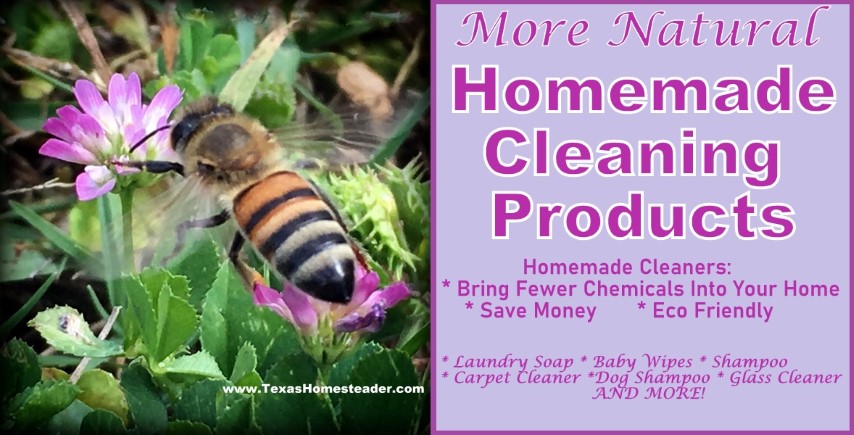 Simple Homemade Cleaners
I'm sharing a long list of homemade cleaners I've used around our Homestead for years.
A complete list of natural cleaning articles is at the bottom of this post.
Disclaimer:
Now remember, I'm sharing below what I use to clean more naturally and with fewer chemicals whether my home, clothes or body. Your situation may be different! So make sure you don't have allergies to even natural ingredients (such as vinegar, essential oils, etc). And make sure you know the surfaces you're cleaning,
For instance, vinegar isn't a good match for cleaning stone surfaces such as granite as I've read it's too acidic and can damage it over time. But vinegar makes a fantastic cleaner for porcelain toilets, soap scum on tubs & shower doors, and cleaning glass such as windows and mirrors.
And although my carpet cleaner has worked beautifully on our carpet for years, your carpet may be made of a different material or offer a different color-fast property than my carpets.
So remember, I'm sharing how I clean our home naturally and without all those harmful chemicals. I feel it keeps our home healthier and certainly saves us oodles of money too. But you'll want to proceed slowly to make sure it works just as well for your particular circumstances as it does for ours. Umkay? On to my list!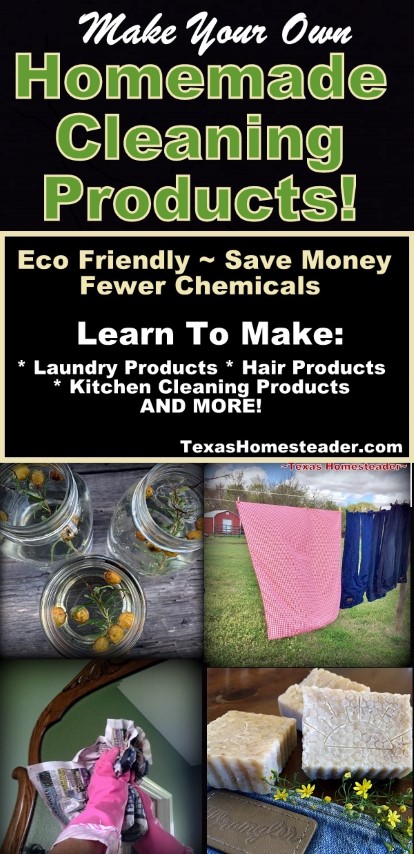 Links are in the titles if you want to get the actual recipes or read more about each of the cleaners I make. Enjoy!
---
I've made our laundry detergent for over 10 years now. It's been very effective in getting our clothes clean, even with tough laundry problems such as mud and manure. And even on our typical thicker fabrics such as heavy denim jeans.
There are some who say they would never use homemade laundry soap since they've heard soap is different than detergent, and they've heard it can ruin their washing machine.
I don't know what to attribute other's perceptions or differing experiences unless they're just using too much for each load. Using this homemade laundry soap has eliminated the over-scented commercial stuff and given us clean laundry for pennies per load for over a decade using our front-loader water saver washing machine with nary a problem.
But you'll want to decide for yourself whether homemade laundry soap is a good fit for you in your circumstances.
---
I love the fresh scent of our clean laundry using our homemade laundry soap. But there are some times when I actually want a little extra scent in our laundry. Such times as when I'm washing loads that include our cloth napkins and such.
It's at those times when I'll add my homemade laundry scent booster. It's made of only TWO ingredients – Epsom salt and essential oils.
The result is a nice subtle scent remaining on my clean napkins. Not the overpowering scent typically sold on store shelves.
---
In that laundry aisle you'll find any number of stain removers that can be purchased.
Working around barbed wire, one of our most prevalent stains is blood. It's just bound to happen sooner or later! I've found that pain ole hydrogen peroxide does a fine job of removing blood stains.
There are things to watch for such as the type of fabric you're treating as well as whether or not the stain has 'set'. But this has been a very effective yet cheap stain remover for me for several years.
---
We've not purchased commercial bath soap in years, y'all. RancherMan & I make and use our own luxurious homemade bar soap.
Everything from Rosemary/Lavender soap to homemade Shampoo Bars, a scrubbing luffa soap and more!
---
It's true, y'all – soap does grow on trees! Soapberries contain natural soap-like saponins. I harvest & dry soapberries, infuse rainwater with them to make my homemade zero-waste shampoo.
But this homemade natural cleaning soap can also be transferred to a spray bottle and be used to clean any number of surfaces.
---
You can buy dry shampoo in the stores of course. It's handy to have for times when cleaning with water isn't an option such as hiking or camping.
But I make my own dry shampoo using only THREE INGREDIENTS – baking soda, cornstarch and a little cocoa to disguise the white powders.
---
Here's a homemade natural cleaning shampoo for the dog! I either use the regular formula or a dry skin formula if she's suffering from dry skin. It mixes up in minutes with just a few simple ingredients.
The regular formula has baby shampoo, a splash of vinegar and water. The dry-skin formula includes oat flour, baking soda and water.
---
I found myself needing baby wipes but didn't want to buy the plastic box of pre-made baby wipes. So I made them myself using those blue heavy-paper shop towels and my own gentle cleansing mixture of melted coconut oil, baby wash and water.
The baby wipes were stored in a reusable container too – no waste!
---
What about air fresheners? Well I have a quick & easy zero-waste solution for that too.
I make my own air fresheners using baking soda and essential oils in a reusable glass container. I even made one for my car to keep it smelling fresh too.
---
We had some carpet pet stains due to a medical condition suffered by our mini-schnauzer Bailey. We even had a professional carpet cleaner come to our home to pre-treat and clean that stain with commercial-strength solutions & machines.
But, as with my own attempts, that stain simply reappeared over time. That is until I found a natural cleaning solution for our carpets that worked to finally remove that pet stain forever! Just a little white vinegar, salt and water.
---
I get a sparkling and streak-free clean on my windows and mirrors using plain vinegar and water.
Plus, my dad gave me a tip years ago about how to get a simple streak-free shine. (Thanks dad!)
---
Sometimes you need a little extra scrubbing power such as when you have baked on food on a casserole dish or coffee stains in your mug.
I used to buy commercial chemical-laden scrubbing powders in a plastic can, but no more. Plain baking soda offers me that scrub ability for natural cleaning, chemical-free!
---
I've been growing my very own zero-waste scrub sponges for years now. And my scrub sponge is completely compostable and biodegradable, not to mention easy to grow.
Heck we even made luffa soap as part of our Homemade Christmas Gifts! I now grow luffa every year.
---
When you've been out playing in the dirt you need a little extra scrubbing power for your hands, but you want something gentle too.
I make this homemade gardener's hand scrub with coconut oil, body wash, essential oils and Epsom salts. It makes it easy to get my hands clean after playing in the garden. It made a delightful homemade Christmas gift as well.
---
For natural cleaning I use vinegar a lot y'all. But RancherMan absolutely hates the smell of vinegar.
So I easily make my own Citrus-Scented Vinegar by infusing plain vinegar with citrus peels. I've found the scent fades over time so I only make enough to add to my small spray bottle and use it up before making more.
Remember vinegar isn't the best option for cleaning granite but it works great for cleaning glass, mirrors, porcelain surfaces & more.
---
I've lamented for quite a while about how complicated cleaning has become. I mean, a different commercial cleaner for each and every surface?
I have a spray bottle beneath my sink that contains only grease-cutting dish soap and water. It's been a huge money saver! I can clean countertops or greasy stovetops, sinks and even simplify washing a single dish.
You know how you apply that tiny drop of dish soap to wash that one glass and then have to rinse and rinse (and RINSE) before finally rinsing away that soap? Problem solved with this spray bottle!
---
Once when we ran out of a product that cleans/protects vinyl and rubber. So I went looking for a homemade solution.
RancherMan needs a cleaner that conditions plastic and rubber surfaces in his shop. I whipped up this solution in minutes using things I already had in the house – baby oil, a small amount of dish soap and water. It's worked great for us for years.
---
Homemade Cleaners Less Toxic & Save Money Too!
So there you have my loooong list of homemade cleaners. Using them has appealed to my financial savvy side (by saving us money) as well as my eco-warrior moxie side (zero waste wins).
What products do you easily make yourself to use for cleaning?
~TxH~
This post categorized in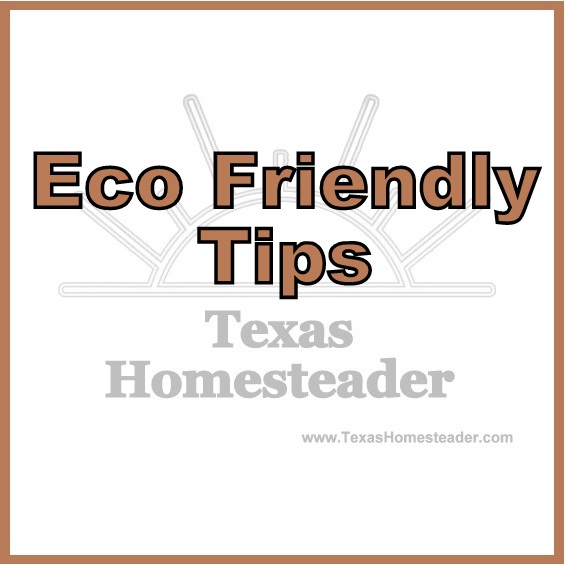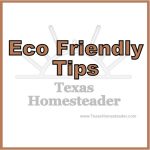 Want To See Our Natural Cleaning Posts?
C'mon by & sit a spell! Come hang out at our Facebook Page. It's like sitting in a front porch rocker with a glass of cold iced tea – lots of good folks sharing! You can also follow along on Pinterest, Twitter or Instagram.
If you'd like to receive an email each time a new blog post goes live it's EASY to
Subscribe to our blog!