by Texas Homesteader ~
I was recently gifted a hefty supply of pears from the trees of two different friends. How wonderful!
Wanting to keep them from going to waste I set to preserving them right away. I peeled, cored, chopped, cooked and canned several pounds of pears over the course of several days. It was a Crazy-Canning Lady's Marathon!
When the cooking marathon was done I was left with a kitchen in dire need of a good thorough scrubbing. There was sticky pear juice everywhere!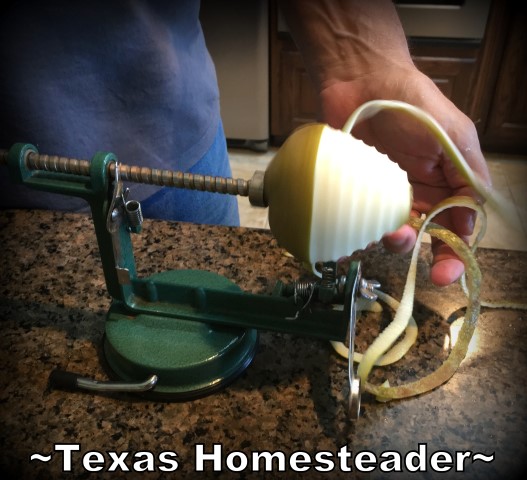 So I washed all the dishes and put away all the stock pots, canning supplies, jars and such.
Then I was left with wiping down the counters, cabinets, sink and any appliances I touched while I was working.
OK let's be honest, I needed to wipe down EVERYTHING!
Inexpensive, Effective Cleaner
As I pulled my spray bottle of cleaner from under the sink I smiled knowing that my cleaner was effective, gentle and SO cheap inexpensive. What do I use?
Just like your mama always told ya – soap & water!
I had a family member save the empty spray bottle from a commercially-produced cleaner for me. Then I rinsed it out & filled it with water and added a hearty squirt of grease-cutting dish soap.
A gentle swirl and an identifying label & I was ready to go. (please ALWAYS remember to label your cleaners!)
It works so well for pennies. Plus I enjoy the mild scent that takes the place of the chemically smell of the commercial stuff.
The biggest plus? I know my homemade kitchen cleaning solution is both gentle and effective.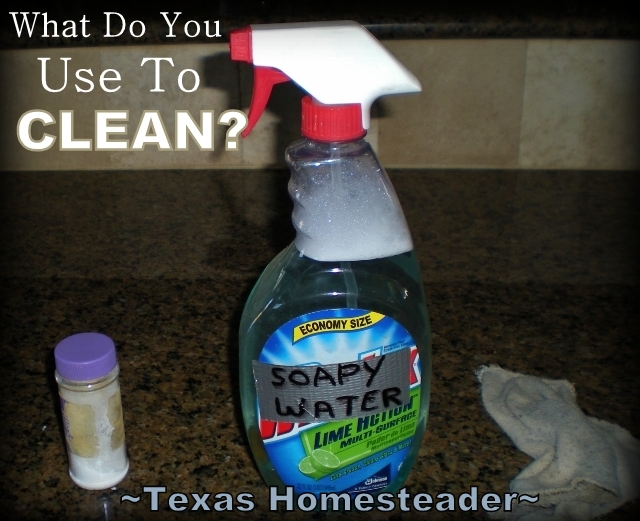 So between my spray bottle of soapy water & my little shaker jar of baking soda (for when a little extra scrubbing was needed like my poor sinks) along with a trusty cleaning rag – I got busy wiping down everything in that kitchen.
I love that it cost so very little and that my ingredients are much gentler on the environment. Heck, even the containers are repurposed!
Give it a try – you have nothing to lose except sticky counter tops. Now if you'll excuse me, it's time for me to get back to work cleaning!
~TxH~
Want To See Our Natural Cleaning Posts?
C'mon by & sit a spell! Come hang out at our Facebook Page. It's like sitting in a front porch rocker with a glass of cold iced tea – lots of good folks sharing! You can also follow along on Pinterest, Twitter or Instagram.
If you'd like to receive an email each time a new blog post goes live it's EASY to
Subscribe to our blog!
Save