by Texas Homesteader ~
*affiliate link
I found myself needing to deal with preserving both bushes of fresh apples as well as mountains of fresh pears. Although I ended up with many jars of delectable treats, getting there was a comedy of errors! C'mon in & see.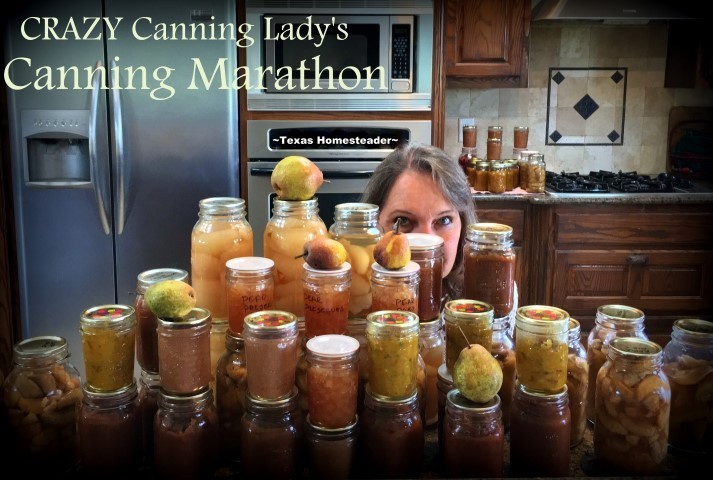 (Note: Some links in this post are for further information from earlier posts I've written. But links preceded with * are affiliate links. If you click them and buy something (almost anything, not just the item noted) I could receive a small purchase. But the price you pay will NOT change. It's an easy way to support this blog without anything coming out of your pocket. So click often! Thank you!)
Mountains Of Fresh Produce
Recently I was gifted many fresh pears that I didn't want to go to waste. And THEN we took a long weekend to go visit my favorite aunt & uncle in west Texas. My aunt sent me home with about 20 lbs of fresh apples PLUS a huge cooler packed with frozen cut/sugared apple slices & pureed apples.
OMGoodness there's NO room in my freezer or fridge – that means more food to process!
That can mean only one thing: Go into power-canning mode for several days trying to FINALLY get done with the fresh produce that needed to be dealt with.
I've canned food almost all my life – I actually enjoy it. But let's see how I tackle this much fresh produce at the same time.
Canning Day 1: False Sense of Security
My first day of canning this produce I made Pear Sauce (like applesauce but made with pears), then canned it up that afternoon.
It was way easy:
Oh, and also butterflies landed on my shoulder and 7 tiny men whistled cheery work tunes and cleaned up the kitchen as I danced around with my magic wand. Well this isn't going to be so difficult, I can do this!
Canning Day 2: Things Get Interesting
Then we took a few days off to travel to see my aunt. You know how it is when you've been away for a few days – there's LOTS to catch up on!
Plus I've got all those fresh pears that I must tackle to keep them from being wasted. And now there's a mountain of apples too that my aunt sent me home with. I needed to ramp things up!
Today's canning session involved having things on rotation – simmering pear preserves while the Kahlua applesauce was canning.
Then applesauce out and pear preserves placed in the still-hot canner while I was making the apple butter.
Finally the apple butter placed in the still-hot canner when the preserves came out.
WHEW! It was a busy canning day. But I worked with precision and efficiency.
But oh my kitchen suffered with all of the splatters & spills! Now where are those darn tiny whistling men to clean my kitchen?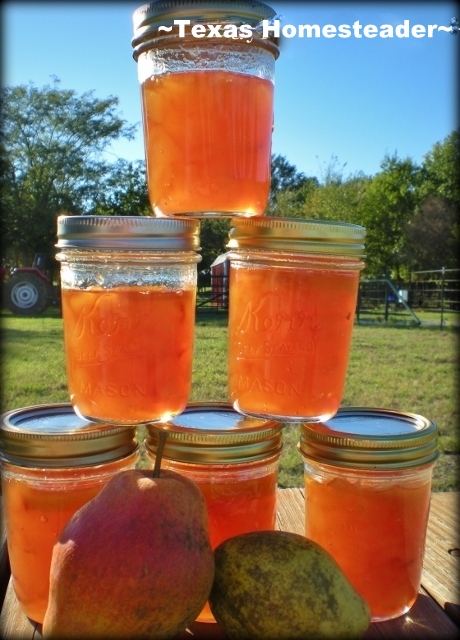 Canning Day 3: Kitchen Madness
The 3rd day I wanted to make apple pie filling. It's no longer recommended to use regular cornstarch when canning. Now the only safe recommendation is to use a *modified cornstarch designed to hold up to the heat of canning to assure a safer end product.
As I got all my ingredients together to make & can my apple pie filling, panic set in. I had the INSTANT no-heat-needed Clear Jel. But I didn't see my Regular Clear Jel. (GASP!) Did I use it all last season!!?? Panic struck!
So I'm on my hands & knees fumbling through the cabinets mumbling inaudibly "please, please, PLEASE"
Finally a ray of light – I laid my hands on my supply of regular Clear Jel. Yea, false alarm! I'm now back on track, I'm sure all will go smoothly.
Yeah, RIGHT!!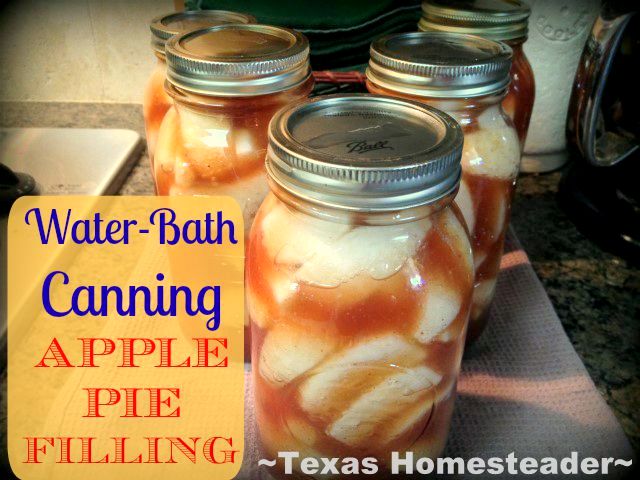 That apple pie filling came together quickly. But I pondered as looked at the tiny amount left in the pan as I was filling the sanitized jars: "My freezer is completely packed, as is my fridge. There's NO room for anything right now. I can't just store what didn't fit into the jars in my fridge or freezer."
So I wondered how important a full inch of headspace in the jars was…
"There's only a little bit left", I thought. "It will still fit in these jars", I thought.
Sigh….
I left headspace of course, but not an inch. The apple filling expanded in the jars while in the canner & forced hot filling from the jars.
Then when I pulled the jars from the canner, apple filling spewed out of them like Mt. St. Helen! The filling between the jar & lid could keep the jars from being safely sealed.
So with a sigh I cleaned up the sticky mess, popped the lids, dumped the pie filling into a kettle to reheat.
More jars were sanitized & the sticky sugary canning water dumped. The canner was washed and refilled with clean water.
It took a long time for all the water in that mammoth canner to heat up again. Then I re-canned all that apple pie filling.
The moral of the story: Yes, the entire, full, 100% verifiable headspace is important! LOL
UPDATE: I've also read that it's helpful to leave your jars of canned apple pie in the canner with the heat turned off for about 5 minutes after the timer goes off before removing to the counter. This does seem to help balance the pressure so give it a try.
Lids Should ALWAYS Fit Securely
While the apple pie filling was in the canner I decided to use my Apple Peeler/Corer to peel more of those pears. I wanted more pears in syrup, so I cut the peeled pears into quarters & scooped out the cores.
Simple syrup was made up, more jars were sanitized & I started filling them up with pears & syrup. But one of the used screw bands just didn't seem to screw on very far.
I removed it & re-attached it. Hummm… Removed it again & looked it over. It looked fine – shiny and unwarped.
"Maybe this is just a different kind of jar or something", I thought. "I'm sure it will be fine."
Big mistake!
I get those vanilla pears into the boiling water-bath canner & set the timer, blissfully unaware of the shenanigans going on inside the canner.
Apparently that googly lid popped off of the jar during canning. When I opened up the canner I was greeted with pears floating in cinnamon-vanilla-flavored sticky water.
GRRRRR…. I couldn't see the humor of it at the time so I didn't get a picture to share – y'all would have loved it!
But instead I pulled the other jars out and set them aside, tossing the boiling sugar water in the canner with its dancing, floating pears out onto the gravel driveway. At least that will give the chickens a treat when I let them out later.
Last Canning Day: Finally DONE!
The last day I made & canned pear relish. I'd previously made up and canned a small 1/3 batch just to make sure we'd like it. I mean pears and onions? And MUSTARD? Hummmm…. I just didn't think we'd be sold on that odd flavor combination.
But DANG we love this stuff. Now RancherMan requested a full batch.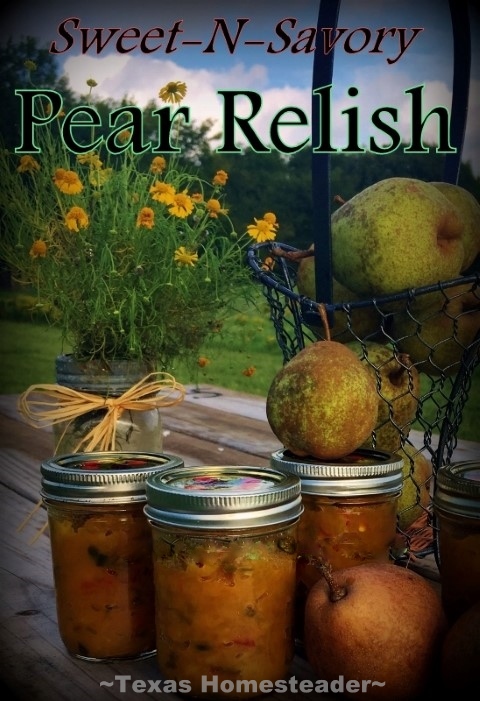 He helped me peel the pears & I cut & cored them. This time we ran everything through the grater blade of our food processor.
Although it did make the chopping go much faster, I wasn't as pleased with the resulting texture. Next time we'll stick with our original method of using my grandmother's manual food chopper – I much preferred that chunkier texture.
I pulled out my largest stock pot & simmered everything until it reduced down to relishy goodness.
But with the smoother, heavier texture of the relish I had a hard time keeping everything stirred well enough to keep from burning some of the relish to the bottom of the pot.
Try as I may to not dislodge the burnt parts, I spent the entire stir-time picking out small flecks of charred pears. LOL.
I guess this full batch will be for RancherMan & myself only. I don't think he'll have a problem with that. The texture is different but the taste is still the same. I've been using this relish in my fresh egg salad and it's delicious!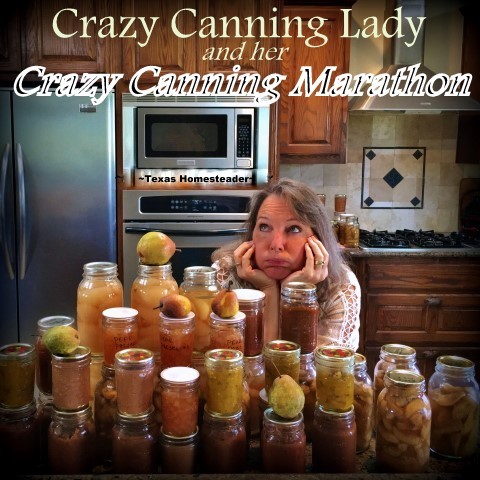 Finally Done!
This crazy canning lady is hopefully done canning for a while. I will say that this canning marathon did remind me how thankful I am that I've simplified my empty canning jar storage. At least there was much less going up & down the attic stairs fetching and returning empty jars.
You can imagine that RancherMan's happy about that! But I'm not sure my poor kitchen will ever be the same, though!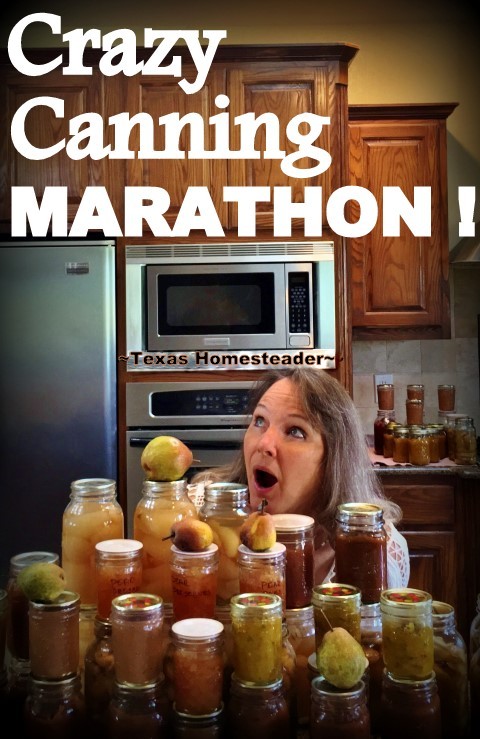 ~TxH~
Links In This Post
Other Canning Posts
Misc. Canning Posts
Canning Vegetables
Canning Fruit
Canning Jams, Jellies & Preserves
Canning Broth, Drinks & Sauces
…And Many More


C'mon by & sit a spell! Come hang out at our Facebook Page. It's like sitting in a front porch rocker with a glass of cold iced tea – lots of good folks sharing! You can also follow along on Pinterest, Twitter or Instagram.
If you'd like to receive an email each time a new blog post goes live it's EASY to
Subscribe to our blog!
*Amazon affiliate
Save
Save
Save
Save
Save
Save
Save
Save
Save
Save
Save
Save
Save