by Texas Homesteader ~
*contains affiliate link
I've heard of people making something similar to applesauce but using pears instead – Pear Sauce! I love applesauce so I figured I should give it a try.
Using my slow cooker it was super easy too, the procedure is the same as when I made homemade applesauce. Check it out!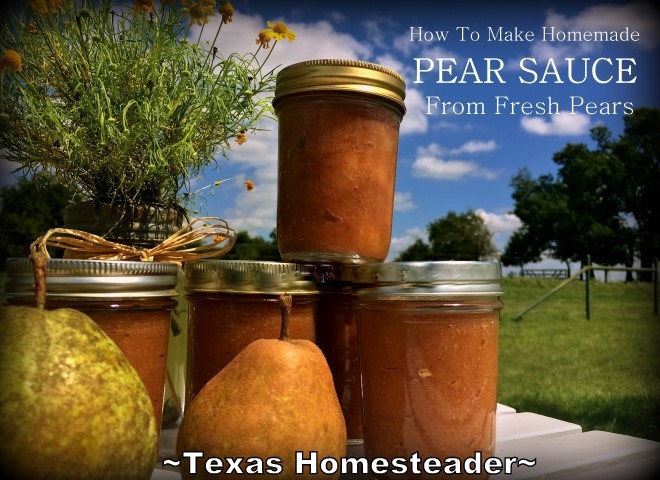 (Note: Some links in this post are for further information from earlier posts I've written. But links preceded with * are affiliate links. If you click them and buy something (almost anything, not just the item noted) I could receive a small commission. But the price you pay will NOT change. It's an easy way to support this blog without anything coming out of your pocket. So click often! Thank you!)
Obtaining Fresh Pears
A sweet neighbor offered to let RancherMan & me come harvest from their huge pear tree. We took a ladder but only had to pick the sweet pears within our reach to bring back about 75 lbs of fresh pears!
I used an *apple peeler/slicer/corer to peel all those crisp pears and found I could peel, core & slice each pear in about 10 seconds!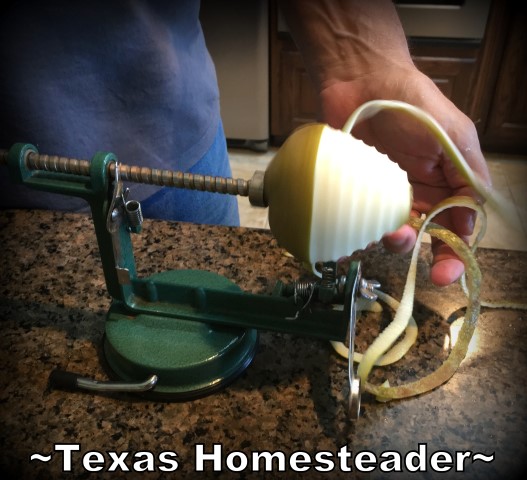 I placed the peeled pears in a large bowl filled with water and about 3 Tablespoons of lemon juice to keep them from turning brown while I worked on the other pears.
The peels & cores were set aside & RancherMan took them to the wild hog traps. We're hoping to Bibbidy-Bobbedy-BOO magically turn those peels into fresh PORK! LOL.
Cook The Pear Slices
Now I packed all those raw pear slices into my large slow-cooker. I didn't count how many pears I put in there, but I was generous with it!
I stuffed as many peeled & sliced pears as I could in the slow cooker because they will cook waaaaaay down.
The pears will release much of their juice as they're cooking so I didn't bother adding any water. Then I turned my slow cooker on low and let those babies cook all night.
Now as long as you don't allow them to burn I'm not sure you can overcook the pears, you're wanting to cook them until they fall apart.
Depending upon your slow cooker they can usually be ready in about 5-6 hours. But I allowed my pears to cook overnight.
Drain The Juice
Now that the pears are fully cooked there's lots of juice that they have released. Some people leave the juice in their Pear Sauce & just start blending away. But I find that by not removing the juice, the resulting pearsauce is a bit watery, so I opt to strain the juice away.
I took a sip of the juice I strained from the pears, but it didn't seem to be near as sweet as it was when I strained the juice from my apples.
So I added a 1/4 cup of sugar to my 3/4 quart of juice and tasted again. No…. Maybe another 1/4 cup? Hummm… Maybe a hefty sprinkling of cinnamon?
After those additions the pear juice was sweet and flavorful enough I suppose. But I didn't want to bother canning the juice without a specific use. So I just sat it in the fridge waiting for inspiration.
That night I served up a fruit cup for desert comprised of chopped frozen fruits. I drizzled this sweetened pear juice on top and let it run down and through all that fruit.
It was absolutely delicious that way! We have fruit cups for dessert often so we'll see how much I can go through before it gets too old to enjoy.
Blend Into Pear Sauce
Back to that Pear Sauce! You're now left with pears that are cooked to super-soft perfection. I think I'd like this pear sauce blended pretty smooth instead of chunky.
So I added sugar until I got it as sweet as I wanted, added a splash of vanilla extract & a hefty sprinkling of cinnamon.
The quantities depend on how sweet you like it, how strong you like the vanilla & whether or not you want to add cinnamon. Sweeten it to your personal taste and then blend it all smooth.
The easiest way for me to turn those cooked pears into pear sauce was to use a *stick blender on them right in the slow cooker. BOOM!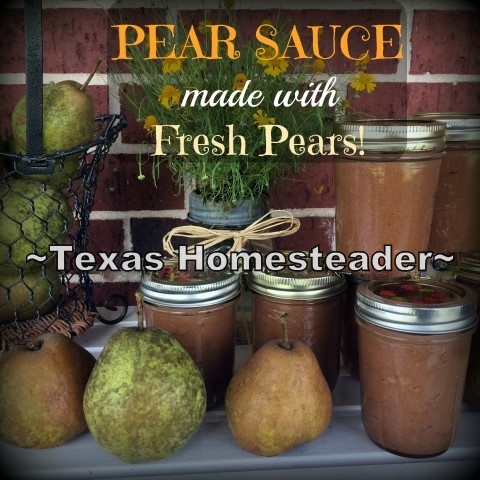 Freeze or Can To Preserve
It's easy to section off single-serving portions of your homemade pear sauce into freezer-safe containers and pop them in the freezer. They should stay sweet and delicious for several months.
If desired you can also water-bath can to preserve your pear sauce. It's super easy and quick and your sauce will be preserved in reusable canning jars for grab-n-go convenience.
I placed mine in 1/2-pint canning jars and canned it in a water-bath canner for 20 minutes.
FOOD SAFETY: Now I'm just sharing what I did, but you need to follow safety measures for your area. Since there are variables to canning such as altitude and equipment, for your specific circumstances be sure to consult your canner's manual and also make sure you read and understand the USDA's recommendations on safe canning and follow their directions closely.
Food safety is important!
Here's the abbreviated version of how I made & canned my pear sauce:
Homemade Pear Sauce Recipe Made with Fresh Pears
Peel, core & slice enough pears to fit into the slow cooker
Turn slow cooker on low heat and allow the pears to cook until completely softened (about 5-6 hours or overnight)
Drain juice from soft, cooked pear slices & set aside
Blend pears with stick blender to smooth consistency
Add sugar & cinnamon to taste (optional)
Freeze in single servings or can in 1/2-pint canning jars in a water-bath canner for 20 minutes
~TxH~
Other Pear Delights:
Preserving The Harvest Posts
…And Much MORE!
Dehydrating Posts

C'mon by & sit a spell! Come hang out at our Facebook Page. It's like sitting in a front porch rocker with a glass of cold iced tea – lots of good folks sharing! You can also follow along on Pinterest, Twitter or Instagram.
If you'd like to receive an email each time a new blog post goes live it's EASY to
Subscribe to our blog!
*Amazon affiliate
Save
Save
Save
Save
Save
Save
Save
Save
Save