by Texas Homesteader ~
Early spring is a great time to pick up cabbage for cheap. But you want to make sure you go through it all while it's fresh.
There are several ways we enjoy cabbage, but I also dehydrate it to enjoy for months.

(Note: Some links in this post are for further information from earlier posts I've written. But links preceded with * are affiliate links. If you click them and buy something (almost anything, not just the item noted) I could receive a tiny commission. But the price you pay will NOT change. It's an easy way to support this blog without anything coming out of your pocket. So click often! Thank you!)
Ways To Eat Fresh Cabbage
I came by quite a bit of cabbage this year. It keeps reasonably well in the fridge.
There are several ways we enjoy fresh cabbage.
Sauerkraut – A fermented food
Sauteed – I like to add chopped smoked sausage & onions.
Hearty Cabbage Stew – A hearty stew with tomato sauce, cabbage and other veggies.
Endless Soup – A nice addition when dropped into my weekly healthy soup.
Homemade Creamy Coleslaw – A simple family favorite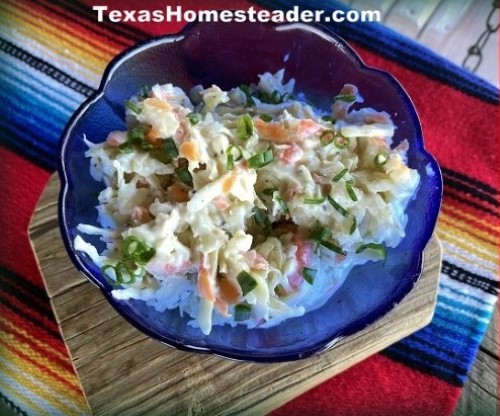 So I cooked with fresh cabbage for quite a few nights. It was delicious.
But you know even if something is delicious you can only force serve it to your family for supper for so long before there's a rebellion in the household.
So now the time had come to preserve it for longer term.
Preparing Fresh Cabbage For Dehydration
I took the remaining head of cabbage and peeled off the outside leaves, washed it and allowed it to dry.
Then I sliced the cabbage into quarters to make it easier to core. After the quarters were cored I set them aside.
Then I took each quarter and cut the cabbage into about 1.5″ x 2.5″ strips.
Only the outside leaves are nice & smooth, the deeper into the cabbage head you get the thicker & more "wadded" the leaves become.
So I was careful to snap the heavier ribs in half to open them up a little for more even drying.
Dehydrating Fresh Cabbage
Then I pulled out my 9-tray * Excalibur Dehydrator
and started loading up the trays with cut-up cabbage, spreading it evenly.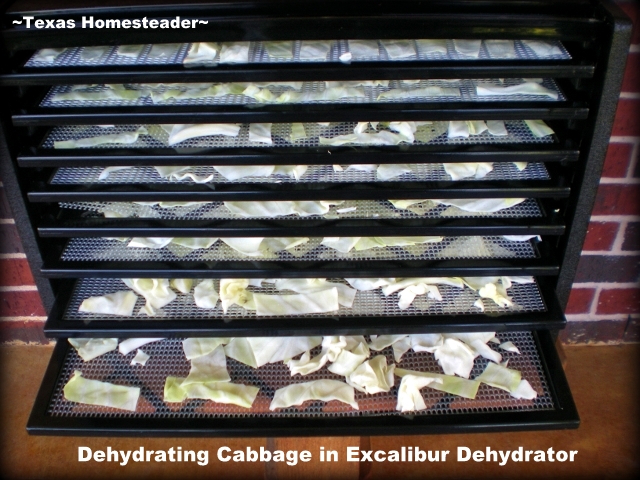 I didn't fuss with trying to keep any pieces from touching, I knew the leaves would shrink as they dried.
Since there were many of the thicker, more curled leaves I decided to leave every other tray removed so I could slide the loaded trays into their slots more easily.
I placed my Excalibur dehydrator on a small table outside on our covered porch, plugged it in and waited.
How Long Does It Take To Dehydrate Fresh Cabbage?
My Excalibur book recommends dehydrating cabbage at 135 degrees until leathery, or approximately 7 to 11 hours.
After the cabbage pieces were fully dried I allowed them to air dry overnight just to make sure all moisture was gone.
Storing Dehydrated Cabbage In The Pantry
Then I packed the dried leaves into large lidded containers for my pantry.
Now throughout the year when I want to use my dehydrated cabbage it's just a pantry away!
If I'm using it in my endless soup or Cabbage Stew I'll drop the dried leaves right into the simmering broth along with my dry rice. It rehydrates right in the soup pot!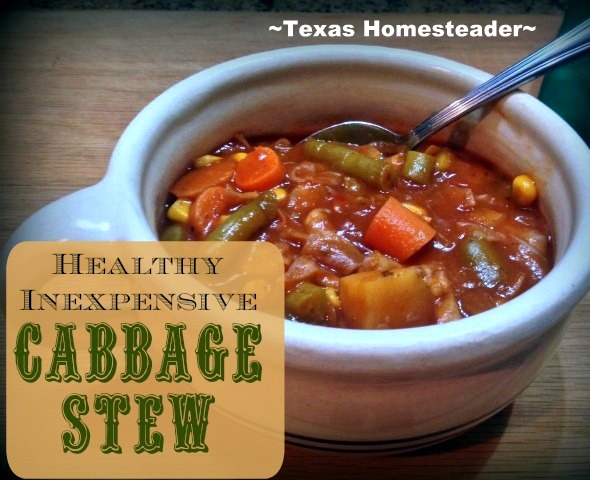 So if you find yourself with more cabbage than you'll be able to eat fresh, think about dehydrating it instead.
It will preserve that cabbage for months, and help eliminate food waste too.
~TxH~
Other Dehydrating Posts


C'mon by & sit a spell! Come hang out at our Facebook Page. It's like sitting in a front porch rocker with a glass of cold iced tea – lots of good folks sharing! You can also follow along on Pinterest, Twitter or Instagram.
If you'd like to receive an email each time a new blog post goes live it's EASY to
Subscribe to our blog!
*Amazon affiliate
* A word about our Affiliate Link – We are currently enrolled as an Amazon Affiliate. Occasionally I will insert an affiliate link into one of my posts if I think it may be of interest to you. I receive nothing from the manufacturer, but I love this Excalibur dehydrator & thought you might too. If you click on any of my affiliate links and buy something (almost anything, not just what was linked) I get a small referral percentage from Amazon. But here's the really important part – the price you pay for your items is UNCHANGED.
When you buy something through the affiliate link it's a great way to support this blog without anything coming out of your pocket so please click often!
Save
Save
Save
Save