by Texas Homesteader ~
I wasn't trying to lose weight but the scales inched downward anyway when enjoying this delicious hot & hearty cabbage stew recipe for a few lunches. Cabbage, broth, tomato sauce, peppers & onions and a can of mixed vegetables was all I needed.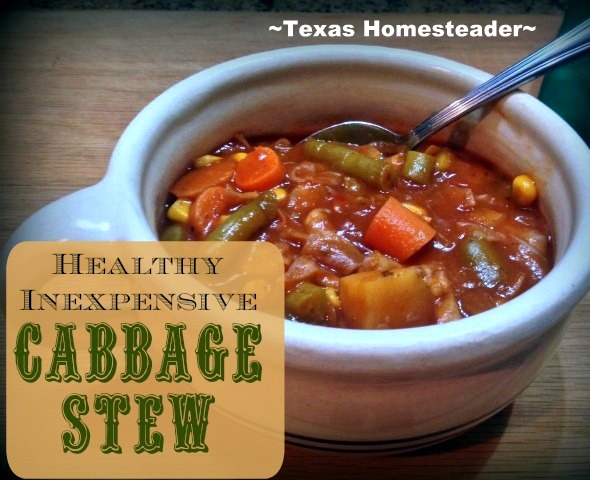 Cabbage Stew As A Weight Watchers Meal?
While visiting with a friend recently she commented that she had been eating lots of cabbage stew lately. Cabbage stew? I'd never heard of cabbage stew but as she described it I was intrigued. YUM!
This friend mentioned that cabbage stew was a healthy soup option on her Weight Watchers program. Although I wasn't really looking to lose weight I've been wanting to try this soup for a while now.
You see, I used to grab a sandwich or something for lunch. But I wanted to eat healthier than a sandwich. I wanted something with lots of vegetables. So especially during the cold winter months I like to enjoy hot soups & stews for lunch.
I've started an endless soup regimen where I can enjoy ready-made hot lunches for about a week. So these healthier lunches are still quick – I just ladle in some soup, heat it up and enjoy!
Quick & Easy Cabbage Stew
I still have lots of dehydrated cabbage in the pantry so I figured I'd incorporate cabbage stew as my soup of choice for the coming week. (but of course you can use fresh chopped cabbage instead of dehydrated.)
Then I just pile in the veggies leftover from prior meals that are needing to be used from my refrigerator. Such things as leftover carrots, green beans or peas.
Then I enjoy hot-n-hearty cabbage soup for several days. And when using this cabbage stew for a week-long endless soup I often just add a can of veggies every day or so – juice and all.
This is a very flexible recipe of course. Pile in the veggies you love the most. But here's the base Cabbage Stew recipe I typically start with: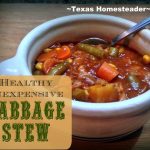 Hot & Hearty Cabbage Stew
Ingredients
3 

cups 

Chopped cabbage

1 

15 oz can

tomato sauce

1 

qt 

broth

1 

rib 

celery,

chopped

1 

small

bell pepper,

chopped

1

cup

red onion,

chopped (about 1 large)

1

15 oz can

mixed vegetables,

Un-drained

Salt & pepper to taste
Seasoning Options:
Mexican flavored

- season with cumin & chili powder

Italian flavored

- season with basil & oregano
Instructions
Instructions:
Place all ingredients into a soup pot.

Then cover the soup pot & simmer gently until vegetables are tender - about 15-20 minutes.

Season to taste. 

Serve soup hot.
Recipe Notes
My favorite serving option:  Season with chili powder & cumin, ladle into bowls and top with sharp cheddar and sliced jalapenos
Save