by Texas Homesteader ~
I need a lazy-cook's recipe for an easy Italian-styled soup. You know, a recipe where I can just start with some cooked ground meat, open a bunch of cans, dump it all in a slow cooker's crock and GO!
Enter this Lazy-Cook's Italian Soup…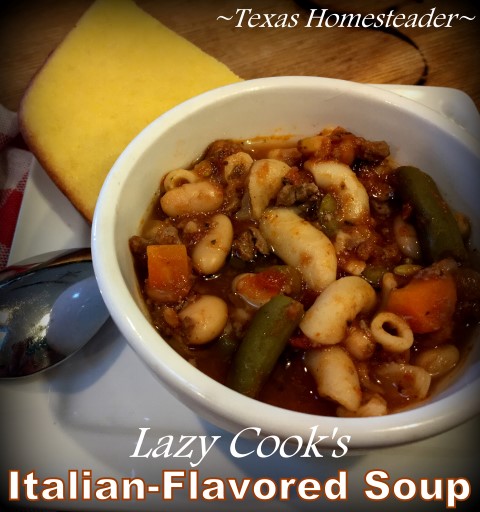 Out Of Town Trip
RancherMan & I were planning a day trip to visit my dad. When we go for a visit I like to take any meal-planning pressure off him.
I'll typically whip up something super easy & portable to bring with us so he doesn't feel he needs to put on a spread for us. On this day I decided a big pot of soup would fit the bill quite nicely.
We typically leave early in the morning so we can drive the 3 hours for our visit. We'll stay all day and plan to be back home around 10 that evening.
I've talked recently about making a soup using a similar lazy-cook's method. ie: open-cans-dump-into-soup-pot. I'd previously made Taco Soup and it was delicious.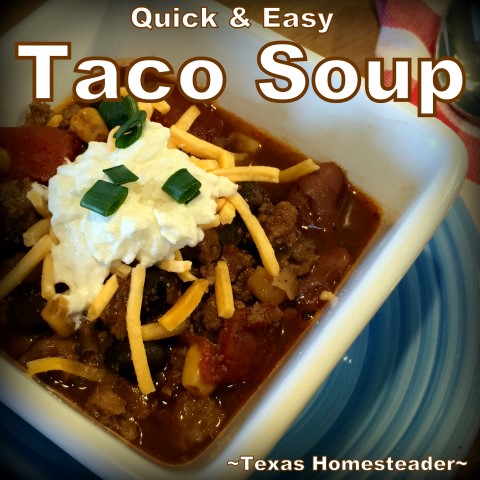 But dad really loves Italian-flavored food. So today I'll use the same lazy-cook's method, but with an Italian flair! Since I'll be whipping up this soup early in the morning I need easy, y'all!
Easy Italian Soup Ingredients
I always have ground pork in the freezer due to RancherMan's hunting talent with the oh-so-many wild hogs on our property.
I even usually have pre-cooked ground meat with sautéed onions & garlic already made and sectioned into 1.5 – 2 cup portions. So I brought a portion from the freezer and let it thaw in the refrigerator overnight.
Since my meat already contains the onions & garlic, I just need to chop a rib of celery to cook along with the pasta. So I toss the chopped celery into the simmering water along with about 1/2 cup of elbow macaroni.
I allow it to simmer for 8-10 minutes & drain. Done & done! Now it's time to assemble my soup.
Putting The Soup Together
I'll be transporting my Italian soup to my dad's house and then warming it in my slow cooker when I arrive. So the soup will all be assembled this morning in the slow-cooker's removable crock.
I stir in my Italian seasoning & place the ground meat/onion mixture in my slow cooker. Then I add a can of drained & rinsed beans. I think any white bean will work here – navy, great northern, garbanzo, etc.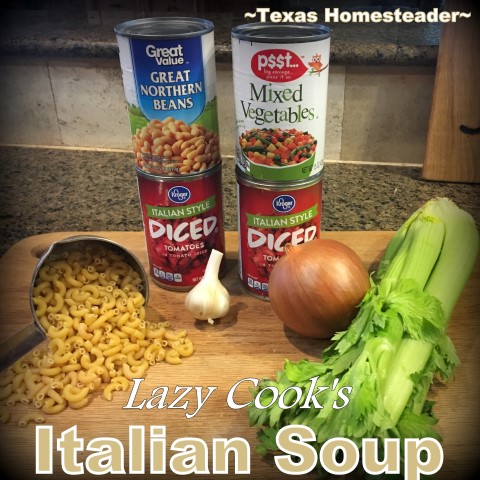 Finally I just toss in the other ingredients – an undrained can of mixed vegetables, some homemade chicken broth & a couple of undrained cans of Italian flavored chopped tomatoes.
I add my cooked/drained noodles, give it a quick stir and I'm done!
Easy Transportation
To transport our soup we placed the removable crock of soup in our cooler along with some frozen water bottles to keep it all cold. We packed up the slow-cooker's heating base to take with us too for easy heating when it's time to eat.
I also made & packed the Homemade Cornbread dad loves (no jalapenos this time) and some delicious Apple Crumble for dessert.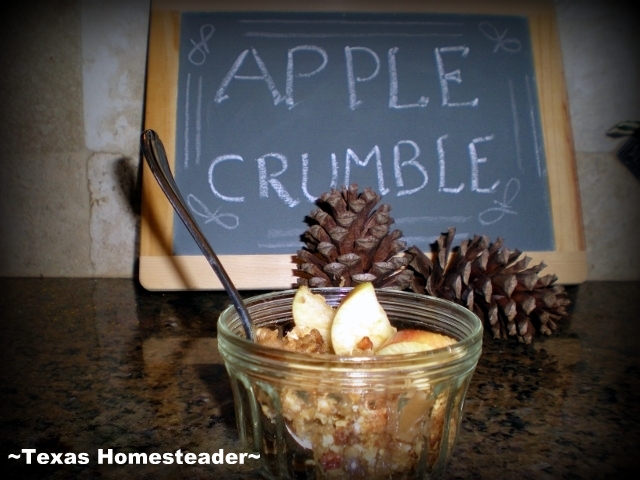 When we arrive at dad's house I'll pull the removable crock from the cooler, place it in its heating base and turn it on low. That soup's already cooked so this warming time just allows all the flavors to marry.
Then when it's time to eat we simply ladle that hot soup into bowls and enjoy.
Simple, delicious, inexpensive and definitely NO FUSS! #WorkSmarterNotHarder I always say.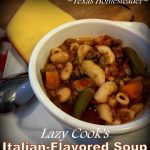 Lazy-Cook's Easy Italian-Flavored Soup
This simple Italian-flavored soup recipe is truly open-cans-dump-them-in easy. Just brown the meat, cook some pasta and dump in cans of veggies - juice and all! If you're looking for a fast way to serve some hot soup, this recipe is for you. #TexasHomesteader
Ingredients
Ingredients:
1

lb

Ground meat

1/2

Onion,

chopped

1

Rib celery,

chopped

1

Garlic clove,

minced

1/2

cup

Elbow macaroni

2

15-oz cans

Italian flavored tomatoes

1

15-oz can

Chicken broth

1

15-oz can

Mixed vegetables,

undrained

1

15-oz can

Great northern beans,

drained & rinsed

1

Tablespoon

Dry Italian Seasoning

ie: basil, oregano, thyme, garlic mixture

Salt & pepper to taste
Instructions
Instructions:
Simmer 1/2 cup of elbow macaroni in 2 cups water for 8-10 minutes. Drain & set aside.


Chop 1/2 an onion and a rib of celery and saute them in a little bacon grease until they're soft.


Add ground meat and seasoning, cook until all pink is gone. Drain away grease.


Place the ground meat/onion mixture in a large soup pot.


Add a can of drained & rinsed beans. (any white bean will work - navy, great northern, garbanzo, etc.)

Add remaining ingredients - an undrained can of mixed vegetables, a can of chicken broth, 2 cans of Italian flavored chopped tomatoes and the cooked/drained noodles. Stir to combine.

Heat gently until heated through and enjoy.

~TxH~
Our Favorite Soups
Want to see other Meal Ideas?





C'mon by & sit a spell! Come hang out at our Facebook Page. It's like sitting in a front porch rocker with a glass of cold iced tea. There are lots of good folks sharing!
And you can also follow along on Pinterest, Twitter, Instagram
To receive an email when a new blog post goes live it's EASY to
Subscribe to our blog!