by Texas Homesteader ~
Poor-Man's Steak (or stuffed hamburger) is a ground meat patty stuffed with grilled onions, peppers & melted cheese. I like to add diced jalapenos for a spicy kick!
We enjoyed this stuffed hamburger patty served on a bed of fried potatoes & topped w/brown gravy. This simple recipe is sure to bring rave reviews.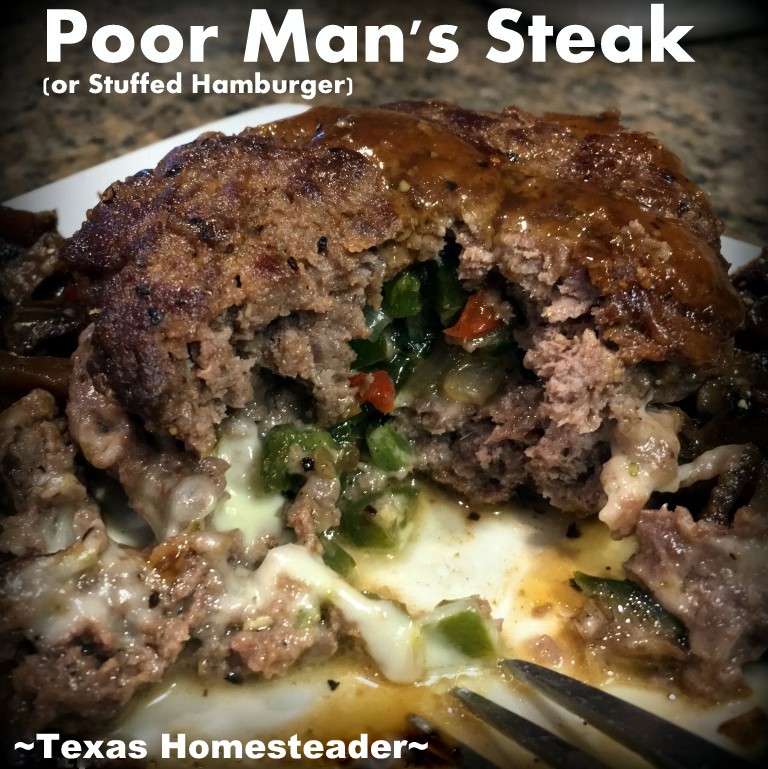 Ingredients For Stuffed Hamburger Patties
For this stuffed hamburger recipe you can use ground beef of course. But in my traditional #UseWhatchaGot mode I often use ground venison or wild pork in place of hamburger.
The simple ingredients for poor man's steak are:
Ground beef (I'll use venison)
Grilled chopped bell pepper
Chopped grilled jalapeno pepper (optional)
Cheese – RancherMan & I love pepper jack cheese, but c

heddar or Monterey jack cheese would also be good choices.
Making Stuffed Hamburger Patties
I divided my ground meat into 10 equal sections to make 5 stuffed patties.
Then I chopped my onion, bell pepper and jalapeno and grilled them on my cast iron griddle until they were tender.
I also cut 5 cubes of cheese.
Now I'm ready to start assembling my poor-man's steak. Let's see how it all comes together with my ground meat: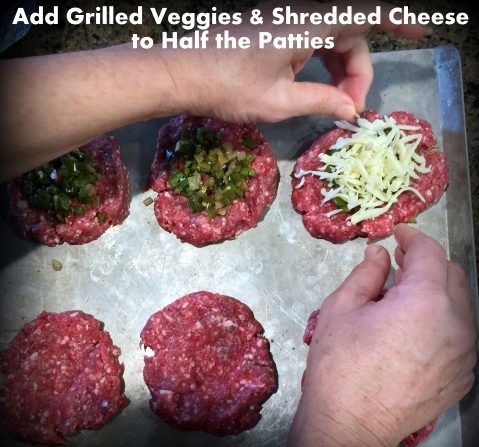 UPDATE: A cube of cheese in the center of the hamburger patty instead of shredded cheese takes longer to melt. This makes it less likely to have cheese melting out of the patty before it's cooked to a safe internal temperature of 160ºF.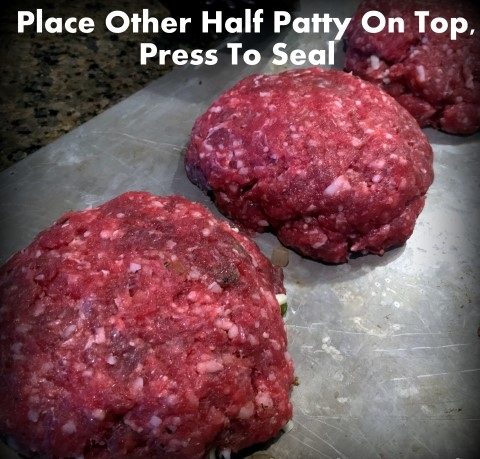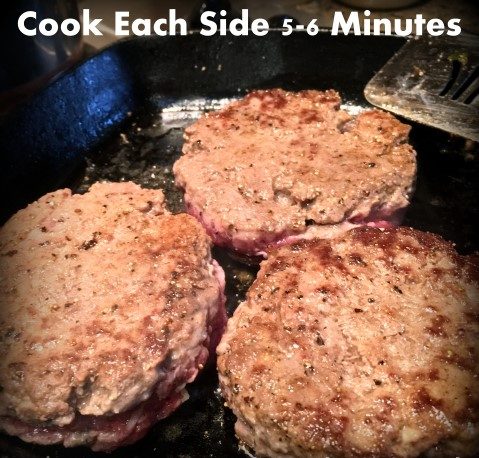 Stuffed Hamburger Problem: Cheese Melts Too Quickly
This Poor Man's Steak was absolutely delicious and RancherMan raved and implored me to not change a thing. So from that standpoint it was a win for sure.
But I was disappointed that in an effort to make sure my ground meat was well done, much of the shredded cheese inside melted away during cooking.
So now instead of shredded cheese I put a small cube of cheese in the middle. The cube takes longer to melt so it stays inside the burger much better.
In asking on our social media page, one of my oh-so-smart FB followers also suggested:
"You have to seal the patties REALLY well. That, and sear them then steam them. The meat cooks quicker and the cheese tends to stay put better."
So maybe I'll try that next time as well…
Serving Suggestion For Poor Man's Steak
When we enjoyed Poor Man's Steak in the restaurant they served it to us on a bed of fried potatoes & topped it all with brown gravy.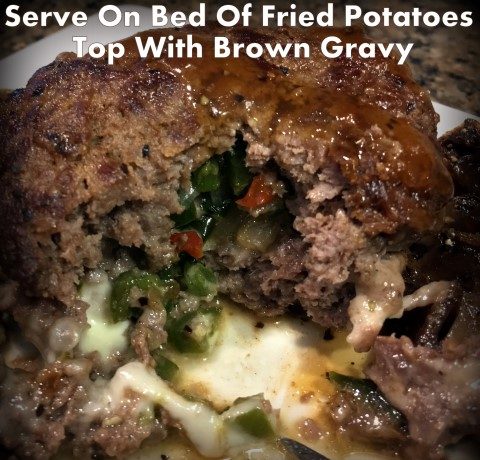 But I've also served it covered in cream gravy instead of brown on occasion.
Many readers enjoy it served on top of rice instead of fried potatoes.
Or heck, you can serve it as a stuffed patty without putting it on top of rice or fried potatoes and just include a couple of fun sides instead. Whatever works best for your family!
What Goes With Poor Man's Steak
If you want to serve the poor man's steak as a patty there are many fun sides you might choose to go with it.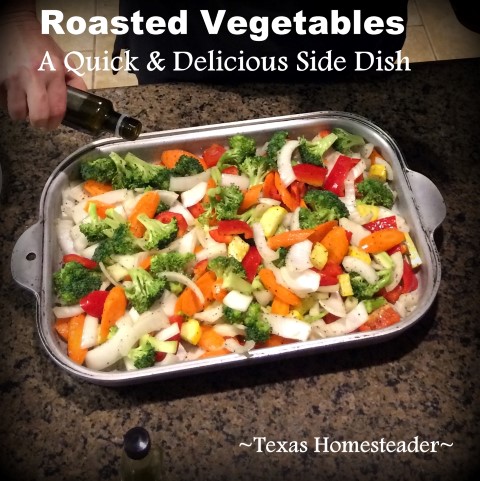 You can see all our fun side dish ideas by clicking the button below:

Anyway, here's the recipe for Poor Man's Steak. If you give it a try please leave a comment below with a rating. Thanks!
Did you make this Poor Man's Steak? Please rate the recipe in your comment below!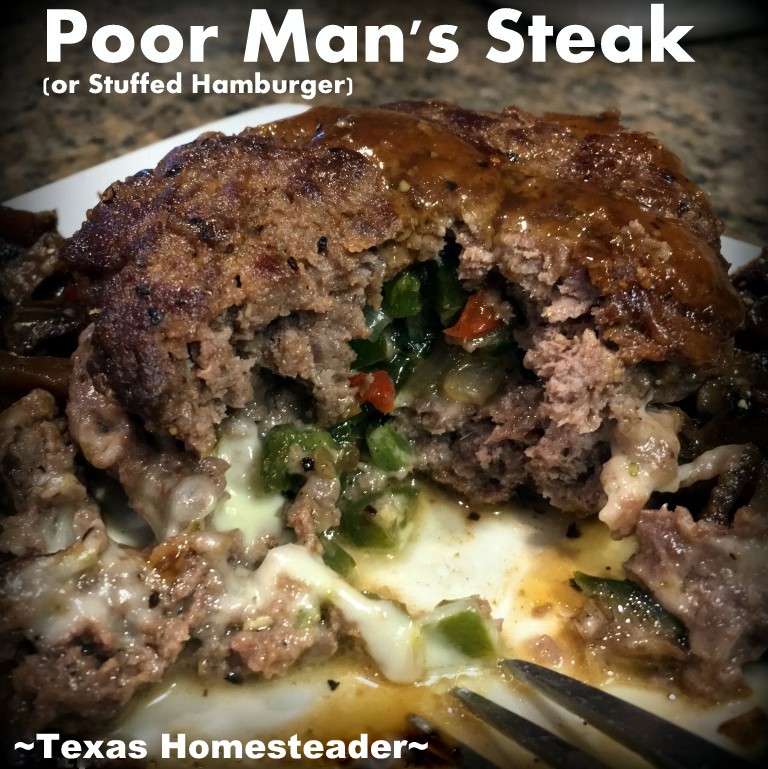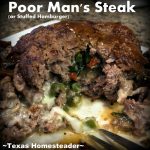 Poor-Man's Steak (ie: Stuffed Hamburger)
This poor-man's steak is just a hearty stuffed hamburger patty. I've grilled onions and peppers and stuffed them into a hamburger patty with cheese. The result is delightful and delicious. #TexasHomesteader
Ingredients
2

lbs

ground meat

(I used ground venison)

Chopped onions/bell peppers to taste

(I used about 1/2 cup total)

3

OPTIONAL

Chopped jalapenos,

4

oz

Cheese cut into 5 equal cubes, 1 for each patty

(I used pepper jack cheese)

1

teaspoon

salt

1/2

teaspoon

pepper

1/2

teaspoon

onion powder
Instructions
Grill the chopped onions, bell peppers & jalapenos (if using) on a griddle coated with bacon grease until soft & set aside.

Season ground beef with 1 teaspoon salt, 1/2 teaspoon of pepper & 1/2 teaspoon onion powder.

Separate the 2 lbs of ground meat into 10 equal sections of approximately 1/4 lb each (5 burgers).

Flatten each meat section & add the sautéed peppers & onions to the middle of half the patties. Add a small cube of cheese on top of the sautéed veggies. Then top with another section of ground meat and press the edges to seal.

Fry each side of the patty until done - about 5-6 minutes each side.

If desired, serve patties on a bed of fried potatoes and ladle brown gravy on top.
Recipe Notes
These burgers are thicker than normal so it takes a little longer to cook them. I cooked each side about 5-6 minutes so I could make sure it was well done all the way through.
This recipe will make 5 large restaurant-sized servings. So feel free to reduce down to smaller patties for more servings if desired.
~TxH~
This post categorized in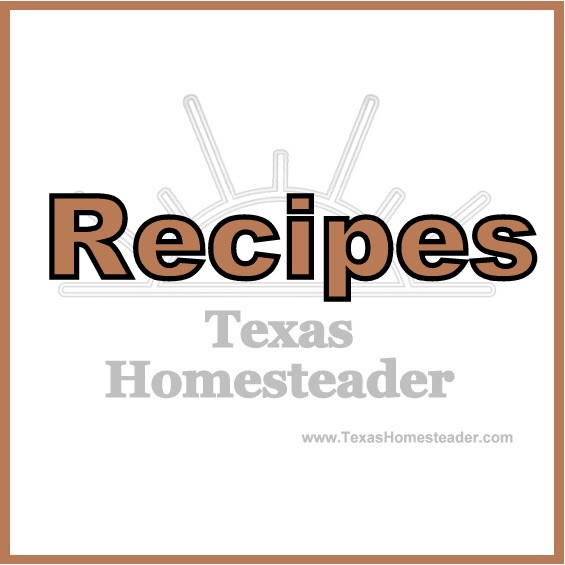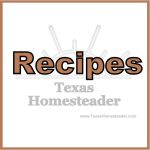 C'mon by & sit a spell! Come hang out at our Facebook Page. It's like sitting in a front porch rocker with a glass of cold iced tea. There are lots of good folks sharing!
And you can also follow along on Pinterest, on Twitter, or on Instagram
To receive an email when a new blog post goes live it's EASY to
Subscribe to our blog!