by Texas Homesteader ~
Many times part of your New-Year's Goals is to declutter. I know many various decluttering tasks are certainly sprinkled liberally in my monthly New Year's Goals! One area that has been sorely needful of decluttering is my utensil drawer.
So when RancherMan & I were unloading the dishwasher one day he half-teasingly mentioned the state of the utensil drawer. I knew something had to give!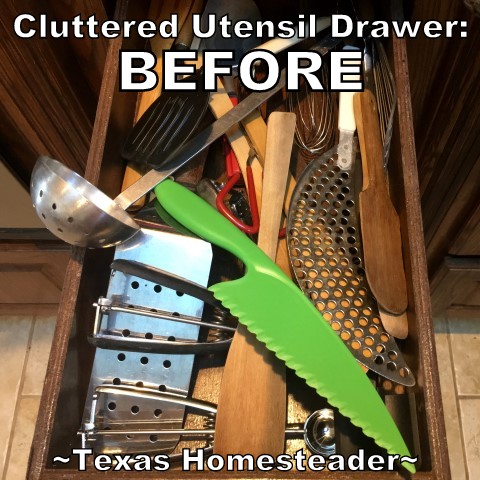 Now out of financial necessity and environmental sensitivity, I'm in my kitchen cooking from scratch daily. So that much home cooking necessitates the right tools to get the job done.
(Plus let's be honest, I'm a kitchen-utensil junkie. eh hemmmmm!)
Quick & Easy Utensil Decluttering Step
Here's what I did: I took the entire contents of my utensil drawer and dumped it on the counter. I sorted out the no-exception tools that I use all the time or that once belonged to my grandmother.
Definitely-stay items such as my stainless-steel spatula, another non-scratch spatula for my stainless-steel pans, my grandmother's antique wire whip, the vintage heavy-duty potato masher, cookie scoops, heavy stainless whisk and some of my wooden utensils were put aside.
Much of what was left was either a duplicate of something I had or something that was used pretty sparingly. I dumped all of those utensils in a box and placed the box in the office.
That way if I found I needed something it was right there for me to fetch it. I had to be brutal with the culling though.
Be Strong!
It was important to remove thoughts of 'maybe someday I'll need this' or 'this utensil is too good to give away' when dumping utensils into the box. But I find that's always the case when decluttering whether the closet, your office or the kitchen. Be strong!
Now after 30 days I'll bundle up anything left in that box and send it off to Goodwill or perhaps offer it to someone just starting out in their own home.
Simplified Utensil Drawer
In the meantime my utensil drawer is less crowded and it's so easy for me to find the utensil I'm looking for quickly.
Things no longer get snagged on other utensils when I'm trying to fetch them. The drawer no longer snags as I'm trying to open it. (ugh)
This has improved the efficiency in my kitchen mega fold! It's like a Snow White fairytale, as I glide around the kitchen whistling a happy tune.
Too much? OK, well at least it does get me in and out of the kitchen quicker!
I must say this has been by far my easiest decluttering move this year. Give it a try!
~TxH~
Other Kitchen Hacks


C'mon by & sit a spell! Come hang out at our Facebook Page. It's like sitting in a front porch rocker with a glass of cold iced tea. There are lots of good folks sharing!
And you can also follow along on Pinterest, Twitter, Instagram
If you'd like to receive an email when a new blog post goes live,
subscribe to our Blog!