by Texas Homesteader~
I quit doing New Year's Resolutions several years ago, yet the aspirations I have on New Year's Day for improving things throughout the new year have not been abandoned. And now they're actually ACCOMPLISHED!
How do I do it? Read on.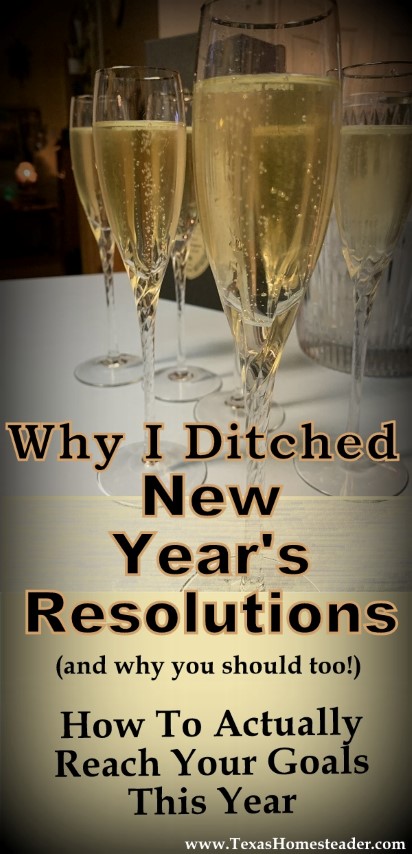 New Year's Traditions
Sing it with me now, "Should old acquaintance be forgot and never brought to mind…" Aaaaah it's that time again. A brand new year.
I love new beginnings and a new year is a wonderful beginning filled with promise & possibility.
Many folks celebrate the new year by making New Year Resolutions. You know the ones – "I resolve to lose weight, or save money, or (fill in the blank)".
I think reaching for improvement is an important thing to do. And there's no time like the start of a brand spankin' new year to do that.
But even though your heart's in the right place, those open-ended resolutions often get forgotten within the first two weeks of the new year. #amiright??
Years ago I quit making New Year's Resolutions and instead starting making New Year's GOALS instead.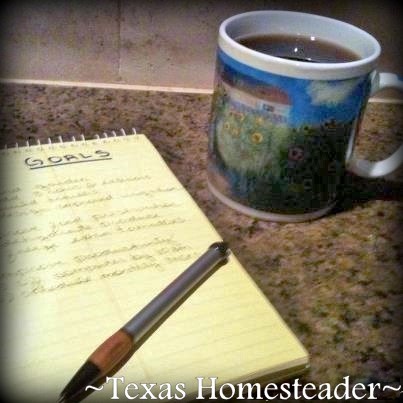 Stay with me now, there's a point to be made.
Just writing a long list of goals on a piece of paper will be forgotten in the same amount of time those resolutions did. I needed a way to actually attain my goals.
Tricks I've Used Successfully For New Year's Goals:
1 – Don't make your goals out of reach for you. Goals should be a challenge to attain but not insurmountable.
2 – Don't list your goals in an obscure way. Saying "Get In Better Shape" won't give you any real direction to be able to meet your goals. Instead you might make it a goal to "Walk briskly 30 minutes three times each week".
3 – Make a list of steps to reach your goals. If you plan to plant a veggie garden this year don't just write down a goal of "Plant A Garden". First make mini-goals to select your garden spot, then to amend the soil, then to plant your seeds.
Sample Monthly Goals
By using this goal procedure I've been much more successful in actually attaining the goals I aspire to attain each year. But there's another important tip for laying out your goals.
Instead of listing the goals I hope to attain sometime in the coming year I've made a list of each month and added at least one goal project next to each month. For instance:
January – *Empty master bedroom closet, declutter & rearrange
February – *Make Soap For Christmas Gifts. *Document Veggie Garden Planting Order
March – *Paint The Chest of Drawers
April – *Wash All Windows Inside & Out. *Repaint Barn's Squeeze Chute & Alley
I try to schedule tasks that will be appropriate for the time of year – inside tasks during the scourge of my existence (ie: ragweed season), outside tasks when the weather will be warmer, etc.
New Year's Goals Reminders
Now that I have my anticipated tasks all laid out I go into my email's calendar and note at the beginning of each month what the task to complete will be for the month.
I schedule an email to be sent to me the first of the month with this month's task(s) to be completed.
When I receive my monthly reminder I'll set out to complete that month's task(s) as quickly as possible.
Then at the end of the year – bada-bing, bada-BOOM all the New Year's goals I had dreamed of completing waaaaay back at the beginning of the year are completed.
Do you do New Year's Resolutions? Do you write down goals instead?
If you've been frustrated about the lack of motivation & staying power in the past give this procedure a try, I think you'll be pleasantly surprised at the results.
~TxH~
Other Budget-Stretching Articles
Other Low-Waste Stories


C'mon by & sit a spell! Come hang out at our Facebook Page. It's like sitting in a front porch rocker with a glass of cold iced tea. Lots of good folks sharing! You can also follow along on Pinterest, Twitter or Instagram.
If you'd like to receive an email each time a new blog post goes live it's EASY to
Subscribe to our blog!
Save