by Texas Homesteader
* contains affiliate links
Solar screens significantly reduce the heat coming into your home through the glass windows. We made our own solar screens in an afternoon! Read how solar screens save you money keeping that summer heat OUTSIDE where it belongs!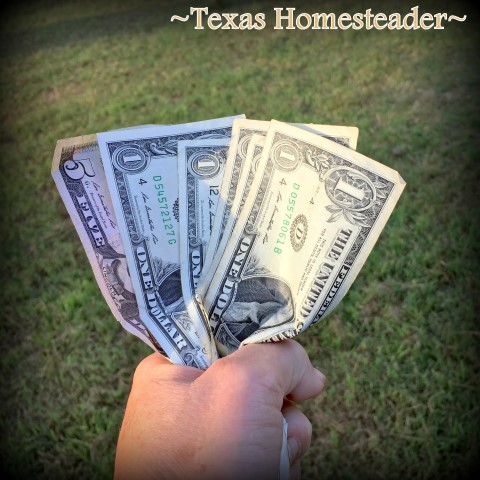 (Note: Some links in this post are for further information from earlier posts I've written. But links preceded with * are affiliate links. If you click them and buy something (almost anything, not just the item noted) I could receive a tiny commission. But the price you pay will NOT change. It's an easy way to support this blog without anything coming out of your pocket. So click often! Thank you!)
Living in the hot/humid environment of Northeast Texas, we built our home with passive solar design in mind. The steps we made during construction have made a pretty drastic impact on our typical energy usage. But not everyone is in the construction phase of their home.
No worries, there are easy and inexpensive ways to keep the heat of summer outside where it belongs. And doing so will let you cash in on lower utility bills for years.
Solar Screens Reduce Heat Coming Into Your Home
One such way is with solar screens. These screens are made of a special material that shades your windows from almost all of the sun's heat yet still allows you to see outside.
(now here's the part you're really gonna love)
We made solar screens ourselves in an afternoon and saved a ton!
Solar screens really do make a drastic difference in the heat coming through your windows. RancherMan & I were very pleasantly surprised.
And by having solar screens on our windows, we reduced sun-fade on interior fabrics. Solar screens also offer a higher level of privacy than standard screens. Plus I love the way they look on our home.
But even with all these benefits, having these specialty screens installed can sometimes be kinda pricey. And 'kinda pricey' always has us looking for options.
Do Solar Screens Make Your House Dark?
I've had several readers ask if solar screens make our home darker inside. Yes there's somewhat less light coming in, but not by much at all. Our home is an open floorplan, so there's lots of light coming from various sources at any given time anyway.
I liken the light reduction to the same effect of sunlight intensity being reduced when you're standing beneath a shade tree. Or perhaps when you slip on a pair of sunglasses.
And I really like that the harsh glare I typically experience at our windows are significantly reduced when the solar screens are installed.
Easy To Make Your Own Solar Screens
We found how simple it was to obtain the materials needed and also how super simple it was to make those screens ourselves. RancherMan & I made them in our garage with very little time expended.
Here's how you can make your own solar screens too:
First you'll want to carefully measure the windows for which you want to make screens. Then you buy the screen materials.
Supplies Needed To Make Solar Screens
Metal hardware to make the screen's frame,

Frame corners to connect the pieces into a window-sized rectangle,

Spline to hold the screen to the frame,

Depending on the size of the screen you might want cross braces as well to hold everything rigid. That's helpful for larger screens.

You'll also need the actual solar screen material. It typically comes in several different colors.
I searched and found different widths and colors of * solar screen at Amazon
. So even if you don't have a big-box home improvement store handy you can have solar screening shipped directly to your home!
Tools Needed To Build Solar Screens
We only needed three simple hand tools to assemble our screens.
A hacksaw to cut the metal frame to size.
Spline tool to roll the spline onto the frame to hold the screen in place,
A razor blade to carefully trim the excess screen material after it was attached.
Bada-boom, bada-bing – SCREENS!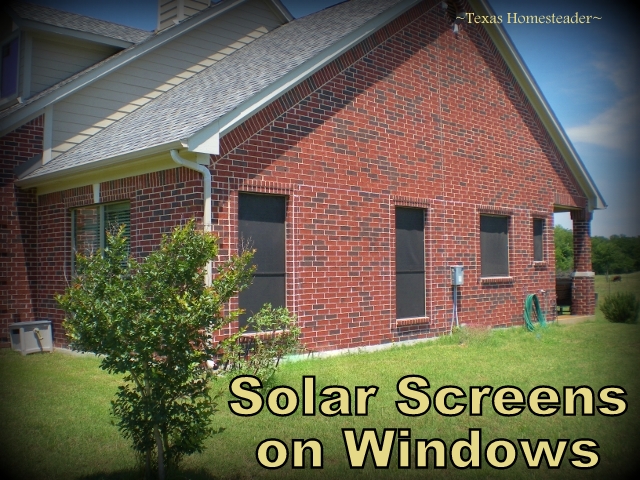 Solar Screens Not Needed On All Windows
We were able to save even more money by determining which windows actually needed a specialty screen.
There was no need to outfit the whole house with specialty screens since not all windows had problems with the sun's intensity.
So instead of making solar screens for every window on our home, we decided to make them just the problem ones that face the east.
Our south-facing windows aren't a problem in the summer months, our northern windows are protected by a covered porch and we (by design) have no western-facing windows.
Seasonal Screen Installation or Storage
Solar Screens During Hot Months:
Each year at the first hint of Texas summer heat, we bring the solar screens from the attic where they've been stored. It takes only minutes to slide the screens onto those few eastern-facing windows.
The solar screens keep the sun's intensity from heating our home during hot months.
Solar screens block rays that can fade carpet & upholsteries.
Solar screens provide additional privacy from those windows.
They work hard all summer long cutting down on the intense summertime heat that would typically pour through the glass of those windows during those hotter months!
No Solar Screens During Cold Months:
Then in the fall when the daily temperatures start to fall we remove the screens and place them back up in the attic. We remove the screens in the cooler months primarily for two reasons:
We actually want to get that lower-level winter sunshine through those windows to help give the house a little solar warmth in the wintertime.
Since the sun sinks lower in the winter months this offers a little more light during the more bleak winter months.
Building, installing and removing these solar screens for storage has all been super easy and served us well for years. And they've offered many benefits as well – reducing heat transfer in the summer, reducing interior fabric fade and adding a nice look to our home.
Our current solar screens have been in use for nearly 10 years and they have several more years life left in them.
Easy peasy!
~TxH~
This post categorized in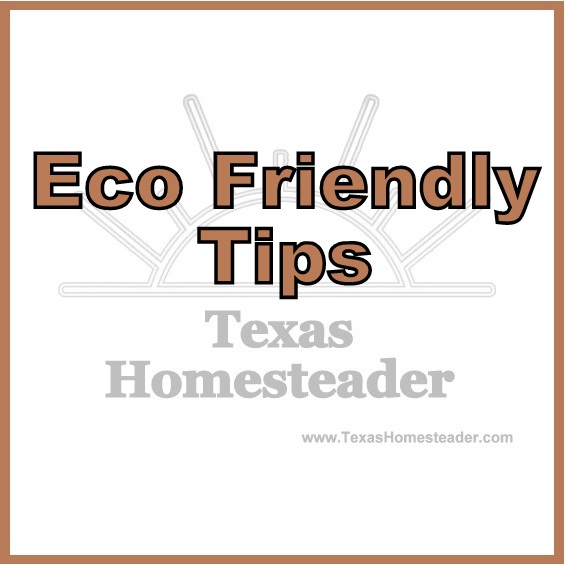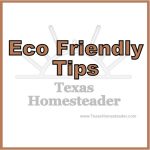 Other Budget-Stretching Articles
Other Low-Waste Stories
Other Eco-Friendly Posts
…and Many More


C'mon by & sit a spell! Come hang out at our Facebook Page. It's like sitting in a front porch rocker with a glass of cold iced tea – lots of good folks sharing! You can also follow along on Pinterest, Twitter or Instagram.
If you'd like to receive an email each time a new blog post goes live it's EASY to
Subscribe to our blog!
* Affiliate Links – We are currently enrolled as an Amazon Affiliate (others could be added in the future) Occasionally I will insert an affiliate link into one of my posts if I think it may be of interest to you. If you click on one of those links and buy something (almost anything, not just what was linked) I get a small referral percentage from them – the price you pay for those items is UNCHANGED.
When you buy something through the affiliate link it's a great way to support this blog without anything coming out of your pocket so click often!