by Texas Homesteader ~
One of my favorite desserts is blackberry cobbler. This simple blackberry cobbler recipe comes together in minutes – a delicious dessert for sure.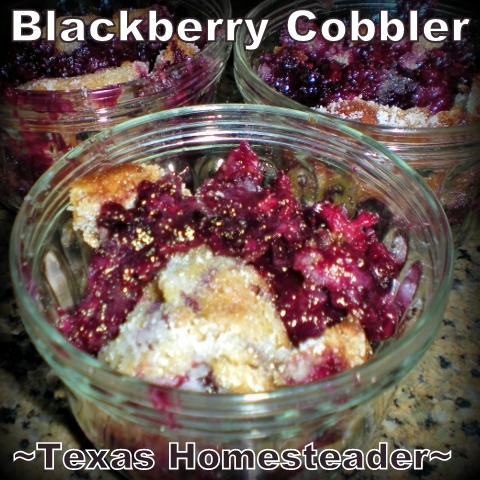 Blackberry season is here! So it's only natural that our thoughts turn to those sweet juicy berries. I put them to good use by making homemade blackberry cobbler goodness in a snap!
Picking Blackberries… or Dewberries?
Dewberries are a type of blackberry that produces slightly smaller berries on a thorny vine growing along the ground instead of larger berries growing upright on canes as blackberries do.
I like to go out early in the morning when it's still cool and collect buckets of the delicious dewberries that grow wild here. Harvesting wild dewberries is a perfect example of Foraging & Eating For FREE In Texas.
But for simplicity in this post & recipe I'll just call them blackberries.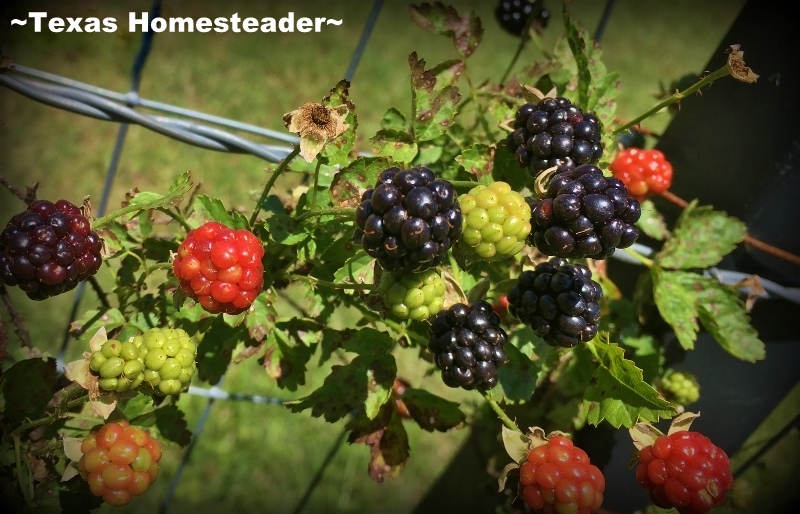 Tip For Freezing Blackberries
I'll bring the harvested berries inside, give them a quick wash and spread them on a towel to dry.
Then l flash-freeze them on a cookie sheet, placing the frozen berries in a freezer bag & back into the freezer. That way the berries stay separated and I can use my measuring cup to scoop out the frozen berry measurement I need for my recipes.
One of my favorite recipes for foraged blackberries is cobbler. I'd asked my sister-in-law for her recipe years ago. I used it as a base for this blackberry cobbler recipe.
Blackberry Cobbler Simple Ingredients
My recipe only has 5 ingredients and serves 4. It's the perfect size for us. But you can double it for more servings.
The recipe is beyond easy and with oh-so-simple ingredients:
4 Tablespoons butter,

¾ cup sugar & 2 Tablespoons additional sugar to sprinkle on top.

½ cup self-rising flour,

½ cup buttermilk,

2 – 3 cups berries,
I love a recipe with simple ingredients, don't you??!!
Do You Really Need Self-Rising Flour?
YES! This recipe calls for self-rising flour. The recipe wont' turn out right if you use all-purpose flour instead.
How To Make Your Own Self-Rising Flour
If you don't have the right kind of flour in your pantry, don't worry! You can easily Make Self-Rising Flour in seconds using all-purpose flour.
The typical ratio I use to make a full cup of self-rising flour is in the graphic below: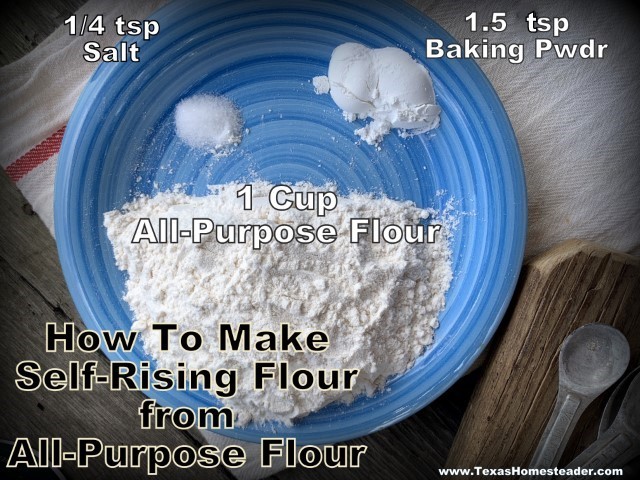 But Since You Need Only

½ Cup

Of Self-Rising Flour For This Cobbler Recipe You'll Use:
½

cup all-purpose flour

¾ teaspoon baking powder

1/8 teaspoon salt
Then you just use this flour mixture in place of the half-cup of self-rising flour called for in the recipe. Easy!
Blackberry Cobbler Quick-Mixing Directions
Mixing up this homemade cobbler was super quick.
In my 6″x8″ casserole dish:
Melt 4 Tablespoons butter in a casserole dish.
In a bowl, mix together 1/2 cup each sugar, self-rising flour and buttermilk.
Pour batter on top of the melted butter.
Sprinkle 2 – 3 cups of blackberries on top of the batter (depending on how heavily you want your cobbler fruited)
(BAKER'S NOTE: In my opinion this cobbler is best with lots of berries, so that's what I recommend and show in the recipe below! #dontjudgeme!)
Sprinkle ¼ cup sugar on top of the berries.
Place the cobbler in a 350-degree oven for 35 minutes.
Bring out of oven & sprinkle 2 tablespoons sugar on top of the berries, returning cobbler to the oven for an additional 10 minutes.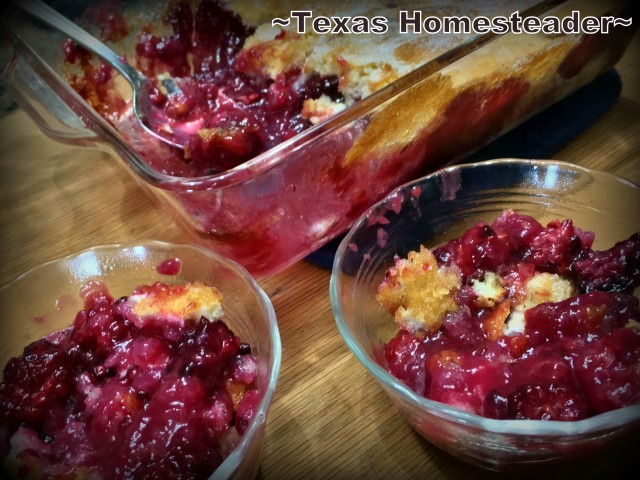 And voila – a homemade dessert that can win my man's heart all over again!
Blackberry Cobbler Ingredients Adjustable For More Servings
This blackberry cobbler recipe fits our small family and serves 4. But it's easy to double the recipe to accommodate a larger family or even to assure leftovers to enjoy later.
If you wanna win your loved one's heart all over again too, the blackberry cobbler recipe is below.
* * * * * * * * * *
Did you make this Blackberry Cobbler? Please rate the recipe in your comment below!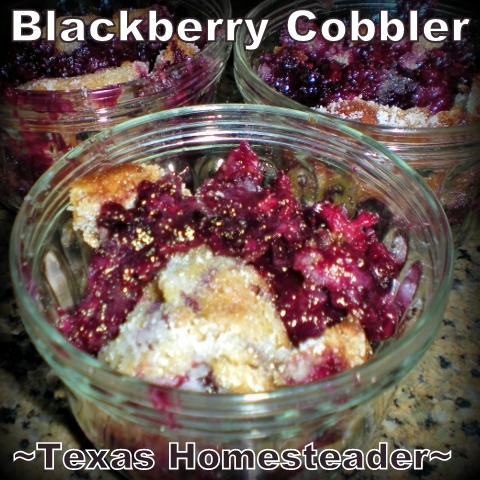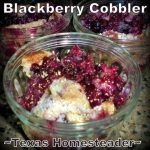 Homemade Blackberry Cobbler
When Those delicious blackberries are in season why not harvest them & make blackberry cobbler? This is a super-simple recipe with delicious results! #TexasHomesteader
Ingredients
4

Tablespoons

(1/2 stick) butter melted

3/4

cups

plus 2 Tablespoons sugar

(divided)

1/2

cup

self-rising flour

(or 1/2 cup all-purpose flour with ¾ teaspoon baking powder & ⅛ teaspoon salt)

1/2

cup

buttermilk

(can use whole milk instead)

3

cups

fresh or frozen blackberries
Instructions
Preheat oven to 350 degrees.

In a 6"x8" microwave-safe dish place 1/2 stick of butter. In microwave heat for 30-45 seconds until melted.

In medium bowl whisk ½ cup of sugar with ½ cup SELF-RISING flour and ½ cup buttermilk.

Pour the batter on top of the melted butter in the baking dish. Add the blackberries evenly over the top of the batter. Sprinkle ¼ cup sugar over the blackberries.

Bake for 45 minutes or until golden brown and bubbly. When 10 minutes of cooking time remains, sprinkle the remaining 2 Tablespoons of sugar or cinnamon over the top and return to oven for the final 10 minutes to complete baking time.
Recipe Notes
NOTE: To make 1/2 cup self-rising flour from all-purpose flour, mix:
1/2 cup all-purpose flour
3/4 teaspoon baking powder
1/8 teaspoon salt
NOTE: You can double this blackberry cobbler recipe for a larger 9"x13" baking dish. Use anywhere from 3 to 5 cups blackberries, depending upon how fruity you'd like your cobbler to be!
NOTE: I've used frozen blackberries for this cobbler and it turned out just fine. I did have to add about 10-15 minutes baking time because of the colder berries.
~TxH~
This post categorized in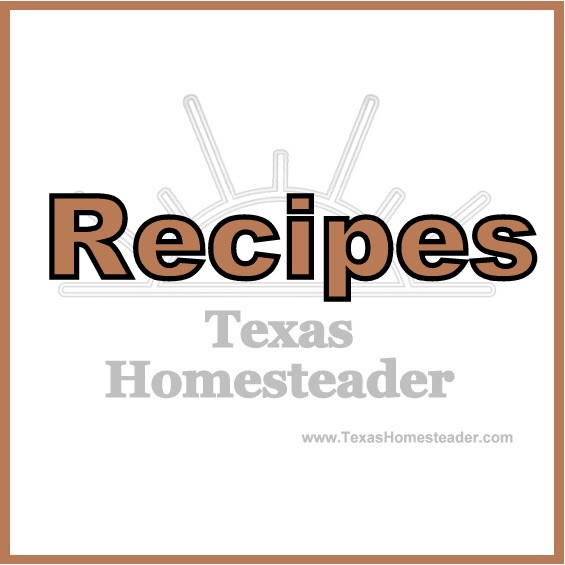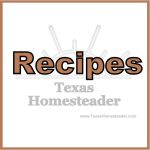 Other Easy Desserts
Cakes, Pies, Cobblers
Muffins, Breads
Cookies
Puddings
Ice Cream & Other Desserts
Dessert Toppings


C'mon by & sit a spell! Come hang out at our Facebook Page . It's like sitting in a front porch rocker with a glass of cold iced tea. There are lots of good folks sharing! And you can also follow along on Pinterest, Twitter or Instagram
If you'd like to receive an email when a new blog post goes live,
subscribe to our Blog!