by Texas Homesteader ~
My easy homemade banana pudding recipe includes healthy wholesome ingredients – milk, real butter, flour, egg yolk, sugar and vanilla – plus bananas & wafers to turn plain vanilla pudding into banana pudding greatness.
Banana pudding is a quick & easy comfort food for sure. And when it's homemade? Well it doesn't get any better than that!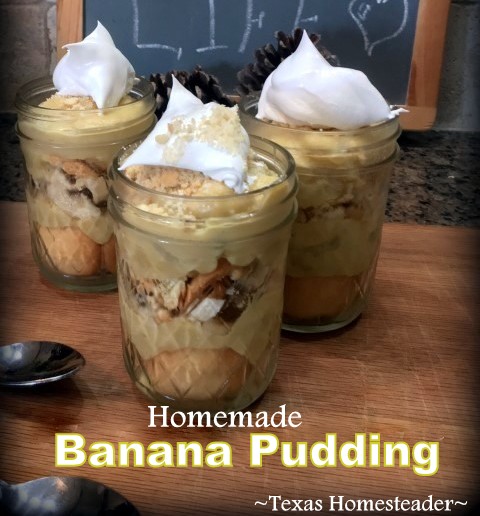 How To Turn Vanilla Pudding Into Banana Pudding
Making banana pudding is easy. I just use my regular vanilla pudding recipe and add bananas and vanilla wafer cookies to turn it into banana pudding.
Vanilla Pudding Ingredients
Granulated Sugar

All-Purpose Flour

Butter

Milk

Egg yolk
Add-Ins To Make Banana Pudding: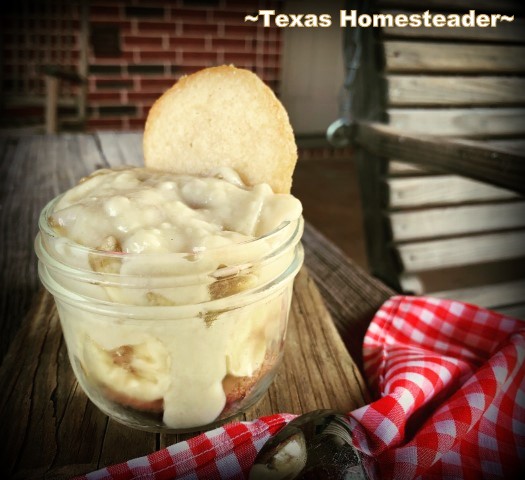 I'll show my pudding-making procedure to you in this post. And I'll also share my recipe at the bottom of this post.
Making Homemade Banana Pudding
Pudding is one of the easiest desserts for me to whip up. So preparing the pudding was a snap.
Combine 1/2 cup sugar, 3 Tablespoons flour and a dash of salt in a pan.
Add 1 cup boiling water and 3 Tablespoons of butter & stir to combine.
Turn stove heat to medium.
In a measuring cup blend 1 egg yolk & 1 cup of milk.
Baker's Note

: You can include up to 3 egg yolks to make a richer pudding – I usually just go with one though.
After butter melts pour milk mixture into the pan, stirring constantly.
As pudding starts to thicken, add 1 mashed a banana.
When the pudding is as thick as you want, remove from the heat and stir in 1 teaspoon of vanilla extract.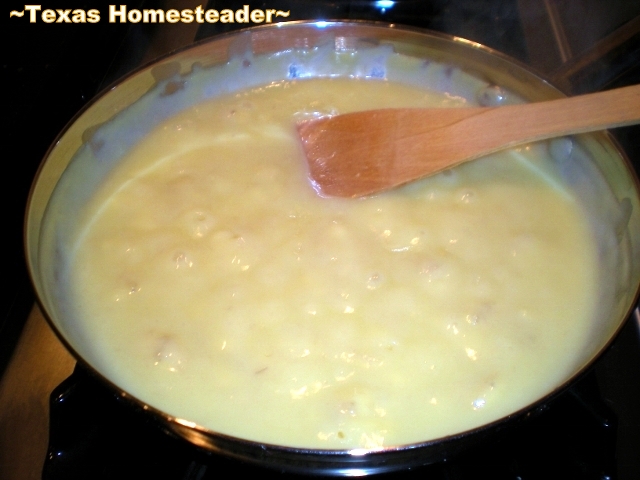 When you're ready to serve, line a dish with vanilla wafers and spoon in the homemade pudding. Top with more vanilla wafers and prepare yourself for adulation.
Really! That's all there is to making homemade banana pudding. A simple dessert that really satisfies.
How To Serve Homemade Banana Pudding
If I'm serving my homemade banana pudding from a single dish I first line the dish with cookies.
Then I place a layer of sliced bananas on top of the cookies. This gives a little chunky banana texture to the pudding.
The hot pudding is then poured into the dish. Finally I top it with more cookies.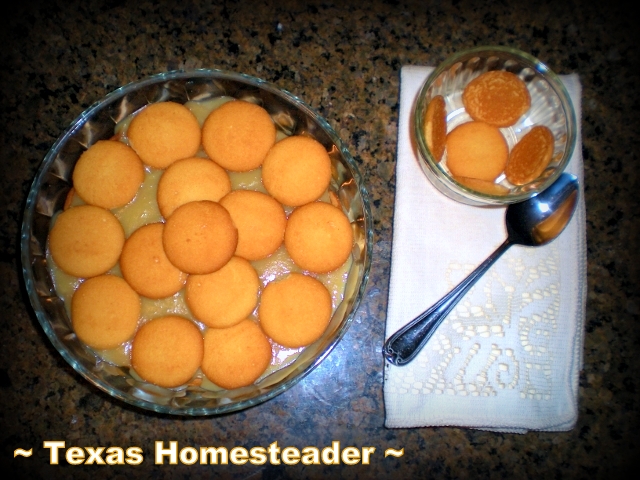 You can either crush the cookies and sprinkle them evenly on top or simply place cookies so it covers the top of the pudding.
When it's time to serve the pudding I line a small dish with a few more wafers and spoon in the warm pudding.
Transporting Homemade Banana Pudding Easily
Instead of pouring the hot pudding into a single dish, you can serve your homemade banana pudding in single-serve 1/2-pint jelly jars too.
I really love the way they look when served this way.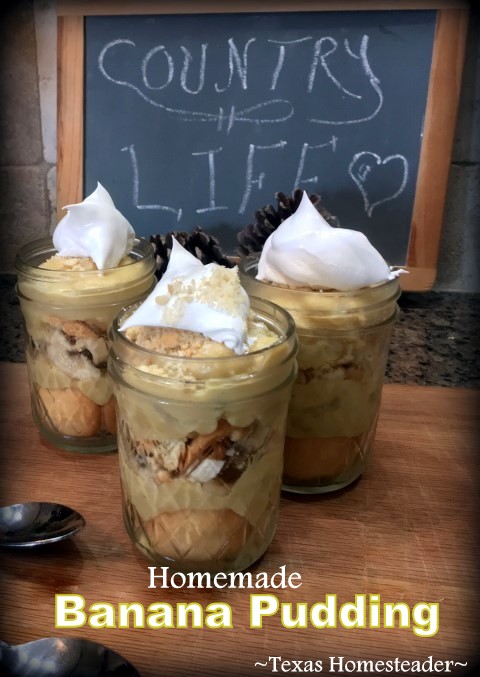 Mama always said "Presentation is half the meal", and mama's always right!
Not only does this present your pudding beautifully, but it's a super-easy way to transport banana pudding, whether to a dinner party or a fun outdoor picnic.
Another benefit is that the pudding can be made in advance, placed in these small jars and topped with a lid.
Transporting the pudding in these small jars makes it simple when serving too – already portioned out in single-serving sizes. And oh-so-cute to boot!
When you're ready to serve, remove the lid, add a dollop of whipped cream and hand 'em a spoon! You serve the pudding right in the jars.
Layering Pudding Into Single-Serve Mason Jars
Sectioning off the pudding in single-serve jars was easy. I just layered cookies on the bottom of the jar and then poured in the pudding to fill about a third of the jar.
Then I chopped some bananas and laid them on top of the pudding, added a crumbled cookie, and finished filling up the jar with additional pudding.
A dollop of whipped cream and a sprinkling of crushed cookies on top and BAM!
Homemade Banana Pudding Like A Hug From Home!
Our daughter came to the Homestead recently for a long-overdue visit. Now although she currently lives on the east coast, she's got deep roots in Texas.
Inside she's a Texas girl through and through. And she longed for some good 'ole Southern eating during her visit. So I made banana pudding for dessert.
Our daughter loved the banana pudding and it gave her a home-spun southern-country hug that she had been craving.
And now as promised, here's my vanilla pudding recipe – simply add the bananas and cookies if you prefer a delicious homemade banana pudding instead.
Enjoy!
* * * * * * * * * *
Did you make this Banana Pudding? Please rate the recipe in your comment below!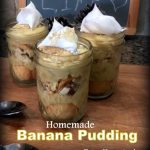 Homemade Vanilla Pudding (with Banana Pudding Add-Ins)
Good ole comfort food. Homemade Banana Pudding layered with sliced bananas and crumbled vanilla wafer cookies. Could anything be better?? Texas Homesteader
Ingredients
1/2

Cup

Sugar

3

Tablespoons

All Purpose Flour

1

Dash

Salt

1

Cup

Boiling Water

3

Tablespoons

Butter

1

Cup

Milk

1

Egg Yolk,

beaten (can use up to 3 for richer pudding)

1

teaspoon

Vanilla Extract
Banana Pudding Add-Ins:
1

Banana,

mashed (Add-ins for Banana Pudding)

1 - 2

Bananas, or to taste

chopped (Add-ins for Banana Pudding)

20

Vanilla Wafers, or to taste

(Add-ins for Banana Pudding)
Instructions
Mix sugar, flour & salt together in skillet on stove.


Add boiling water & butter and stir to combine and turn heat on medium. Heat until butter is melted


Mix milk and beaten egg yolk together in separate container and pour into the pudding and stir.

OPTIONAL: For Banana Pudding, add 1 mashed banana now

Continue to cook over medium heat until thickened. When pudding is thick remove from heat and add vanilla extract.

Allow pudding to cool slightly - either serve warm or cover top of pudding with cling wrap to keep skin from forming and store in the refrigerator.

OPTIONAL - For Banana Pudding, add chopped bananas atop a bed of vanilla wafers, ladle on pudding & top with additional vanilla wafers as desired.
Recipe Notes
NOTE:  Can use up to 3 yolks for a richer pudding
~TxH~
This post categorized in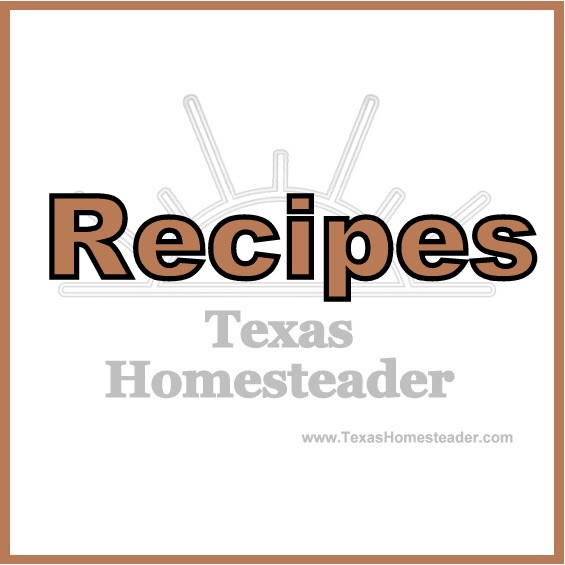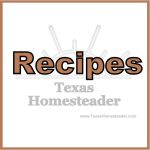 Other Easy Desserts
Cakes, Pies, Cobblers
Muffins, Breads
Cookies
Puddings
Ice Cream & Other Desserts
Dessert Toppings


C'mon by & sit a spell! Come hang out at our Facebook Page . It's like sitting in a front porch rocker with a glass of cold iced tea. There are lots of good folks sharing! And you can also follow along on Pinterest, Twitter or Instagram
If you'd like to receive an email when a new blog post goes live,
subscribe to our Blog!
Save
Save
Save