by Texas Homesteader ~
This no-bake lemon icebox pie is a cooling lemony dessert when the summer temps turn hot! And you can make it in just 5 minutes using only 4 ingredients too! (But I'll show you how to make some of those ingredients yourself for CHEAP)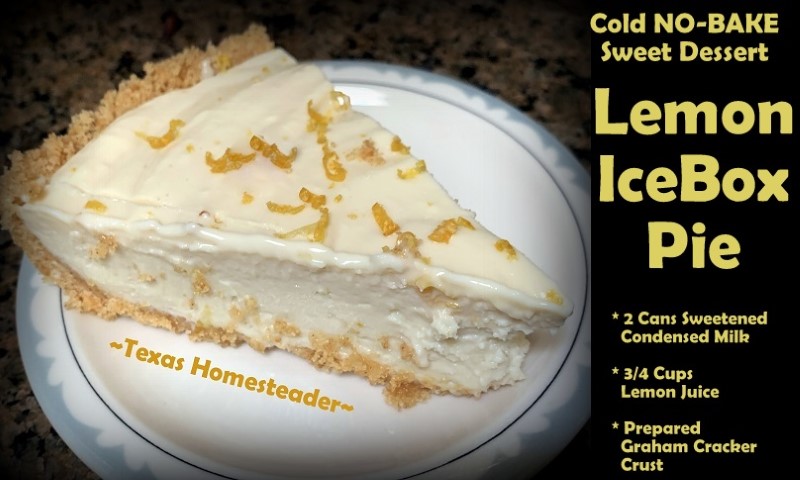 (Note: Some links in this post will take you to other related articles for further information. But links preceded with * are affiliate links. If you click and buy something I could receive a tiny commission.)
A Cooling, Lemon-Flavored, No-Bake Summer Treat
Keep that summer heat outside where it belongs. Enjoy a cooling, sweet treat that requires no cooking! I recently shared how to Keep Your COOL During Hot Summer Months, and this no-bake ice box pie is the perfect example.
Grandma knew how to serve cooling desserts to her family! Icebox pie heralds back to the old days when simple ingredients were assembled into a pie & placed in an insulated box with ice to keep it cool. Old fashioned iceboxes were around way before refrigerators.
What Are The Ingredients for Lemon Ice Box Pie?
There are only 4 ingredients for this no-bake lemon icebox pie:
(2) cans of sweetened condensed milk (I can show you how to make this ingredient yourself!)

Lemon Juice – be sure to read the note below about bottled lemon juice!

Vanilla extract

Prepared graham cracker crust

Lemon Zest (optional)
Truly, that's all. And the whole shebangie is no-bake so there's no added heat in your kitchen to make it. Truly just mix & chill!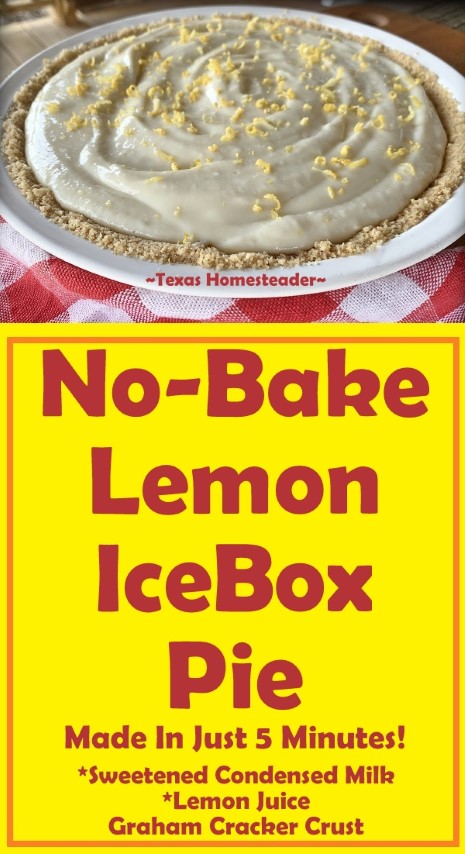 Just Mix – Chill – Serve!
Making A No-Bake Lemon Ice Box Pie In Just 5 Minutes!
If you have these ingredients you can make this lemon cream pie in only about 5 minutes! Here's how it goes:
In a stand mixer, mix sweetened condensed milk, lemon juice & vanilla extract until the mixture thickens.

Pour thickened mixture into prepared graham cracker crust. (sprinkle lemon zest on top if using)

Place lemon ice box pie in refrigerator for 4 hours or overnight.
(you can freeze the pie if you want but you'll want to bring it out of the freezer about 30 minutes before you serve it)
This recipe is fast and simple that's for sure. And sure to please your guests.
But I'll show you how to keep the price tag down for your chilled sweet dessert.
It's super easy to make your own graham cracker crust and sweetened condensed milk.
How To Make A Homemade Graham Cracker Crust
Making your own Graham Cracker Crust is beyond simple and uses only 3 ingredients:
8 crushed graham crackers (just over a cup of crumbs)

A tiny Tablespoon of granulated sugar

4 Tablespoons melted butter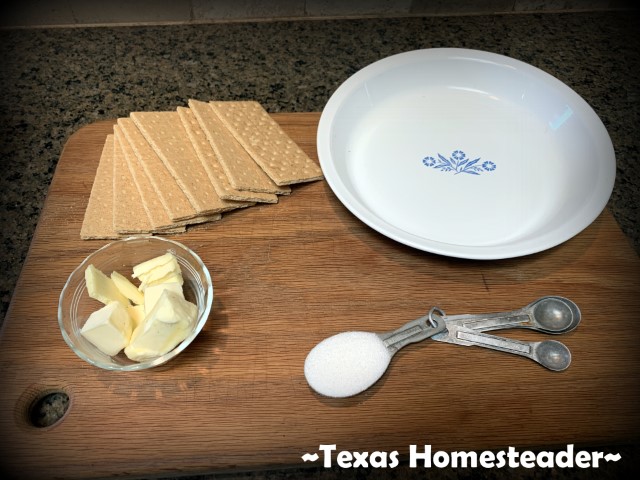 To make my graham cracker crust I break 8 graham crackers into smaller pieces and drop them into a small electric chopper.
Then I add 1 Tablespoon sugar and pulse the machine until the graham crackers are crushed and the sugar is mixed in.
4 tablespoons of butter is melted in the microwave and added to the mix. Then a couple of pulses to blend everything and you're ready!
I bring out my 9" pie pan and pour the crumbs into the pan. Using a measuring cup the crumbs are pressed firmly into place along the bottom and up the sides of the pie pan.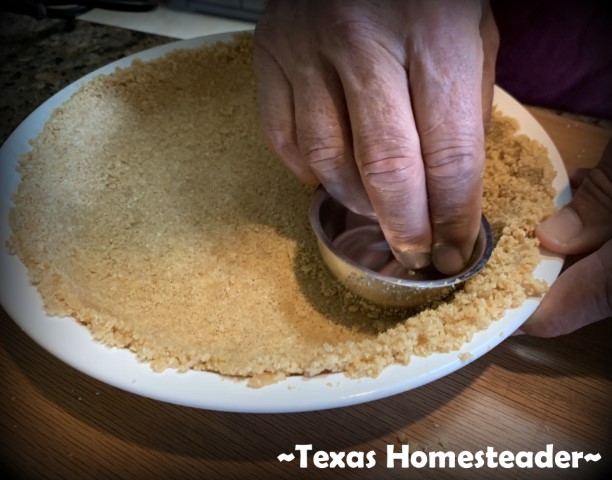 Can you believe it's so easy to make your own graham cracker crust??! Yeah, me neither!
Now that my graham cracker crust is made I slide it into the refrigerator to chill while I make my sweetened condensed milk.
How To Make Homemade Sweetened Condensed Milk
This no-bake lemon cream pie recipe uses two cans of sweetened condensed milk. Where I live sweetened condensed milk costs about $2.75 per can.
I find it to be an expensive ingredient to buy, but oh-so-easy (and CHEAP!) to make Homemade Sweetened Condensed Milk myself. So I almost always make my sweetened condensed milk fresh & homemade.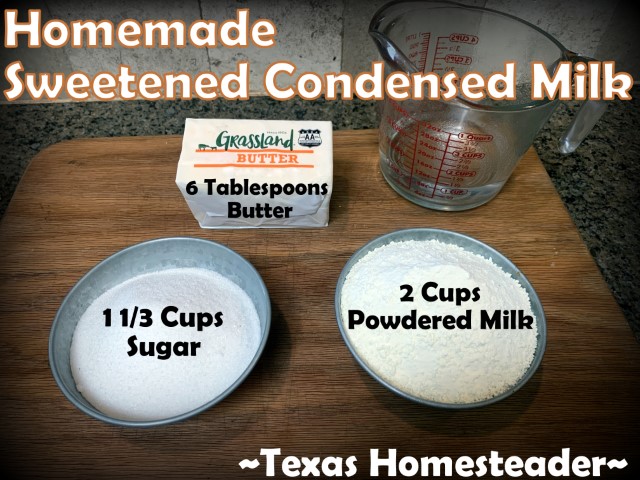 Making sweetened condensed milk only requires 3 standard pantry ingredients & a cup of boiling water:
1⅓ cups sugar

2 cups nonfat powdered milk

6 Tablespoons melted butter

½ teaspoon vanilla extract (optional)
Here are the 'complicated instructions'… Add the boiling water and sugar to the bowl of your stand mixer and using the whisk attachment start blending slowly. (you don't want hot water splashing out at you!)
When the sugar is fully dissolved add the powdered milk, melted butter and vanilla extract.
When it's all incorporated you can bump the speed to 2 or 3 and mix until thoroughly blended – about 1 minute or so.
See??! I told you it was easy!
Do You Need Fresh Lemons For A Lemon IceBox Pie?
The lemony star of the show is of course the lemon juice. You'll be needing ¾ cup lemon juice for this icebox pie recipe.
I'll only resort to using bottled lemon juice to make up the difference if I need more to measure the required ¾ cups of lemon juice after juicing my lemons.
Important Note: When I do use bottled juice I make sure that it's actual lemon juice such as *ReaLemon.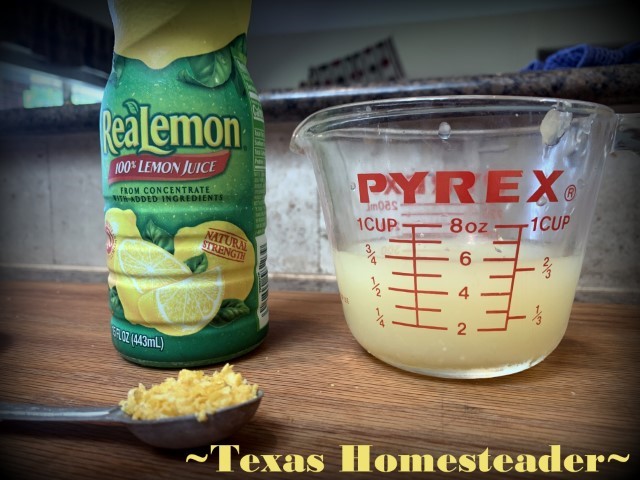 (NOTE: This is not a sponsored post in any way, I'm just sharing my own experience when recipes, jams and jellies didn't turn out because I wasn't using actual lemon juice even though the bottle *said* lemon juice!
All Bottled Lemon Juice Products Are NOT The Same
Many bottled products that are labeled lemon juice are just lemon-flavored juice (like apple juice, grape juice or fruit juice).
I'm sure you'll get lemon flavor with these products (albeit probably much weaker) but I'm not sure you'll achieve the thickening you expect when making this pie! So it's best to use actual lemons, or at least actual bottled lemon juice.
I always use actual lemons and I suggest you do too. I suppose it would take 3 – 4 larger lemons to get ¾ cup lemon juice.
I use a vintage juicer for my citrus juice. It is a zero-waste way to get lemon or lime juice. Plus, I want that lemon zest too!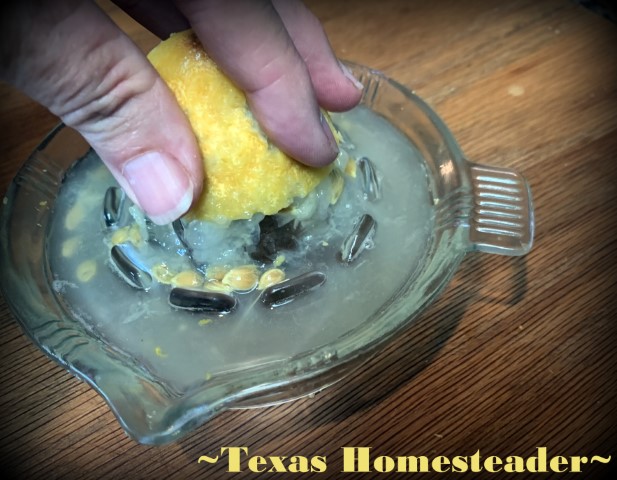 So I pulled a couple of lemons out of the freezer, cut them in half and allowed them to thaw. Because they were previously frozen they will release their juice much easier.
When the outside of the lemon starts to thaw I zest the rind. Having the center of the lemon still frozen makes zesting an easier chore.
The recipe only requires 1 teaspoon of lemon zest but I go ahead & zest both lemons. I'll use what I need for this icebox pie and dehydrate the rest to use at a later time.
Assembling A No-Bake Lemon Ice Box Pie
Now that everything is ready it's time to assemble our cool, refreshing no-bake lemon icebox pie. And that couldn't be easier.
The sweetened condensed milk is already in the stand mixer, so I add the other pie ingredients – measured lemon juice & vanilla extract. Now on slow speed I just mix everything until the pie filling is thickened. It doesn't take long, only a minute or two!
Baker's Note: This lemon pie filling is only very lightly yellow in color. I suppose you could add a drop or two of yellow food coloring if you needed the color of this icebox pie to pop brighter for a dinner party or something. But I never bother with that.
Then I bring my homemade graham cracker crust from the fridge and pour the filling in. It barely fit in my standard depth 9" pie pan, but fit it did!
Embellishing the Top Of Your IceBox Pie
I used a teaspoon of lemon zest to sprinkle on top of the pie. I feel it adds a little lemon punch with every bite!
You could also top it with Whipped Cream if you like.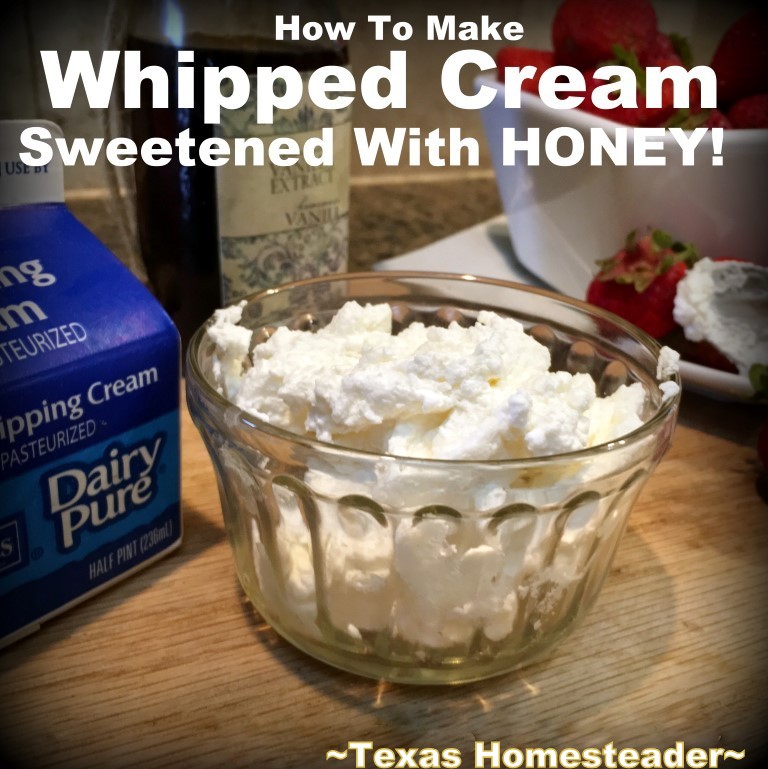 But I feel this pie is sweet enough as it is. So I typically stick with only using lemon zest on top.
Want to make this cooling lemon ice box pie for yourself? The recipe is below.
Did you make this dessert? Please rate the recipe in your comment below!
No-Bake Lemon Ice Box Pie
This Lemon icebox pie recipe uses only sweetened condensed milk, lemon juice & vanilla extract mixed & poured into a graham cracker crust. Delicious and refreshing for those hot summer days. And you can make this lemon icebox pie in only about 5 minutes! #TexasHomesteade
Ingredients
No-Bake Lemon Ice Box Pie Ingredients
1

9"-10"

Graham cracker crust

(or see homemade crust recipe below)

¾

cup

Lemon juice,

approximately 2-3 large lemons

2

14-oz cans

Sweetened condensed milk

(or see homemade sweetened condensed milk recipe below)

½

teaspoon

Vanilla

1

teaspoon

Lemon zest,

optional
Instructions
Optional Homemade Graham Cracker Crust:
* 8 whole graham crackers, crushed

* 4 Tablespoons butter, melted

* 1 Tablespoon granulated sugar

DIRECTIONS: Mix all together & press into 9" to 10" pie pan.
Optional Homemade Sweetened Condensed Milk:
* 6 tablespoons melted butter

* ½ teaspoon vanilla extract

DIRECTIONS: Mix all ingredients together & proceed with the recipe.
Instructions For Lemon Pie Filling
Into a large bowl add the sweetened condensed milk, vanilla extract and lemon juice, stirring with a whisk until it thickens. (approximately 1-2 minutes)

Pour thickened filling into pie crust. (chilled if homemade) Sprinkle 1 teaspoon of lemon zest evenly on top of pie if desired.

Cover & chill pie in the refrigerator for at least 4 hours or overnight. Serve cold.
Recipe Notes
NOTE: Pie may be frozen, but allow to stand at room temperature for 30 minutes before serving.
~TxH~
This post categorized in