by Texas Homesteader ~
*contains affiliate link
Did you know you can make your own sweetened condensed milk in literally minutes?? I don't use sweetened condensed milk often but it's sometimes an ingredient in family favorite recipes. But I haven't actually purchased this expensive can of milk in years once I found out how easy it is to make myself.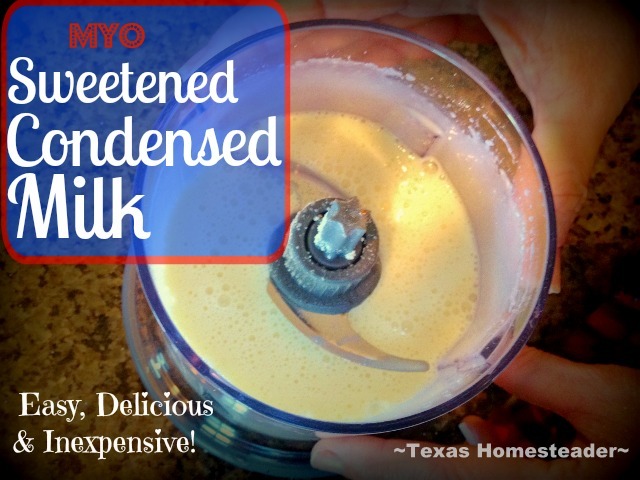 (Note: Some links in this post are for further information from earlier posts I've written. But links preceded with * are affiliate links. If you click them and buy something (almost anything, not just the item noted) I could receive a small commission. But the price you pay will NOT change. It's an easy way to support this blog without anything coming out of your pocket. So click often! Thank you!)
Dessert Requires Sweetened Condensed Milk
Recently I made a favorite holiday dessert: No-Bake Cherry Fluff Dessert. It calls for a can of sweetened condensed milk.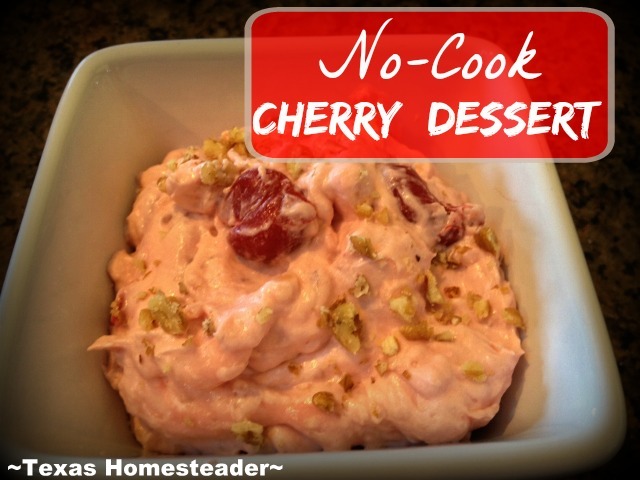 (Note: There's a whole list of Holiday Cooking links at the end of this post!)
I made the sweetened condensed milk that this recipe requires myself! I feel pretty empowered that I've been able to provide for my family without a trip to the grocery store.
Plus it's significantly less expensive than the purchased counterpart and that makes my budget happy.
It's also typically healthier without the odd-sounding ingredients you typically see on commercial food labels.
And probably most importantly to me – it's environmentally friendly with less landfill-bound trash.
Simple Ingredients For Sweetened Condensed Milk
To make my sweetened condensed milk I pulled out the few basic ingredients: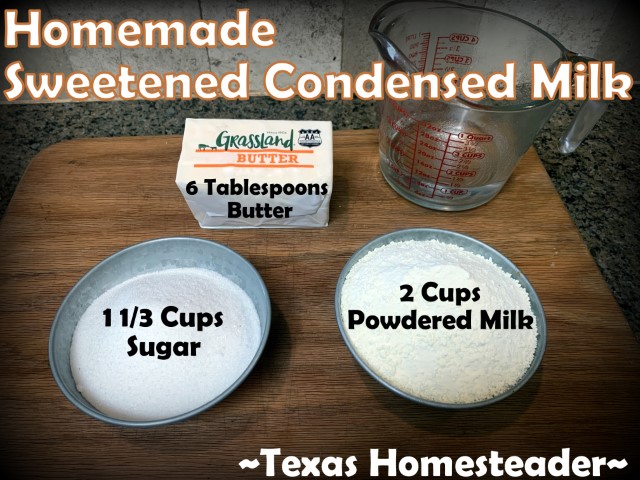 Since I had to drain a can of pineapple for my dessert recipe I used that juice in place of the water to add a little flavor punch for my recipe. But plain ole boiling water works just fine.
Making Homemade Sweetened Condensed Milk
Aaaanyway here's what I did to make my own sweetened condensed milk:
I measured out all my ingredients and got them all ready.
Then I added the pineapple juice that I'm substituting for the water into a glass measuring cup and heated it in the microwave until it started to bubble.
I added butter to the hot liquid and stirred to allow the butter to melt into the juice.
Then I poured it into my * Ninja blender.
(I polled my Facebook followers several weeks ago & the Ninja was very highly recommended so I bought one for myself – it does not disappoint!)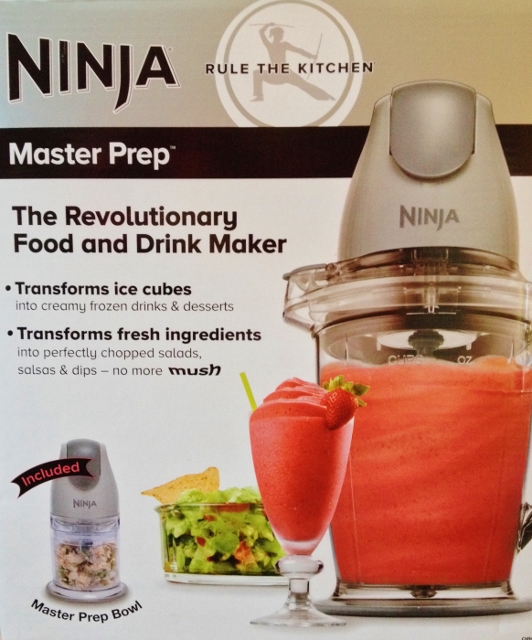 Since I'm only making a can's worth of sweetened condensed milk I'm using the smaller Ninja blender unit.
Then I added powdered milk, sugar and vanilla into the Ninja container with the hot juice & and first pulsed the blender, then blended on high for about 20 seconds until it was all smooth and creamy.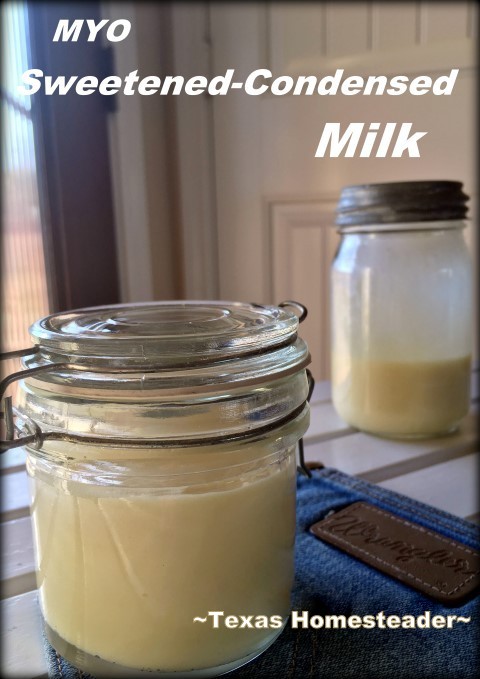 Seconds Later – DONE!
Can you even believe how quickly that went?? I know I can't.
I mean I'm not lazy in the kitchen but…
OK yes let's be honest, I'm very lazy in the kitchen. And any quick, easy and inexpensive shortcut I can come across is a winner in my book!
To me it's shocking how easy it is to make this sweetened condensed milk. And yet in our area a single can of the name-brand stuff sells for about $3.49.
CRAZY!
Now I've only used this milk recipe in my Cherry Shtuff no-bake dessert over the years. But it's worked beautifully for me Every. Single. Time.
So I have no doubt it'll work fantabulously in your recipe too.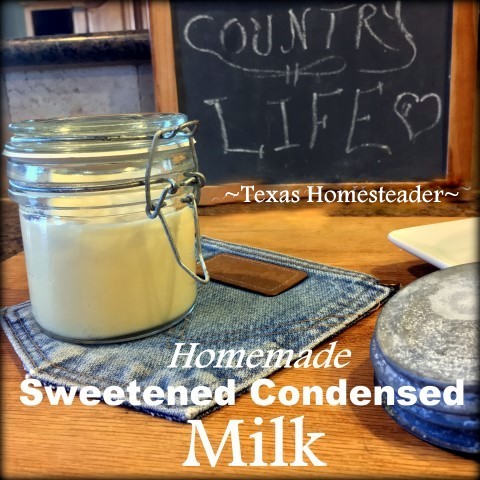 What? Will I share my recipe with you?
Well of COURSE I will!
Did you make this sweetened condensed milk? Please rate the recipe in your comment below!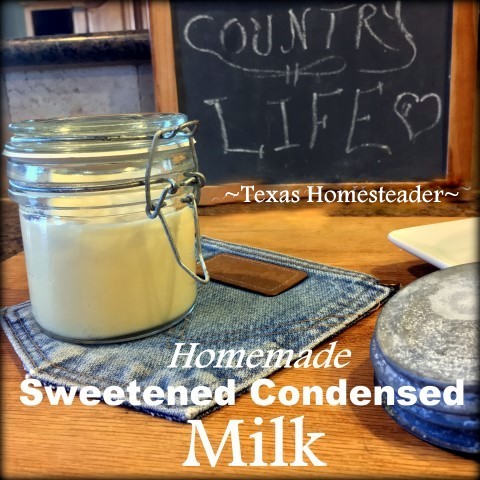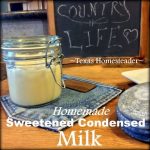 Sweetened Condensed Milk (equivalent to a 14-ounce can)
This homemade sweetened condensed milk uses very few kitchen staples and blends together in minutes. Smooth, creamy, sweet - perfect! #TexasHomesteader
Ingredients
1/2

cup

of boiling water

1

cup

nonfat dry milk

2/3

cup

sugar

3

tablespoons

melted butter

1/4

teaspoon

vanilla
Instructions
Directions:
Heat 1/2 cup water to boiling, add the butter and stir to melt. Pour into blender and add dry milk, sugar & vanilla.

Cover and first pulse, then blend on high speed for about 20 seconds or until smooth.

Use immediately, store in refrigerator in a covered container for about a week
~TxH~
This post categorized in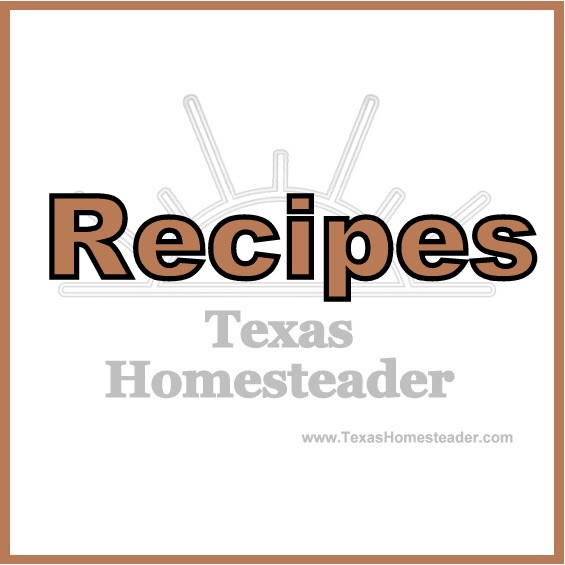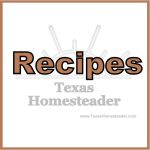 Want More Holiday Cooking Tips & Recipes?
SIDE DISHES
DESSERTS
BREAD
INGREDIENTS
FOOD SAFETY


C'mon by & sit a spell! Come hang out at our Facebook Page . It's like sitting in a front porch rocker with a glass of cold iced tea. There are lots of good folks sharing! And you can also follow along on Pinterest, Instagram & Twitter
If you'd like to receive an email when a new blog post goes live, subscribe to our Blog!
Save
Save