by Texas Homesteader ~
What if I told you that you could serve that traditional meal at your family holiday gathering including a tender, juicy roasted turkey yet not be shackled to the kitchen jumbling messy greasy turkey-cooking pans instead of enjoying the holiday with your family?
Yes, it's true. This has been game-changing in my Homestead kitchen. Check it out!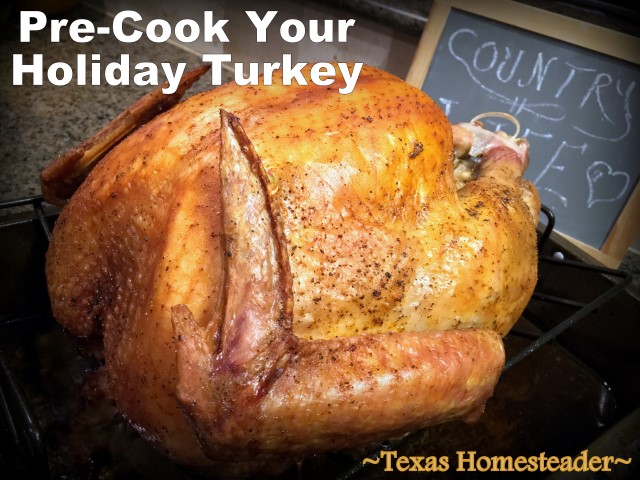 (Note: Some links in this post are for further information from earlier posts I've written. But links preceded with * are affiliate links. If you click them and buy something (almost anything, not just the item noted) I could receive a small commission. But the price you pay will NOT change. It's an easy way to support this blog without anything coming out of your pocket. So click often! Thank you!)
Traditional Family Holiday Foods
Aaaaahhhhh the holidays! They're some of my favorite times. The friends & family, the food, the fun!
It's wonderful to gather together around a festive table and enjoy the delights of the season.
Among other favorites for Thanksgiving there is always
But here's the deal: I hate to spend my holidays shackled to the kitchen. There's all the cooking as well as the massive cleaning required when roasting a turkey.
You may ask "But is there a better way to prepare?"
Well I'm here to tell ya "Why yes there is!"
Work Smarter, Not Harder
Several years ago I stumbled upon the idea that you could prepare your turkey in advance. I wondered if it really would work.
I mean, wouldn't it be great if I could actually enjoy the holiday with my family instead of being cooped in the kitchen trying to prepare for the big feast? And then not be straddled with a large greasy roasting pan afterward?
I decided to give it a go and it's worked beautifully ever since. Now I always pre-cook the turkey in advance of our traditional family holidays.
Simple Turkey Preparation
My 15-lb turkey was obtained early and thawed in the refrigerator for several days. It's important to leave yourself enough time to safely thaw your frozen turkey in the refrigerator.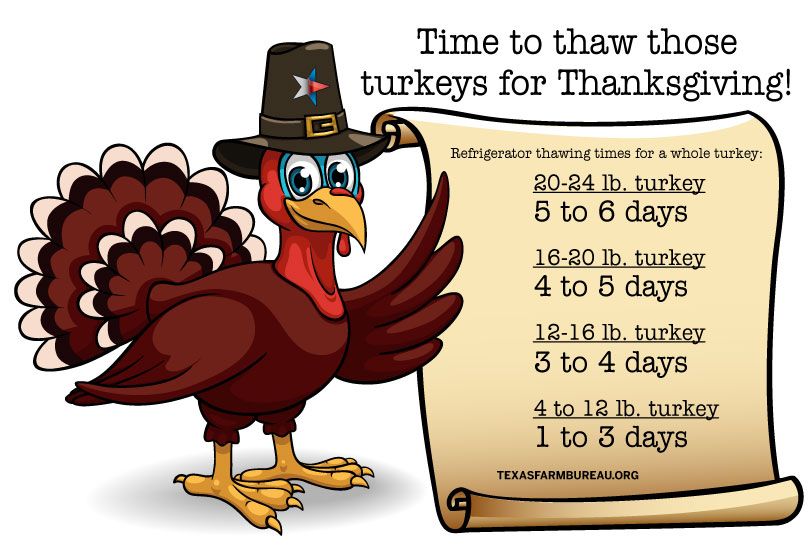 After the turkey was thawed I removed the giblets and rinsed the turkey. Then the turkey was allowed to drain for a bit in my roaster pan.
Some people blot the turkey with paper towels to remove excess surface moisture. But as you probably know by now I've had a Paperless Kitchen for over a decade.
So this short time air drying accomplishes that for me, paper free.
Finally I rubbed olive oil over the entire turkey, both inside & out. For the seasoning I sprinkled the turkey with a mixture of:
2 Tablespoons garlic powder – 2 teaspoons dried basil, 1 teaspoon each of dried sage & salt, and 1/2 teaspoon black pepper and often finish up with just a light dusting of paprika.
Sometimes I place onions or celery in the turkey cavity. But more times than not I don't bother with that step and my turkey always turns out delicious. Who knew roasting a turkey could be so uncomplicated?
No More Turkey-Roasting Bags
In past years when I was preparing to roast a turkey I always purchased a roasting bag. I thought that was the only way to avoid a turkey with meat that turned out so dry you needed boatloads of gravy just to choke it down.
But one year I found myself without a roasting bag. Not wanting to make a trek into town right before the big holiday to buy one, I was delighted to find out that a roasting bag wasn't really needed for a delightfully-roasted turkey that was both moist & delicious.
Well ok then, buh-bye turkey bags!
The roasting bag isn't important. What IS important is cooking your turkey to a safe temperature without overcooking it. The overcooking is what usually dries out the meat.
To make sure my turkey is cooked to perfection but no longer than absolutely necessary, I now use my *Meater Meat Thermometer.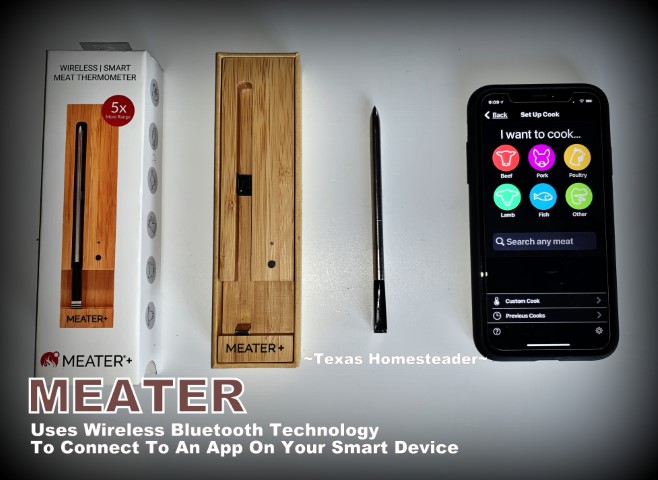 I swear cooking in the oven, grill or even my solar oven has been significantly simplified since getting that thermometer!
Heck it allows me to track the progress right from my smart phone. Now that's SMART! LOL.
Roasting My Turkey
After the turkey is rinsed, drained, oiled & seasoned I place the turkey breast-side up in my *turkey roasting rack. I usually wrap a bit of foil around the end of the legs since they oftentimes cook a little faster.
Then I tent foil over the entire bird and place the pan in a 350-degree oven for 2 hours.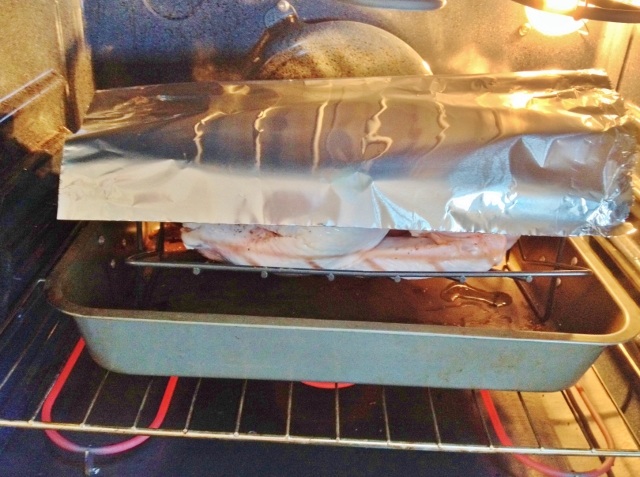 During my roasting time I don't baste the turkey since I don't want to keep opening the oven door. Keeping that door closed helps maintain even roasting temperatures.
Roast Turkey to 165 Degrees
After it's roasted for 2 hrs I remove the foil tent and increase the oven temp to 425 degrees for about 30-40 minutes longer, or until a meat thermometer placed in the thickest part of the thigh (not touching the bone) reaches a temperature of 165 degrees.
Some say 170 degrees is better. But I've found the temps continue to rise a bit after the turkey is removed from the oven.
Food Safety Is Important!
By the way, I've found those little pop-up thingies often placed in the turkey are oftentimes not an accurate gauge for the internal cooked temps. So I don't rely on them.
(The general rule of thumb for roasting a turkey is about 15 minutes per lb based on a 325-degree oven & fully thawed bird, but of course since my roasting temps are different I just use a meat thermometer to test the turkey's internal cooked temperature.)
When you think the turkey is about done, be sure to test the internal temps using a meat thermometer.
By roasting to the correct temperature you can assure a moist turkey that's safely cooked yet not overcooked and dry. Food safety is important!
When the turkey is cooked to a delicious 165-degree golden brown I remove it from the oven.
It's important to allow the bird to rest for 15 to 20 minutes BEFORE carving. This step helps keep those juices inside the turkey meat where they belong.
Carving The Turkey
After the turkey has rested I'll take out a large metal broiling pan and line it with foil. I carve the turkey and layer the meat attractively on top of the foil.
When all the meat is carved & layered attractively I top it with more foil & seal the meat tightly. When it's all sealed up I place the entire pan in the freezer.
Of course I keep the turkey bones and simmer them into healthy homemade turkey broth so nothing on this bird is wasted.
But again, that's all done BEFORE the holiday! No more cramming a turkey carcass in an already-crammed fridge of leftovers.

Thawing Cooked Turkey
Now a couple of days before the holiday I simply pull the cooked turkey out of the freezer and allow it to thaw slowly in the fridge. That way on the big day I just pop the pre-cooked and pre-sliced turkey into the oven set to about 200 degrees and allow it to slowly warm.
(you can bump the temps up a bit if you're in a hurry. Just make sure you don't bump them high enough to basically re-cook and therefore dry out your turkey)
Since all our holiday guests are bringing their own specialty side dishes & desserts all that's left to do is transfer the turkey to a pretty platter & serve along with all the other deliciousness!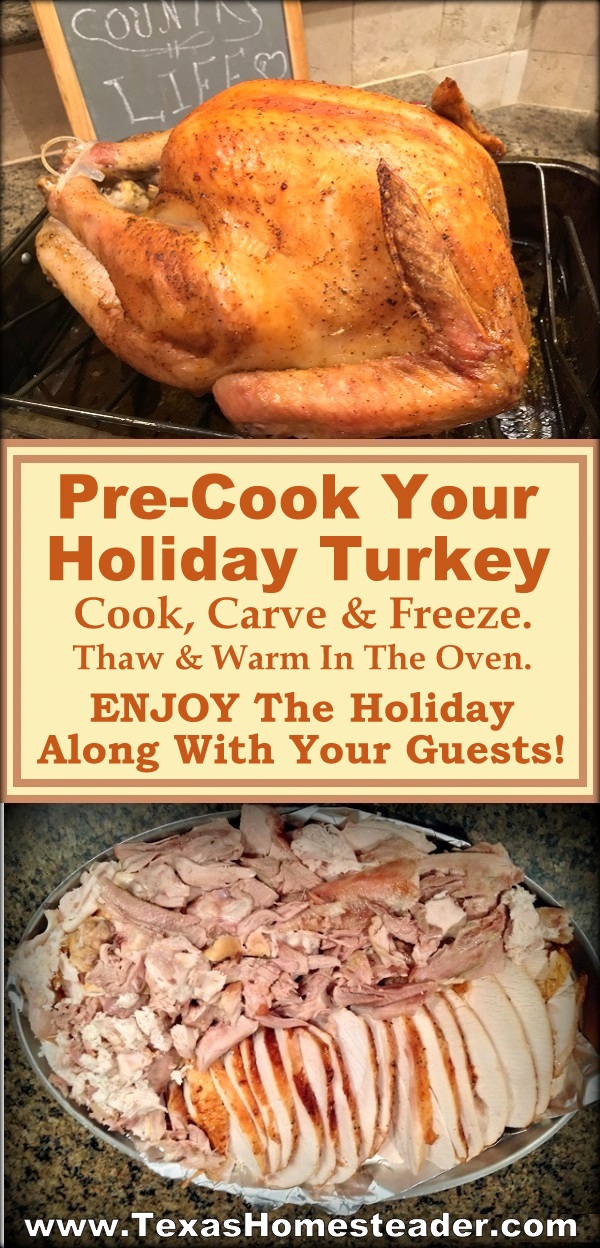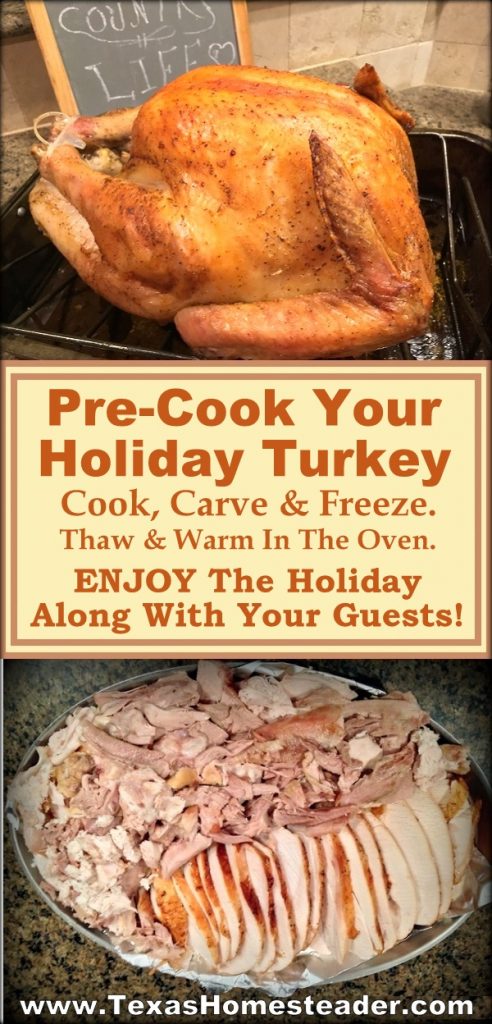 Tips To Keep Your Turkey Tasting Freshly-Roasted
Some have questioned how I keep that turkey from tasting warmed over. There are several ways to make sure that turkey tastes freshly-roasted on the big day.
I think first & foremost to keeping a pre-cooked turkey tasting freshly roasted is not over-cooking the bird in the first place.
It's way too easy to overcook a turkey. That meat thermometer is pivotal in getting the correct internal temps without overcooking and drying out your turkey.
Secondly: I add a little broth to the platter of carved meat before sealing it up. That will add moisture when it's reheated.
Third: – sealing it well with foil before freezing. And getting as much air out as possible to keep freezer-burn away.
And fourth: Heating the thawed meat low, slow & covered so as not to basically cook it again (thereby drying it out as you're heating it up.)
My pre-roasted, frozen, thawed and warmed turkey has never tasted other than freshly roasted.
Simpler Family Holiday
Gone are the days of hunkering down in the kitchen on that special day roasting & carving a holiday turkey.
And gone as well is wrestling those bulky greasy cooking pans while all my guests are visiting with each other and enjoying the holiday.
I can join in on the celebration now! Give it a try.
~TxH~
Want More Holiday Cooking Tips & Recipes?
SIDE DISHES
DESSERTS
BREAD
INGREDIENTS
FOOD SAFETY
References:
Save