by Texas Homesteader ~
Making homemade chicken broth is beyond easy, super healthy and makes use of bones/trimmings that used to be just thrown away!
And there's a special ingredient to make it more calcium rich. Check it out.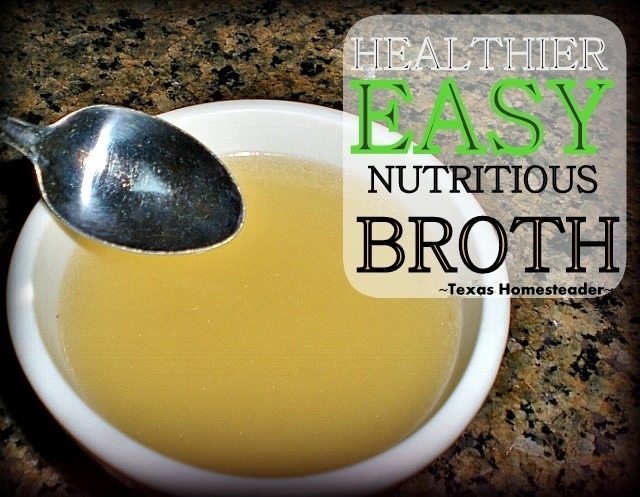 Ways To Eat ALL Of A Chicken
I made a delicious slow cooker chicken dinner recently. Now y'all know I like the Cook-Once, Eat-Twice method of cooking. There are many ways I can use leftover cooked chicken: One Chicken Enjoyed 6 Ways
So after supper I removed the meat from the bones & sectioned the chicken into meal-sized servings for the freezer.
But there's still much more food left in that sad looking and picked-clean bird. So my thoughts turn to that delicious potential.
I don't have a specific recipe for homemade broth. But that's the beautiful part, you don't really NEED one!
Making Homemade Broth In A Slow Cooker
If you're making broth in a slow cooker just toss all the leftover bones, skin and even the trimmings pulled from the chicken before it was cooked into a slow cooker. Then fill it the rest of the way with water.
Some people also throw in scraps of raw veggies like onion trimmings or the tips or peelings of carrots, etc.
I usually don't but you certainly could add those things as well if you wish.
When the slow cooker is filled add a splash of vinegar. I've read that vinegar draws more calcium from the bones. (you can't taste vinegar in the finished product).
Then flip the switch on the slow cooker to High, walk away and let it simmer all day.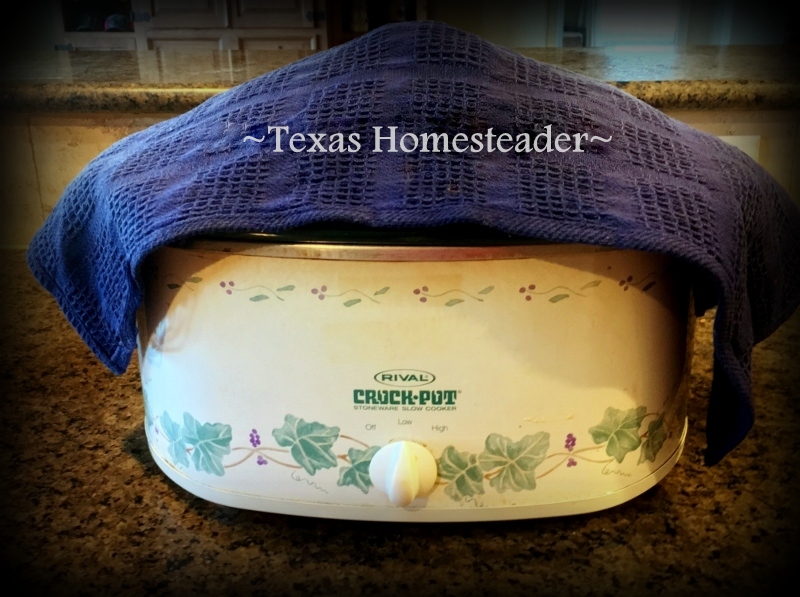 Instant Pot Simplicity For Making Homemade Broth
You can make homemade broth even faster in an electric pressure cooker such as an Instant Pot.
I use the same procedure when making Homemade Broth In An Instant Pot as with the slow cooker, but the time is shorter:
Place chicken bones, skin and trimmings in Instant Pot liner
Add a splash of vinegar and fill to the fill line with water
Place lid on top, flip lever to 'sealing'
Cook broth 2 hours on high pressure, then allow to pressure to drop naturally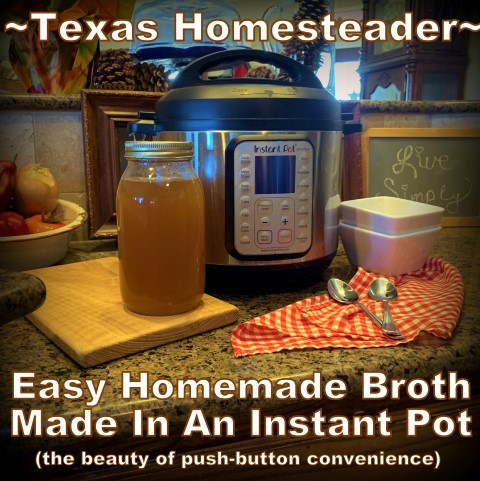 Removing The Solids From Homemade Broth
After the contents have simmered into broth I strain all solids and bones from the broth while it's still warm.
I learned this step is best done while the broth is warm because the broth often thickens when it's cool making the bone removal more difficult for the smaller bones.
So I first use a large slotted spoon to take the bulk of the bones out. Then I strain the broth into a large bowl using a finer strainer to catch the tiny bones.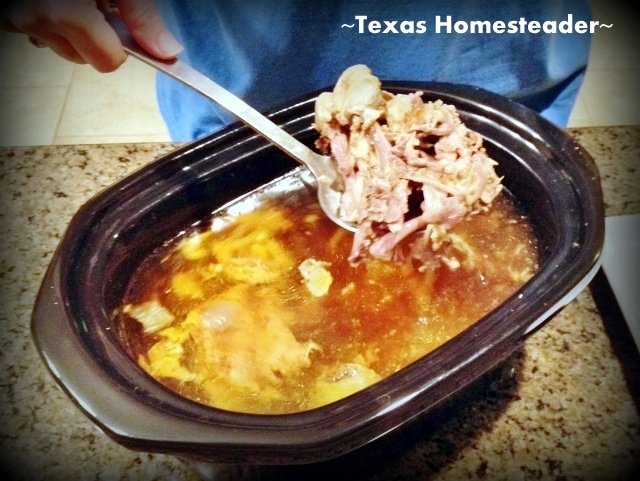 Update: I now make a second batch of broth with those same bones.
After their cooking stint the bones are now soft. So I break them as I place them back into the empty slow cooker or Instant Pot liner.
The resulting broth won't be quite as rich so I only add about half the water when making this second batch.
Cooling The Homemade Broth
The whole container of strained broth goes into the fridge overnight to cool.
This process causes the fat that's in the broth to rise to the top & solidify. I like to remove much of the fat to make a healthier lower-calorie broth.
Skimming The Solidified Fat From Cooled Broth
In the morning I'll pull the chilled broth from the refrigerator and remove the hardened fat that's risen to the top.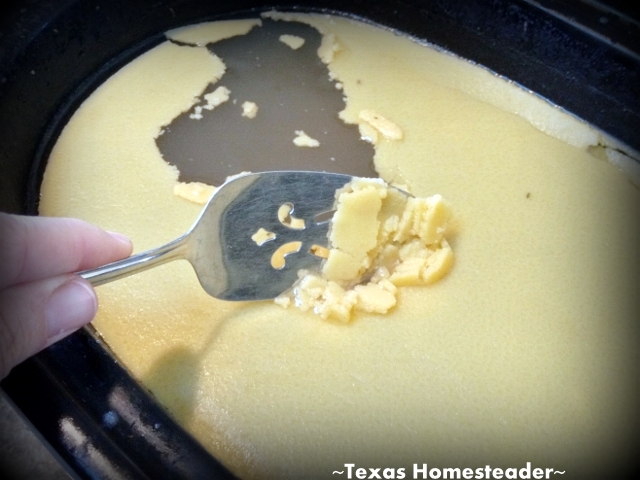 Of course you should never put any fat down your kitchen sink. But we're on a septic system out here so it's doubly important for us.
I have a plastic jar in my fridge labeled boldly "FAT" and I use it to hold even tiny amounts of fat from my cooking. When it's full I'll tighten the lid and throw it away.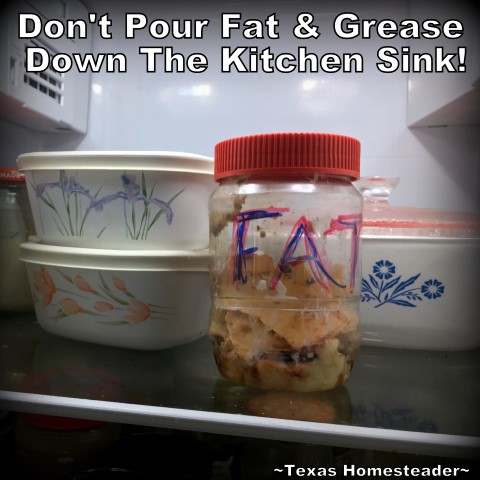 So I add the hardened fat into this jar. But I don't spend too much time trying to retrieve every single piece of solids from my broth because it adds a little flavor. I typically remove about 99% of the fat.
Then BOOM! Healthy homemade broth.
How To Freeze Homemade Broth
If my broth will be stored in the freezer I just pour the cooled broth into jars that I save for freezer food.
Note About Freezing Food In Glass Jars: Many are comfortable freezing food in glass jars, and it can be done successfully. But because food expands as it freezes there are a few things to remember:
For best results use only jars with straight sides. The curved glass on jars with shoulders can crack more easily as food presses against it as it's freezing & expanding.
Leave plenty of empty headspace for expanding frozen food.
Initially only tighten the lid slightly. Finish tightening lid once food is solidly frozen.
Be sure to add a label – everything in the freezer seems to look the same!
Freezing Food In Plastic Jars
I've never been comfortable freezing my broth in glass. Since we have a chest freezer we're always moving food around. One wrong "clink" and we've got a big, potentially dangerous mess in the freezer.
So I use saved plastic jars for freezing various things such as batch cooking Ranch-Style Beans and of course this broth.
My broth never languishes in the freezer for long since in the winter months I'm constantly using it every week for my endless soup.
Canning For Shelf-Stable
Homemade Broth
For shelf-stable broth I pressure can it. That way it's ready & waiting in my pantry.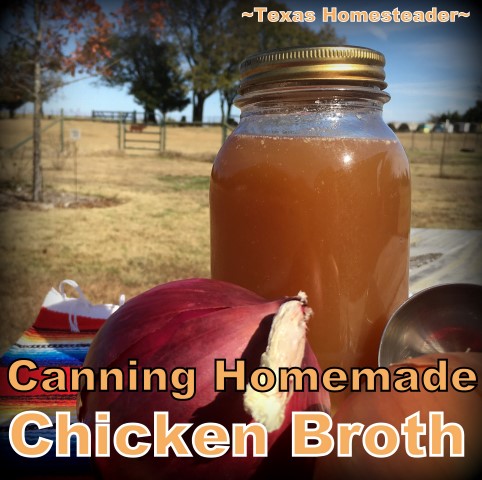 When the broth is canned in jars I don't have to worry if I've given myself enough lead time to thaw the broth for my recipe, etc.
If you'd like to have shelf-stable broth too you can see the easy directions here –> Pressure Can Broth
Homemade Broth Has Many Uses
I use lots of broth. It's a healthy ingredient in many of my recipes including: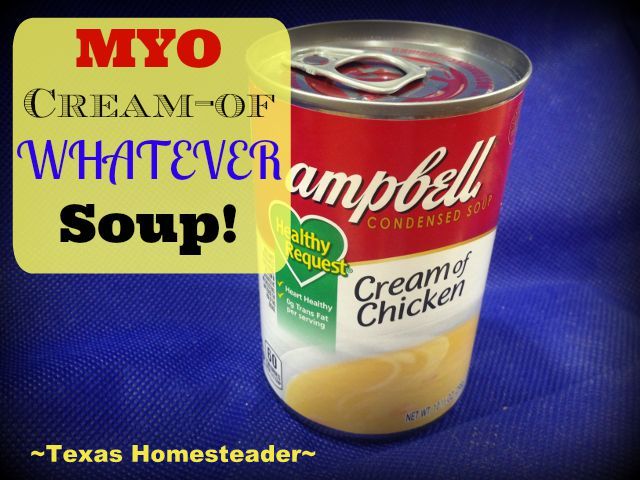 And many more! There's always a use for healthy homemade broth.
I haven't purchased commercial broth in years. Plus my homemade broth is obviously lower in sodium and unpronounceable ingredients than the store-bought stuff.
Give it a try, you'll be amazed at how easy yet delicious it is to make your own broth!
~TxH~
This post categorized in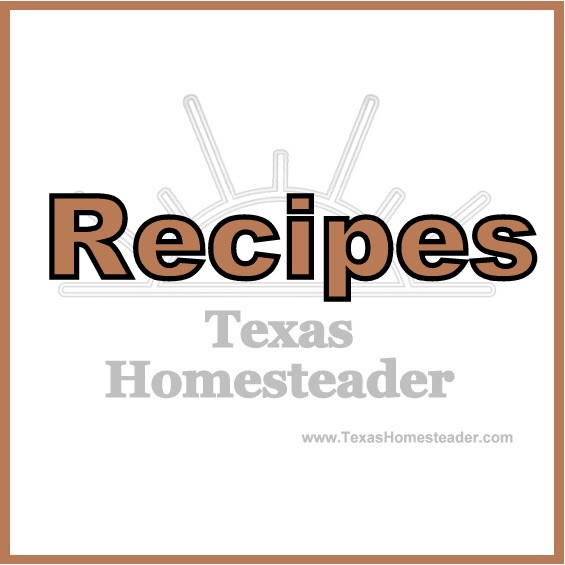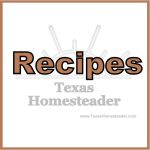 Links in This Post
Want More Holiday Cooking Tips & Recipes?
SIDE DISHES
DESSERTS
BREAD
INGREDIENTS
FOOD SAFETY


C'mon by & sit a spell! Come hang out at our Facebook Page . It's like sitting in a front porch rocker with a glass of cold iced tea. There are lots of good folks sharing! You can also follow along on Pinterest, Twitter
If you'd like to receive an email when a new blog post goes live,
subscribe to our Blog!
Save
Save
Save