by Texas Homesteader ~
Making homemade chicken broth is beyond easy, super healthy and makes use of bones/trimmings that used to be just thrown away!
And there's a special ingredient to make it more calcium rich. Check it out.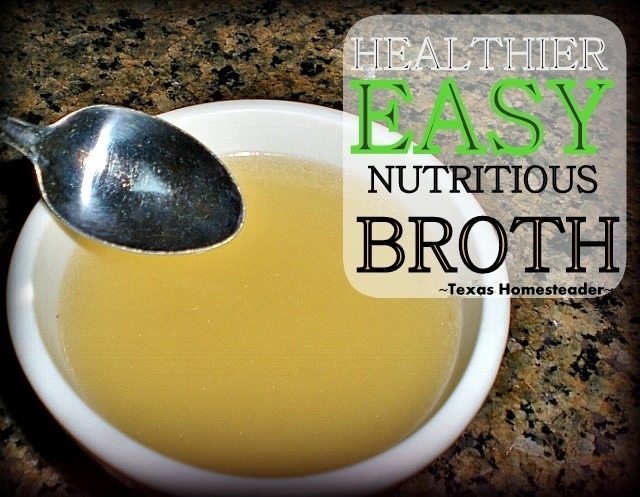 Ways To Eat ALL The Chicken
I've written before about making various broths. But today I want to make my own chicken broth.
So I made a delicious slow cooker chicken dinner recently. Now y'all know I like the Cook-Once, Eat-Twice method of cooking. There are many ways I can use leftover cooked chicken: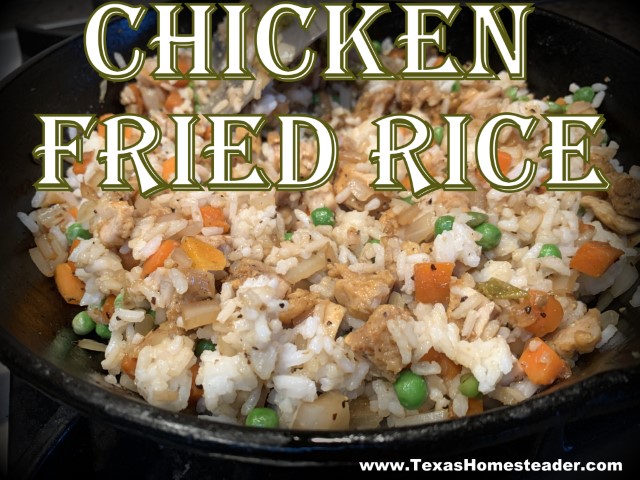 So after supper I removed the chicken from the bones & sectioned off the larger pieces of chicken into meal-sized servings.
I labeled the freezer bags and put them into the freezer. That gives me chicken portions for two more suppers.
Using The Chicken Bones
But we're not through yet – oh no. There's still much more food left in that sad looking picked-clean bird.
I've made rich nutritious broth from steak bones for beef broth, turkey bones for turkey broth & of course chicken bones for chicken broth.
I don't have a specific recipe but that's the beautiful part, you don't really NEED one!
Homemade Broth Has Many Uses
I use lots of broth. It's a healthy ingredient in many of my recipes including: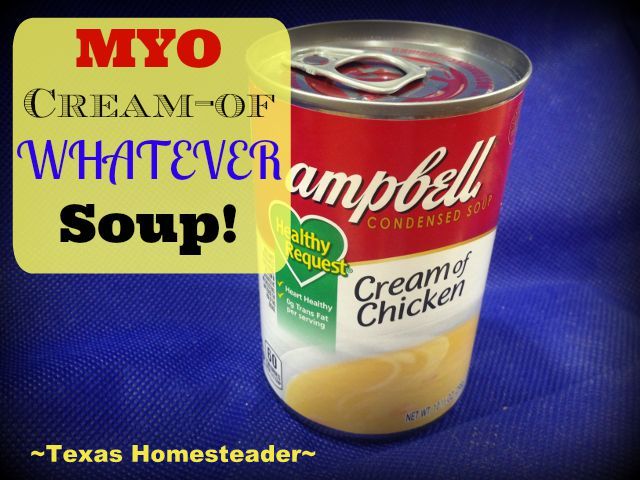 So here I am staring at this picked-clean bird and my thoughts turn to that delicious potential.
Don't Throw Away Leftover Chicken Bones!
Now in my earlier days this leftover carcass would have all been thrown away.
But now it always goes for one more healthy food product before it's finally relegated to the trash. Gotta love it!
Making Chicken Broth In A Slow Cooker
After storing away all the leftover meat for future meals I tossed everything that was left into my slow cooker. That includes bones, skin and even raw skin and trimmings I'd pulled from the chicken before I cooked it.
I gathered all that chicken waste & into the slow cooker's crock it went. Then I filled it with water.
Some people also throw in scraps of raw veggies like onion trimmings or the tips or peelings of carrots, etc.
I usually don't because I'm just using what I have on hand. But you certainly could add those things at this point as well if you wish.
Special Ingredient To Provide More Calcium In Broth
When my slow cooker is filled, I add a splash of vinegar. I've read that vinegar draws the calcium from the bones. (you can't taste vinegar in the finished product).
Now comes the grueling, hard, labor-intensive part. I flipped the switch on the slow cooker to High, walked away and let it simmer all day.
UPDATE: I now often make my Homemade Broth In My Instant Pot. It's even FASTER that way!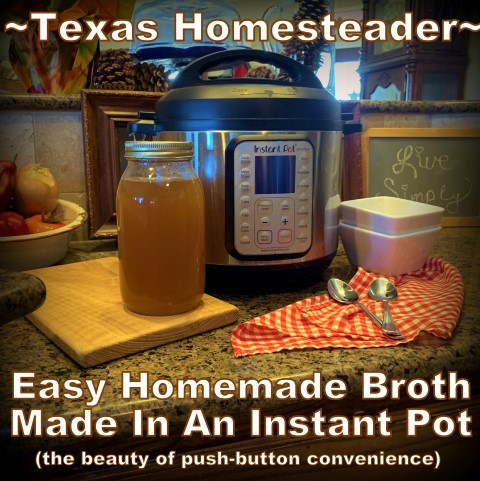 Removing The Solids From Homemade Broth
After the contents have simmered into broth I strain all solids and bones from the broth while it's still warm.
I learned this step is best done while the broth is warm because it often thickens when it's cool making the bone removal more difficult for the really tiny bones.
I want to make sure there are NO bones left in my broth. So I first use a large slotted spoon to take the bulk of the bones out.
Then I strain the broth into a large bowl using a finer strainer to catch the tiny bones.
NOW these poor bones are finally ready for the trash! (although with a sealed tumbling composter I often compost them instead)
Cooling The Homemade Broth
When the bones/skin is all removed I pour the strained chicken broth back into my slow cooker. I allow it to cool a bit as it sits on the counter. Then the whole crock of broth goes into the fridge overnight to cool.
This process causes the fat that's in the broth to rise to the top & solidify. I like to remove as much of the fat as I can to make a healthier lower-calorie broth so this step is important for me.
Skimming The Solidified Fat From Cooled Broth
In the morning I'll pull the broth out of the refrigerator and skim the hardened fat that's risen to the top.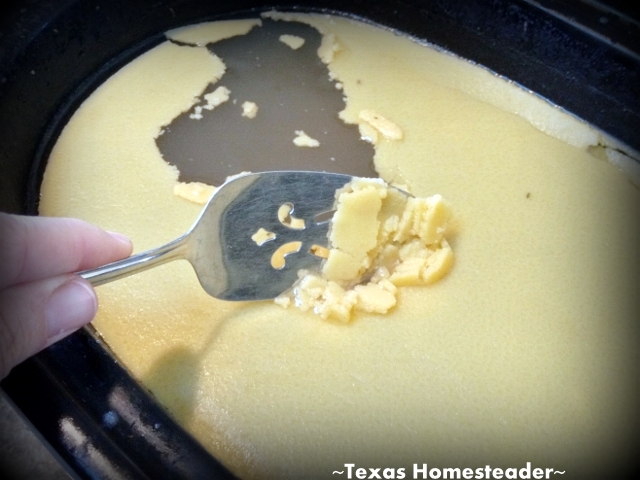 Of course you should never put any fat down your kitchen sink. We're on a septic system out here so it's doubly important for us.
I have a plastic jar in my fridge labeled boldly "FAT" and I use it to hold even tiny amounts of fat from my cooking. When it's full I'll tighten the lid tightly and throw it away.
Having this accumulated fat sealed in a plastic jar is helpful for us since our tiny trash only gets emptied about every two weeks.
Chicken fat in the trash can get mighty odoriferous! WHEW! Thank goodness that jar's not very full yet because today that jar's really going to get a workout!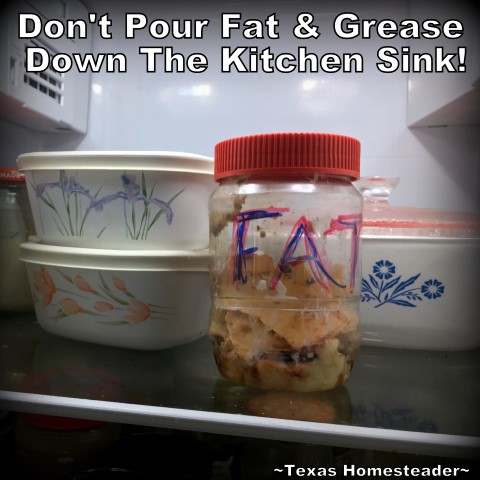 I skim the hardened fat off the top of my homemade broth and spoon it into this jar.
But I don't spend too much time trying to retrieve every single piece of solids from my broth today because it does add a little flavor. I typically remove about 99% of it though.
How To Freeze Homemade Broth
After the fat has been removed – BOOM! Homemade broth.
I can pressure can the broth of course. But if it will be stored in the freezer I just pour the cooled broth into plastic peanut butter jars that I save for freezer food.
Note About Freezing In Glass Jars: I've never been comfortable freezing broth in glass. Since we have a chest freezer there's lots of moving food around. One wrong "clink" and we've got a big, potentially dangerous mess in the freezer.
So until I find a better solution I just use these saved plastic jars for freezing various things such as batch cooking of my favorite Ranch-Style Beans and of course this broth.
Now that it's all sectioned off in serving-sized repurposed peanut butter jars I just stick a label on top of the lid because, well, you know all food looks dang near the same when it's frozen! LOL
After the broth is labeled I put them all in the freezer with the lid not quite tight for about 24 hours. Then I go back tighten the lid all the way for a good seal.
My chicken broth never languishes in the freezer for long since in the winter months I'm constantly using it every week for my endless soup.
Canning Homemade Broth Instead
But it's super easy to just Pressure Can My Homemade Broth. That way it's ready & waiting in my pantry.
When the broth is canned in jars I don't have to worry if I've given myself enough lead time to thaw the broth for my recipe, etc.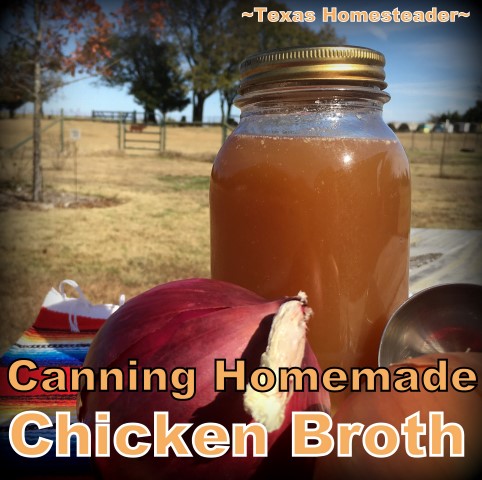 Cheap, Healthy, Homemade Broth
And that, my dear friends, is all there is to it!
It's shocking sometimes when you find out how ridiculously easy (and inexpensive) it is to provide some things for yourself. Products that you once had to buy from the store. This homemade broth is no exception.
I haven't purchased commercial broth in years. Plus my homemade broth is obviously lower in sodium and unpronounceable ingredients than the store-bought stuff.
Give it a try, you'll be amazed at how easy yet delicious it is!
~TxH~
This post categorized in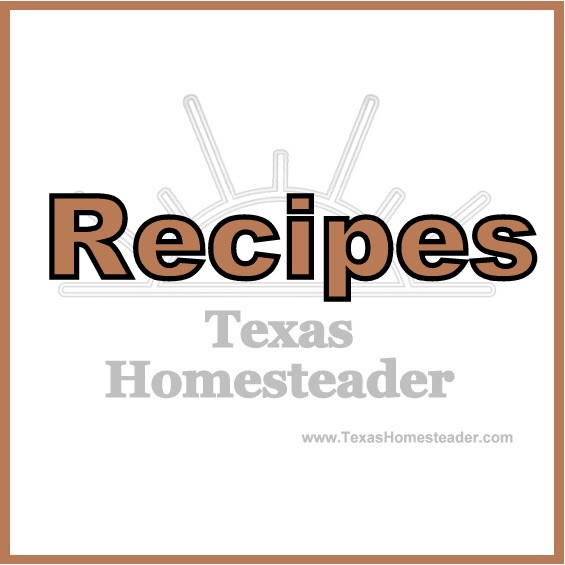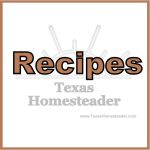 Links in This Post
Want More Holiday Cooking Tips & Recipes?
SIDE DISHES
DESSERTS
BREAD
INGREDIENTS
FOOD SAFETY


C'mon by & sit a spell! Come hang out at our Facebook Page . It's like sitting in a front porch rocker with a glass of cold iced tea. There are lots of good folks sharing! You can also follow along on Pinterest, Twitter
If you'd like to receive an email when a new blog post goes live,
subscribe to our Blog!
Save
Save
Save