by Texas Homesteader ~
After the turkey has been roasted and enjoyed, there's still lots of food waiting to be enjoyed just by using the bones. I'll make cheap, delicious and healthy broth with them. A money saver for sure.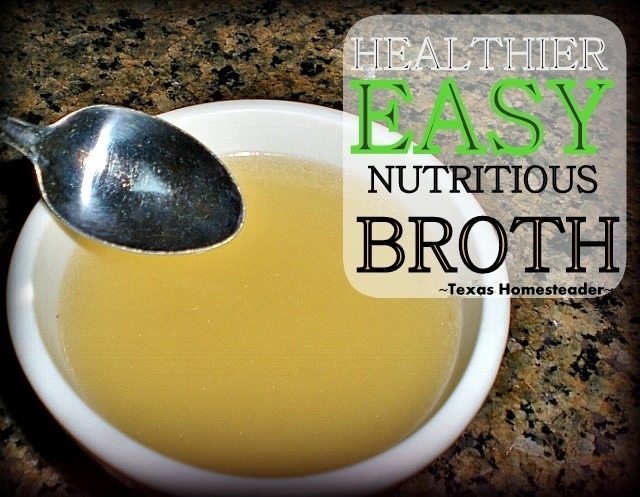 Homemade Turkey Broth A Frugal Win
By far one of the easiest frugal things I do on the Homestead is make my own broth.
Think about it: Making broth takes the leftovers after you enjoy your meal (the bones) and turns them into delicious, nutritious broth. Win/Win!
Of course I can purchase broth in the store. But a quart container around here runs about $3 each. And it's filled with sodium.
My homemade broth doesn't have the additives or the salt that commercial broth does. Plus with my homemade broth there's no disposable container to throw away. The eco-warrior in me loves that too!
During the cold winter months I make endless soup that keeps RancherMan & me in hot soup for lunch for about a week. And of course the base of that soup is broth.
But since I make my own broth this week-long menu of soup lunches is incredibly cheap yet gives us several nutritious and bone-warming meals.
And it's so easy. Really, you're NOT gonna believe how easy this is!
What To Do With Leftover Turkey
When making broth I reserve the bones and trimmings from whatever meat we've enjoyed – sometimes beef, sometimes pork, sometimes chicken. But today it's turkey.
After we enjoyed our turkey supper RancherMan & I removed the remaining meat from the bones.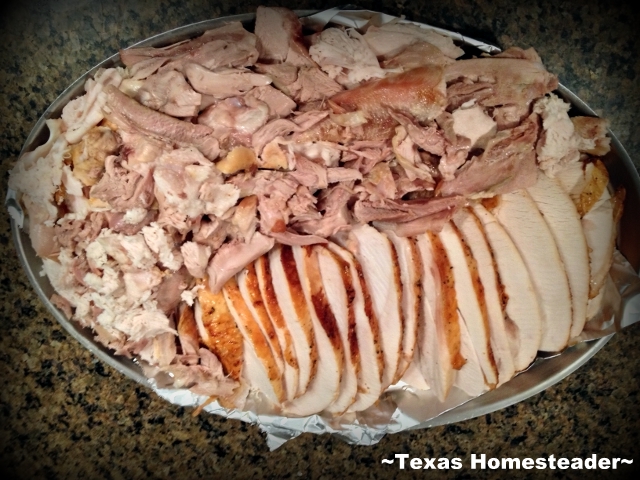 We portioned leftover turkey into single-meal sizes and put those packets of meat in a freezer bag, properly labeled of course.
This is the 'Cook Once, Eat Twice' method of cooking that I pretty much exclusively utilize here on the homestead.
Using this method means the pans used to cook this meat were only dirtied once and cleaned once, and the oven heated once. But we have six additional servings of turkey that's as close as our freezer to enjoy.
This is my secret to having a delicious Homemade Meal Every Day! (shhhh….)
Cheap Homemade Turkey Broth
I will use turkey broth the same as I use chicken broth (or even beef broth!) It's added flavor for so many recipes:
Since broth is so inexpensive & healthy I'm not stingy with it & use it often.
Making Homemade Broth – Slow Cooker Option
After the meat is removed I take the turkey bones that remain and chunk them all into my mammoth slow cooker and top it off with water.
Finally I add just a splash of vinegar. That's the secret ingredient to draw more calcium from the bones.
Then I cover the slow cooker and put the temp on low and let it slowly cook all night. The next morning our house smells amazing. Hey, it puts me in the Thanksgiving mood all over again!
Homemade Broth – Instant Pot Option
Sometimes I make my bone broth in my Instant Pot instead. It really doesn't get any easier than this.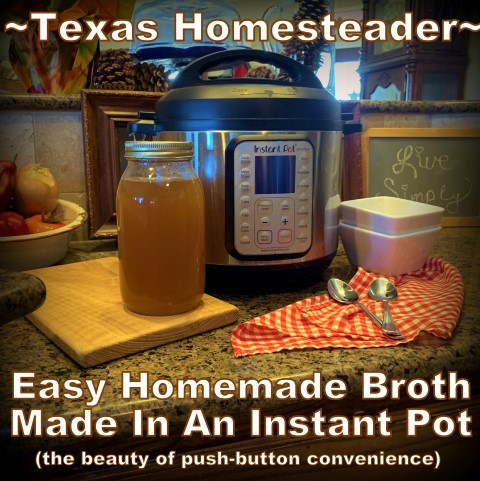 Into my Instant Pot I chuck in the bones I've reserved for my broth. Then I cover the bones to the fill line with water and splash in a little white vinegar.
Then I replace the IP lid, twist to lock, set the vent to 'SEALING' and then press the +/- button to set the cook time to 2 hours.
Feel free to tweak the time if you like, but this is the time that works best for me.
Remove Bones & Chill The Broth
Whichever method I use, when the broth is cooked I'll strain the bones from the turkey broth. After it cools just a bit I'll place the pot containing the broth in the fridge to cool completely.
In the meantime I tackle those bones that I strained out. There's always an amazing amount of meat left on those bones even though RancherMan & I were pretty ruthless in removing all we could.
I'll pick the remaining meat from the bones and put it into a refrigerator container and set it in the fridge. There's plenty of meat leftover for a very meaty pot of turkey soup.
How To Reduce The Fat From Homemade Broth
As the turkey broth cools the fat will separate & float to the top. Removing it makes for a lower-fat broth. I usually let my broth stay in the fridge overnight to make sure as much fat as possible has floated to the top.
By the next morning the turkey broth itself is semi gelatinous – the sign of a successful and nutritious broth. I take a straight-edged server and drag it lightly over the top of the broth to remove the fat layer leaving only healthy lower-fat broth.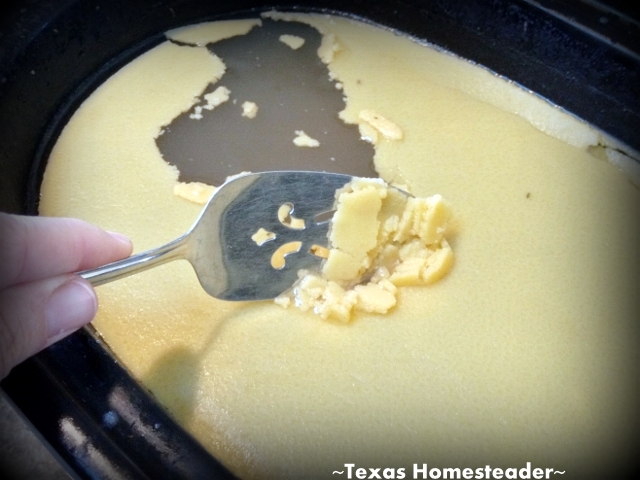 How To Freeze Turkey Broth
When I've removed all the fat I can, I'll bring out my repurposed peanut butter jars.
I've not yet been successful freezing anything in glass so I resort to using these plastic jars in our freezer. But RancherMan loves his peanut butter so I always have a steady supply.
I ladle the cold broth into the jars leaving about 1″ headroom and screw the lid onto the jars – only barely finger tight when they initially go into the freezer. After they're frozen solidly I'll go ahead & tighten the lids completely.
Now before these jars go into the freezer I'm sure to label the lid of the jars with a small piece of water-resistant duct tape & a sharpie noting the contents and the date.
'Cause you know how it is when you dig through the freezer – every frozen chunk looks identical!
I carefully label everything that goes into our freezer.
Pressure Canning Option For Homemade Broth
Freezing broth is of course easiest way to preserve it. But sometimes my freezer space is scarce.
And I sometimes don't plan far enough ahead to bring broth from the freezer for it to thaw completely for my recipe.
Canning Broth solves both of those problems.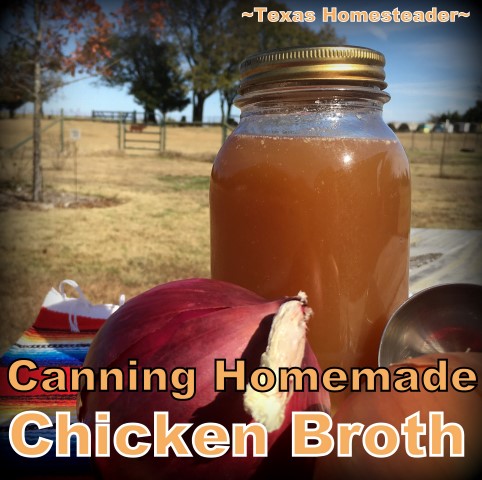 Now to safely preserve your broth, it really needs to be pressure canned. Water-bath canning won't do here. And food safety is important.
But it's simple:
Hot broth poured into clean hot jars, pressure canned at 10 lbs pressure for just 20 – 25 minutes.
See? I told you. Easy! And by canning broth I have those jars waiting in the pantry to be used at a moment's notice.
Eat healthy, my friends.
~TxH~
This post categorized in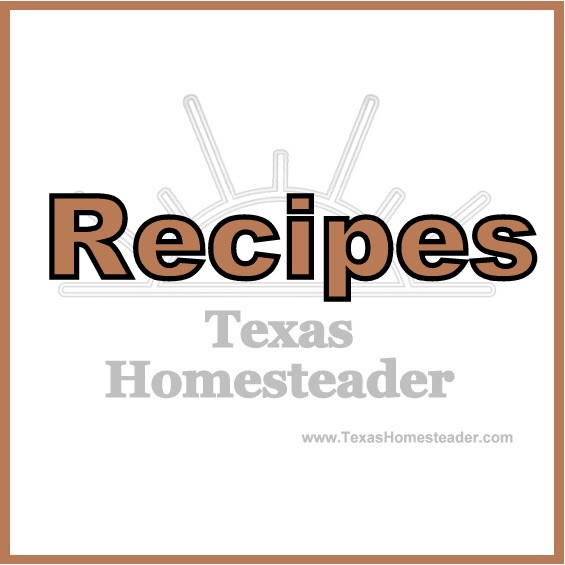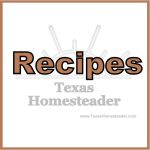 Links In This Post:
Want More Holiday Cooking Tips & Recipes?
SIDE DISHES
DESSERTS
BREAD
INGREDIENTS
FOOD SAFETY


C'mon by & sit a spell! Come hang out at our Facebook Page . It's like sitting in a front porch rocker with a glass of cold iced tea. There are lots of good folks sharing! And you can also follow along on Pinterest, Instagram & Twitter
If you'd like to receive an email when a new blog post goes live, subscribe to our Blog!