by Texas Homesteader ~
Easy Rosemary Skillet Bread Recipe. A delicious no-knead bread baked in a cast iron skillet & seasoned with fresh rosemary. But trust me… go ahead & double the recipe to make TWO!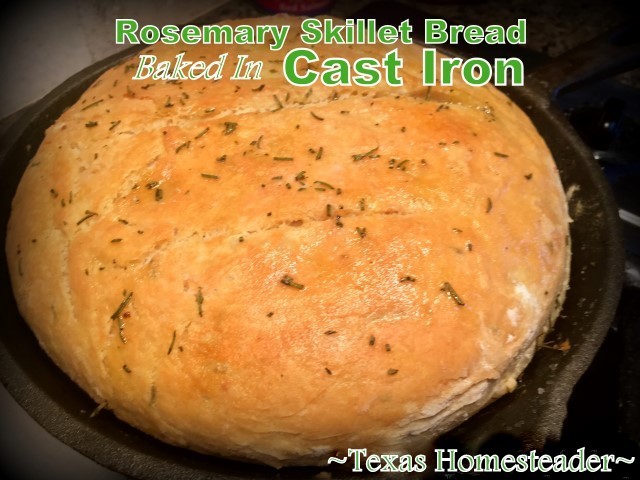 This easy Rosemary Skillet Bread Recipe is a hit whether bringing as a hostess gift or just enjoying a fresh homemade loaf of bread at home.
A delicious no-knead bread baked in a cast iron skillet & seasoned with fresh rosemary. It's my favorite option for presenting a homemade gift too. So go ahead, make TWO!
Our Favorite Bread Recipes!
It's well known that RancherMan loves bread. A LOT! I strive to keep him supplied. His favorite breads are:
Soft & fluffy Sandwich Bread
Spicy Jalapeno Cornbread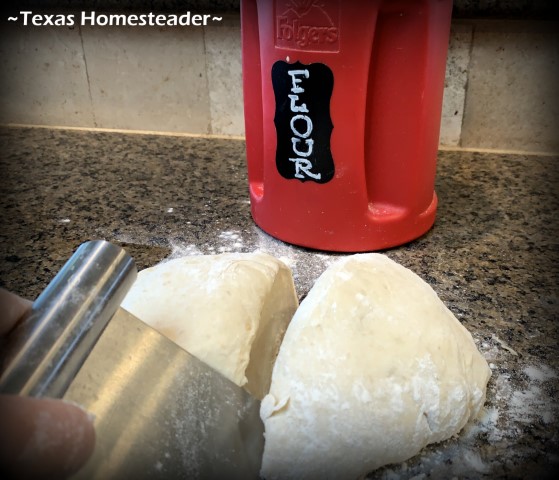 You can see all my MANY bread recipes by clicking this button:
Problems With Other No-Knead Bread Recipes
Previously I'd been making no-knead cast-iron baked Boule Bread. It was delicious too.
But that recipe requires you to heat a flat pan at the same time as you preheat the oven, tossing in water at the last minute to create steam.
That steam got between two glasses of my oven door & dripped down the glass. It's nigh impossible to clean without disassembling the whole oven door!
So I'm looking for an easy no-knead skillet bread recipe that doesn't require that step.
Easier No-Knead Skillet Bread Recipe
Then I found this even easier recipe for rosemary-flavored skillet bread. And heck, I'm able to flavor it with minced fresh rosemary from my garden.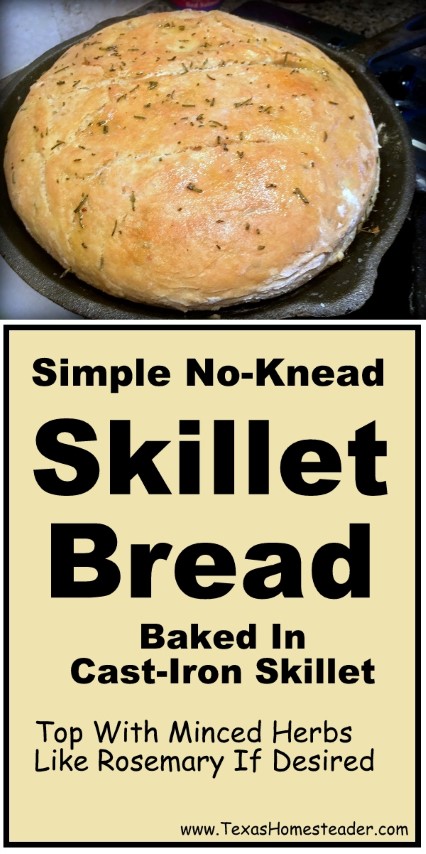 Y'all know an easy no-knead stir-rise-bake bread recipe is gonna be a fave in my Homestead kitchen!
Homemade No-Knead Bread In A Flash
I found this recipe over at Baker Bettie and sat out to see how well it worked in my own kitchen. I will admit that it's not only super easy, but both RancherMan & I love this bread!
Bringing Bread As A Hostess Gift
If we're headed to someone's home for a dinner party and need something to bring, well, you really can't get easier than this bread.
Really, measure, mix, rise, bake – DONE! And our hosts are always excited about homemade bread.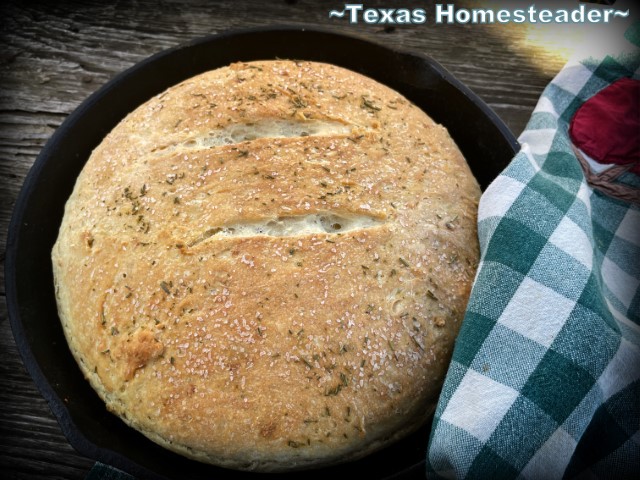 Oh yeah, let 'em think I slaved in the kitchen for this flavorsome delight, I don't mind…
Go Ahead, Make TWO!
But you know me, if I'm gonna have that oven fired up I'm gonna put it to good use!
So I typically double the recipe and pull out both of my 10″ cast-iron skillets instead of just one.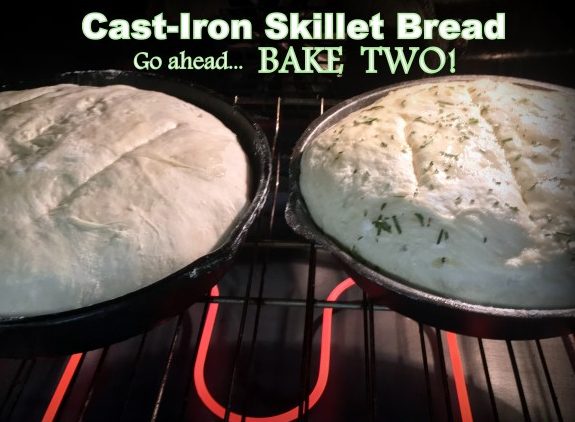 One loaf will be topped with olive oil and coarse salt & I'll add fresh minced rosemary with the olive oil & coarse salt to the other one.
Something for everyone!
Making Bread Dipping Oil
This bread is also perfect for tearing off pieces and dipping into flavored olive oil.
Oftentimes I'll make the flavored dipping oil myself by infusing a bit of olive oil with pressed garlic, some fresh minced or dry herbs, a splash of balsamic vinegar & a pinch of salt.
It makes the perfect flavorful dipping oil and it's cheap, cheap, CHEAP!
Try This Easy No-Knead Skillet Bread Recipe!
I'll share the no-knead skillet bread recipe below.
But I highly recommend you do as I do & double the recipe! Two loaves of fresh, homemade bread for near the same effort as ONE?
Yes please!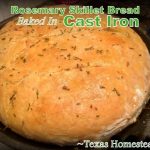 No-Knead Rosemary Skillet Bread (1 loaf)
This no-knead bread is a cinch to make. Since you'll have your oven fired up already go ahead and double the recipe to make two at the same time! #TexasHomesteader
rise time
1
hour
30
minutes
Ingredients
Ingredients:
2-1/4

teaspoons

Active Dry Yeast

2

Cups

Lukewarm Water

2

teaspoons

Kosher Salt,

( + extra to sprinkle on top)

4-1/3

Cups

All-Purpose Flour

(I use the scoop-to-measure method instead of spoon-into-cup method on this recipe...)

1

Clove

Pressed Garlic

Olive Oil

(for drizzling top of dough)

2

teaspoons

Rosemary, or to taste

I use a 2" stem fresh rosemary, minced
Instructions
Instructions:
Combine yeast, warm water & pressed garlic in a large bowl.

In a separate bowl, mix flour, rosemary & salt.  Stir until combined.

Stir the flour into water mixture one cup at a time & mix until completely incorporated.

Cover dough with greased wax paper (I use the bowl's lid that is not snapped completely tight.) Allow dough to rise for 1 hour.


Lightly oil the bottom of a 10" or 12" cast iron skillet.

Do not punch down the dough but sprinkle flour on top of the dough (it will be sticky). Cover hands with flour & quickly, roughly shape dough into a flattened circle.

Quickly scoop up shaped dough & place into greased skillet, pressing sides to reshape if necessary.

Cover loosely with a greased wax paper, and allow to rise 30 minutes.

Preheat the oven to 400ºF.

Drizzle olive oil on the dough & make a couple of slashes in the top of the dough with a knife. Sprinkle top with coarse salt and minced fresh rosemary if desired.

Bake 35-40 minutes, or until the top is a nice brown color.

Remove from oven and let cool in pan 5 minutes.

Then place bread on a baking rack & cover with clean kitchen towel to allow to cool completely
~TxH~
This post categorized in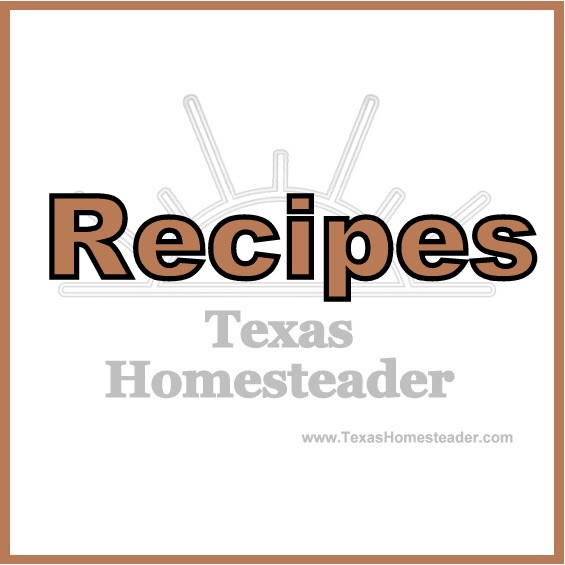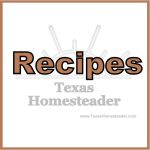 Other Favorite Breads
FOOD SAFETY


C'mon by & sit a spell! Come hang out at our Facebook Page . It's like sitting in a front porch rocker with a glass of cold iced tea. There are lots of good folks sharing! And you can also follow along on Pinterest, Instagram & Twitter
If you'd like to receive an email when a new blog post goes live,
subscribe to our Blog!