by Texas Homesteader ~
Homemade Corn Tortillas! As I stood in the store looking at that handful of corn tortillas sold in a plastic bag I wondered, "Should I make these myself?" Homemade corn tortillas are easy, delicious, cheap and waste-free!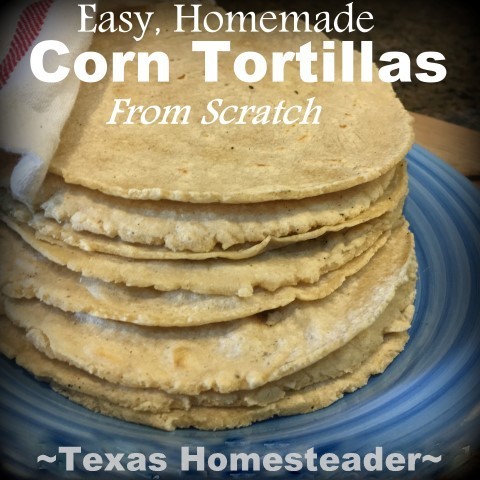 I love to make pork roast, there's so much you can do with the leftovers! We recently enjoyed a hearty supper of pork roast & veggies one night and I planned to make pulled-pork enchiladas the next day with some of the leftover cooked roast.
Although we enjoy my quick Mix-N-Pour Tortillas, enchiladas require corn tortillas in the our household. But we had none.
As we stood in the store looking at the tortillas sold in a plastic bag, my mind went back several years to when I'd made them myself. It was easy to make 'em, & heck this big bag of masa harina was only about $3. Maybe I should dust off that tortilla press I have at home & give 'er a go again.
Note: Masa Harina Is Not Cornmeal
Now masa harina is not the same as cornmeal. Masa harina is a flour made of corn that's been treated with lime & water before being dried & ground into flour. It's often found in the flour aisle at your local store.
But it's cheap and has many uses, including today's homemade corn tortillas. And since I'm only using 2 cups for this recipe I'll be able to make 8 whoppin' batches of corn tortillas & still have plenty of masa left for thickening my homemade chili.
Here Are The Complicated Instructions:
Mix masa harina & salt with some warm water and knead into dough. Pull off golfball-sized pieces, roll and flatten. Toss into a heated skillet & cook about a minute each side.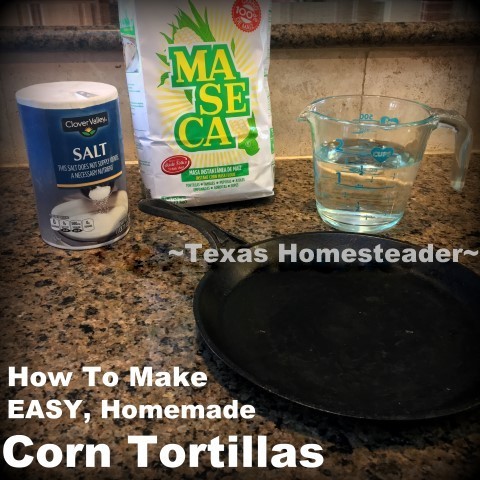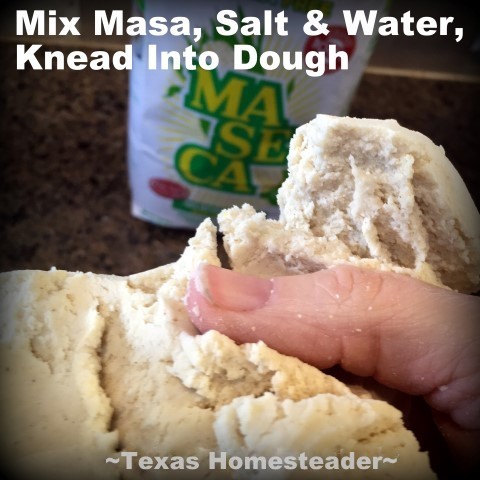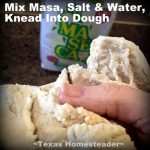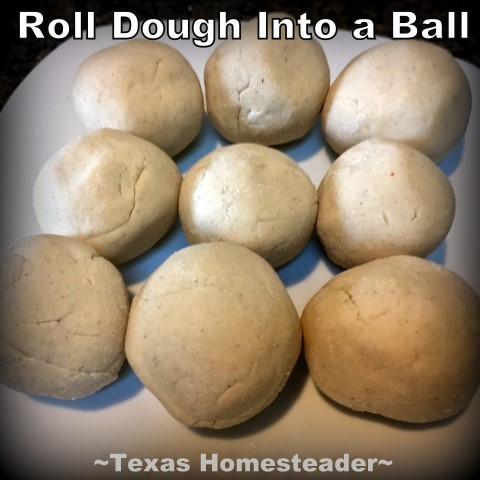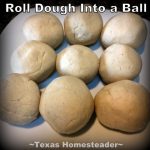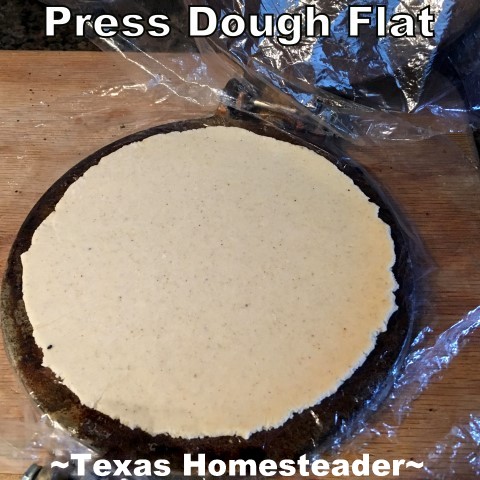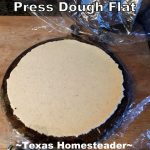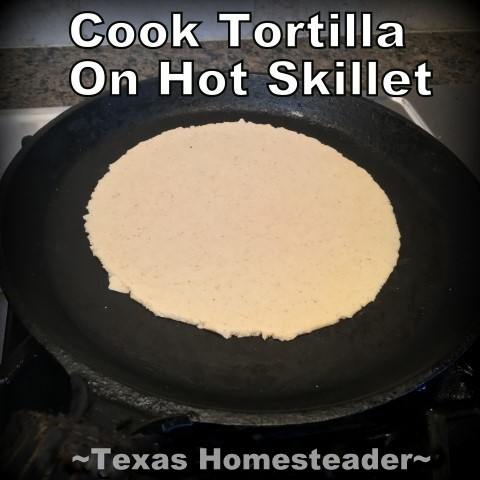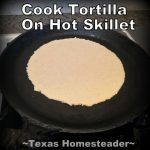 Done & DONE!
These tortillas are heartier than the flimsy ones you might buy in the store. And they were perfect for our enchiladas! They rolled beautifully without breaking too. Following are a few helpful tips.
My Observations
I wanted a little extra flavor for my corn tortillas so I added 1/4 teaspoon each of garlic powder & paprika. You can leave this out or flavor it in a way that your family enjoys most. It's a very versatile recipe!
Dividing the dough into 9 sections gave me the 6″ size tortilla I wanted. You can divide your dough up into smaller balls for more tortillas per batch, or larger balls for fewer but larger tortillas.
It's helpful to cover the dough balls with a damp towel to keep them from drying out while you're cooking your tortillas.
It's recommended when pressing the tortillas to line each side of your tortilla dough with wax paper, a piece of plastic or a cut-open gallon-sized ziplock bag to make it easier to lift your thinly-rolled tortilla dough.
I use a tortilla press to easily press my dough. But you don't need a press to make the tortillas. I've read others just use a heavy pie plate or a rolling pin.
My favored cookware for these tortillas is a cast iron comal (a small short-sided cast-iron skillet). Although I feel cast-iron is a much preferable way to cook tortillas, you can use whatever skillet you have.
Although it's an extra step, I prefer to pre-cook the first side of my corn tortilla for 10 seconds before flipping & beginning my tortilla cooking. I found this results in my tortilla fluffing while it cooks and that's a good thing for both taste as well as texture. But it's my preference & not necessary if you just don't wanna…
If you're using cast iron remember it's a very efficient metal. You might have to bump your temps down after the first several tortillas if you find they're getting too brown on the outside before they're cooked.
If you place your cooked tortillas on a plate and cover them with a clean kitchen towel they'll steam & keep your tortillas soft & pliable.
Now that I'm on a corn-tortilla-making roll I want to try them with our Carnitas Tacos later in the week. I'll let ya know how they work!
UPDATE: I used these corn tortillas with our Carnitas Tacos and they are PERFECT! I turn the tortillas into crispy taco shells by placing them in the oven for just a few minutes. The resulting homemade taco shells are crispy and flavorful, not bland & brittle like the commercial ones.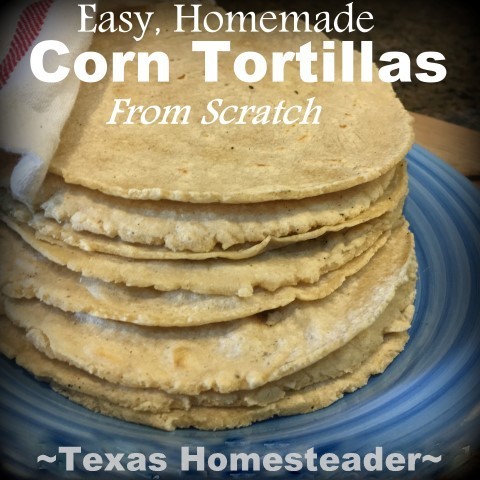 Simple Homemade Corn Tortillas - yields about 9-10
Ingredients
Ingredients
2

cups

masa harina

1

teaspoon

salt

1.5

cups

warm water, divided

1/4

teaspoon

garlic powder, paprika and/or cumin

(Optional for flavor)
Instructions
Instructions
Add dry ingredients to bowl & stir to combine.


Add about 1 cup of the warm water. Stir with heavy spoon to combine.

Add more of the warm water in tablespoon increments until the mixture forms a dough. ( I usually only use about 1/4 cup more)


Using clean hands, knead the dough until it's smooth and the texture of play-dough.


(Note) If the dough is sticking to your hands it's too wet - add masa harina in tablespoon increments to correct.


If the dough is crumbly it's too dry - add warm water in tablespoon increments to correct.

Separate the dough into about 9-10 golf ball sized sections


Flatten each dough ball between plastic wrap or wax paper using a tortilla press, rolling pin or a pie plate.

Heat a cast-iron comal (or other skillet) using medium high heat

Add flattened tortilla to hot comal and pre-cook 1st side 10 seconds before flipping and cooking 1 minute. You will see light brown spots forming. Flip back to first side and cook 30 seconds. You may see the tortilla puff up a bit - this is perfect!

Remove cooked tortilla to a waiting plate.


Cover cooked tortillas with clean kitchen towel to allow them to steam.


Enjoy!

To store, wrap cooled tortillas in airtight container and store in the refrigerator.

Recipe Notes
It's helpful to preheat your comal while you're forming the dough balls so the first flattened tortilla hits a hot comal.  But cast iron is very efficient with heat.  So you may need to dial the heat back as you continue cooking your tortillas. You don't want them singed on the outside & still doughy on the inside.
~TxH~
Other Favorite Breads
Our Favorite Tex-Mex Recipes


C'mon by & sit a spell! Come hang out at our Facebook Page. It's like sitting in a front porch rocker with a glass of cold iced tea – lots of good folks sharing! You can also follow along on Pinterest, Twitter or Instagram.
If you'd like to receive an email each time a new blog post goes live it's EASY to
Subscribe to our blog!