by Texas Homesteader ~

I love the ease & convenience of beer bread. I decided to make a loaf of Savory Rosemary/Cheddar Version. It was delicious and oh-so-easy too.
Oh man, you're *SO* gonna want to read this!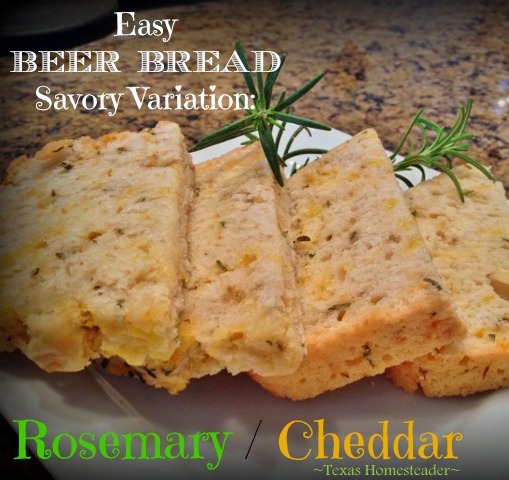 If you remember I was recently asked to bring a couple of savory breads for a family gathering we were attending. I like to bake these things myself instead of buying them for both financial as well as environmental reasons, but c'mon I like my convenience factors too!
I decided I'd like to try both Pesto and Rosemary/Cheddar.
The Pesto was made with the last of my homemade basil pesto from the freezer as well as chunks of my homemade dehydrated Italian-seasoned tomato leather from last year's tomato harvest.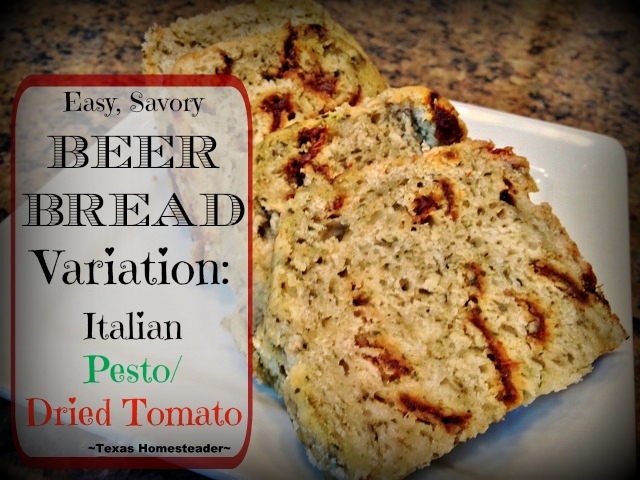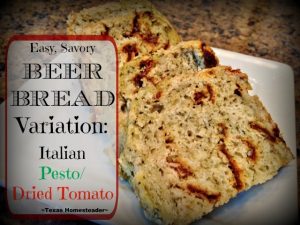 That pesto bread turned out great, both soft & flavorful. I shared the recipe and instructions for my Italian Pesto/Dried Tomato bread last week.
But what about the Rosemary/Cheddar version?
Double Batch Of Bread Going in!
At first as I was bumbling around in the kitchen I was certain I'd bitten off more than I could chew. I was trying to bake up a double-batch of homemade brownies while also trying to fit in two savory bread recipes that I'd never made before.
But although for a short time my kitchen was a confirmed disaster area, it all turned out great. And I was able to bring some delicious homemade contributions to the meal at our family gathering.
Both the Italian Pesto as well as the Rosemary/Cheddar needed to go into the oven at the same time.
So I needed to prepare & measure out as much as I could for each recipe before actually mixing up the ingredients. That way there wouldn't be much lag time between placing the batter in the pans and actually putting both pans in the oven.
Since I already talked about the Pesto version last week, today I'll share the procedure for the Rosemary version.
Preparing For 2 Versions of Beer Bread
Before I got started mixing up the recipe I pulled my basic quick beer bread recipe & read over it.
I already knew in advance that I was attempting a pesto version but I also decided to try a loaf of Rosemary/Cheddar Bread. I mean, I have these big beautiful rosemary plants right outside my back door bursting with fragrant goodness. So why not use them #amiright??
So I went outside & pulled a few stems of rosemary, minced them up finely and set it aside. I mixed the dry ingredients & measured out the other ingredients so I could mix everything together quickly & get both varieties of bread into the oven at the same time.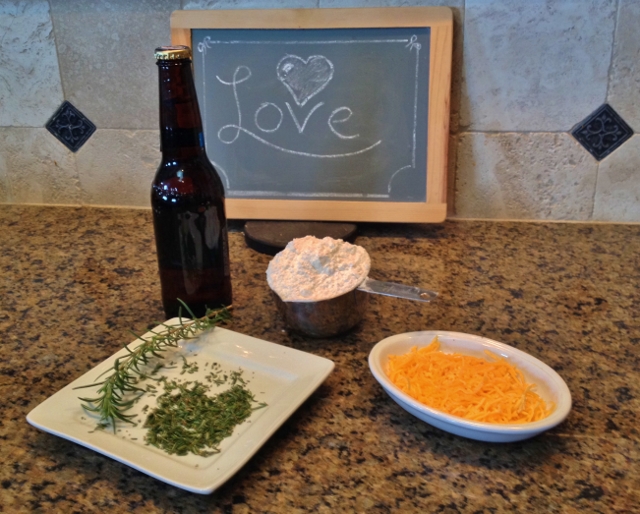 Rosemary/Cheddar Beer Bread Ingredients
For my rosemary bread I wanted to use a sharp cheddar cheese along with my minced rosemary. I thought the sharpness of the cheese would offer a flavor punch to the bread without having to use too much.
So to the standard beer bread dry ingredients that I'd pre-measured I also added a 12-oz bottle of beer. Then I stirred in about 3 Tablespoons of minced fresh rosemary and 1/2 cup shredded sharp cheddar cheese.
I used a pastry brush to oil the 9×5 glass loaf pan with olive oil. Now it's time to pour in the batter.
When the batter had been smoothed into the pan I brushed the top of the dough with a little more olive oil & added a light sprinkle of minced fresh rosemary & also a sprinkling of coarse salt.
Baking The Beer Bread
I preheated the oven to 350 degrees F. then placed the loaf pan into the oven and baked the bread for 45 minutes of the total baking time.
After that time I pulled the pan from the oven and poured about 4 Tablespoons of olive oil over the top surface of the bread. This causes the crust to remain nice & soft.
Then I returned it to the oven for the final 10 minutes baking time.
When the bread was finished baking I removed the pan from the oven. The bread was placed on a baker's rack for a few minutes to begin cooling.
I slid a butter knife between the bread & the pan to loosen the bread to make it easier to remove. Then I placed the still-hot bread on a baker's rack & covered it with a clean towel to allow it to cool completely.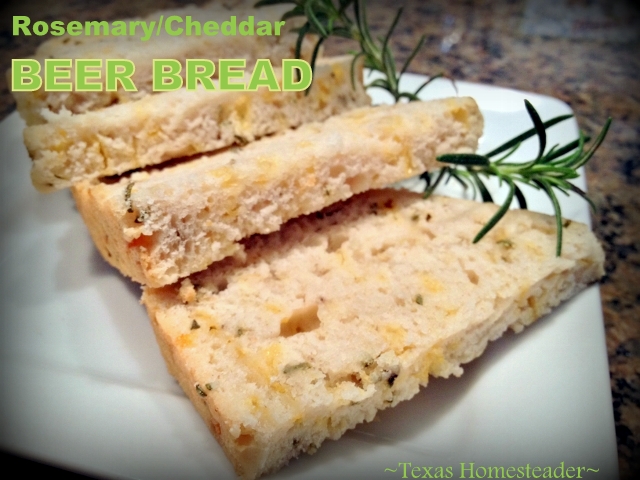 So how did it taste? Aaaah-mazing! Although we all loved the pesto bread and it was certainly more powerfully flavored, RancherMan & I loved the more subtle flavor of this Rosemary/Cheddar version the best.
The bread was dense but soft. And the sharp cheddar married beautifully with the minced fresh rosemary. Oh, and it was a completely different taste explosion when you cut it into slices and toast it.
Oh. My. Goodness!!
I'm certainly counting this recipe as a screaming success! It will be an easy go-to recipe when asked to bring something for a covered dish or gathering.
Here's the recipe I used for this easy yet delicious Rosemary/Cheddar bread: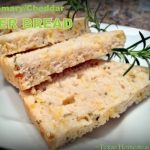 Basic Beer Bread Recipe
Ingredients
3

cups

all-purpose flour

1

Tablespoon

baking powder

1

teaspoon

salt

1/4

cup

sugar

12

oz.

beer

(or 1 1/2 cups)
(Stir-In Options for Rosemary/Cheddar Bread)
1/2

cup

sharp cheddar cheese

(personally think I'll bump this to a full cup next time)

3

Tablespoons

minced fresh rosemary

4

Tablespoons

olive oil

(to brush on top)
Instructions
Preheat oven to 350 degrees for glass pan. Mix dry ingredients together, then slowly add beer & stir to combine.


Add the desired stir-in options for Rosemary/Cheddar bread & blend thoroughly.

Transfer batter into well-oiled 9x5 glass loaf pan, brush surface of batter with olive oil & sprinkle additional minced rosemary and coarse salt if desired.

Bake on the middle rack of the oven for 45 minutes. Remove pan from oven and pour 4 tablespoons of olive oil over the surface of the loaf & return it to the oven for the final 10 minutes baking time.

When baking is complete, remove the pan from the oven. Carefully remove bread from pan and place bread on baker's rack. Cover hot bread with a clean towel & allow to cool completely.
~TxH~
This post categorized in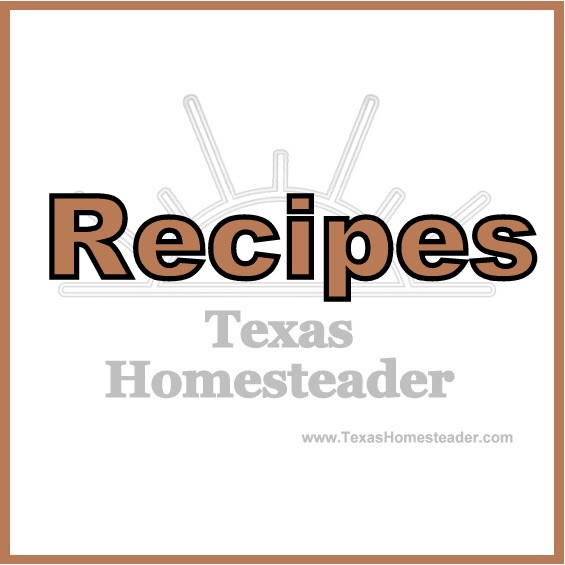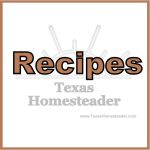 Other Favorite Breads


C'mon by & sit a spell! Come hang out at our Facebook Page . It's like sitting in a front porch rocker with a glass of cold iced tea. There are lots of good folks sharing! And you can also follow along on Pinterest, Instagram & Twitter
If you'd like to receive an email when a new blog post goes live,
subscribe to our Blog!
Save